Freddy Adu: 15-year-old American Pele you could get for free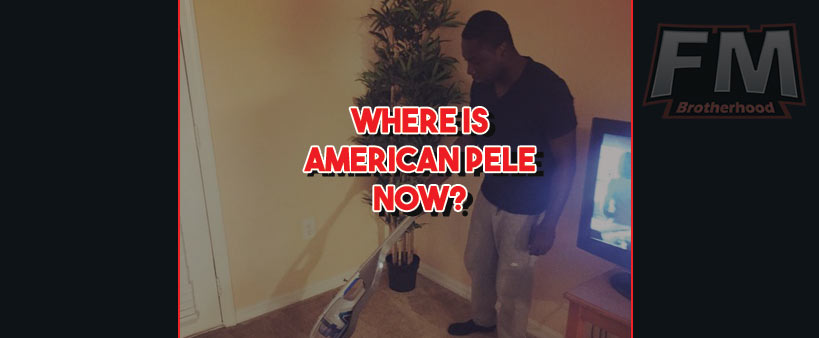 If you are trying to find cheap FM19 wonderkids, I have a story to tell you. Story from the good old days…
It was 2005. and I finally got Football Manager installed on my computer. It was one of the greatest days 14-year-old could imagine! Now, I could get any club in the world, and lead it to glory.
I wasn't interested in working with big clubs like Juventus, Manchester United or Barcelona, so I knew I had to rely on young, talented and cheap players in order to beat those powerhouses. So I quickly discovered the wonderful world of Football Manager wonderkids!
You can get cheap fm 19 wonderkids at low cost, but what if I told you that you could get the future best player in the world for free? Yes, it could be done back in the days!
Meet Freddy Adu
While Jose Mourinho made his mark making that unstoppable Chelsea side – every FM 05 manager started his transfer politics with Freddy Adu. He was just 15 years old, and you could snatch him up for free!
He was a D.C. United player, and he was a must have with any team. Adu would come to most of the European leagues, and his development would be fantastic. His initial ratings weren't so impressive – his only attributes above 15 were determination and composure, but nevertheless, he was a game changer from the start.
His rating would improve over time, but to be honest – nobody cared about those numbers. The numbers that would matter were his stats and his game ratings. He could notch up 100+ goals before it was legal for him to buy a beer. Not in the U.S. but in Europe!
But that's just a sneak peek of this wonderkids ability. There are records of Adu scoring 100 goals per season, and the best thing was that he was constantly getting better. The only bad thing about signing Adu was if you signed him as a Premier League club. Then you would have to wait a full season for him to be eligible to play because in Premier League you can't field U16 players.
Every formation you fielded with him in the attack became an unbeatable tactic. Football manager guide for FM 2005 was simple – just sign Adu and he'll do the rest.
Real life wonderkid
On top of that – Freddy Adu story was true! D.C. United was famous for having wonderkids in its ranks – they signed Bobby Convey and Santino Quaranta as 16-year olds, and Freddy Adu got his first professional contract at the age of 14!
He is to this day the youngest American to sign a professional sports contract, and it seems it would stay this way for a long time. He is also the youngest player ever to appear in US professional sports, and when he scored in 3:2 loss to MetroStars in the 75th minute – he became the youngest goalscorer in MLS history.
The kid that grew up in the streets of Ghana moved to the USA at the age of 9, when his mother won Green Card Lottery. He was just 11 years old when Inter came looking for him, but his mother decided it's too early for him to go abroad.
At 14 bunch of big clubs for Europe were interested, and Adu got to star in soft drinks commercial with Pele, who thought highly of him.
"His left foot is fantastic. It's like Mozart. God gave Freddy the gift to play soccer. If he is prepared mentally and physically, nothing will stop him", Pelé said after that shooting.
When we discovered him in 2005 playing Football manager he signed $700,000 worth sponsorship deal with Nike and made his USMNT debut.
Benfica FM19 team is stacked with talented young players, and in FM07 Adu was one of the wonderkids that were in Lisbon. He got there after a couple of great MLS seasons, and Benfica paid just US$2 million for his services.
It seemed like a bargain, following his impressive display as FIFA U-20 World Cup with USMNT, and interest from Manchester United (he had a two-week trial at Carrington). He scored three times at the tournament, netting a hat-trick against strong Poland team in 6:1 victory. Adu was captain of that team, and everybody expected big things.
Many praised his decision to go to Portugal, to a league and a club famous for developing talents, but it didn't turn out to be the right move. He started with some good games, played twice in Champions League and scored against Maritimo and Academica in the Portuguese league.
But in search of more minutes – Adu got lost and it was the beginning of an end of his American dream. In a season with Monaco he played nine times, then it was time to try his luck with Belenenses. Young American wonderkid started a first league game, got injured and eventually played just three times for this small Lisbon based club.
Then he tried his luck in Greece with Aris, and finally got some playing time with Caykur Rizspor in Turkish second division in 2011. He was still just 22 years old and decided it's time to go back. In the following two seasons with Philadelphia Union, he earned a new call up for the national team and it seemed he is ready for the big step we were all waiting for.
There was just no luck for Freddy Adu
But Adu flopped again. He went to Brazil and got no playing time, then mediocre Serbian club Jagodina signed him. Player once considered new Pele played just one Serbian Cup match for the club, and headed for an unsuccessful attempt in Finnish football.
After all, he decided it's time to go back home. Last time he played for Las Vegas Lights in USL, the second tier of competition in USA league pyramid.
Now he is 29-years old, without a club. And he once advertised vacuum cleaners on twitter.
But Freddy is a top bloke, guy that reflects on his brief spell of fame with a smile on his face. And though he never played game – he knows how much he meant for us.