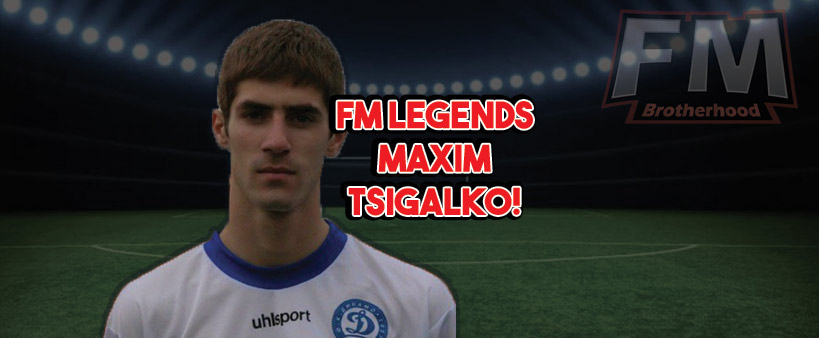 Maxim Tsigalko: Construction Worker Who Bagged 1.000 goals
By spaskecar | March 16, 2019 | 1506 Views
If you are wondering who is the best striker that the game has ever seen, you have to go way back to Championship Manager 01/02. So, forget about Pele and Maradona, forget about Cruyff, and yes, don't think about Lionel Messi or Cristiano Ronaldo.Maxim Tsigalko is the man you are looking for, misspelled Belarus goal wonder, the man that bagged 1.000 career goals easily.
WHO IS MAXIM TSIGALKO?
In reality, his name is Maksim Tsyhalka and he is 35 years old construction worker and his twin brother Yuri was a goalkeeper. His short football career ended in 2008. with Savit Mogilev, a mediocre club from his homeland. He started in Dinamo Minsk, and while playing there got the national team calls up.
In two games for Belarus, he scored once, against Uzbekistan in a friendly game in 2003. The same year he got to a trial at Maritimo and that step ruined his career. Tsyhalka (or Tsigalko, whatever) got badly injured and after that, it all went downwards for him.
He played a couple of mediocre seasons in Belarus, got to Kazakhstan league for one season, but never got healthy to a full extent. Problems with injuries held him from being able to maximize his potential in reality, but in Championship manager story of this striker is completely different.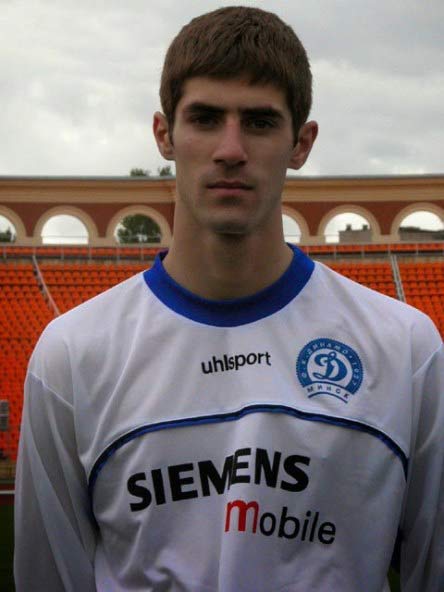 NO INJURIES, NO UNTOUCHED NETS
With CM injury proness of just 2, health problems were nowhere to be found for this Belarusian beast. The only thing you needed to do is to set your database to maximum, but again, true Championship manager addicts always do that. Then you'll find your man, waiting for you to buy him for just £900k!
He wasn't a needy player, you could always afford to pay his wages, and he would want to go to basically every league and every club. That was some really good news if you knew he had finishing 20, coupled with 20 ratings in acceleration and pace department. He was fast and furious in front of the goal, and no defense could catch him.
That was just a glimpse of his unreal profile. Don't think he wouldn't score headers, headers were just as often as any other kinds of goals. He had jumping of 19, off the ball rating of 17, just as high as his strength.
He didn't even need an opportunity to score a goal. With flair rating of 20, he could score goals out of nowhere, and particularly in those big games and important moments.
With a partner in attack, he would be deadly, and you could expect around 20 goals per season from him. Maybe in some season he would go berserk and score 30+ goals, but he didn't need any help. In fact partner in the attack was a bit of a problem for him.
The magic began when you decided to play him as a lone striker. He would become unstoppable, and goals just poured. He was so dominant that there was Tsigalko1000 FM challenge. The trick was to get him to score 1.000 goals as soon as possible, and there were tons of screenshots.
Looking at the various screenshots, the record seems to be about 380 games – which basically meant he could go on to average 2 or 3 goals per game for 10+ seasons.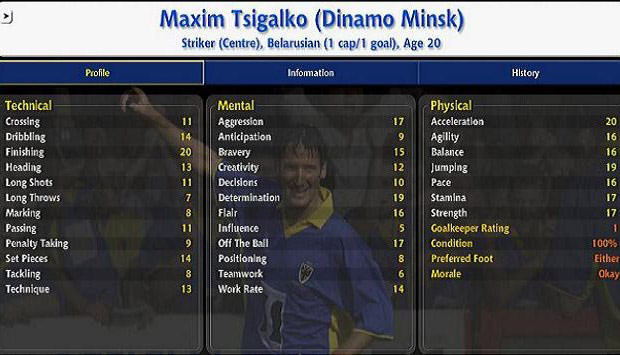 THE DAMNED BUREAUCRACY
Well, there was one little problem, a problem so complex that some managers went exile, and brought Tsigalko with them. The bureaucratic hell described by Franz Kafka in Trial was no match for this situation. Belarus wasn't a part of EU, and in most of the biggest European leagues, it was nearly impossible to get a hold of Tsigalko.
He hadn't got any international caps back then, and getting a work permit for him was a complete nightmare. Sometimes it would work if you set his squad status as indispensable, and if you offered him the highest wages you could afford. But it wasn't a sure thing, mainly his work permit would be rejected, and you ended up without a prolific striker.
So many Championship Manager decided to pick some of the Portuguese, Dutch or clubs from any other country that hasn't had those kinds of problems with Tsigalko. Some even got their hands on the editor and got him a second nationality, which ensured he could move to Spain or Italy.
WHERE IS MAXIM NOW?
Unlike Maxim Tsigalko, Maksim Tsygalka didn't go so far. As we already said injuries ruined his career, and he never went on to score 2.000 goals for Gremio, as he did in one of the CM saves that appear when you google his name.
As a matter of fact, CM never came to Belarus. Our goalscoring hero, the man behind a countless number of trophies never really felt the fame behind his misspelled name.
"Nobody informed me about the game, because nobody knew the game in my country back in the day. I firstly learned about how good I was at the game when a Russian journalist told me so, and I was really shocked.
I didn't know the game existed, so I just laughed. Later on, I realized that I could gain much money off it, but it was really late", he said in one of the rare interviews of him available.
And his destiny was a bit harsh. Like many unproven talents, he hit a wall and hard life begun after his football career.
"When I was 23, I had a serious injury, and I had to retire from football at the age of 26.
Then I started working as a construction builder for 5$ per day, and later for 20$ per day. I was really tired of struggling. My back and my legs couldn't withstand such a heavy job and I had serious health problems."
Some of the CM legends like Rafael Van Der Vaart and Kim Kallstrom made it, got too big clubs and became instrumental parts of their national teams.
And some like Tsigalko never made it to the bigger stage, but nevertheless, they hold a special place in our hearts.
Maxim Tsigalko was a Messi-esque goal machine when the Argentine magician was just 14 years old. He was a Ronaldo-esque freak of nature long before we saw Cristiano emerged under the guidance of Sir Alex Ferguson.
Under the guidance of any CM player – Maxim Tsigalko became the GOAT.
Hope you'll find a better job these days, you wonderfull man.