Bouncing Back! – The Barnsley FM18 Revival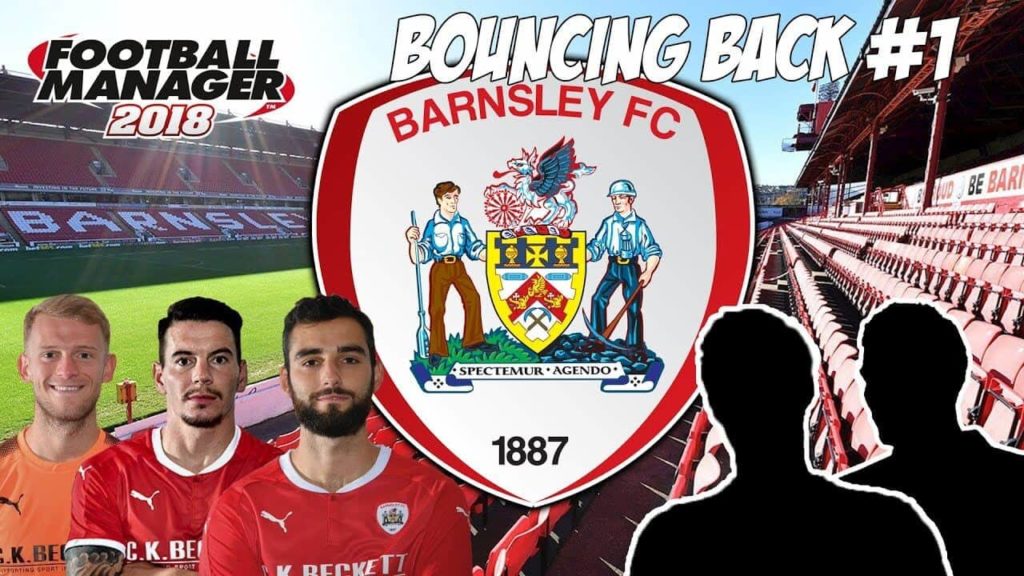 The beginning of Barnsley FC FM18 Story
The new Barnsley FC FM18 story starts on 6th May, what happened after is a legend. Enjoy it.
6th May
Following a 4-1 defeat to Derby County and other results going against them, a statement is released by Barnsley Football Club to confirm their relegation to League 1.
This transpired due to their previous manager departing for Leeds United as well as losing some key players the season before.
The new man José Morais wasn't able to turn results around and it ultimately leads to his dismissal in this statement.
26th June in Barnsley FC FM18
An extensive search was completed today when Adam Lazenby AKA T'Northern Knight was announced as the new manager of Barnsley Football Club.
He has been entrusted with 36 million pounds in the transfer budget as the new owners want to get the club back on track for their plans for premier league football within 5 years.
Barnsley FC FM18 Finances
Overall Balance: £61,785,580
Transfer Budget: £36,624,952
Wage Budget: £ 127,937
Barnsley FC FM18 TEAM!
As with many relegated teams, the overall squad is very strong with only a few positions I feel as though I need to strengthen. These positions are a striker, a defender and also a center mid that can play an advanced playmaker.
I have signed Will Keane and Nick Powell, both of the Manchester United youth system, to play in the striker and midfield roles I identified and am currently negotiating the contract of Ebanks-Landell from Wolves who should complete my squad and make us very competitive for the league title.
The tactic is a 4-4-2 which I think for this level is what will be great for a successful season, an advanced playmaker and wingers will link with a trequartista to help the ball get into the opponents' box and grab us those much-needed goals.
The mentality will always start off as standard unless we are in a cup game against a much stronger side, this will allow me to change this based on how well we are performing.
If we are all over a team I may switch to attacking to push on and get a lead before switching it back to sit on the lead and get the three points.
Friendlies at the start of Barnsley FC FM18 Season
Barnsley FC 2 – 1 Barnsley U21s
Ryan Hedges '21          Louis Rowe '1
Adam Hammill '28
The customary U21 game for a new FM save and this was basically a game to get a feel for the tactic and change it to see how it worked which lead to the high press, prevent short GK distribution and the shorter passing style.
This was a comfortable win with their goal being an absolute screamer. Our wingers doing the job I want them to do as they get their two goals which are to attack down the flank before whipping a ball in and if they are on the opposite side I want them to get into the box at the back post.
Barnsley FC 2 – 2 KRC Genk
Kieffer Moore '53 '67          Jose Naranjo '58
Ruslin Malinovskiy '60
The friendlies were already arranged prior to my arrival so it was nice to see a challenge here in the Belgian outfit KRC Genk. I thought this was perfect to see how my squad would do in a game against a bigger team.
Kieffer Moore scored our goals which were a nice surprise as I didn't really think he would be able to do the job in the role I want to play but an injury has now occurred to him which will probably but him as a backup player possibly playing in cup games.
We conceded the two goals in what can only be described as two minutes of madness which was a real shame but it is still nice to see that we are competing against a club I would consider better than us.
Queen Of The South 1 – 2 Barnsley FC
Adam Jackson o.g '69          Ryan Hedges '12
Tom Bradshaw '87
A much weaker team than KRC Genk and this showed as we absolutely dominated them, this makes it worse that we only managed to get a 2-1 win as we wasted so many opportunities but I am taking this as promising going forward as it is only preseason.
Once again Ryan Hedges performing the winger role perfectly with his goal and Adam Jackson unlucky with his own goal as he gets a ball blasted at him from close range.
Barnsley FC 0 – 0 Oostende
Kenneth Dougall red card '54
In this game I decided to include players that will only be backups or rotation players, I am putting this down to the poor result. We were the better team but the red card early in the second half changed the game as I put the mentality on the counter and dropped a striker back.
I am happy with how we did face with this adversity so all in all it was a game where I am still learning what we are capable of and I am happy with the Squad.
Barnsley FC 1 – 1 Havre AC 
Alex Mowatt '14          Ebenezer Assifuah '12
Once again I fielded the same team as the previous game to have another look at them and all in all I am impressed with the squad depth I have. Alex Mowatt here getting his first goal of the season which will hopefully give him confidence when I call on him during the competitive games.
It was a shame to fall behind but we seemed to start very slow in this game.
Frickley Athletic 0 – 4 Barnsley FC
          Ryan Hedges '24 '37
Will Keane '27
Tom Bradshaw '57
I decided to field my opening game of the seasoned squad in order to build confidence by smashing a considerably weaker side which is exactly what happened. Ryan Hedges again showing the performance I am after in that winger position I wanted and getting himself two goals.
My front two really impressed me here as this was the first time I have played them together and they showed great chemistry linking up for one of Ryans goals and helping with each other also. This was great and I had high expectations going into the first league game.
Barnsley FC 1 – 0 Coventry 
Will Keane pen'50
A very frustrating game here with Coventry extremely lucky not to lose by more, we were very wasteful with chances and I hope this will not continue. Decision making within the box seems poor but I am hoping this will improve as the players are supporting well but aren't getting the ball at the correct times.
Picking up 3 points I will complain too much as a win is a win but I hope to see improvements going forward.
So that brings up to the end of the first update, I have also done a video which is below where the Coventry game is played in full with commentary so please check that out and I will be back at the start of September with another update!
If you wanna check out similar fm-stories to this one you can see FC Magdeburg FM18 story here!
Feel free to vote this Barnsley FC FM18 story! We hope you loved it. Stay with FMBrotherhood – football manager community!