T'Northern Knight – FM18 Barnsley FC Update 2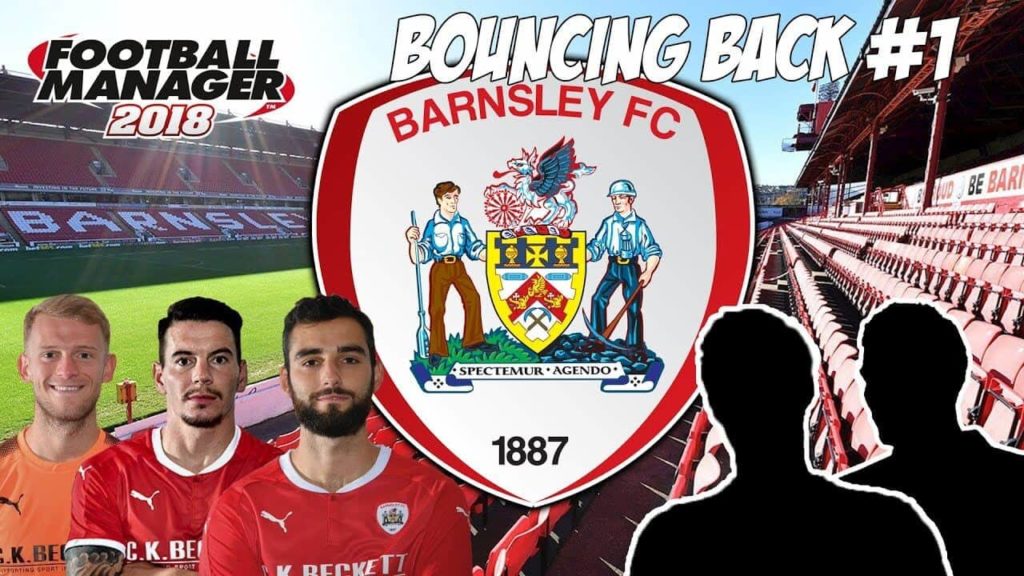 If you missed the opening, the first episode of Barnsley FC FM18 you can catch it up here!
So in the past week, I have released Parts 2, 3, 5, 6, and 7. Episode 4 didn't record correctly and as I play a live game every episode it couldn't be re recorded.
Below are my immediate thoughts after each game so please enjoy.
If you could watch the episodes which will be placed at the end of each month it would be greatly appreciated as well as subscribing to the channel.
Enjoy!
Barnsley FC Football Manager 2018 five-pack!
Barnsley FC in August 2017 – UNBEATABLE MONTH!
Morecambe FC 0 – 2 Barnsley FC
Mamadou Thiam '19
                                                     Lloyd Isgrove '74
This Carabao Cup round 1 game against lowly opposition provided the result I was looking for with the second string getting a run-out. Happy to see Isgrove and Thiam get goals as this will mean I will probably try to implement them into the first team on a more regular basis.
Burton Albion 0 – 0 Barnsley FC
What an incredibly frustrating game this turned out to be against another team that was relegated to League 1 last year also. 21 shots and 7 on target and not managing to find the net once leads me to worry a lot about the quality of my front line. I hope Will Keane will start to hit form soon as we need him.
Barnsley FC 3 – 1 Luton Town
Lloyd Isgrove '14 '27   Dani Pinillos o.g '54
Will Keane pen 90+2′
This game featured the most outrageous own goal I have seen on this years version of FM, this can be seen in episode 2 below. Isgrove is forcing himself into my first team plans with constant high-level performances and the two goals here solidifies him at one of my most consistent performers. I am hoping that Keane's penalty will instill him with some confidence to get the goals we desperately need.
Derby County 0 – 3 Barnsley FC
Tom Bradshaw '25 '51
Alex Mowatt '69
The second round of the Carabao Cup brought us what I presumed would be the difficult competition. I fielded a strong team and it is frustrating to see us put three past a strong championship side when we struggled to finish against Burton. Getting through here got us a visit to West Ham which will be a whole new challenge altogether. I am just hoping we can get more confidence from this to take on to the rest of the season.
Wycombe Wanderers 1 – 1 Barnsley FC
Neil Ennis '53                         Will Keane '25
Utter confusion following this game, we have gone from a demolition job on Derby to struggling to see out the game against Wycombe. I hope the points we will drop due to this will not cost us too much.
Barnsley FC in September 2017 – We all have to lose
Oxford United 1 – 1 Barnsley FC
Agon Mehmeti '41                        Tom Bradshaw '38
The live game of episode 2 and yet again I find myself frustrated at the lack of 3 points. Admittedly it took us longer to get a hold of the game as I would have liked but I think we did enough to get a win. A further 2 points dropped and I fear we may fall behind we cannot start putting our chances away and doing what we should be and be putting teams to bed well before the 90th minute.
Barnsley FC 1 – 0 Scunthorpe United
Ryan Hedges '2
An early goal secured the win in what was a very tense encounter, 32 shots and 11 on target only giving us 1 goal is still concerning me as we need to be giving ourselves goal cushions so we can get these points in the bank. Only time will tell if we can keep up these fine goal margin victories.
Barnsley FC 1 – 1 Bradford City
Mamadou Thiam pen'90+2                   Sherwin Seedorf '45
Another game we dominated and another 2 points thrown away, do you see the recurring theme here? I will be dipping into the transfer market in January as I need a player who will bring me goals.
West Ham 4 – 0 Barnsley FC
Edimilson Fernandes '6        Andy Halliday red card '30
Javier Hernandez '24
Felipe Anderson '75
Mark Noble '79
A game where as expected we were outclassed and outgunned, it would have been nice to get a goal here but Halliday with a moment of stupidity made the chance of us getting anything out of this game impossible. My signings aren't looking too good at the moment.
Blackpool FC 1 – 1 Barnsley FC
Kazaiah Sterling '63                   Tom Bradshaw '71
It's getting to the point I don't really know what to say, January cannot come quick enough because the habit of dominating a game and not getting what we deserve is getting old very quickly.
Barnsley FC 2 – 0 Bristol Rovers
Connor Mahoney '45
Adam Hammill '86
A professional performance showing that we weren't effected too much by the hammering we took at the hands of West Ham, it was also nice to get two goals out of a game to make sure we were going to win. It is imperative we keep this going now to stop Fleetwood pulling away.
AFC Wimbledon 0 – 1 Barnsley FC
Tom Soares red card '90+1                   Tom Bradshaw '47
We deserved a few more goals but as long as we get the 3 points at this point I am past caring. Fleetwood is flying and does not look like slowing down, we must keep chase.
Barnsley FC in October 2017 – Stand up after you fall!
Barnsley FC 1 – 2 Portsmouth FC
Mamadou Thiam pen'25                                           Gareth Evans pen'13
Ethan Ebanks-Landell red card '90+3                   Danny Rose '54
This is the live game of episode 3 and going into this game we were 8 points from Fleetwood in first with one game in hand. The inevitable has happened they only had 2 shots on target and we couldn't make use of our 16, January needs to come and I need to get scouting. Will Keane has been a flop and we are in need of reinforcements.
Shrewsbury Town 2 – 1 Barnsley FC
Stefan Payne '12 '54                   Will Keane '36
I hope this is not the start of a run, we have lost 2 and Fleetwood got 2 wins increasing the gap. Scouting has started for strikers but I need to give a few different players chances as some people are not pulling their weight.
Barnsley FC 3 – 0 Doncaster Rovers
Adam Hammill '19
Will Keane '41
Tom Bradshaw '58
I held a team meeting prior to this game to tell the lads to not let their heads drop and oh boy did they respond. Yorkshire rivals have beaten to the side in a game where we proved our superiority over one of the lesser Yorkshire sides. Hopefully, we can make a run out of this.
Sunderland FC 0 – 3 Barnsley FC
Lee Cattermole sent off '87                   Will Keane '21
Lloyd Isgrove '26
Tom Bradshaw '73
Now, this was a game I was dreading approaching it as Sunderland are a big club who have been in the premiership as soon as 2 years previous and suffered 2 straight relegations. I expected them to be strong so to run out as comfortable winners proved to me that we should be in the championship.
Charlton Athletic 1 – 2 Barnsley FC
Billy Clarke '21                  Adam Hammill '40
Will Keane '61
Looks like my little chat worked 100% in the games since and Fleetwood dropping points has allowed us to begin catching them. We need to keep showing how dominating we are and should be with our strength.
November 2017 with Barnsley FC – It is a cold month 😀
Barnsley FC 0 – 2 Lincoln City
Jason McCarthy 0.g '22
Harry Anderson '87
A second string side went out to Lincoln here in the FA Cup 1st Round who was sat in 1st place in League 2, not a result I was bothered about hence the second string. I need to focus on the league as getting the promotion is more important than getting a hammering from a bigger side in the later rounds.
Accrington Stanley 0 – 3 Barnsley FC
Alex Mowatt '9 '11
Tom Bradshaw '39
The first team was back out for this game and once again a dominant performance, this is what I expected from the start of the season. I have identified 2 players, Dalios Saavedra and Nick Blackman who you can see in episode 5.
Barnsley FC 3 – 0 Gillingham Town FC
Tom Bradshaw '11 pen '45
Alex Lacey o.g '66
The run continues, utter domination once again in this game makes me wonder who will stop us. It has to end eventually but I'll take these while we can. The new players I have signed will arrive in January and I guarantee results from them and a lot more goals.
Plymouth Argyle 2 – 1 Barnsley FC
Oliver Shenton '20 '75      Mamadou Thiam '49
And as easy as that the run is over, the first game in the league where I can admit we were outclassed. From the start of the game, they were relentless carving us apart at will. We were incredibly lucky to only lose 2-1 here as if we had got anything from this game I would have felt sorry for the Plymouth squad.
Barnsley FC 3 – 0 Rochdale AFC
Adam Hammill '8
Mamadou Thiam '29
Lloyd Isgrove '87
This will be vital to our title challenge, Oakwell needs to be a fortress. No matter what results we get on the road we want teams to worry about coming to our ground. If we can keep putting teams to bed this easily we should have no problem catching Fleetwood.
Barnsley FC in December 2017 – Let`s end a year with a win!
Walsall FC 2 – 1 Barnsley FC
Keiron Morris '55      Mamadou Thiam '90+1
Luke Leahy '68
This game is live in episode 5 below and I don't understand how we didn't get anything out of this game. We didn't take our chances and ultimately it cost us dearly as we were cut further adrift of Fleetwood due to this result.
Coventry City 7 – 3 Barnsley FC
Jonson Clarke-Harris '2 '27 '40      Dujon Sterling o.g '21
Jordy Hiwula '11 '48                          Adam Hammill '46
Jordan Willis '53                               Ethan Ebanks-Landell '60
Jodi Jones '87
Shock. That is the only way I can describe this result. Coventry absolutely ran rampage on us and left us looking incredibly stupid. This performance led me to really lay into the squad as this is not a result that should be happening against any team. West Ham put less past us when we only had 10 men. I can't dwell on this too much but I fear it may affect confidence.
Barnsley FC 3 – 1 Burton Albion
Alex Mowatt '3                              Liam Boyce '21
Tom Bradshaw '58
Adam Jackson '79
Phew! Thank the lord that the hammering we took against Coventry hasn't loomed over us. Oakwell appears to have sorted the lads out and the home support got them on their toes to right the wrongs of the previous Burton fixture where we should have got more than a draw.
Peterborough United 1 – 1 Barnsley FC
Matt Godden '79     Nick Powell '82
Nick Powell finally opening his Barnsley account helped us get a point in a game where we hit the bar so much I was starting to think it was wearing a Peterborough shirt. All in all sloppy finishing once again cost us so it was nice to see us get a point to build upon the last result.
Barnsley FC 2 – 0 Southend United
Tom Bradshaw pen '72
Mamadou Thiam '84
A thoroughly professional performance although we should have scored earlier in the game I will take 3 points where I can. Finishing has been a problem all season and It won't be changing until Blackman comes in.
January 2018 – Barnsley FC wishes you a happy New Year!
Barnsley FC 4 – 1 Fleetwood Town FC
Tom Bradshaw '14                    Ashley Hunter '23
Nick Blackman '44 '51 '89      Lewie Coyle red card '59
So the day finally came for us to play top of the league Fleetwood and it is our live game from episode 6 as seen below. What a result we achieved with a hat trick from the debuting Nick Blackman, he is the man to lead us back into the championship. We ran riot from start to finish and the Coyle red card only hit Fleetwood with further misery.
Luton Town 2 – 2 Barnsley FC
Danny Hylton '30                 Adam Hammill '4
Glen Rea '90                          Nick Blackman '63
Saavedra got a start here and with 27 shots and 11 on target I have no idea how Luton have managed to nick a point here. Saavedra didn't have the best game but he is young and will take time to adjust.
Barnsley FC 2 – 0 Wycombe Wanderers
Nick Blackman pen '12
Dalios Saavedra '19
The two new boys show the home crowd what I saw in them and I cannot believe how good Blackman is. He brings every player into the game and we look a much better team with him in it.
Scunthorpe United 1 – 3 Barnsley FC
James Perch '38                            Nick Blackman '14
Josh Morris sent off '83               Dalios Saavedra '21
Ryan Hedges '75
This performance made me think we were playing at home, we could get through their defense whenever we wanted. They were fortunate we only got 3, this win pulled us within touching distance of Fleetwood as we closed the gap a little bit.
Barnsley FC 1 – 1 Oxford United
Dalios Saavedra '14     Jamie Mackie '22
A frustrating game where their goalkeeper had the game of his life,  at this stage of the season I am not fussed with dropping points as Fleetwood are also beginning too so to keep pressure by at least getting something from games is keeping me satisfied.
February 2018
Scunthorpe United 1 – 3 Barnsley FC
Sherwin Seedorf '21                            Nick Blackman pen '15
Sherwin Seedorf once again scores past us to give us a draw, Blackman proving his deadliness however with a well placed penalty. We were lucky here as all in all they should have won, you can see the game as the live one in the below episode.
So that is it for this weeks update! If you have made it this far then thank you and please subscribe to my channel and don't forget to rate this post!
If you love stories like this one, you will enjoy the Leyton Orient FM18 story!
VOTE IT FMBROS! LET`S FIND OUT HOW GOOD WERE THESE EPISODES!