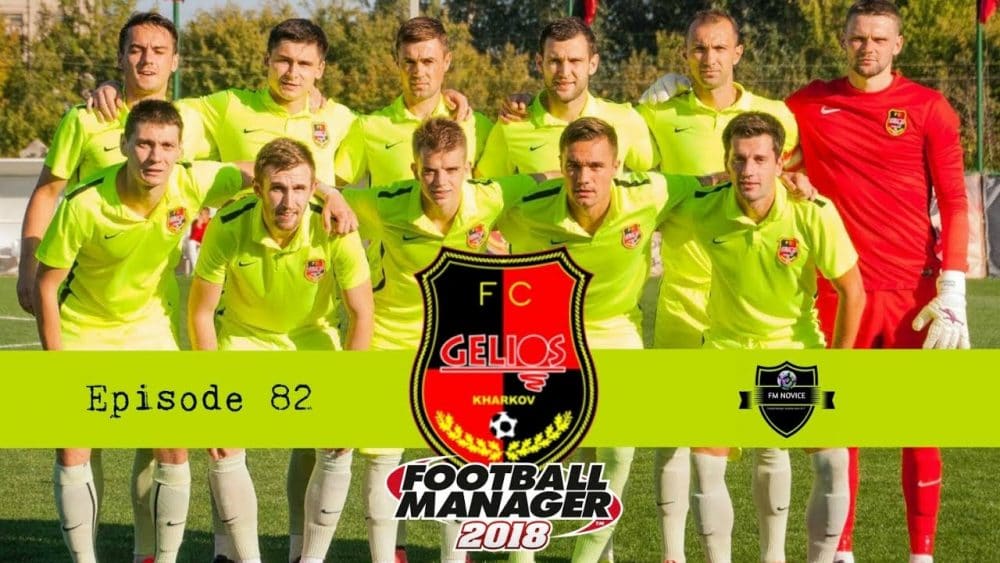 Creating a Legend – The FM Novice Story
By fmnovice1 | March 11, 2018 | 861 Views
Hello… I'm the FM Novice and I would like to introduce my Gelios Kharkiv Football Manager save to you all – it's been going since November 2017 and as I write this in March 2018 has seen 79 episodes go live.
My channel can be found here – FM Novice channel!
What is the aim? – Gelios Kharkiv Football Manager 2018 story
The aim of the save is to become a club legend somewhere – I wanted a save where I could remain for many, many years in a nation that I've never played before, and only that nation loaded – primarily to keep the game as quick as possible.
I settled on Ukraine as there are only 2 leagues and it met the criteria of being relatively unknown to me.
I don't want this post to be everything that's happened as I want to you to watch my content, subscribe, comment and genuinely love my videos by clicking on this – FM playlist …
Within these posts – which I hope to put up weekly (life permitting) – i will take you into a bit more depth around some of my thoughts about the save, recount classic games, look to the future, review some legends – basically anything that I think my audience would be interested in that would be too long for my videos.
I try to keep my videos below 15 minutes – I am normally quite busy and assume that most people are as well…
My choice – Gelios Kharkiv Football Manager 2018
The team is Gelios Kharkiv, based near the Russian border in Ukraine (according to Wikipedia so if I'm wrong, please be gentle), I chose them as they had the cleanest history so anything achieved will be my success, only formed 15 years ago in 2002 and they were a professional side as well.
Also liked the fact that they play in yellow – no idea why that mattered but it did.
I also wanted to put the emphasis on developing players through the academy but this club has the worst starting attributes for regens – the lowest ranking for everything, so this wasn't a hard and fast rule – over the seasons I have played the kids, but the majority of younger players have been found from the other teams scraps – with mixed success.
Seasons from 1 to 9
Season 1 (2017/2018) – Started life in the Ukrainian 1st Division and I set myself the objective of just staying up – the board wanted me to challenge for the playoffs – effectively that meant around the 3rd place at the end of the season – we finished top!
We started very well, but then had a blip in the middle of the season and found ourselves in the top 4 at the winter break – not sure what the players did during this break, but they came back and we went on a lovely run of form – this meant we went into the last game of the season needing 3 points and results to go our way for us to be promoted as champions – thanks to Dmytro Skoblov we managed just that!
I have the team to thank for this (Sergiy Kravchenko hit 30 goals and Denys Sydorenko was brilliant between the sticks) as my signings were rubbish – I made 4 signings during the season, 3 were released at the end and the 4th would have been but he refused to go!
Season 2 (2018/2019) – Massive Football Manager challenge – just stay up. The way the league works is that after 22 games the league splits, 1-6 compete for the title and Europe, whilst 7-12 compete to stay in the league – after 36 games, 10th and 11th playoff against 2nd and 3rd in Lge 1 whilst 12th get automatic relegation.
This season we pretty much stayed 10th/11th throughout the season, despite being heavily in debt (we've fluctuated between £1m and £2m in the red throughout the save) and ended the season just needing to beat Choronments in the playoffs – at halftime of the 1st game we were 4-0 up – the 2nd half of that match and the 2nd leg were so relaxing!! We brought in a number of signings in the winter break and they massively helped inject some quality although the bank manager wasn't that pleased! – the fact that Gelvych and Eugene Past are both key members of the squad in season 6 have shown they were value for money.
The hardest part of the save is the finances – you get nothing from the TV companies or any prize money – regardless of what you do in either the league or the cup – so the only money is what you generate yourself and we are a plankton in a big ocean – Shahktar Donestk have a turnover of 53m – most of the rest have around 1m – ours is 200k..
Season 3 (2019/2020) – We broke into the top 6 at the end of the regular season so Europe was a very real possibility, however we were completely out of our depth and finished a distant 6th as we couldn't compete against the big boys – our points total would put us 11th but we were spared the playoffs as we were in the Promotion Split. The main focus was the Ukrainian Cup which saw a match against Veres in the Semi Final but only 1 team turned up…
Season 4 (2020/2021)– Epic fail at the start of the season – we just never got going and found ourselves massively away from the top 6 and Europe and everything moved towards making sure that we didn't get dragged into the relegation battle – a change of formation meant we were able to push away from the drop zone and finished in 7th – having to go through the Relegation Split matches helped as we were playing against sides that we should be beating – although nothing is that simple!!
Season 5 (2021/2022)– After missing out on Europe previously, everything was geared towards making that European spot – we ended up 5th and got into the Europa League spot – we ended the season poorly as at one stage 3rd was a real possibility, but I would have taken 5th before a ball was kicked. Goals were genuinely a problem here – our top scorer was Igor Kogut from midfield with 11 and he was the only player in double figures
Season 6 (2022/2023) – Denys Bezbordenko was the main man with 15 goals from 29 matches as we grabbed a 3rd place finish – although admittedly we were a long long way behind the top 2. We had an immense match against FC Midtjylland in the Europa League qualifiers (watch it here ) but our joy was short lived as we crashed out the next round.
Season 7 (2023/2024) – another 3rd place finish but this was a season where we started to move the club on leaps and bounds – we got £3m for Karel Eaassar, an Estonian that scored goals for fun at international level but only mustered 5 in 91 for the club – it didn't help that i was playing him out of position AND we also got into the group stages of the Europa League so that was another £2m in the account, in fact we reached the Quarter Finals before losing to Inter Milan, which meant that the facilities and coaching staff took a massive upgrade this season and we finally felt that we were moving forward..
The season ended with our 1st ever cup final – the Ukrainian Cup – and a match against Dynamo Kiev
Season 8 (2024/2025) – a step up as we qualified for next years Champions League by finishing in 2nd place – country miles behind Shakhtar but you can't have everything. The Europa League proved to be just a cash cow (several more million pounds into the bank account) before PSG knocked us out in the 2nd knock out round.
Season 9 (2025/2026) – a nearly but not quiet season – we somehow reached the Europa League final and played Ajax (this match has "happened" yet) but enjoy the Semi-Final against AC Milan, we should finish again in 2nd but things are yet to be decided…
I hope that this Gelios Kharkiv Football Manager story whetted your appetite and you want to get on board and subscribe to my channel – as I've written this at the end of season 9 in 1 go then I have probably missed out loads – have a watch through the series and let me know 😉
The second part of the Ghelios Kharkhiv FM19 story is here!