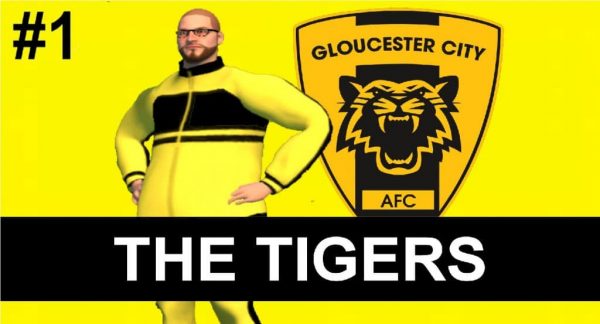 The Tigers FM18 – Manchester City of the Southern League
By tigerfm | March 10, 2018 | 25 Views
Hello All, Jack (or TigerFM!) here and I'm writing this up to let you know about my FM2018 Save on youtube with Gloucester City called 'The Tigers!' I hope you will love my The Tigers FM18 Story!
As we are entering the 2nd season, I will not spoil anything that has happened, but I will tell you a bit about myself and why I picked Gloucester City. I have supported City for near enough my whole life, traveling up and down the country to watch them whenever I've been able to, whether that was going to Blyth Spartans, or trekking it to Truro on a Tuesday night.
Who is Manchester City of the Southern League? – The tigers FM18 Story
The city currently plays in the Vanarama South (Currently sitting in 14th in the said league) and have played at various "home" grounds due to a flooding at, probably my 2nd home, Meadow Park in 2007. We have played at FGR's The New Lawn, Cirencester's Corinium stadium, Cheltenham's Whaddon Road and now Evesham's Jubilee Stadium. Despite all this, City got promoted in 2009 from the Southern Premier League against all odds, beating a Farnborough side who (at the time) could've been named the Manchester City of the Southern League.
The Tigers FM18 story you will love!
My purpose in this save is to push The Tigers FM18 team as far as possible and hopefully get them into League Football before a stadium moves back to Gloucester, and I hope you join me on this journey!
Episode 1 starts here, Come join TigerFM!

We hope you have enjoyed this The Tigers FM18 Story. As always you can share it, feel free to comment it here on our website, or on his YouTube channel and vote the episode so we can find out how good was it!
Cheers FMBros!
Check out the next part of The Tigers FM18 Story and the season number 4!