Pep Guardiola Tactics – FM18 – Manchester City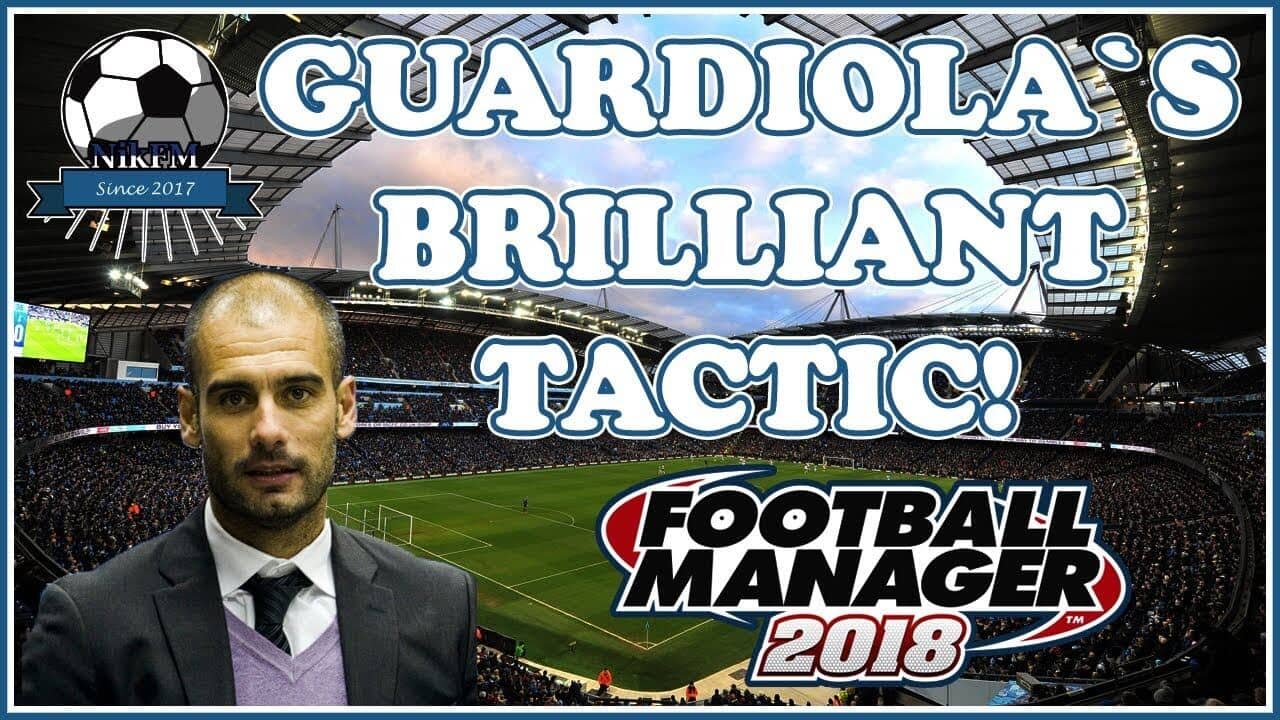 Pep Guardiola FM18 Tactics Remake is something you were all asking for. Now, you can take a look at how we see it, and maybe use it in your Football Manager 2018 expeditions.
After hundreds of people downloaded our Arsene Wenger's Invincibles tactics and Antonio Contes tactics we have chosen Pep to be the next football manager on this website (although Mourinho is on our front page xD) with his Manchester City tactics.
Pep Guardiola FM18 Tactics – Manchester City
Pep Guardiola is one of the best coaches in the world right now and Manchester City is playing really great football. They are playing offensive football with a lot of possession but in same time very efficient football. That is the reason why they are scoring tons of goals. That is why we will recreate Pep Guardiola FM18 Tactics now!
It was very hard to recreate his brilliant tactic into FM tactic but I think we did some good job here.
Pep Guardiola's Manchester City plays beautiful short passing football with a lot of triangles and with a big pressure on opponents. Guardiola spent a lot of money on fullbacks because they have the most important part in his tactic and they are key to the style that he wants to play. His style is famous and requires dominance of possession, and this is why Pep expects from his team to play very fluid.
Pep's Manchester City is playing in the formation of 4-1-4-1 or 4-1-2-2-1. This is how they are making a lot of triangles and make a lot of short passes.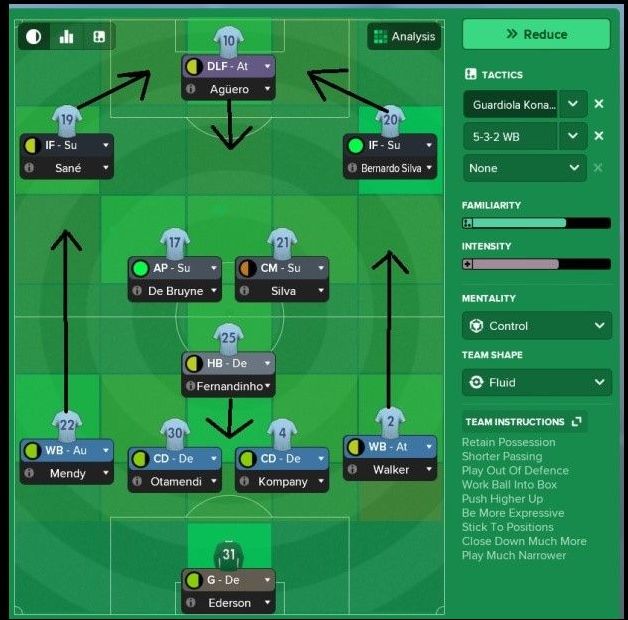 Pep Guardiola FM18 Tactics by FMB – Player Roles
In attack, we have DLF or False Nine who is coming down to receive the pass and he is someone who is involved in the creation and in the same time he is the biggest goal threat. At least in FM18, the best option for that position is Aguero.
Then we have two inside forwards in this FM18 tactic, who are cutting inside into the opponent's box leaving space for very attacking full backs who are ready to give some nice crosses or through balls for them.
De Bruyne is AP and he is someone who is feeding the whole team with his amazing passes and we can say that he is the heart of this team.
Silva is another player with a nice vision and technique and that is what Guardiola wants in his squad. In most situations, his main duty is to spread passes to more attacking players while he is covering right side and very offensive attacking wing back.
Fernandinho is classical HB and this is why he drops deeper between two central defenders making the defensive trio. Wing backs or fullbacks are very attacking and as we said before they are key players in this tactic. This is a reason why Pep Guardiola spends a lot of money on them. Here you can check the team instructions:
Pep Guardiola FM18 Tactics team instruction – let`s dance!
And as you see its control mentality with a fluid team shape, closing down is much more as we want to make big pressure on opponents and of course shorter passing and retain possession.
Play out of defense and work ball into a box are the other team instructions that will help in playing possession football. Also with so many great players, we want them to use their incredible skills. So be more expressive is another good team instruction.
Our partner also made his analysis of Pep`s tactic so you can check that out.
Stay with us, there will be some more real-life tactics!
Pep Guardiola Football Manager 2018 tactics is only the beginning when we speak about FM tactics and real-life tactics that we recreated. So you can expect soon some more of it. Some of them like Pochettino FM18 tactic have arrived 😉
Download Pep Guardiola FM18 tactics here!
We hope you will comment on this Pep Guardiola FM18 tactics, live us your feedback about it and of course, stay with the FMBrotherhood!