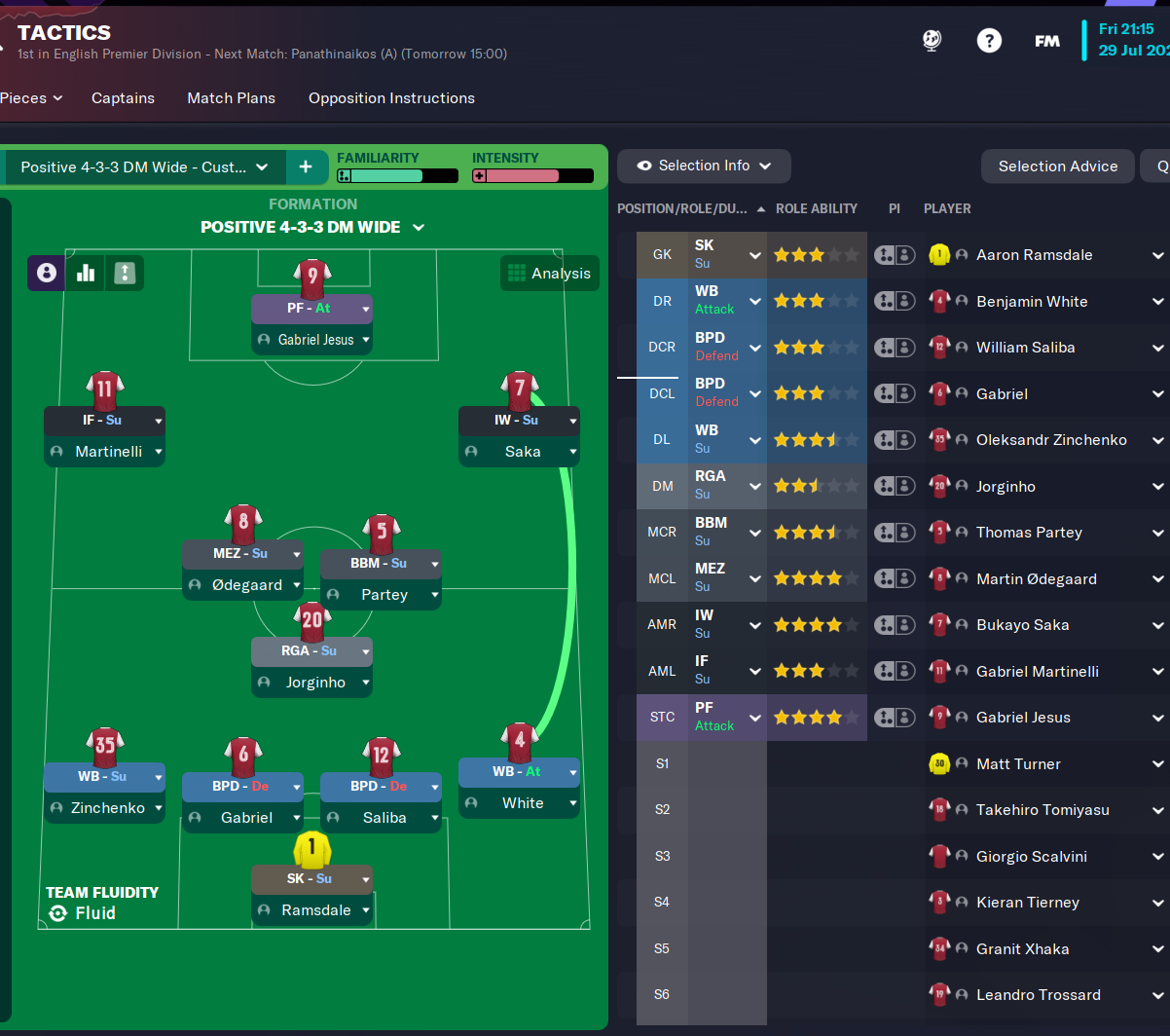 Arsenal FM23 Team Guide
By callum | May 21, 2023 | 5465 Views
Arsenal FM23 Team Guide
After some disappointing seasons under Mikel Arteta, the 2022/23 season has seen Arsenal become title challengers! Although they have fallen short at the final hurdle to Manchester City, Arsenal have made a lot of progress this season.
Their young, exciting team, has made them an appealing save for Football Manager gamers to try out in FM23. This Arsenal FM23 team guide shows you their best players, signing recommendations, and what the board will expect from you in your first season.
Arsenal FM23 Club Vision and Board Expectations
In FM23, Arsenal are predicted to finish 5th by the media and bookies. This means it could be difficult to finish in a Champions League place like the board want you to do. This means it's really important to take the Europa League seriously, as if you can win this competition, you will qualify for the Champions League.
The Arsenal board don't seem to be too bothered about how you get on in the cup competitions, but the Arsenal squad is definitely good enough to finish in the top 4 and win a trophy.
The board culture states that they want the Arsenal manager to sign players under the age of 18 for the future. Make sure to take this into account when considering signings.
FM23 Arsenal Supporters Expectations
The Arsenal supporters in FM23 are as demanding as the board. They expect you to finish in the top 4, and also finish above rivals Manchester United, and Tottenham, whilst being competitive when playing Chelsea.
Arsenal fans also want you to play attacking and entertaining football, so it might be a good idea to take this into consideration when creating your Arsenal FM23 tactic.
Arsenal's Best 11 Lineup in FM23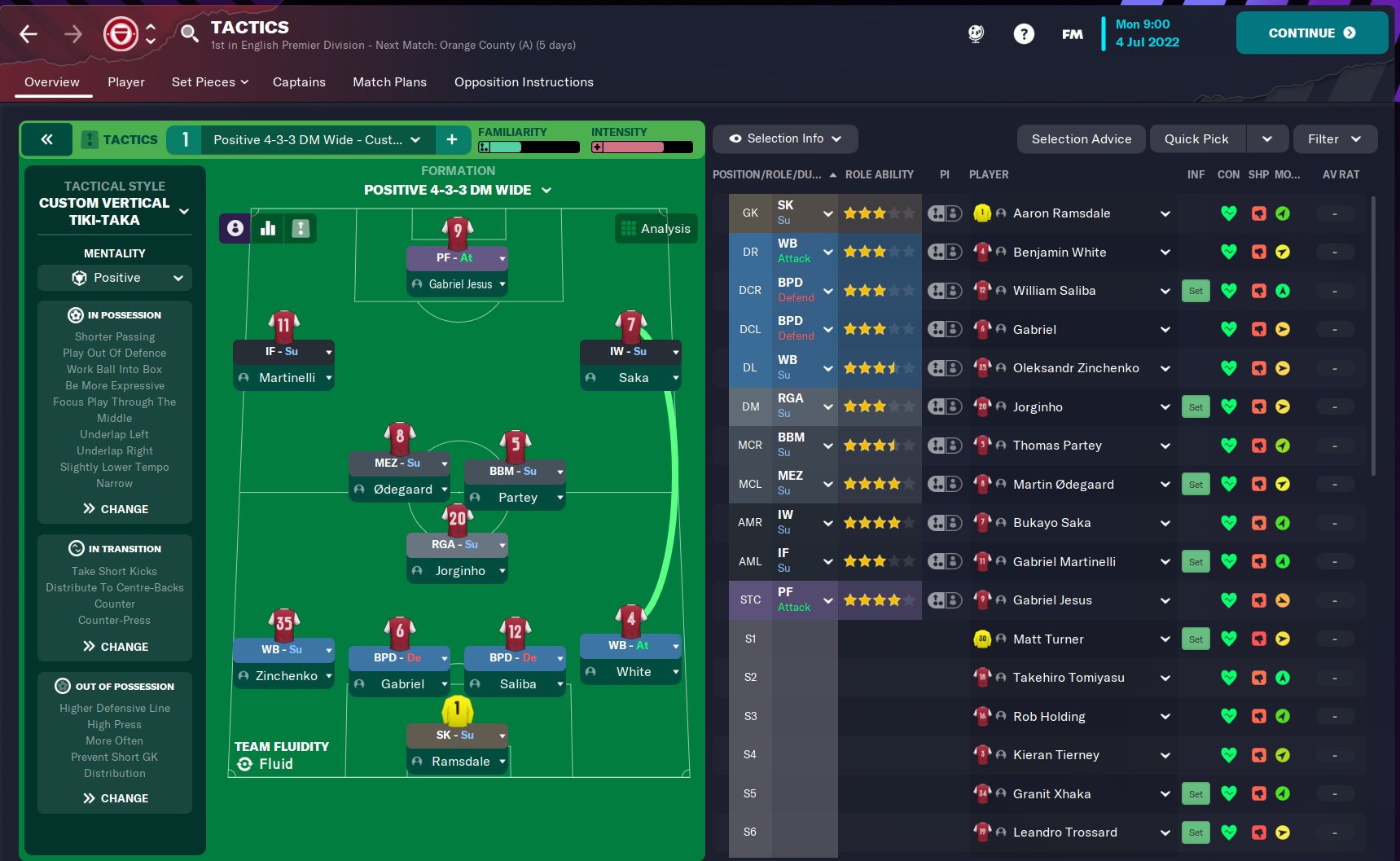 In FM23, Arsenal have a really strong first 11. It's hard to sign high quality goalkeepers early on in Football Manager 2023, but you don't need to worry about this when managing Arsenal. Aaron Ramsdale is a great goalkeeper with potential to become world class.
Saliba is a young centre back that's already capable of playing at the highest level, and like Ramsdale has the potential to get even better.
In midfield, you may want to play Granit Xhaka instead of Jorginho, but for the tactics we've implemented Jorginho suits this role better.
It's difficult to strengthen Arsenal's first 11 with transfers in your first season due to the small transfer budget. Arsenal are lacking depth at centre back and in midfield, so look for wonderkids who can develop to play in these positions. Our signings are further on in this article.
Arsenal's Best Player in FM23 – Martin Odegaard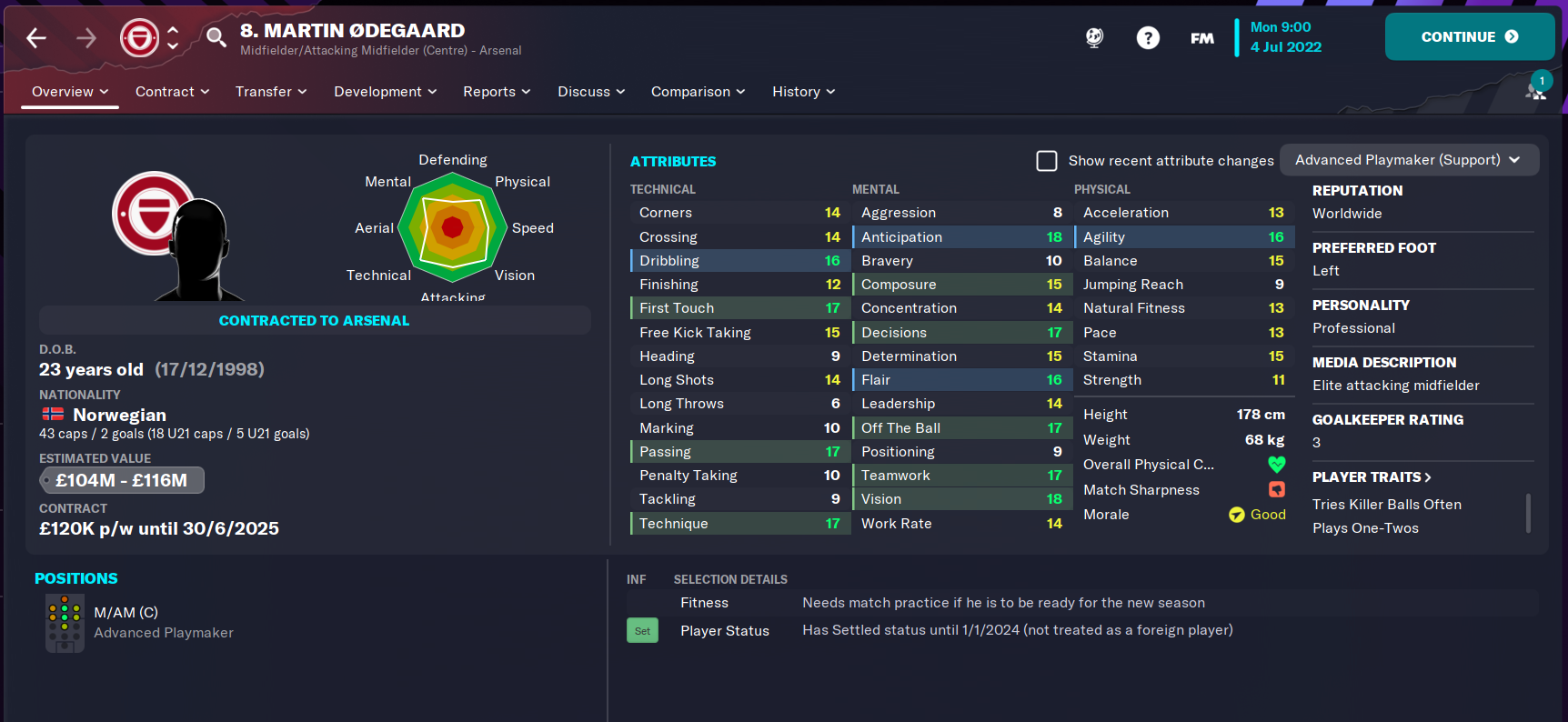 Martin Odegaard is an exceptional attacking midfielder in FM23. He's world class technically, with 17 passing, first touch, and technique. Odegaard is one of the most important players in your Arsenal team, so you must utilise him correctly.
He's only 23 years old, and has the potential ability to get even better! At the start of your Football Manager 2023 save, Odegaard has 3 years left on his contract. You might want to look at renewing this before the end of your first season, to prevent top clubs from showing interest in him in the Summer of 2023.
Gabriel Jesus in FM23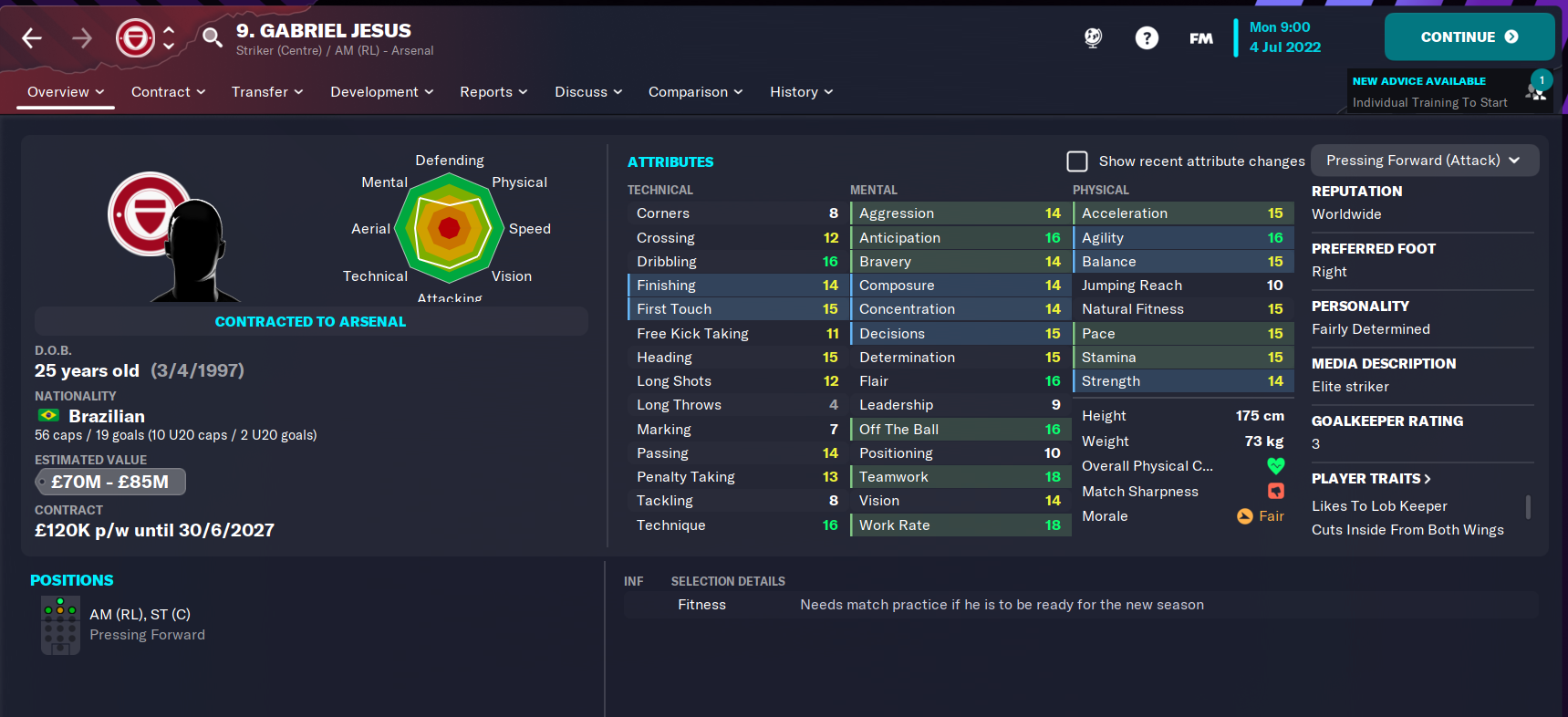 Arsenal were desperate for a striker, and Gabriel Jesus has been a fantastic signing. He stands out mentally, with 18 work rate. 18 teamwork, and 16 off the ball movement. Jesus' high work rate and aggression make him an excellent pressing forward.
Getting Jesus in good form will make getting top 4 no problem at all.
Bukayo Saka in FM23 – Arsenal's Best Wonderkid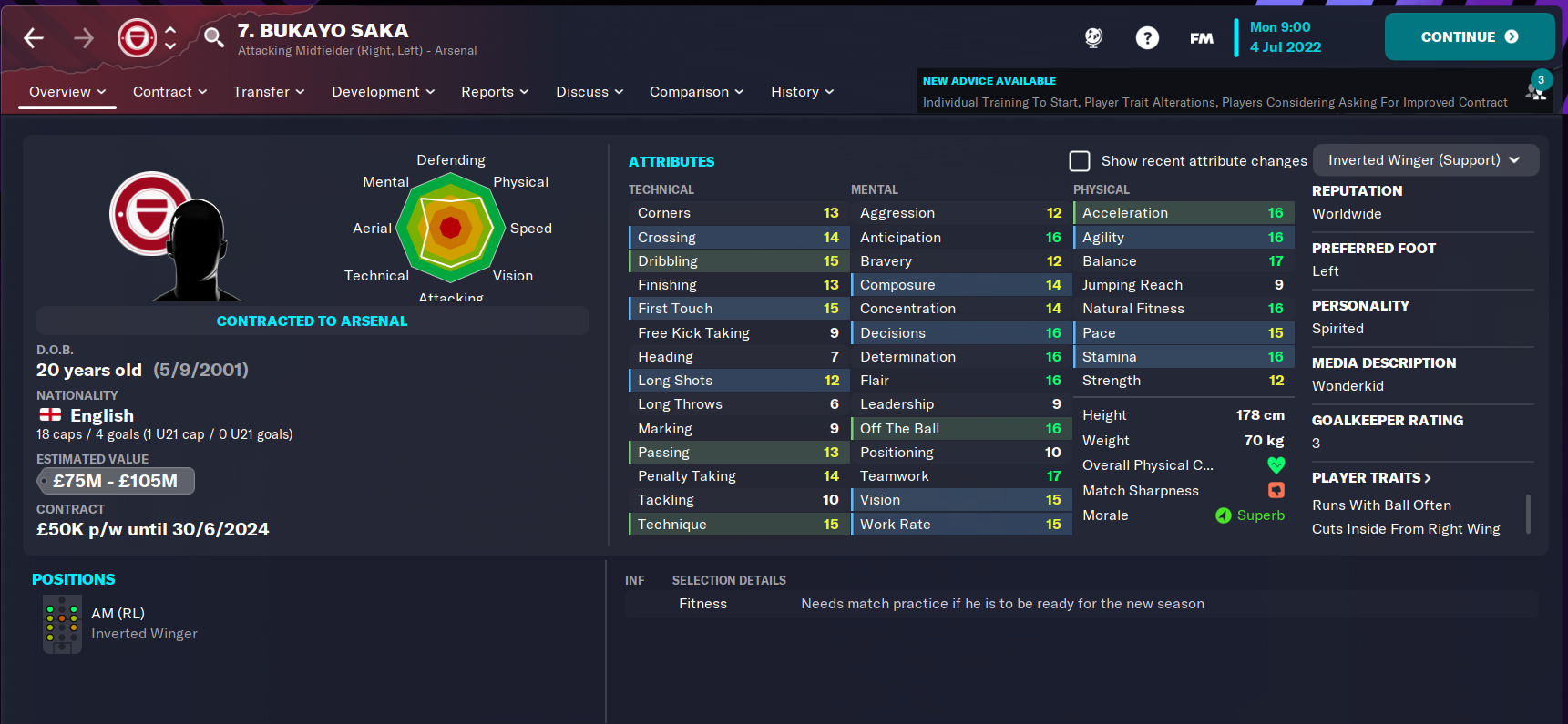 You couldn't talk about an Arsenal FM23 team guide without mentioning Bukayo Saka. He's one of the most exciting players in the game, and is the best right winger wonderkid in FM23.
However, his contract expires in 2024, so you must make it a priority to give Saka a new contract asap. Let's see how good Saka can look in his prime.
Bukayo Saka After 10 Seasons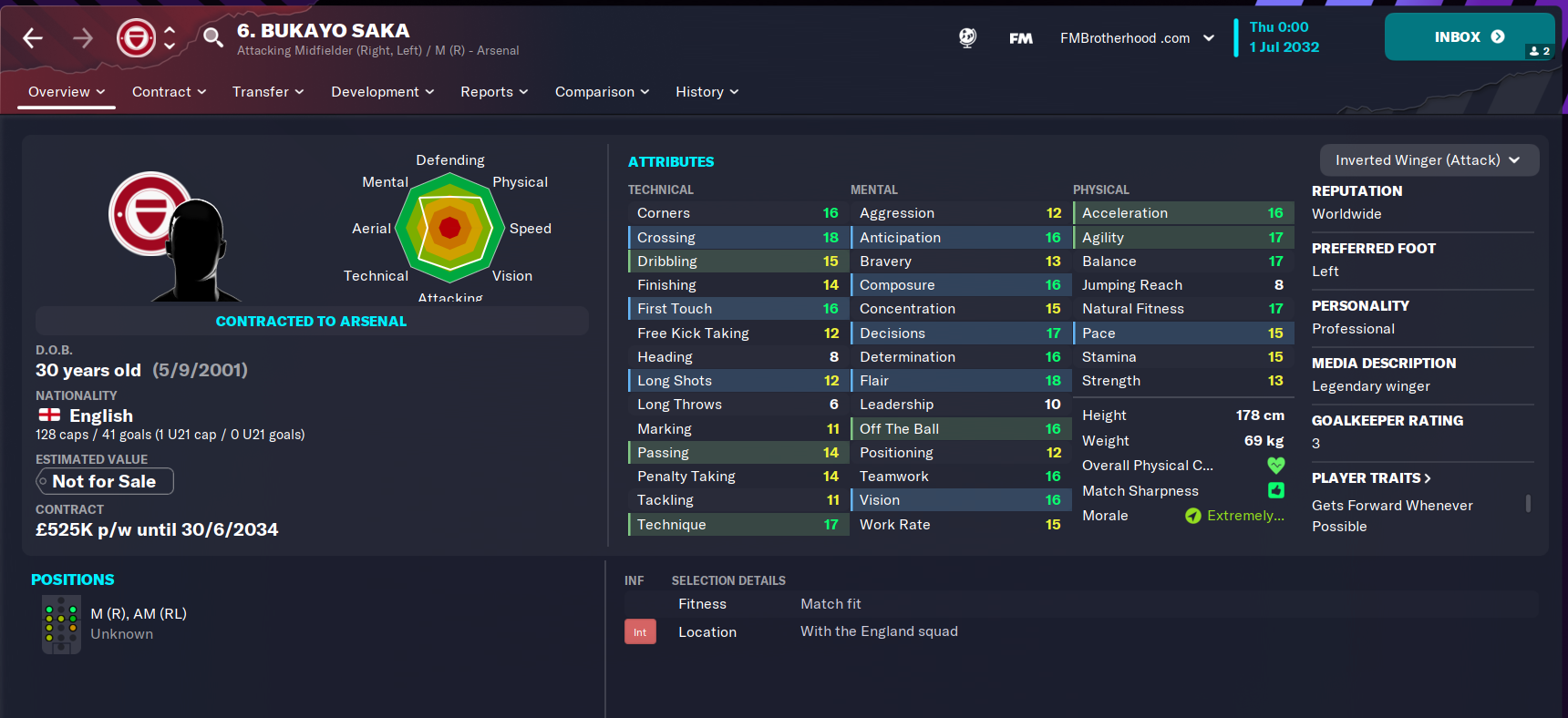 In 2032, Saka is described by the media as a "legendary winger" showing how phenomenal he can become. He has 16 attributes rated at least 16 or above, and has almost 130 international caps for England.
Saka also had an average rating of at least 7.5 in every season after the first, which means he's ridiculously consistent.
Arsenal Transfers in FM23
In FM23, Arsenal begin with a small budget of £4 million, and a spare wage budget of £150k. To increase this to allow signings to be made, we were able to sell Reiss Nelson and Rob Holding for a combined fee of £31 million. By also selling some youth players for nominal fees, we managed to make 2 important signings for the future.
Arsenal FM23 Team Guide Signing 1 – Giorgio Scalvini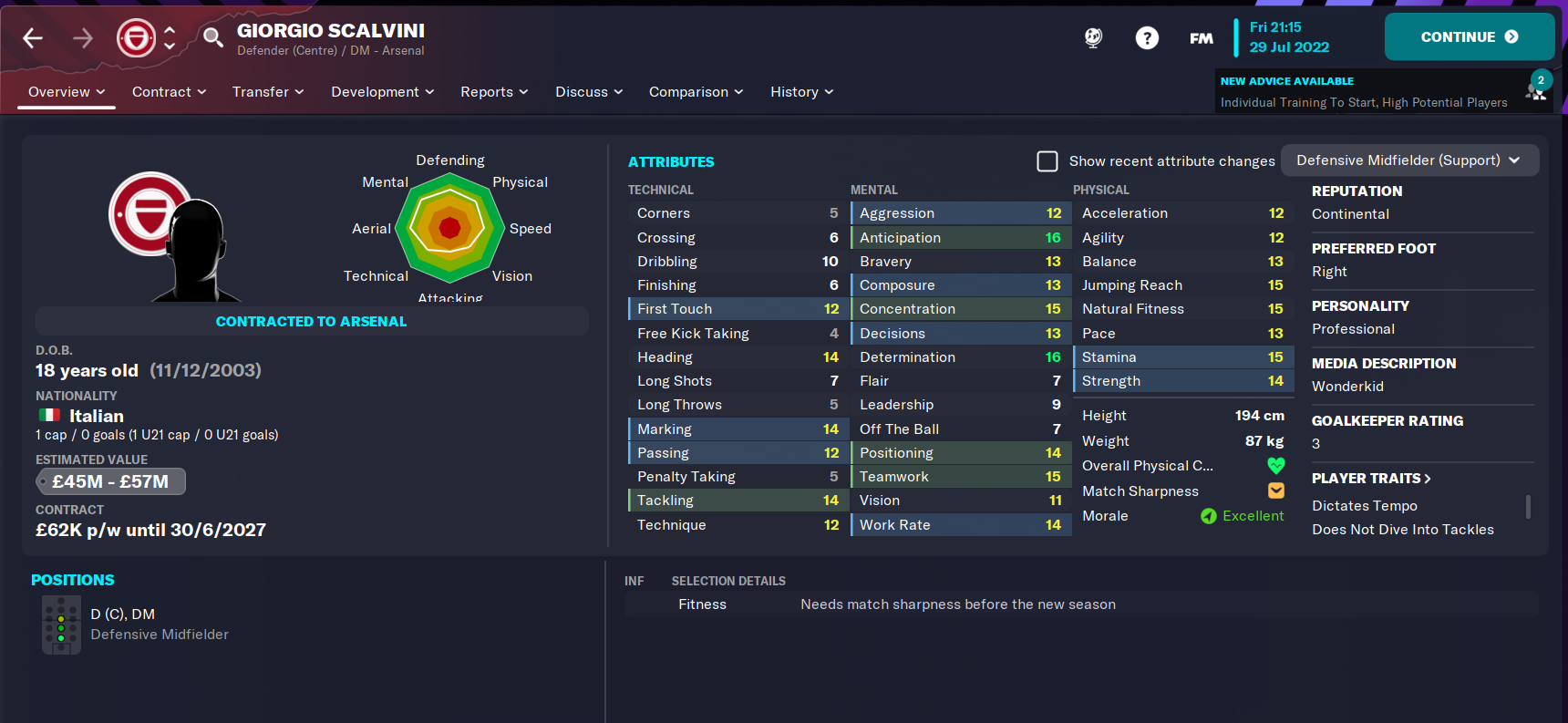 To provide cover at centre back we decided to sign Giorgio Scalvini. He's one of the best wonderkid centre backs in FM23! Scalvini has strong defensive attributes, including 14 tackling, 16 anticipation, and 14 marking. He's also already been capped by Italy at just 18 years of age.
Scalvini was signed for £28 million. Let's see how great he can become.
Giorgio Scalvini in 2032
Just like Saka in 2032, the media describe Giorgio Scalvini as legendary! He has well rounded physical attributes, and top quality mental attributes. In his prime. Scalvini stands out in every aspect that you look for in a centre back.
In our FM23 simulation, Manchester City signed Giorgio Scalvini for £74 million in 2025. This is why it's important to sign him as soon as possible, before his price rises.
FM23 Arsenal Signing 2 – Alex Scott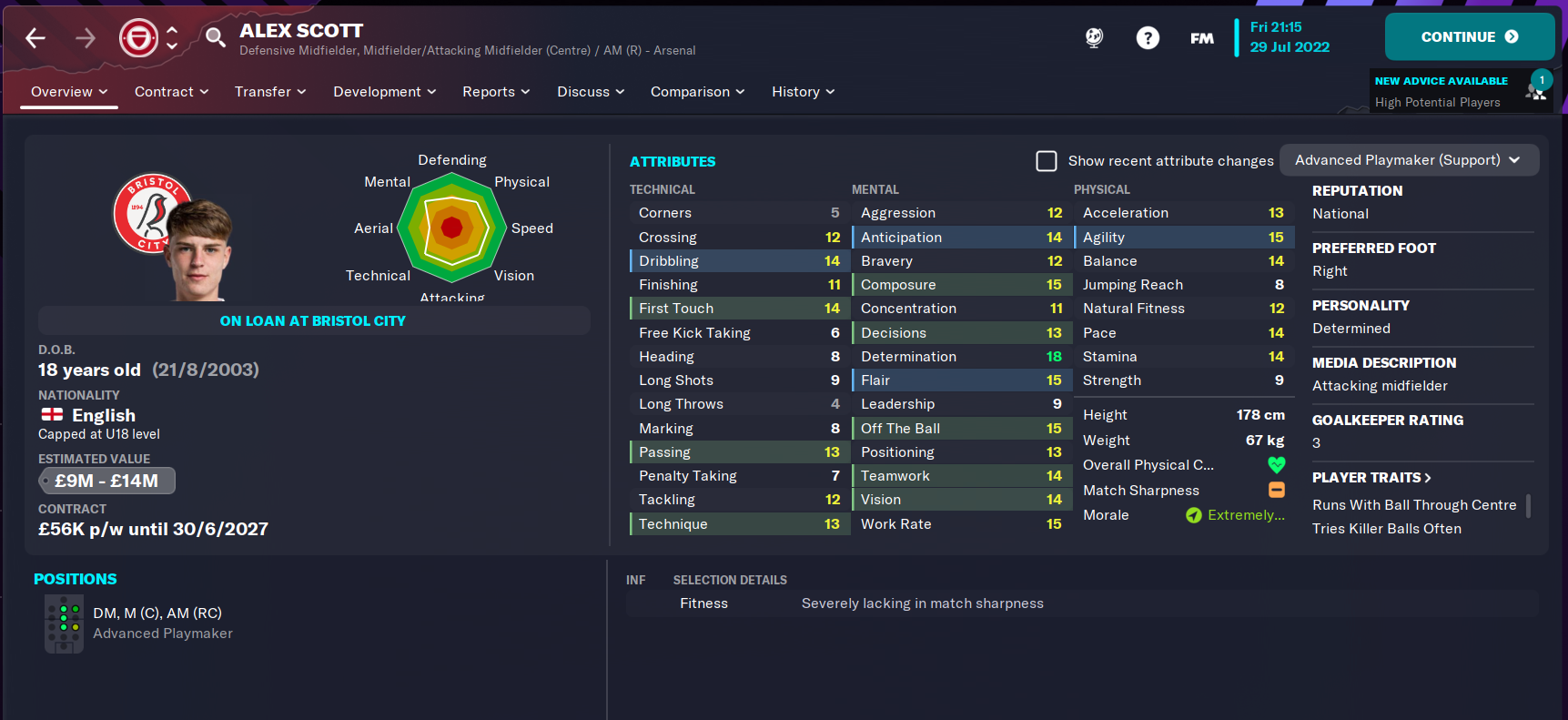 Signing Scalvini left just £12 million left in the transfer kitty, so we decided this would be best spent on one of the most popular FM23 wonderkids Alex Scott. He can play as a CDM, CM, and CAM, which makes him perfect for Arsenal in FM23.
We decided to loan him back to Bristol City for the first season so he can develop and play regular first team football.
FM23 Arsenal Line-up with New Signings
After making signings in this Arsenal FM23 team guide, the first 11 stays the same. However, Scalvini comes in as 3rd choice centre back, and can definitely replace Gabriel in a few seasons if you develop him correctly. After the first season, Alex Scott can compete with Odegaard and Partey for positions in midfield.
Looking at signings for the future, you might want to sign a more attacking right back to replace Ben White. Jorginho is great in FM23, but he's in his 30s, so a CDM like Declan Rice would be a fantastic replacement.
Summary of Arsenal FM23 Team Guide
Arsenal haven't won the Premier League for 20 years, but this feels like their best chance since then to win the League again. They have some phenomenal youngsters with world class potential ability. If you can make a few top quality signings, you could win the League in 2 or 3 seasons.
It's important that you have a strong first season and finish in the Champions League places so you can get a large budget to reinvest in the squad. Playing in the Champions League is also essential to keep players like Saka, Martinelli, and Odegaard.
If you want to see some right back wonderkids you could sign for Arsenal, check out this post.