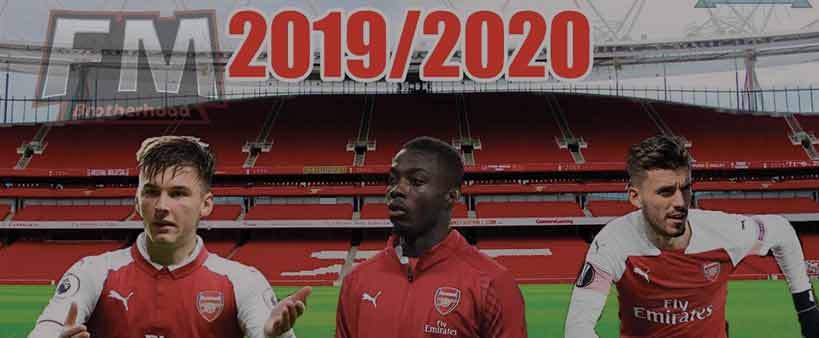 Arsenal in Football Manager 2020 – With All The Confirmed Transfers
By spaskecar | August 17, 2019 | 2502 Views
Arsenal FC was very active in the last summer transfer window and they bought many great and expensive players. Arsenal's fans should be very happy to see so many new faces in their team. These new players like Nicolas Pepe, Kieran Tierney, Dani Ceballos, and David Luiz can bring big quality to Arsenal's existing team.
We are going to do a preview of each player in Football Manager 2019 and we will predict Arsenal's team in the Football Manager 2020.
80 million worth Arsenal signing – Nicolas Pepe!
Nicolas Pepe is for sure the biggest transfer, and Arsenal's fans expect some great things from this fantastic player. Arsenal paid 80 million to LOSC Lile for him and this is a really big sum of money. This amazing right-winger had a great season in LOSC Lile, scoring 22 goals with 11 assists. So if he does the same at Arsenal everyone will be very happy.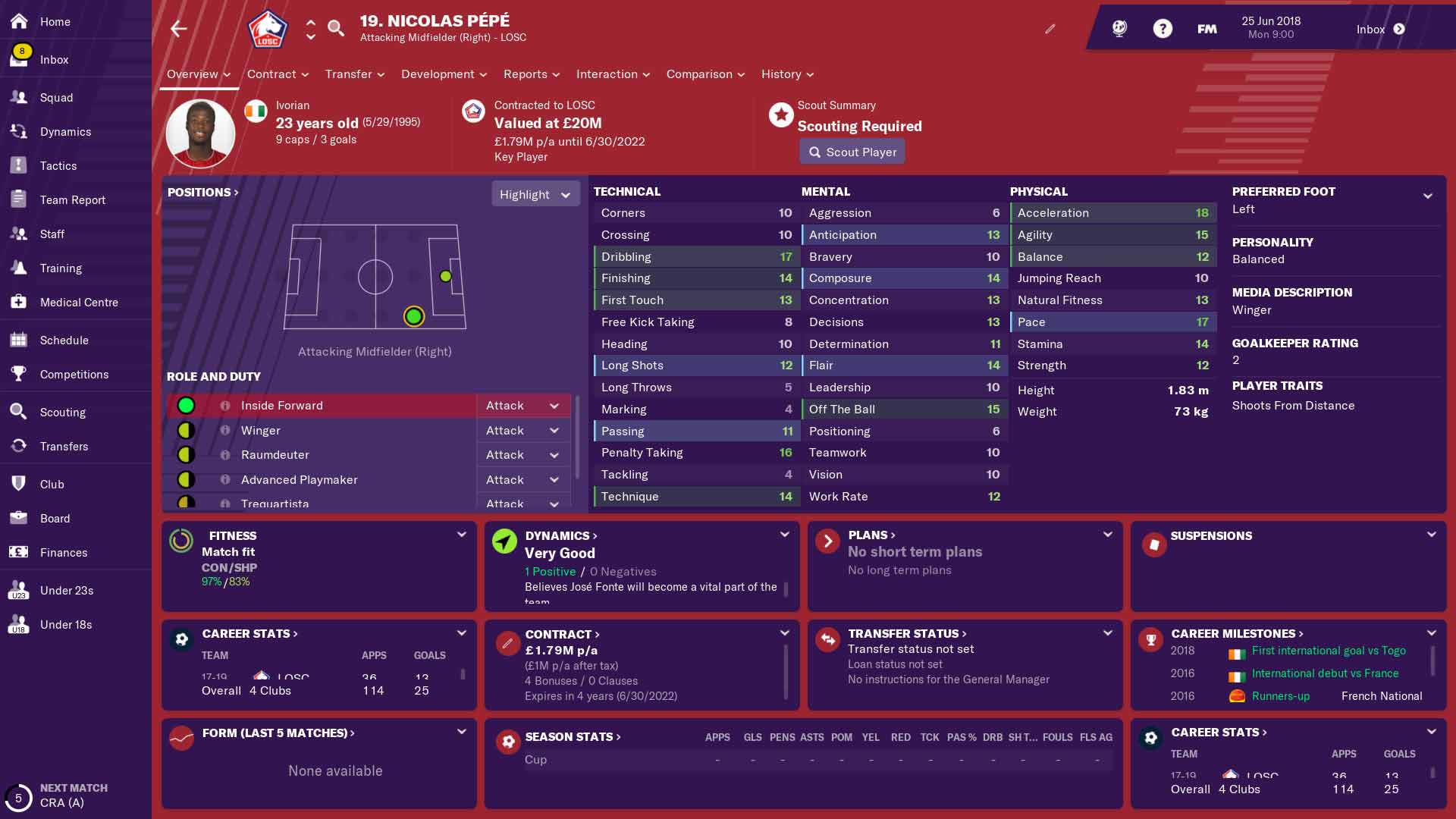 Nicolas Pepe is 23 years old Ivorian Inside Forward or Winger and his best attributes are speed and dribbling. He is using left foot and he has a balanced and normal personality. Defensive attributes are really poor, but that is not so important for a great winger. Anyway, Arsenal's fans should be very happy that Arsenal has signed this outstanding player. It is going to be very interesting to manage Arsenal in Football Manager 2020 and to have Nicolas Pepe in the team.
Amazing FM19 player – Kieran Tierney, now in Arsenal
Kieran Tierney is another great transfer, a player who came from Celtic for 27 million. This young Wing-Back has a bright future and a lot of potentials. In the last year, he had 20 appearances for Celtic in Scottish Ladbrokes Premiership and he made 5 assists.

Kieran Tierney is 21 years old Scottish left wing-back with great speed, nice crossing and dribbling, and fantastic determination. His bravery and work rate make him a great team player. His Current Ability is 142 and potential ability is 170, so this young player with some good training will improve into one of the best wing-backs in the world. Anyway, expectations are very high and any team in the world would be very happy to have him in a team.
From Madrid to London – Dani Ceballos in Arsenal
Another amazing player that came to Arsenal in the last transfer window is Dani Ceballos. The only bad thing about this transfer is that he is only on loan from Real Madrid. He played 23 games for Real Madrid in the last season and he scored 3 goals. This is not the great stats for such a good player, and Arsenal's fans expect much more from him in the next season.
Dani Ceballos is 21 years old Spanish midfielder who can play as Mezzala, Deep Lying Playmaker or Advanced Playmaker. Ceballos can play even closer to the goal as Attacking Midfielder. He is a player with great passing skills and a very nice technique. Bravery and teamwork make him a real team player.
The only problem is that Dani Ceballos is really poor in the air and this is what he should improve. His current ability is 145 and his potential ability is  168 so we can say that he has a lot of room for improvement. We really expect to see even better attributes in football manager 2020.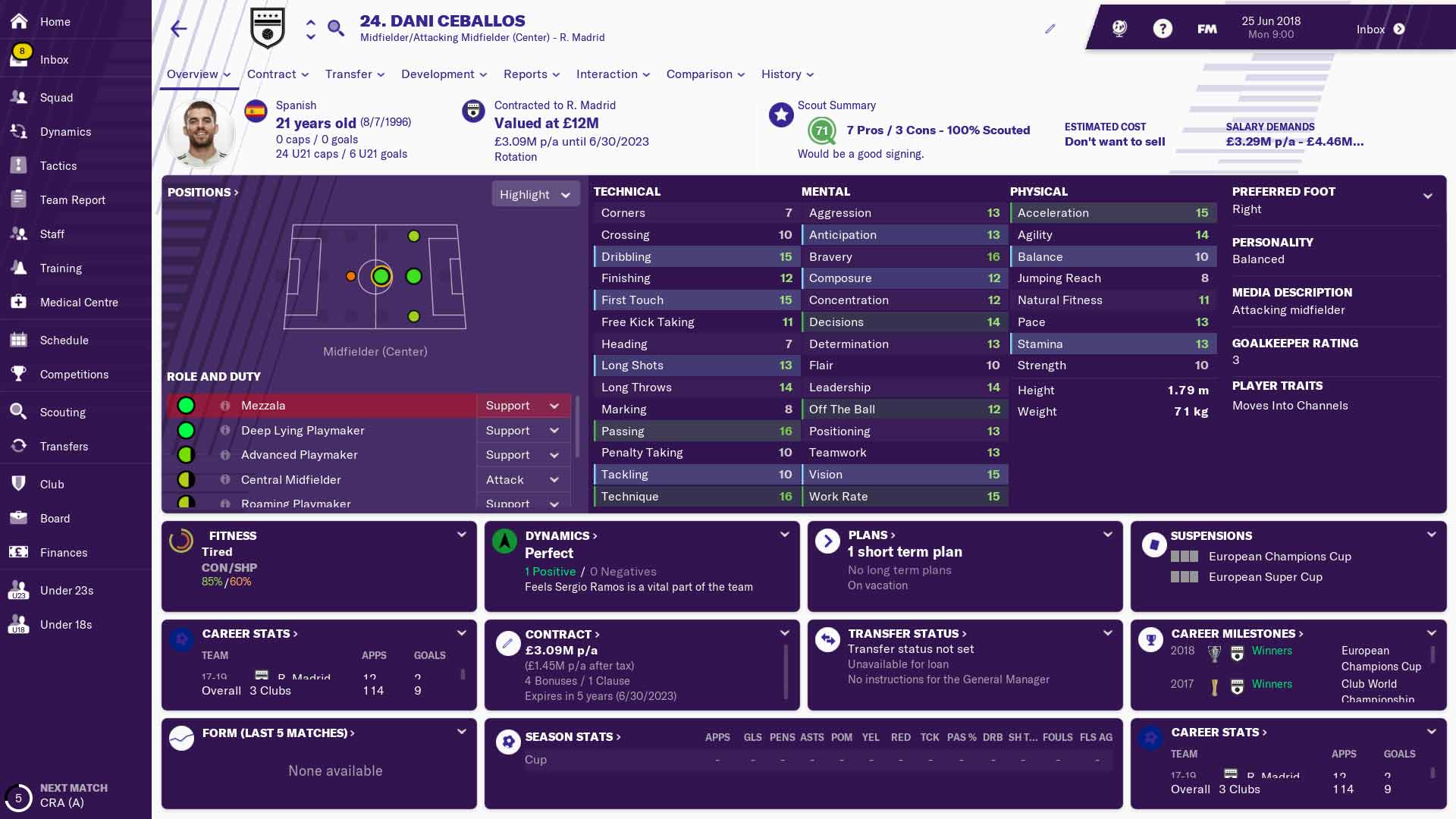 David Luiz in Arsenal
Next Arsenal's transfer that made Arsenal's fans very happy is David Luiz.  He came from Chelsea for around 9 million. David Luiz is a player with a great experience and player that every team must have. This 32 years old central defender played 36 games for Chelsea in Premier League last season, and he scored 3 goals and made 2 assists. We are sure that Arsenal did a great thing by signing this experienced central defender.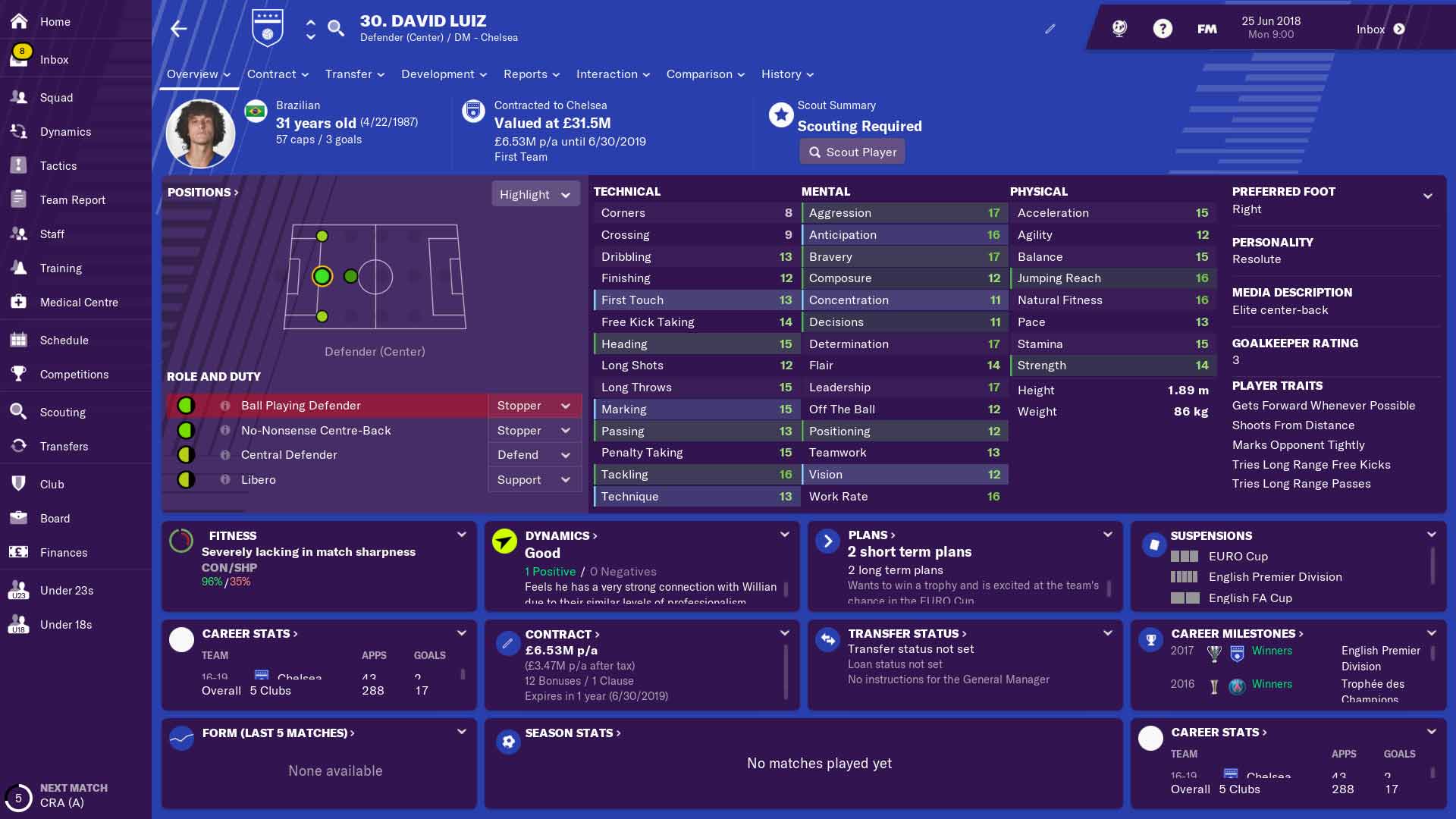 David Luiz is very good Brazilian Ball Playing Defender who can cover the position of Defensive Midfielder too. He is using the right foot and his mental attributes are really awesome. Except that he is 32 years old right now, we don't see any weakness. This kind of defenders is really hard to find in the world, simply he is absolutely amazing. David Luiz is very brave and really good in the air. He should be one of the team leaders in Arsenal's team.
Arsenal in Football Manager 2020
Our opinion is that Arsenal should play with 3 central defenders in the next season, with Tierney on the left side as a wing-back, and Bellerin on the right side. This is Arsenal's formation that we recommend in Football Manager 2020.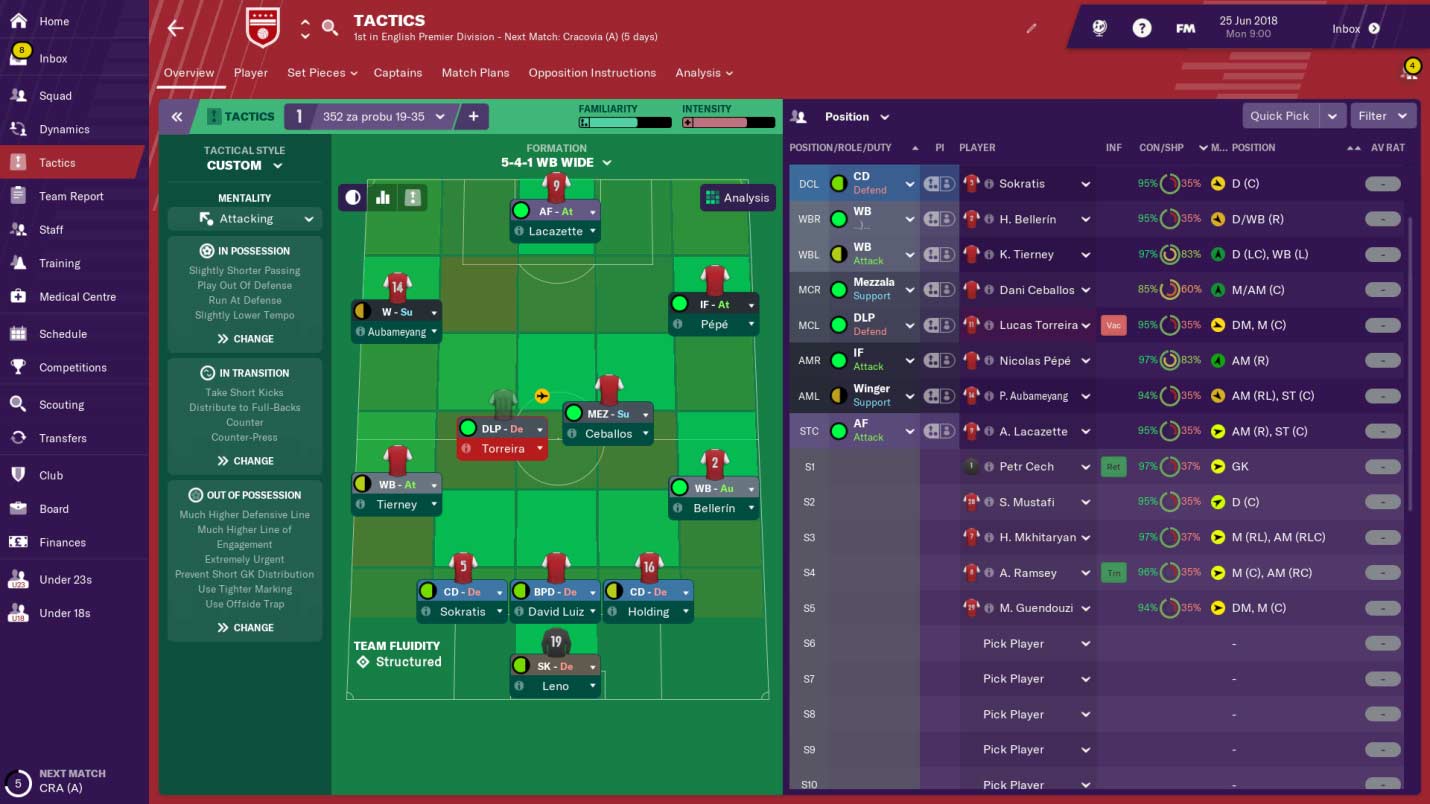 You can check out the whole, by our opinion best lineup that Arsenal has for the next season in the video below.
Chelsea won Premier League by playing this kind of formation where David Luiz was a key player.  Playing with 3 central defenders allow David Luiz to start ball passing from the back. The only problem is that with this formation there is no room for Mesut Ozil. Anyway, we really think that Arsenal is going to be one of the most interesting clubs to manage in Football Manager 2020. Do you agree with our opinion?