Aston Villa FM19 Team Guide
Hi guys! We are back again with another FM19 team guide. This time, we are going to discuss Aston Villa FM19 team. So as usual, we hope this information we are about to pass helps you start your save perfectly.
Aston Villa FC is a football team originated in England in 1872. During that time, four members of the Villa Cross Wesleyan Chapel decided to form a football club in the Midlands. On that way, Aston Villa came into existence.
However, in 1876, Aston Villa moved to Wellington Road ground. This mapped out a road to success for the Villans. Their first honor came in 1880, which they won the Birmingham Senior Cup.
As time went on, this great team claimed their first league title in 1894 and later became one the best teams in England at that time. They have also won series of major trophies, including the UEFA Champions League.
Aston Villa FM19 – Team Guide
However, in these recent years, Aston Villa is no more powerful as use to be. They have declined in performance. Since their drop from Premier League in 2016, the team has been struggling to make it back to the top flight.
Currently, this team plays in the Sky Bet Championship. But they need a manager who can get them back to their formal glory. Is that you?
We will talk about this team's finances, team dynamics, and the best tactic you should try.
Aston Villa Football Manager 2019 Finances
Well, the finances of Aston Villa FM19 aren`t so good. With what we have seen in Football Manager 2019, you may be forced to do only free transfer business. Their transfer budget is £0.
We think it would be better for you to sell some players (especially older players) to get some money to spend. Moreover, the wage budget is £46M p/a, which is great. The scouting budget is £720,000.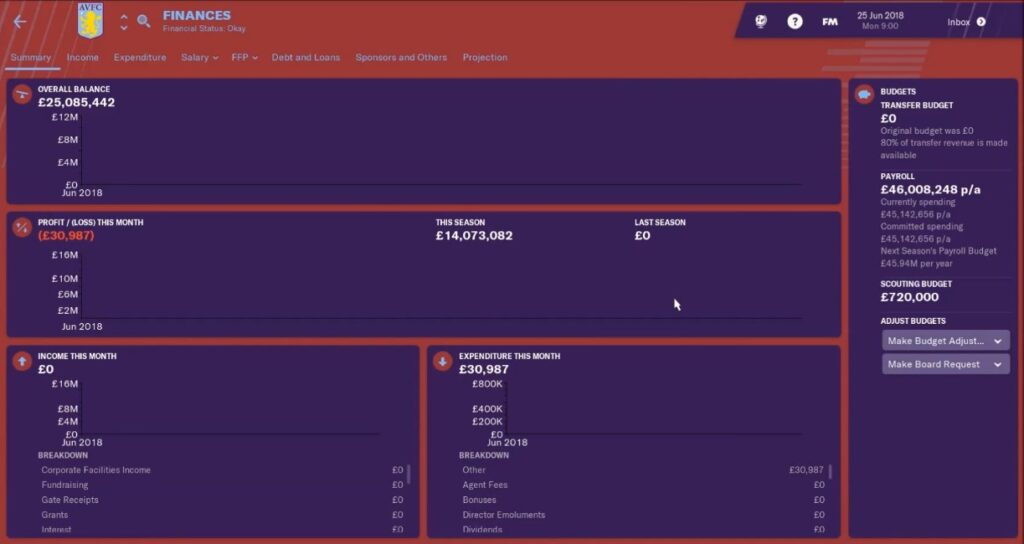 Just like the financial status of Rangers FC in FM19, Aston Villa don't have any loans or debts to pay. So there is nothing to worry about here.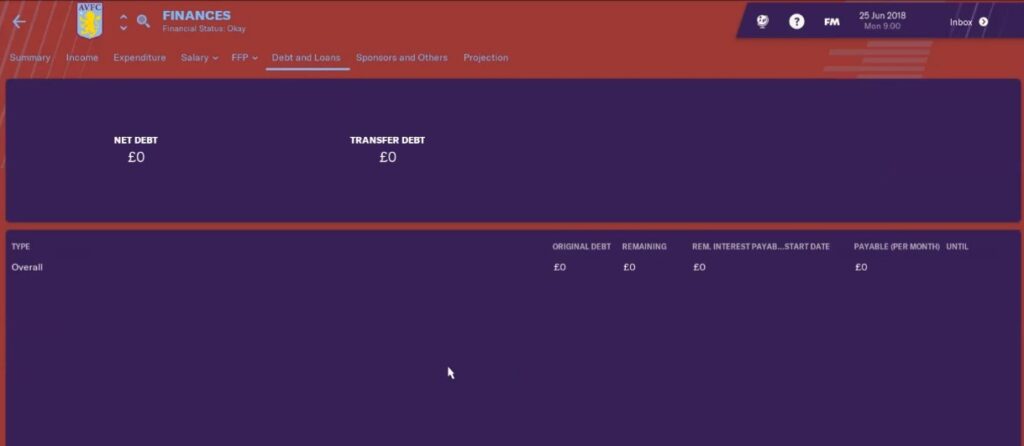 The board expectations are quite simple. For the Championship league, the board wants you to get the team to the playoffs. But with this team, you should be able to do more than that.
Also, for the FA Cup, the board want you to reach the fourth round of the competition. And they expect from you to make the third round of the Carabao Cup.
Aston Villa FM19 Squad
The quality of the team is good enough to win EPL promotion. But, it may require a very good managerial skills from you. Here, we are going to review the status of Aston Villa squad. Recommendations on who to sign will be presented also.
In the squad, there are only two leaders present. The team leaders are James Chester (a 29-year old central defender) and Mile Jedinak (a 33-year old ball winning midfielder but he's too old for some serious football and he's a slow player).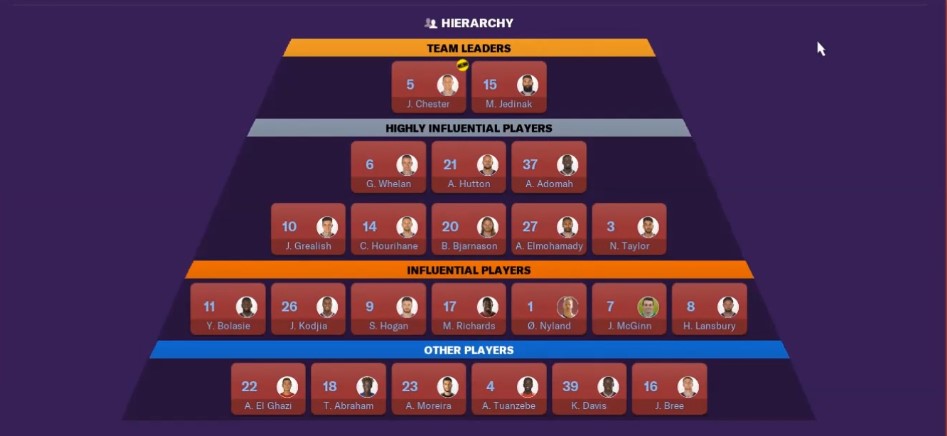 There are players with high current and potential abilities in the squad. This set of players include Yannick Bolasie (best winger in the team and he's fast – loaned from Everton), Jack Grealish (he's a natural attacking midfielder, the future of the team, and he's just 22 years old) and John McGinn (a 23-year old box-to-box midfielder).
This Midlands team has some very interesting youngsters. You should keep a close eye on Andre Green, Keinan Davis, James Bree, Jake Doyle-Hayes, and Corey Blackett-Taylor. They all have very good potential abilities to be valuable members of your first team.

In terms of signing new players, and since there is no transfer budget, we do recommend Aidan White (wingback, free agent), Scott Golbourne (wingback, free agent), Jan Kirchhoff (Anchor Man, free agent), Papy Djilobodji (Ball Playing Defender, free agent), and Sebastien Bassong (Central Defender, free agent).

Setting a good tactic for Aston Villa can be tough. Nik recommends you to choose 4-4-2 system. You can check that out in the video below. But, maybe you want to try out our tiki-taka FM19 tactic. We find this tactic most suitable for this team.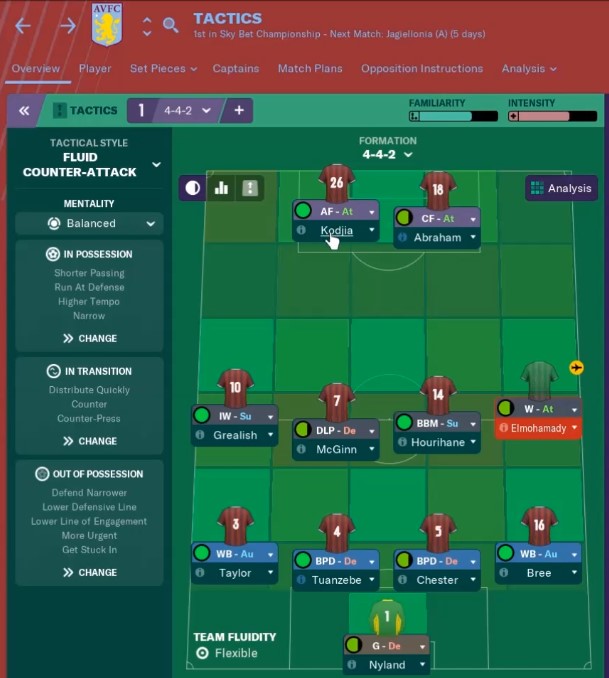 More things are there in our video
You can check out few more things about Aston Villa in Football Manager 2019. It`s all there in the video below.
Feel free to join our great Football Manager Community of passionate gamers. All our updates will be brought to you. More FM Tactics, Team Guides, and Wonderkids lists are also coming your way.
If you play FM20, check out our Aston Villa FM20 Team guide!