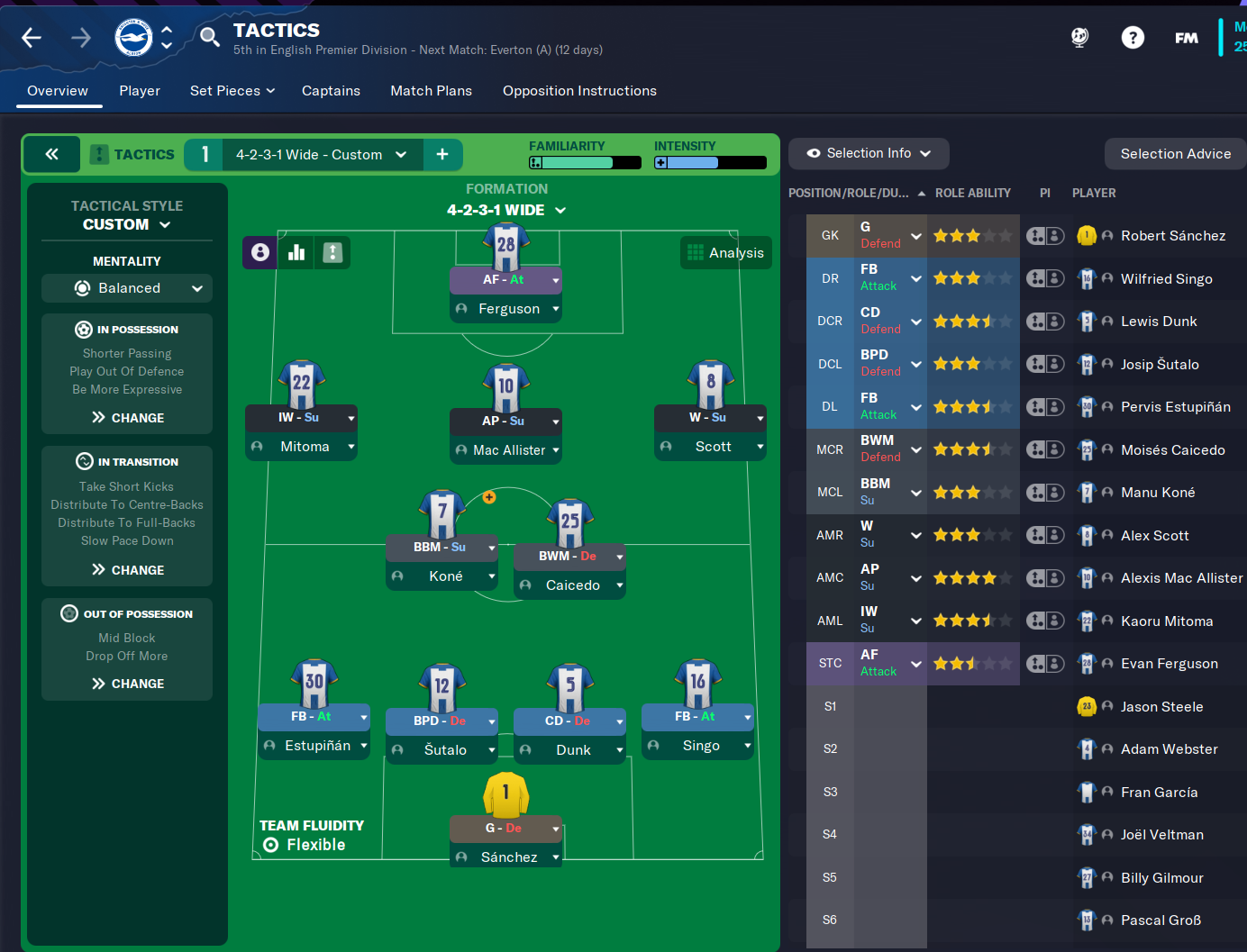 Brighton FM23 Team Guide
By callum | April 30, 2023 | 17595 Views
Brighton FM23 Team Guide
Brighton are one of the most exciting teams in world football right now. After losing their long term manager Graham Potter to Chelsea only a few games into the season, many people thought Brighton would struggle. But after appointing Roberto De Zerbi as the new manager, Brighton have managed to go up another level. They will likely be playing European football in the 2023/24 season.
This has made them a popular team to manage in FM23. This Brighton FM23 team guide will give you a good starting point if you're looking to replicate Brighton's real life success.
This article goes through the board expectations, Brighton's best players, signing recommendations, and best tactics.
Brighton have a huge £70 million transfer budget in the first FM23 season, so read on to find out who you could sign to bolster your team.
FM23 Brighton Club Vision and Board Expectations
The FM23 Brighton board are extremely lenient in their first season expectations. You only need to finish mid-table in the Premier League, which is anywhere above 13th/14th. In the League Cup and FA cup Brighton are to "be competitive" which basically means don't get smashed in the first round.
The media have predicted Brighton to finish 13th. However, there's some brilliant players in this squad, and with some additions there's no reason why you couldn't finish in the top half in your first FM23 season.
In terms of club culture, the FM23 Brighton board would prefer you to sign players under the age of 22, and to develop players that come up from the youth academy. Keep this in mind when planning your Brighton signings.
FM23 Brighton Supporters Vision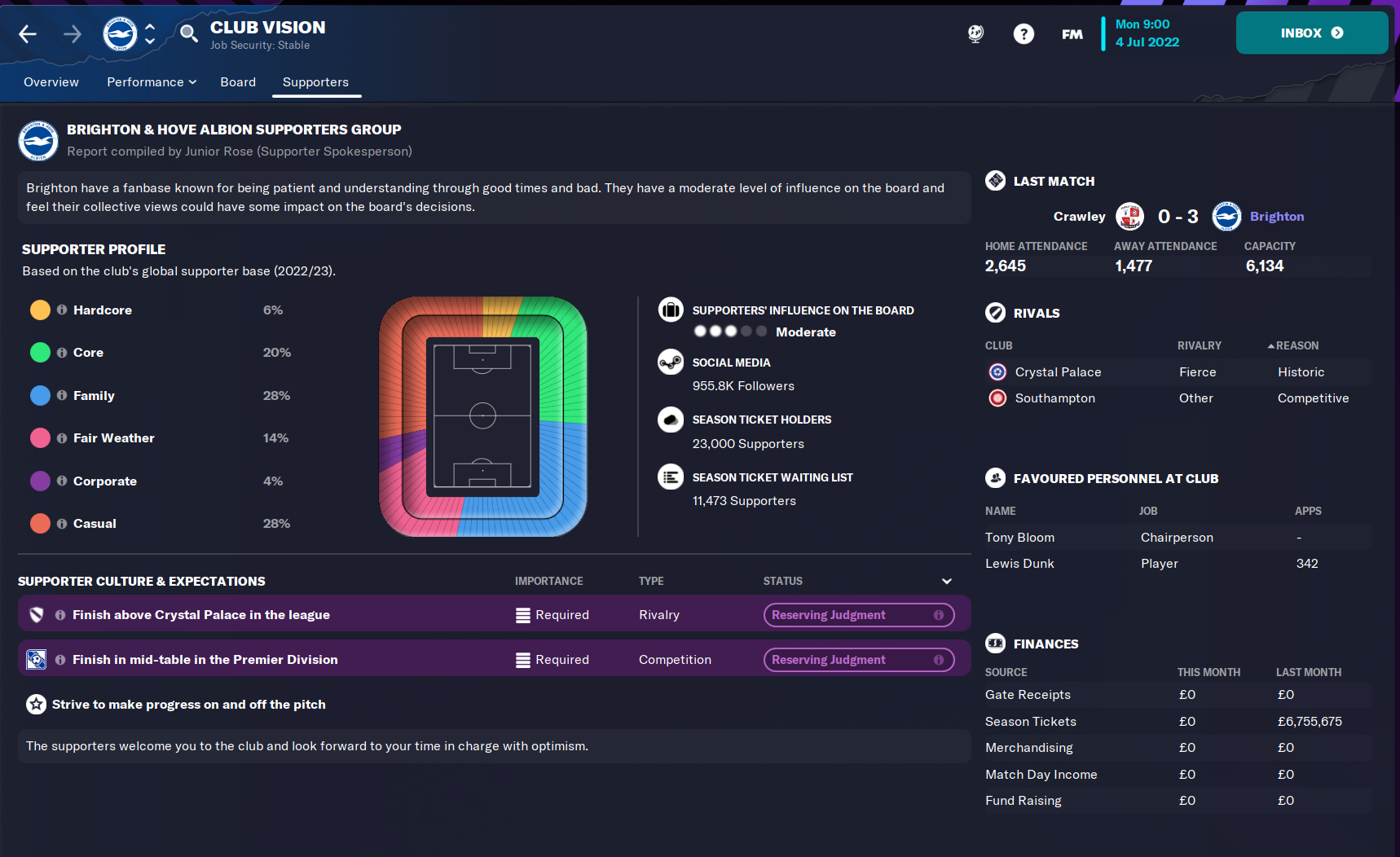 In FM23, Brighton supporters expect you to finish above Crystal Palace in the league. Palace are predicted to finish 15th by the media, so this should definitely be achievable.
Like the board, the fans also want Brighton to finish mid-table in the Premier League.
Brighton fans are patient, and don't have too much influence on the board. This means they won't want you to be sacked if you go on a bad run of form, and if they do, they won't be able to strongly influence the board into making a decision.
Brighton's Best 11 in FM23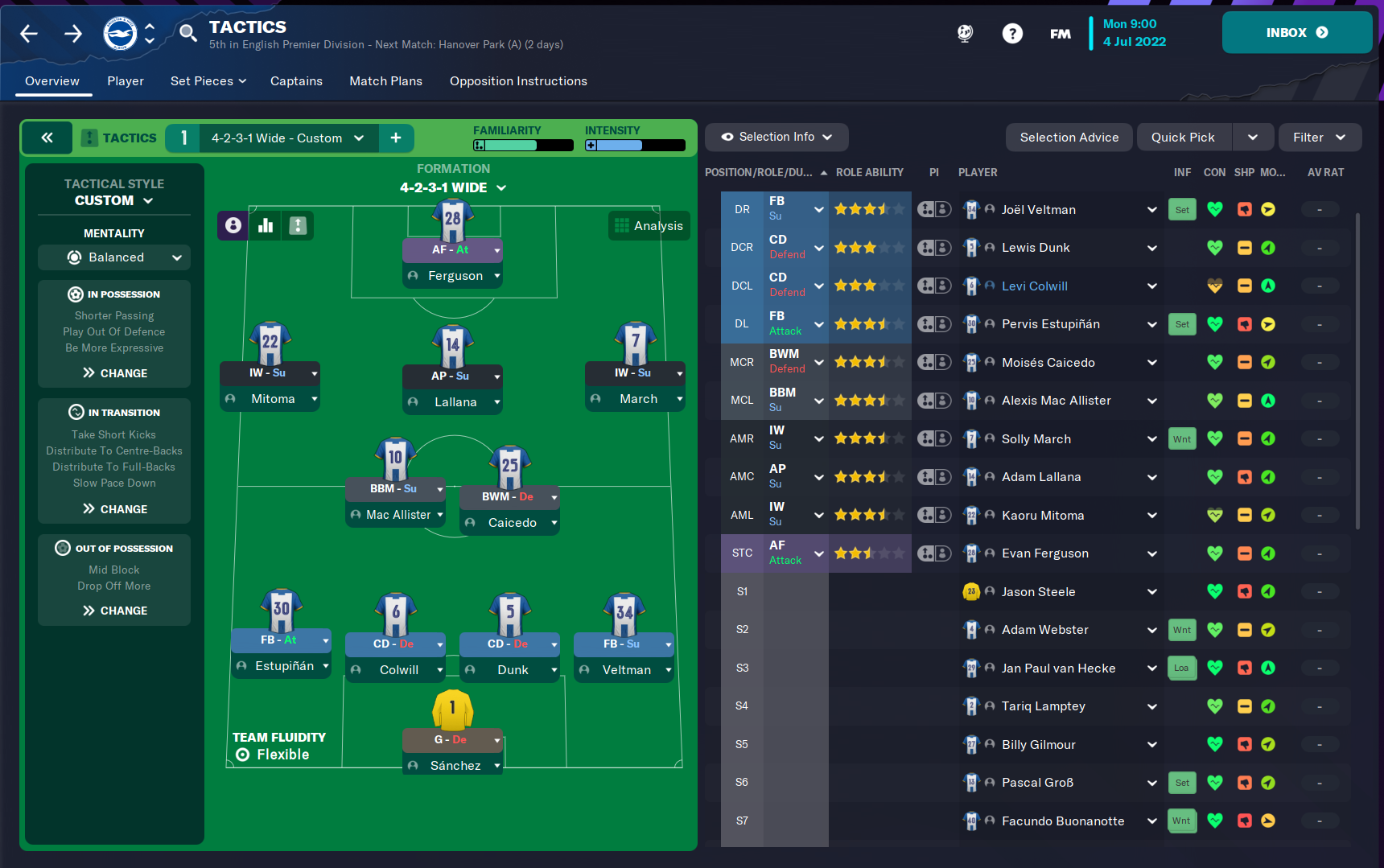 Brighton have a solid first 11 with a nice blend of youth and experience. There isn't a definite Brighton best 11 before you make any signings. If you want a quicker right back you could play Tariq Lamptey over Joel Veltman. However, Veltman is much more competent defensively.
The standout strength in the FM23 Brighton team has to be their midfield. A pivot of Alexis Mac Allister and Moises Caicedo has the potential to be one of the best midfield duos in the league. You must try and keep these players and develop them into the superstars they can potentially become.
There's multiple positions Brighton could improve their squad. Levi Colwill has great potential, but is only on loan for one season. Veltman is a good defender, but is in his 30s and only has 1 year left on his deal.
Another player coming towards the end of their career is Adam Lallana, and there isn't a backup left back if Estupinian gets injured.
Let's look more in depth at Brighton's best players.
Moises Caicedo – Brighton's Best Player in FM23
In FM23, Brighton's best and most promising player is definitely Moises Caicedo. The ball winning midfielder was signed in 2021 for just £5 million, and is now worth at least 10 times that amount just 2 years later.
He has a contract until 2025, so it might be a good idea to try and tie him down to a longer term deal (if you're willing to give him a pay rise).
Moises Caicedo Potential in FM23
You can see why you would want to keep Moises Caicedo in your FM23 Brighton side. He has the potential ability to be a world class midfielder 10 seasons into your save!
Brighton received a £78 million fee for Caicedo, which would be a great amount of money to reinvest into your squad.
This is Moises Caicedo's potential ability in the winter update database. If you want to see more wonderkids that now have better potential ability in the winter update database, click here.
Kaoru Mitoma in FM23
Another standout player that you'll be desperate to use in your FM23 Brighton save is Kaoru Mitoma. He has burst onto the scene this season, and has been given a huge current ability boost in the FM23 winter update. He's rapid and has 18 dribbling. A deadly winger who at 25 still has the potential to get even better!
The left wing position is pretty nailed as Mitoma's position at the start of your FM23 Brighton save.
Evan Ferguson – Brighton FM23 Wonderkid
Another player having their breakout season for Brighton is Evan Ferguson. He has brilliant physical attributes for a 17 year old, including 14 acceleration, 15 pace, and 14 strength.
Ferguson also has great finishing, technique, and is an aerial threat. He has the potential to become one of the best strikers in FM23.
When looking at areas you can strengthen your Brighton FM23 team, the £70 million budget means you can sign players in multiple positions. We also managed to sell Solly March for £25 million, taking the total budget to £95 million!
We've made quite a few sigings, so lets get into them.
Brighton FM23 Team Guide Signing 1 – Josip Sutalo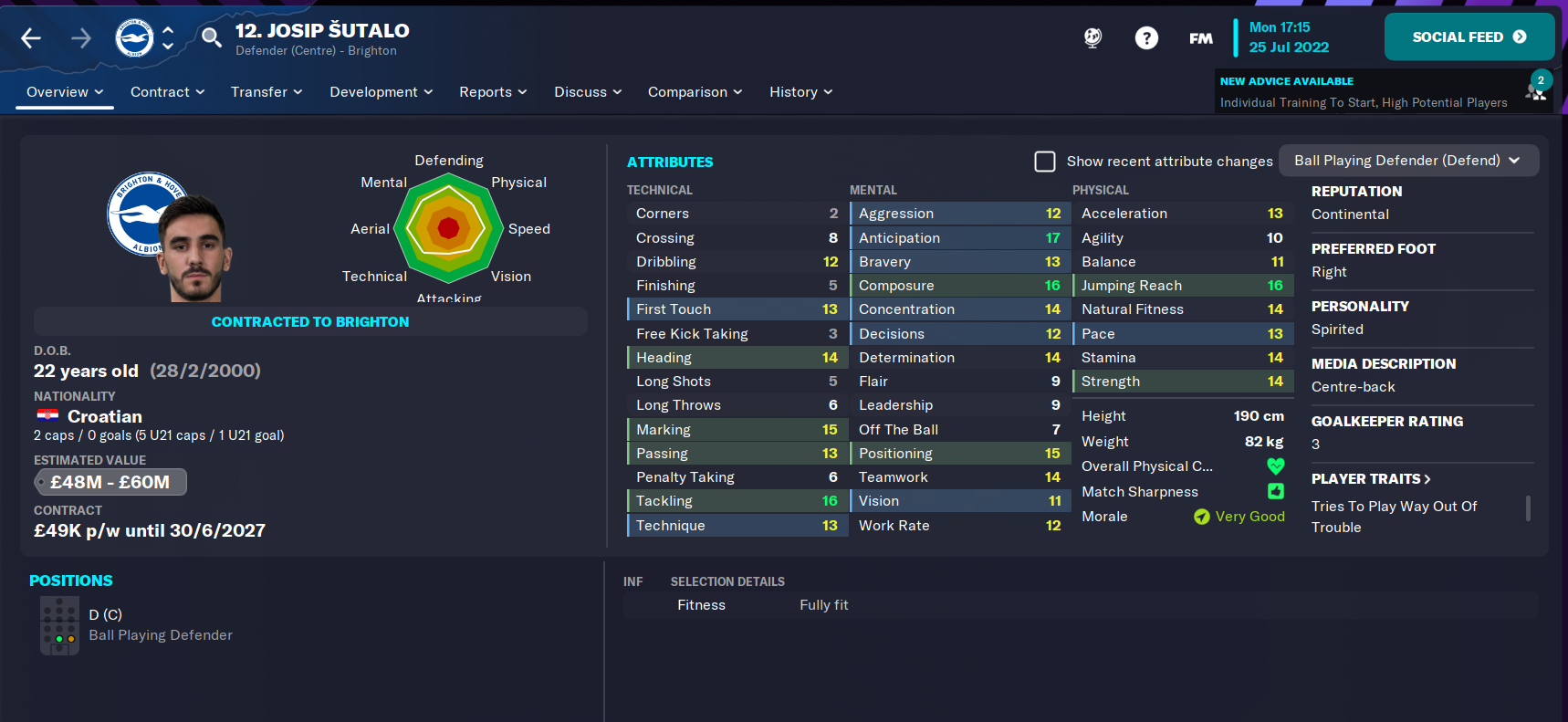 Josip Sutalo is one of the best centre backs available that's interested in signing for Brighton in FM23. He has some amazing defensive attributes, such as 16 tackling, 17 anticipation, and 15 marking.
Sutalo cost Brighton £19 million, but is now worth over £50 million. This shows Sutalo would be a great investment for your FM23 Brighton save.
FM23 Brighton Signing 2 – Wilfred Singo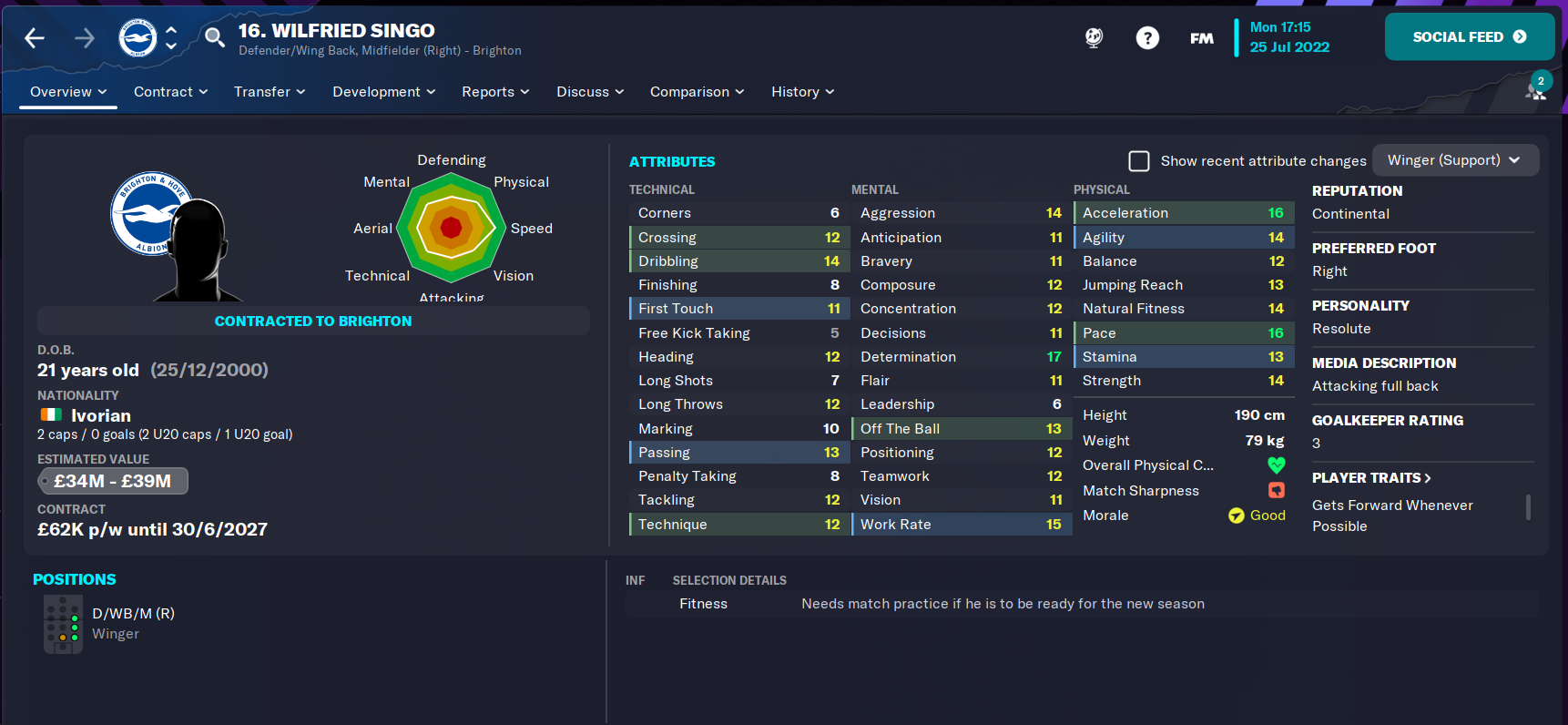 If you want to replace Joel Veltman in your FM23 save, Wilfred Singo is a great option. The rapid right back is effective going forward, with 12 crossing, 14 dribbling, and 16 pace. You might want to use Tariq Lamptey instead, but he has a really poor injury record.
Singo can be signed for £13.5 million, which is great value for a wonderkid right back.
Signing 3 – Alex Scott in FM23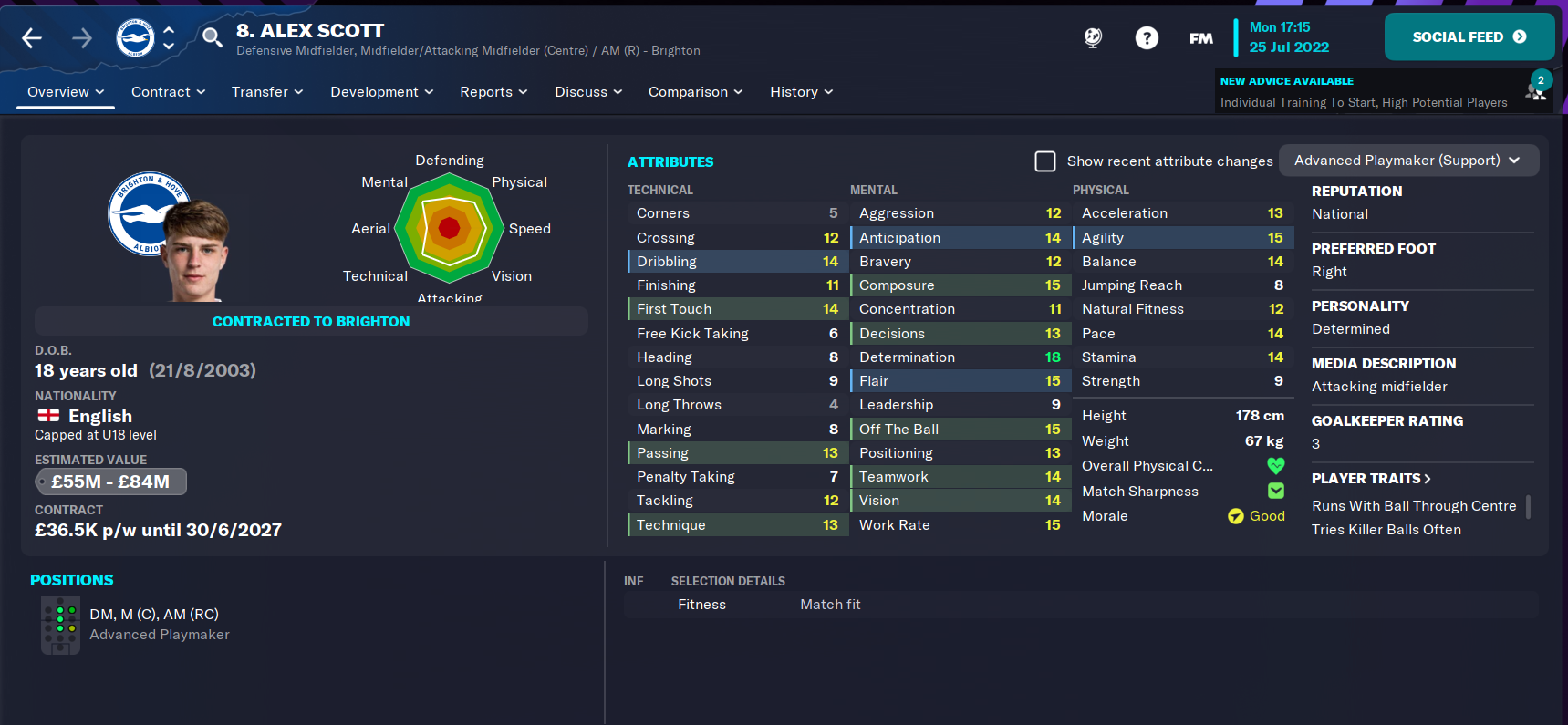 One of the most popular signings in FM23 has been Alex Scott, and for good reason! He's an amazing English wonderkid that can be signed for under £11 million in your first FM23 season.
Scott is a versatile player, that can play defensive midfield, centre midfield, attacking midfield, and on the right wing. This means he'll be able to play for you in any tactic.
Brighton FM23 Team Guide Signing 4 – Manu Kone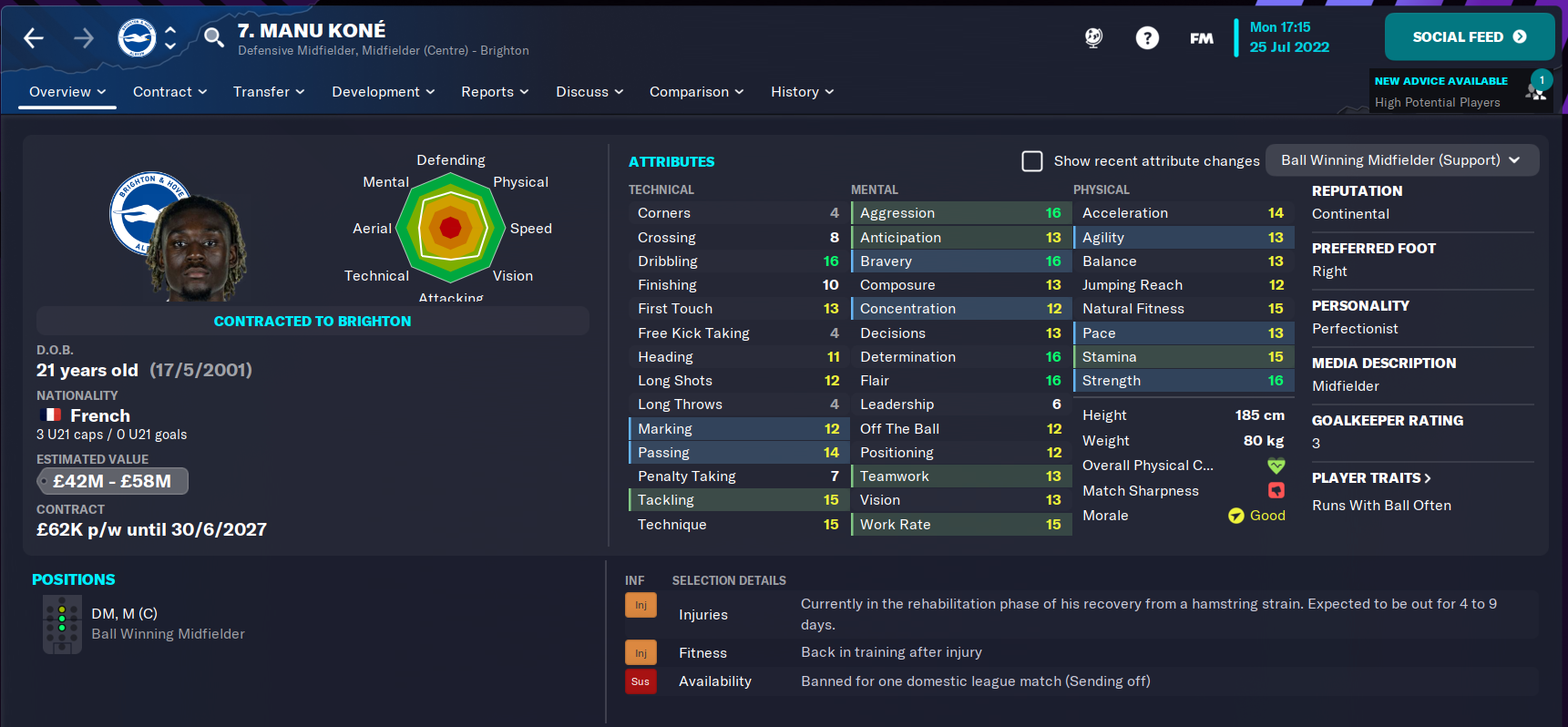 This was the most expensive signing we made for this Brighton FM23 team guide, costing £24 million. But Kone is definitely worth the large investment. He would work amazingly next to Moises Caicedo in a midfield pivot, which would then allow Mac Allister to move into the attacking midfielder position.
Kone has potential to get even better, and is worth over £40 million once you sign him.
Brighton FM23 Signing 5 – Fran Garcia
As a backup left back option to be an understudy to Estupinian, we've gone for Fran Garcia. This promising left back has an £8.5 million release clause, which is a great opportunity to sign a young player at a cut price. Without the release clause, Garcia would definitely be more expensive.
The only issue with Garcia is his aerial ability. He's really small, and only has 5 heading and 5 jumping reach. However, if you have enough tall players in your back line you should be fine.
Garcia has the potential ability to become even better than Estupinian, so if you were to get a high offer for Estupinian, you would already have a replacement ready to step in.
Signing 6 – Yaser Asprilla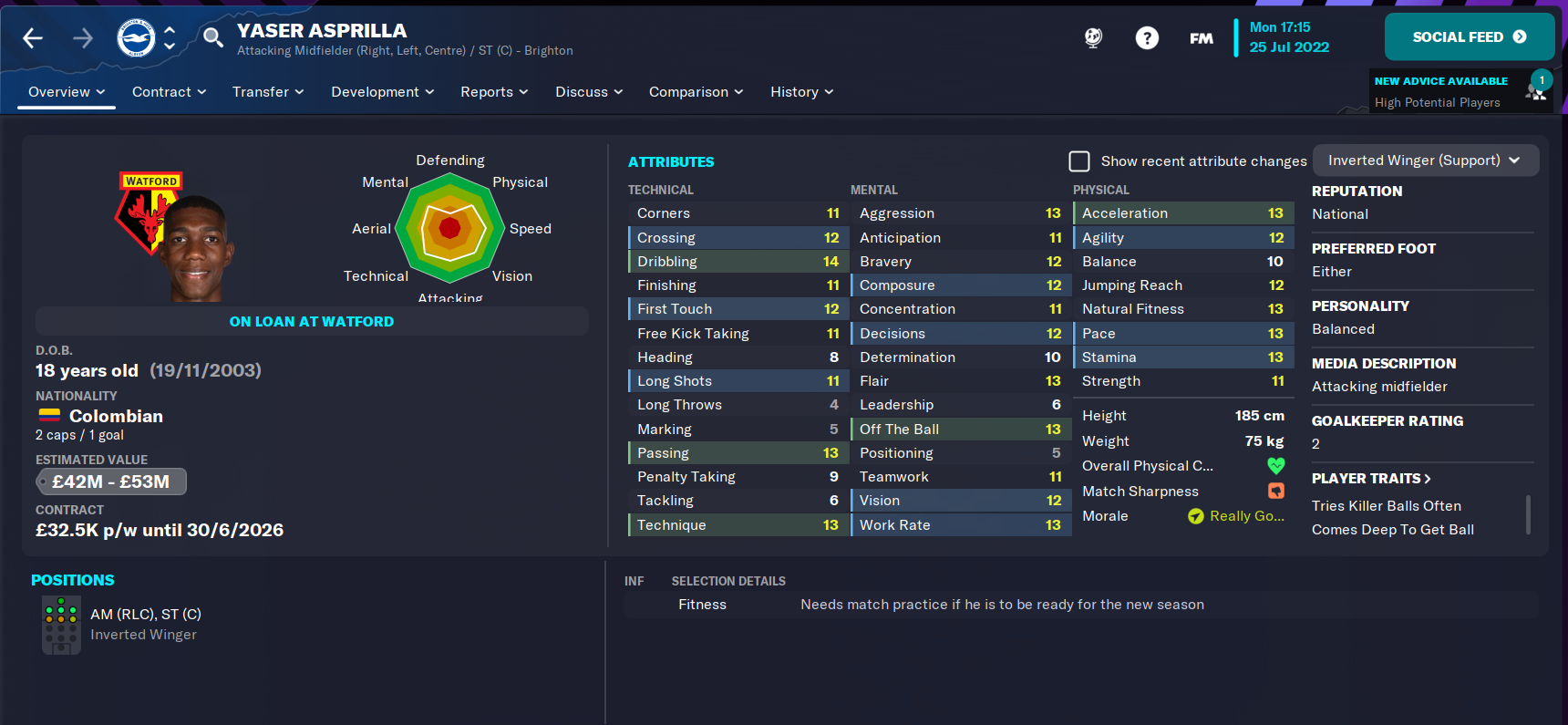 Brighton love signing South American wonderkids, which is one of the reasons why we decided to sign Yaser Asprilla. He's a fantastic Colombian wonderkid, who can play all across the front 3 positions behind the striker.
We decided to loan Asprilla back to Watford for the season, so he could get regular first team football to help with his development.
This was our final signing, costing £12.75 million, and taking our total Brighton FM23 team guide spend to £88.5 million.
FM23 Brighton Line-up with New Signings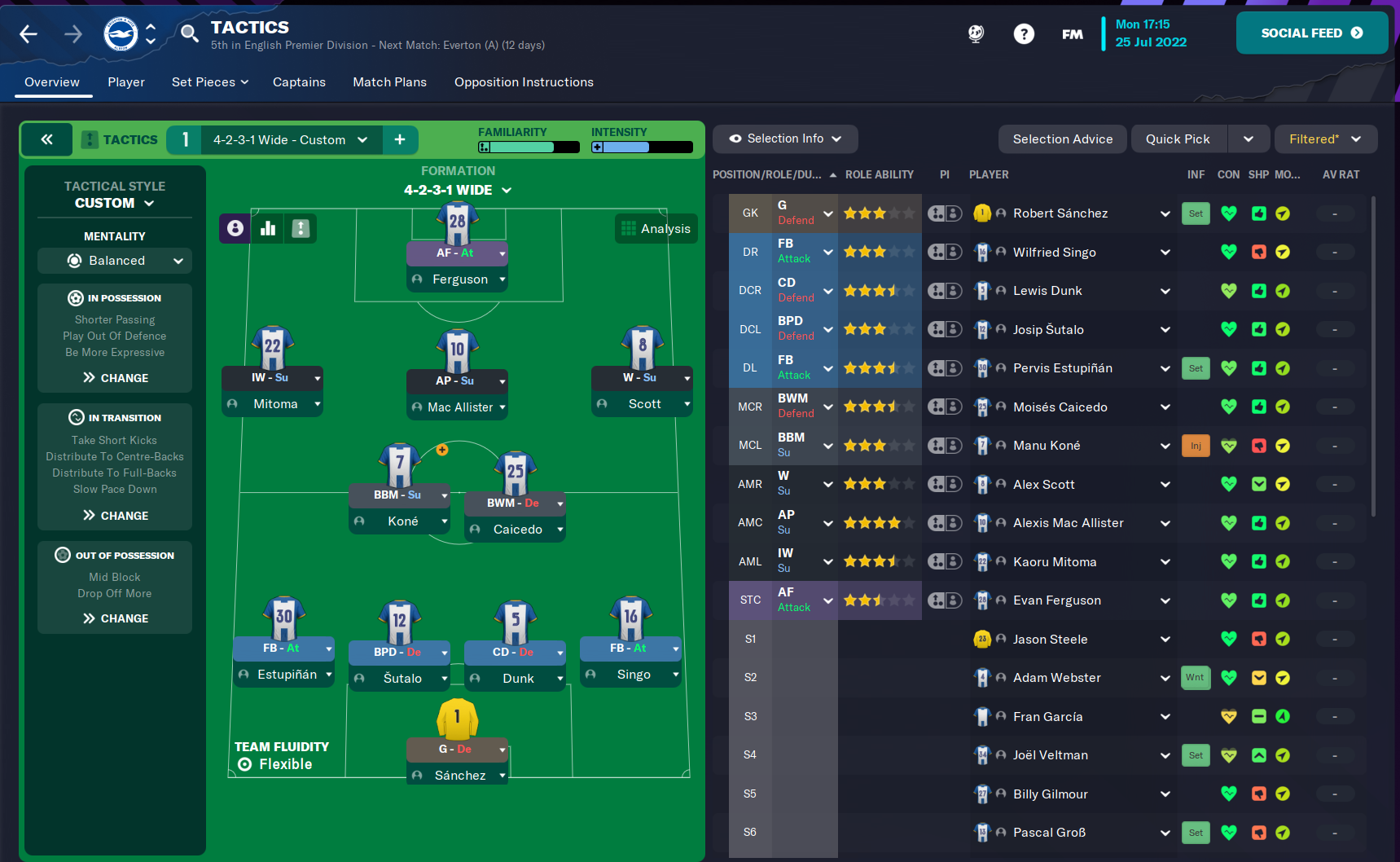 This is how our FM23 Brighton line-up looks like after making our signings. Singo and Sutalo have come into the backline, and Kone has moved into midfield. This has then moved Mac Allister up to CAM, and Alex Scott has replaced Solly March on the right wing.
Looking at the team now, the obvious weakness would be Evan Ferguson as a striker. However, he has amazing potential in FM23, so we decided to not sign a striker, and give Ferguson consistent first team football to give him the best chance of reaching his potential.
Summary of Brighton FM23 Team Guide
The large transfer budget at the start of your Brighton FM23 save makes this save really appealing. It gives you a chance from the very start to build a team capable of challenging to finish in the top half, or even European places.
Are you still not sure what team to manage in Football Manager? Take a look at these FM23 save ideas.