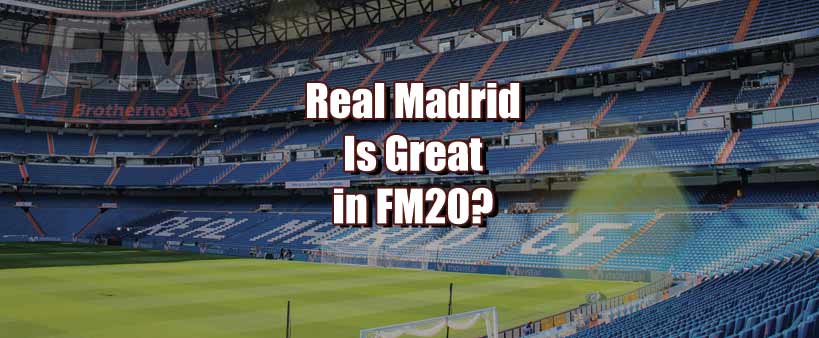 Real Madrid FM 20 – Back To Glory?
By spaskecar | December 19, 2019 | 3869 Views
Introduction to Real Madrid in FM 20
Starting a new career mode with Real Madrid in FM 20, you will get a two-year contract worth $195k per week.
Real Madrid is the Spanish and World giant that was voted the best team of the 20th century by FIFA. That is a trophy that no other team will have in their cabinet for at least another 80 years.
When it comes to trophies, the most important thing to mention is that Real Madrid has won the Champions League 13 times. No other team comes even close to that number.  They have also won the Spanish top division a whopping 33 times.
Those are just staggering statistics.
When it comes to Real Madrid in FM20, they play their games at Santiago Bernabeu, which has a capacity of 81,044.
The facilities that Real Madrid possesses in FM 20 are also amazing:
Superb training facilities
Superb youth facilities
Excellent youth recruitment
These are the best 11 players of Real Madrid in Football Manager 2020. Everybody knows who these players are as every one of them is a superstar and world-class player.
FM20 Real Madrid – Club Vision and Five Year Plan
The most important thing the board wants from you is to sign high-reputation players but still stay within the wage budget. Those are of the highest, required importance.
They desire that you increase commercial revenue, which will eventually lead to the stadium expansion.
It is also preferred that you play attacking football and favored that you sign players under the age of 23 for the first team.
When it comes to the five-year plan, we will only talk about the first two years. That is the duration of the contract you sign when you start.
Because Real Madrid FM 20 is one of the strongest teams in the world, the board has high requirements for the manager every year. Success runs through the veins of Real Madrid players, board, and even fans, and everyone wants to win every game and win every trophy.
Real Madrid FM20 board requirements for both seasons:
Win the La Liga
Reach Final of the Spanish Cup
Reach Final of the Champions Cup
Super Cup isn't important
Become the most reputable team in Spain
Become the most reputable team in the world
As you can see, the board is prioritizing the La Liga trophy over the Champions League trophy. That is because Real Madrid finished 3rd last season and the media predicts them to finish 2nd. You have to prove everyone wrong and win the league.
FM20 Real Madrid – Tactics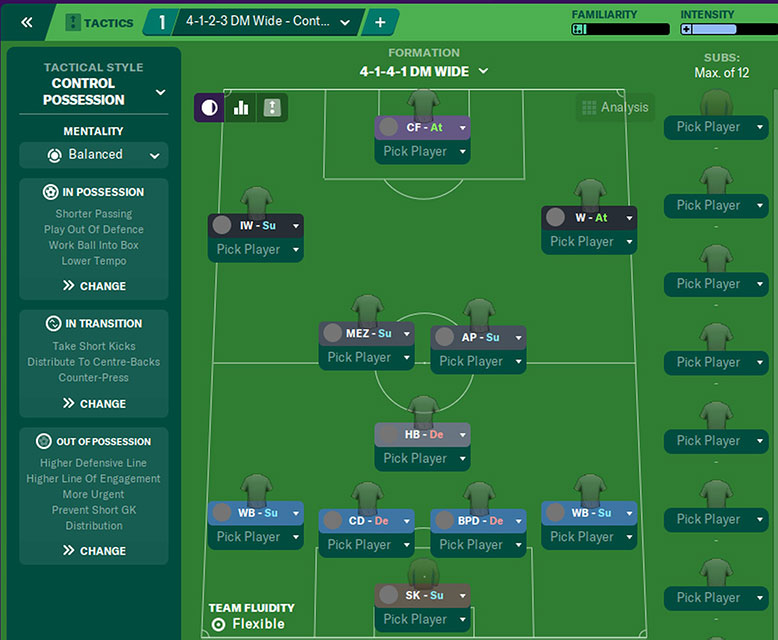 The usual formation that Real Madrid has been using during the last few years was 4-2-3-1 and 4-3-3 with all of their variations.
We at FMBrotherhood think this is the best FM20 formation for Real Madrid, especially when playing against stronger opponents. It's a variation of the 4-3-3 tactic that employs a DM, and it is called 4-1-4-1 DM Wide with the control possession style. In this formation, you will play Casemiro as the DM and bench Isco.
If you are playing against weaker opponents, we suggest the 4-2-3-1 that employs an AMC instead of a DM. It is the control possession tactical style again.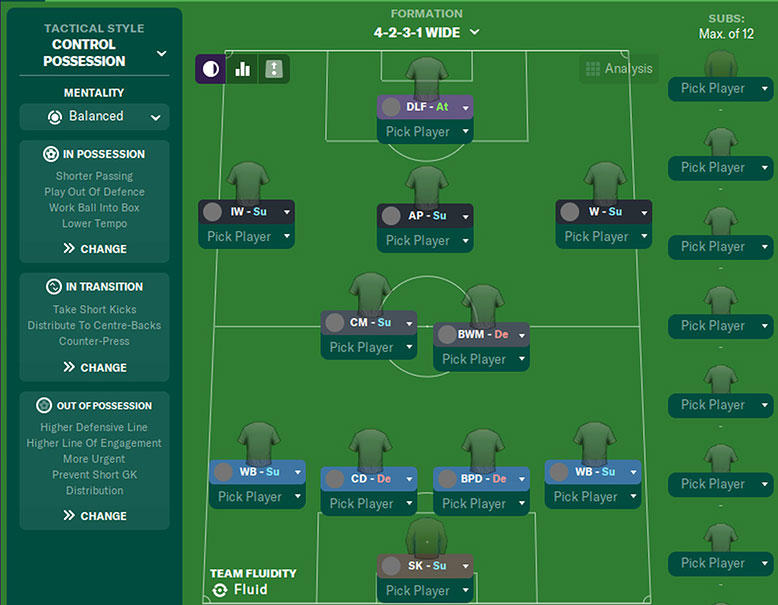 In this FM20 formation, you will bench Casemiro and play Isco.
FM20 Real Madrid – Contract Extensions
This is a very important moment in the game. A lot depends on how you want to play the game in the future. This is where you decide if you're going to extend some contracts of older but crucial players and if you're going to give chances to some talented youngsters.
There are also expiring staff contracts, and our suggestion is to extend them all. Real Madrid isn't the best in the league when it comes to staff. In fact, they are average. There are 18 vacant places that you should try to fill up as soon as possible. That includes coaches, scouts, and medical staff.
Sergio Ramos is a player you can't let go in FM20. Even at 33 years of age, he is one of the best DC's in the world.

We managed to give him a contract until 2021 and even lowered his salary by $135k per week, which is a great success.
Raphaël Varane is your second best DC just after Sergio Ramos, and it's essential to give him a long term contract. We gave him a contract until 2024 with a massive release clause which will fend off most teams in the game.

FM 20 Real Madrid – Players on Loan

There are some really talented players on loan. Most importantly, Martin Ødegaard, Achraf Hakimi, and Dani Ceballos. You should keep an eye on them and give them a chance in the first team when some of your players retire or leave the club.
Football Manager 2020 Real Madrid – Players to Buy

Real Madrid has already spent $339M on players in the current seasons, and they've only sold $136M

Because of this, you are left with a transfer budget of only $66M with about $350k per week wage budget.
Some great players came to the club like Hazard, Jovic, Militao, and Mendy, and most of them are really young players that have a bright future.
This means with the remaining money; you can't really strengthen a couple of positions. You can probably buy one outstanding player, two at most.
Keep in mind; there are players who don't want to sign a contract extension, and they are worth a lot of money. If you have a replacement for their position, you should probably sell them, so they don't leave for free.
Our suggestion is to put the remaining money into the wage budget and give contract extensions to your most talented players.
Talented Players in Real Madrid FM 20
Real Madrid has some talented players with high potential ability, basically wonderkids. You should look to extend their contracts and give them some chances in the first team.
Federico Valverde – 20 years old – DM – Wonderkid
Federico Valverde is a 20-year-old Real Madrid wonderkid who plays best in the DM position. He's well rounded, having good stats in all skills. Nothing special, but good at everything.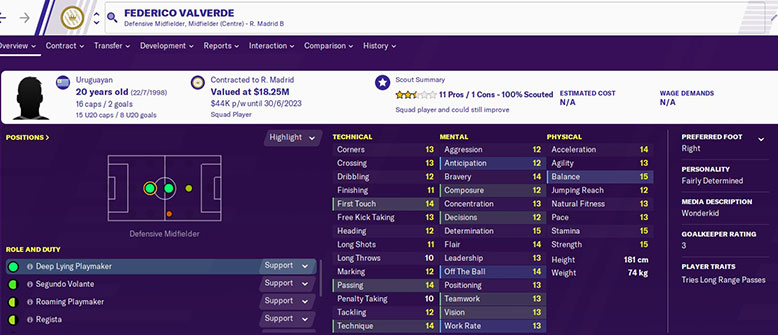 We managed to get him to sign a contract extension until 2023 at a $44k per week salary. He's a really useful player who really doesn't have any weaknesses. Just think about him, he isn't bad at anything. Even the hidden stats are good.
César Gelabert – 18 years old – AMC – Good Rotation Option
César Gelabert is another talented player who will never become a world-class player, but he will become a good player for La Liga. We gave him a contract extension because you need to have some rotation options on the bench in the future. Not everyone needs to be a star. Otherwise, you won't be able to keep the happiness up in the dressing room. We gave him a contract until 2022.
César Gelabert is very skillful, he has excellent dribbling that will become great in the future. He knows how to beat a defender. In the future, he has great flair, vision, first touch, technique, passing, and free kicks. He's a perfect AMC. If you don't like him now, you can probably make some money off of him by selling him.
Javier Belman – 20 years old – Talented Goalkeeper
Javier Belman is a really talented goalkeeper. Based on the ability, he's your third goalkeeper at the moment, and in the future, he can become as good as Keylor Navas. We really liked Javier Belman because his hidden stat shows 20 consistency, and we loved that. We gave him a contract until 2023.
Martín Calderón – 20 years old – Wonderkid – HUGE potential ability
Martín Calderón is a 20-year-old wonderkid who has one of the highest potential abilities out of the whole Real Madrid B team. He has a 168 potential ability, which is about the same as Toni Kroos.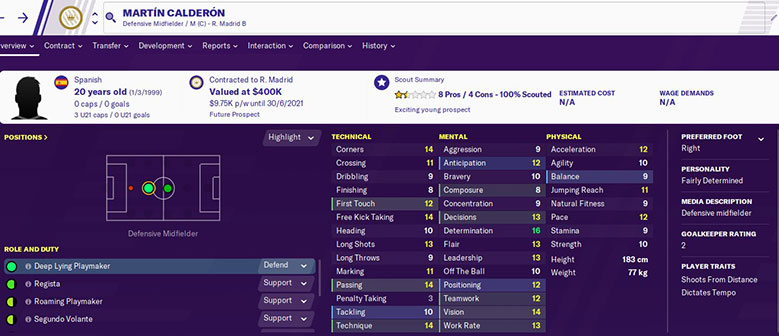 He's a player who is really good at taking set-pieces, and he's very intelligent to spot a good pass and create chances. He's a future world-class player if you give him time in the first team.
Our DoF gave him a contract until 2021 with a release clause of $77M, which is too low for his potential ability. We'll have to look to provide him with an extension and raise that amount to at least $150M.
Vinícius Júnior – 19 years old – FM20 wonderkid – HUGE potential
Vinícius Júnior is an FM20 wonderkid with one of the highest potential abilities in the game. Real Madrid bought him for $53M from FLA in 2018/2019, and you shouldn't let this talent rot in Real Madrid B. It's important to play him as much as possible in the senior team. He develops quickly, and he should be played as much as possible.
He can become as good as Eden Hazard in his peak, which is impressive. He's a fast player with high pace and acceleration. He's an ambitious and determined player who can become one of the best players in the whole game if you give him a chance.
Rodrygo Silva de Goes – 18-year-old – Wonderkid AML / Striker
Rodrygo Silva de Goes is a wonderkid AML who can be used at the Striker position as well. Real Madrid paid $50M for him just before you take over the club.
He has a huge potential ability but isn't really good enough to be given a chance straight away. You have many better options for your team. Let him stay in the B team for one year and then see if he can be of use to the senior squad. He has a long contract until 2025.
Conclusion on Real Madrid in FM20
Real Madrid has a strong squad in FM20. The $300M spent in the summer of 2019/2020 strengthened the team a lot in critical areas that needed improvement. Overall the first eleven is really strong, all are global superstars, and the bench contains many players that have a huge potential ability.
There are many really talented players in the B team as well, and they were the focus of this  Real Madrid FM20 team guide because there wasn't a huge transfer budget available.
Our team member NIK has made his own FM20 Real Madrid Team & Tactics Guide – Football Manager 2020.
In the guide, he talks about the things we didn't mention too much in this guide. Those are the current Real Madrid players and what to do with them. He shows a helpful tactic, and most importantly, he shows his thoughts on players that you should try to buy in the current or the next season, depending on the transfer budget.