West Ham FM19 – Let`s find the fortune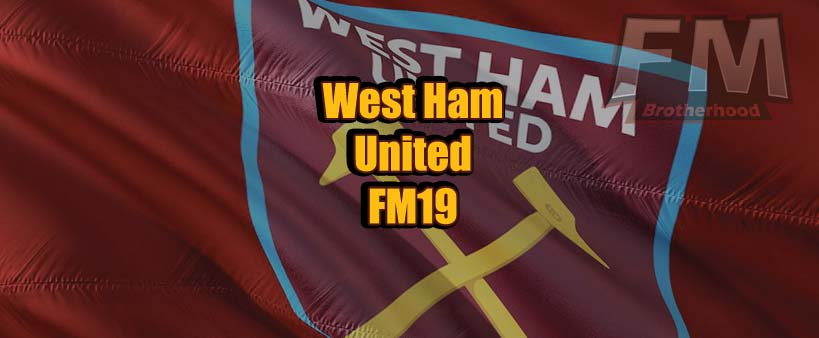 Fortune's always hiding… And for West Ham fans it is hiding for a long, long time. One of the most popular clubs in England, the club with an army of fans and club that is challenging to bring back to glory time. Let's see what you need to do in FM19 to get West Ham to the top again.
Board expectations
If you plan to manage West Ham in Football Manager 2019, you will face some modest and normal board expectations. Mid-table in Premiership, Fa Cup fifth round and Carabao Cup fourth round. With your team, it shouldn't be a problem and with few good transfers, you could finish in the top of Premier League.
West Ham Football Manager 2019 Transfer budget
West Ham belongs to the middle of England top clubs. It isn't the richest, but it has money enough to bring some really good players to a club.
You have 20M in transfer budget to bring some good players to East London whom you could attract with 1M wage budget.
And with the current squad, you really need to invest some money in transfers to bring players who could guarantee you place in the top of Premiership.
After we look at West Ham team in FM19, we will make some suggestions on who should you buy to improve West Ham squad.
West Ham FM19 – squad
Now let's see what is waiting for you if you plan to manage West Ham in FM19.
Goalkeepers are really good. Fabianski should be your no.1. Although he is 33 years old, he can still be great for a season or two.
His backup is Adrian. Really good player in rotation, but if you can get some good money for him, our advice is to sell him.

In defence, we have some problems.
On the left side, the situation is great. Creswell is great left back and he can be replaced with Masuaku if ever needed. The left side is really well covered.

On the right side, you will find some crux. First right back is Pablo Zabaleta. Great player with a lot of experience, but he is a bit old. He has some great marks, but as a full back, he should be able to run up and down all the time. And he is not able to do so.
His replacement is Fredericks, much faster and attack-oriented player. So if you don't bring any player to your team, try to play Zabaleta in games you are the underdog and you need to defend and Fredericks in the games you go all out attack.
Central defenders are really good for West Ham in FM19. You have Diop, Reid, Ogbonna, and Balbuena as options.
Reid is unfortunately injured for a longer period, but the rest of three can fill his position. Besides them, West Ham has 2 great young players in a first team on central defender position. Oxford Reece and Declan Rice can play on central defender position and their potential is enormous. If you need to pick, try to play at least one of them in the first team.
Diop, Oxford, and Rice have the potential to become the best defence in Premiership in a few years.
In the middle, you will find a so-so situation. As central defenders, West Ham uses Mark Noble and Pedro Obiang. Good players, but just good. If you want to make some improvement, you should look to bring some central midfielder to the club.
Wingers are the best part of West Ham team in FM19. On the right, we have Michail Antonio. The fast player with good dribbling and crossing, everything you need from the reliable wingman. And he can play as wide target man. Something a really few players in Football Manager can do.
On the left side, you should use Felipe Anderson. Coming from Lazio, Anderson is an amazing player who can contribute to your team more than any other player in a team. Dribbling 18 compared with good finishing and technique and you get amazing insider forward.
Strikers are another problem for West Ham. There is Chicharito. Mexican is a great, fast player with good finishing, best used as a poacher. Andy Carroll is always injured, and when it is not, he is an amazing target player with 19 heading. But it happens almost never. Nevertheless, you should really look to improve your squad with some really good striker.
West Ham FM19 – best tactics
Based on your team, you should look to use all of great inside forwards you have in a team. Felipe Anderson, Arnautović, Antonio, they are all game changers. That's why we suggest playing in 4-1-4-1 tactic with 2 inside forwards on a wing.
In the defence you can use Creswell as an attacking left back, Diop and Oxford on central defenders and Zabaleta on right back. The defensive midfielder should be Declan Rice. Great player with enormous potential. He needs first team football to improve more.
Central midfield position is to determine for skipper Mark Noble and Pedro Obiang. Three in front should be 3A: Antonio, Arnautovic and Anderson. And in front, if you don't buy anyone, start with Chicharito.
So West Ham best XI in FM19 are: Fabianski- Creswell, Diop, Oxford, Zabaleta – Rice – Noble, Obiang – Anderson, Arnautovic, Antonio – Chicharito
FM19 West Ham – youth potential
West Ham has some amazing potential in Football Manager 2019. Most of them are in defence. Diop, Rice and Oxford Reece are players with enormous potential and bringing them to first team can only improve them even more.
Beside them, you should really take a look at Diangana. He plays as winger as well but bringing him to first team sometimes can really improve him and he can become future West Ham star in FM19.
Transfer targets
As we mentioned, you need to improve at right backs, center midfielders, and strikers. On the right back we suggest look at Valentino Lazaro. Lazaro is 22- years old player from Hertha. He is fast, he can improve more and he is willing to come to West Ham. And his value is 8,5M. West Ham can really afford him.
In the attack, we recommend young and cheap player from Sevilla, Carlos Fernandez. 22-years old with finishing 14 should guarantee you 15 goals in a season. Good numbers in Premiership, for sure.
Finding a good central midfielder is hard, and with Noble being a team leader you need someone who can adapt to it. That's why we suggest taking a closer look at Matias Kranevitter. He is on a transfer list from Zenit, valued at 3,9M. Cheap for West Ham for sure.
With these potential transfers, you can really improve your West Ham team in FM19 and bring them to glory. And finally, find a fortune.
If you missed some of our latest post, you can check it out here:
FMBrotherhood Community
Join us on FMBrotherhood Community and find out some more great FM19 tactics, news, and info that can help you in becoming Football Manager no.1.
Share and gain knowledge from thousands of other players and become FM19 Master. We are waiting for you.
And remember. Fortune is always hiding, but you just need to search for her. And you will always blow bubbles.