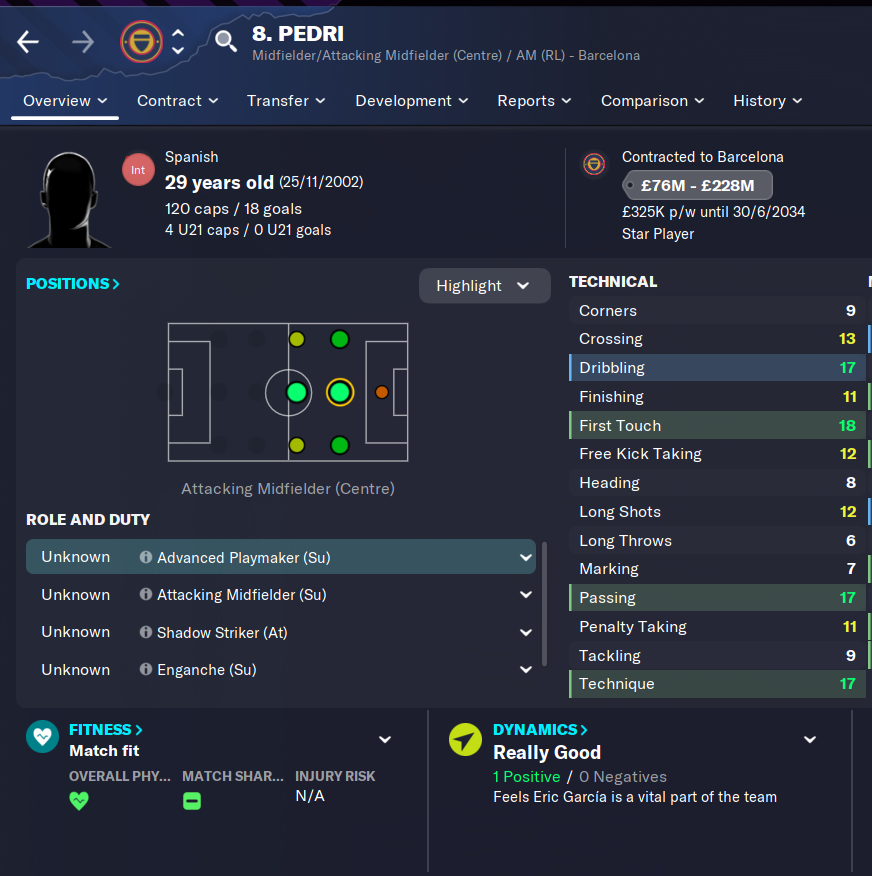 10 Best Young CAM Wonderkids in FM23
By callum | December 16, 2022 | 14720 Views
Best Wonderkid CAMs to Sign in FM23
The CAM position has been the home of some incredible footballing legends, including Maradona, Rivaldo, and Zidane. We've tried to find the wonderkid CAMs on FM23 that can become as good as these legends. In this article, you'll find out the 10 best young CAM wonderkids in Football Manager 23, and how they could look in their prime in 2032.
We've also compiled a list of the best wonderkid goalkeepers in FM23! Check out our article.
What's a Wonderkid CAM in FM23?
A wonderkid is a player that has good attributes at a young age, and has the potential ability to develop his attributes to become one of the best players in FM23. All of the CAMs on our list are 20 years old or younger.
10. Alex Scott – English Wonderkid in FM23
First on our list is probably a player you've never heard of before. Alex Scott played 38 games for Bristol City last season in the Sky Bet Championship, which is really impressive for Championship youngster that's only 18 years old! He has well rounded mental attributes, including 14 determination, vision, and off the ball movement. He still has some work to do technically, but he's got a lot of years to improve them. His passing, technique, dribbling, and first touch are good though.
If you want to sign this young CAM in the first season of your FM23 save, he'll cost you just over £9 million.
Alex Scott in 2032
Alex Scott has made it into the England squad, accumulating 5 caps by the age of 28. His mental attributes are excellent, with the lowest attributes being rated 11. Alex Scott's physicals have also seen great improvement, with 17 agility, 16 stamina, and 15 pace. He performs at his best as a CAM, but would also make a great central midfielder.
The only reasons Alex Scott doesn't rank higher on this wonderkid list is because his technical attributes could be better, and there's other CAMs with much higher potential! Keep on reading to find out who they are.
9. Desire Doue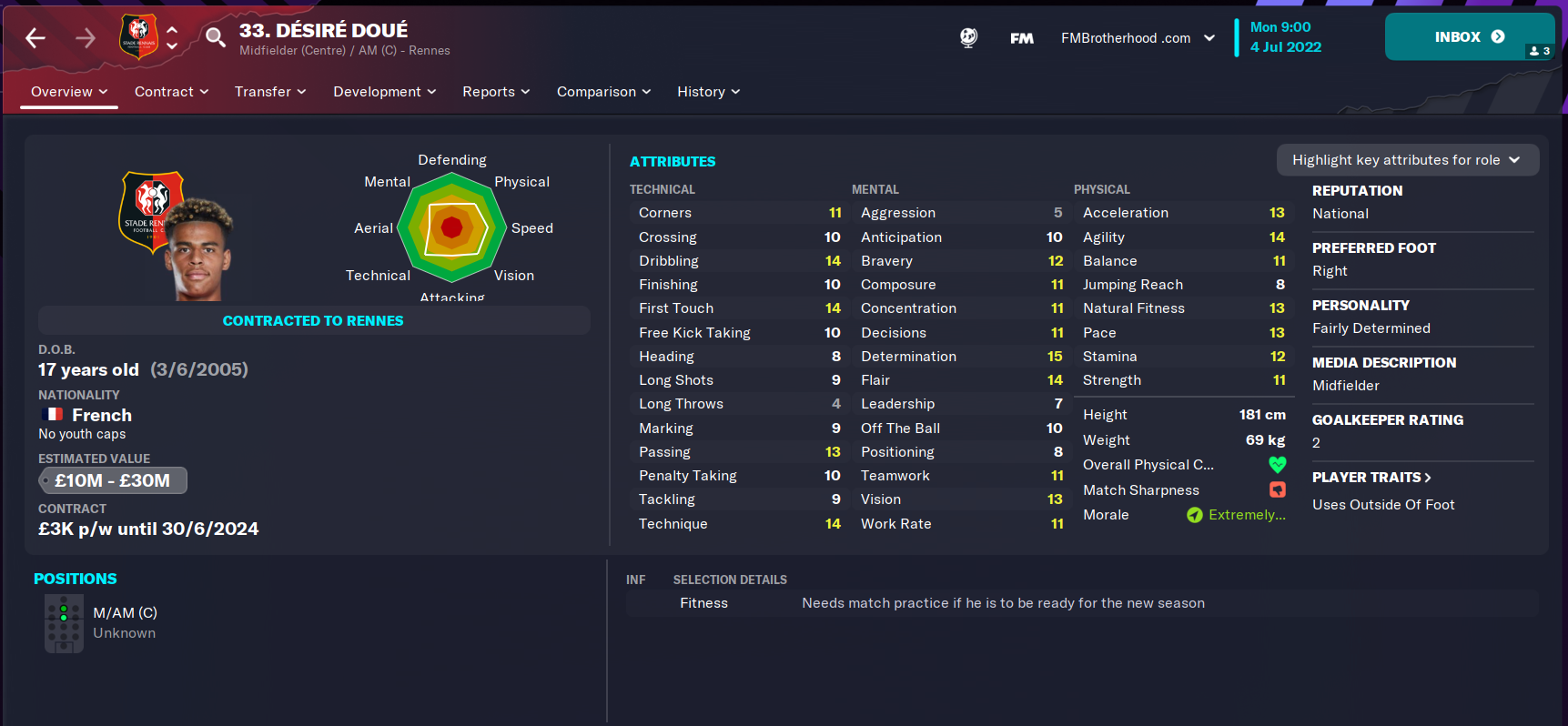 Desire Doue is one of the best 17 year olds in Ligue 1. In real life he's regularly playing first team football for Rennes, who are becoming well known for producing wonderkids. Who could forget Eduardo Camavinga? He made our list of best FM wonderkids in FM23!
Doue is already great technically, with 14 dribbling, 14 first touch, 13 passing, and 14 technique. He's ready for more first team football, which will only benefit his development.
Desire Doue has just signed a new contract with Rennes, so you'll have to wait until the second season of your FM23 save if you're wanting to sign this wonderkid CAM.
Desire Doue in 2032
In our simulation, no team managed to take Desire Doue from Rennes, who have managed to keep a hold of their young CAM. Except from his 5 aggression, Doue has excellent mental attributes, including 17 vision, which is a really important attribute for a CAM. He's not your traditional small, weak CAM. Doue is powerful, with strong physical attributes, but is also agile.
Similar to Alex Scott, Doue could be a little bit better technically. However, he has all the right attributes for a central attacking midfielder.
8. Xavi Simons
Xavi Simons has been touted as a wonderkid CAM for years! As a youth, he played for European giants Barcelona and PSG, but he's moved to PSV to get some regular first team football. Simons has the player trait to dictate tempo, which is a great trait to have for a CAM. He also has great teamwork, vision, and technique, which are important attributes for a CAM.
As mentioned, Xavi Simons recently signed for PSV, so you won't be able to sign him in your first Football Manager 23 season.
Xavi Simons in 2032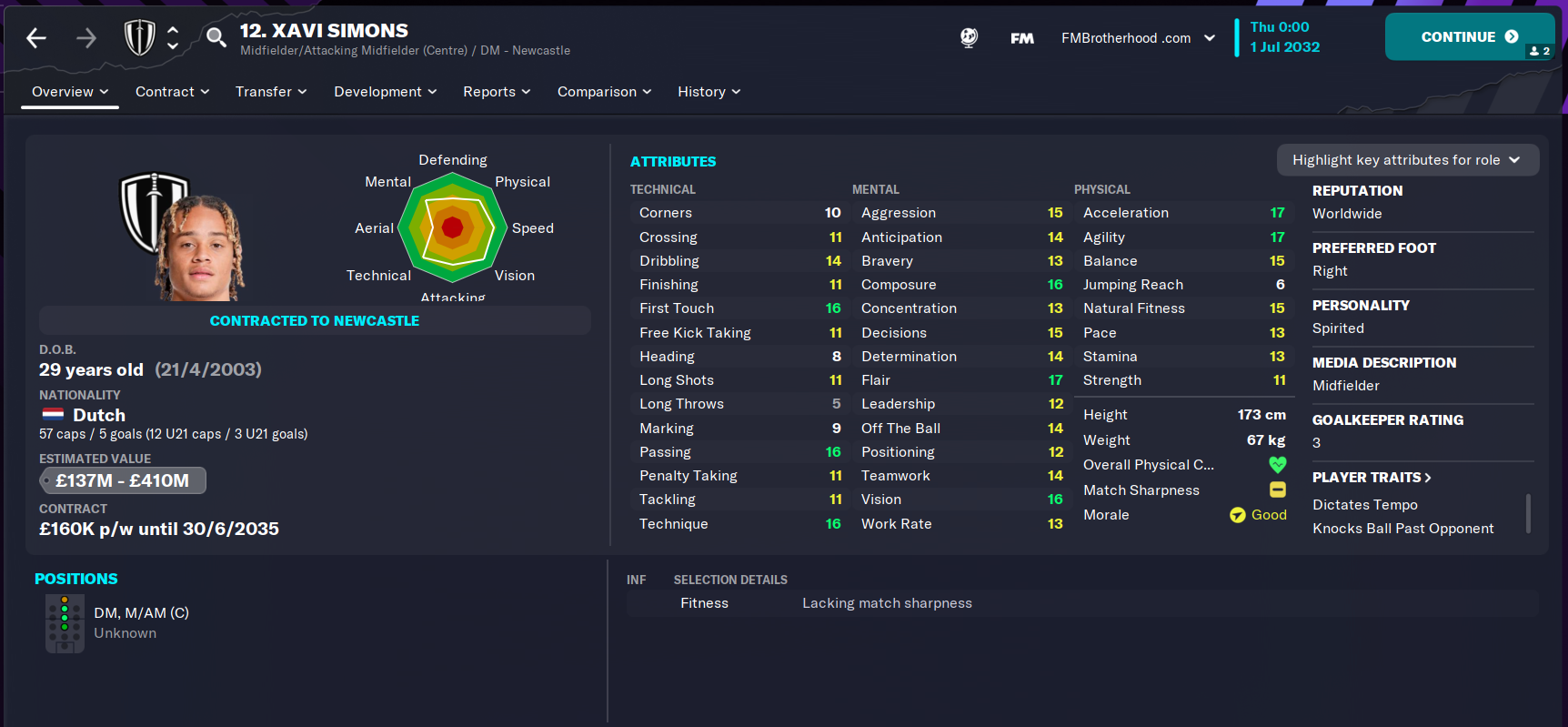 After signing Simons for free, PSV managed to sell him to Newcastle for £65 million! He's managed to improve his passing from 13 to 16, his decisions from 12 to 15, and his composure from 13 to 16. These are all important attributes which will help Simons get lots of assists in the final third of the pitch.
In every season of our simulation, Xavi Simons had an average rating of at least 7.03, showcasing he's a really consistent performer. Simons is a great wonderkid CAM to keep an eye out for in your FM23 save.
7. Assan Ouedraogo – Youngest Wonderkid CAM in FM23
The youngest player on our best young CAM wonderkids in FM23 list is Assan Ouedraogo. When you begin your Football Manager 2023 save, he'll have only just turned 16! For his age, he's absolutely incredible physically, and is already capable of playing first team football. If you manage Schalke in FM23, definitely move Ouedraogo into the first team and try to give him as much game time as possible. Schalke are struggling financially, so if you can develop Assan Ouedraogo into one of the best CAMs in FM23, you could sell him for a large fee to help with the clubs financial troubles.
Assan Ouedraogo would like to continue his development at Schalke, so you'll have to wait a season or two before signing him in your Football Manager 23 save. You want to try and sign him as quickly as possible before he develops and his price goes up.
Assan Ouedraogo in 2032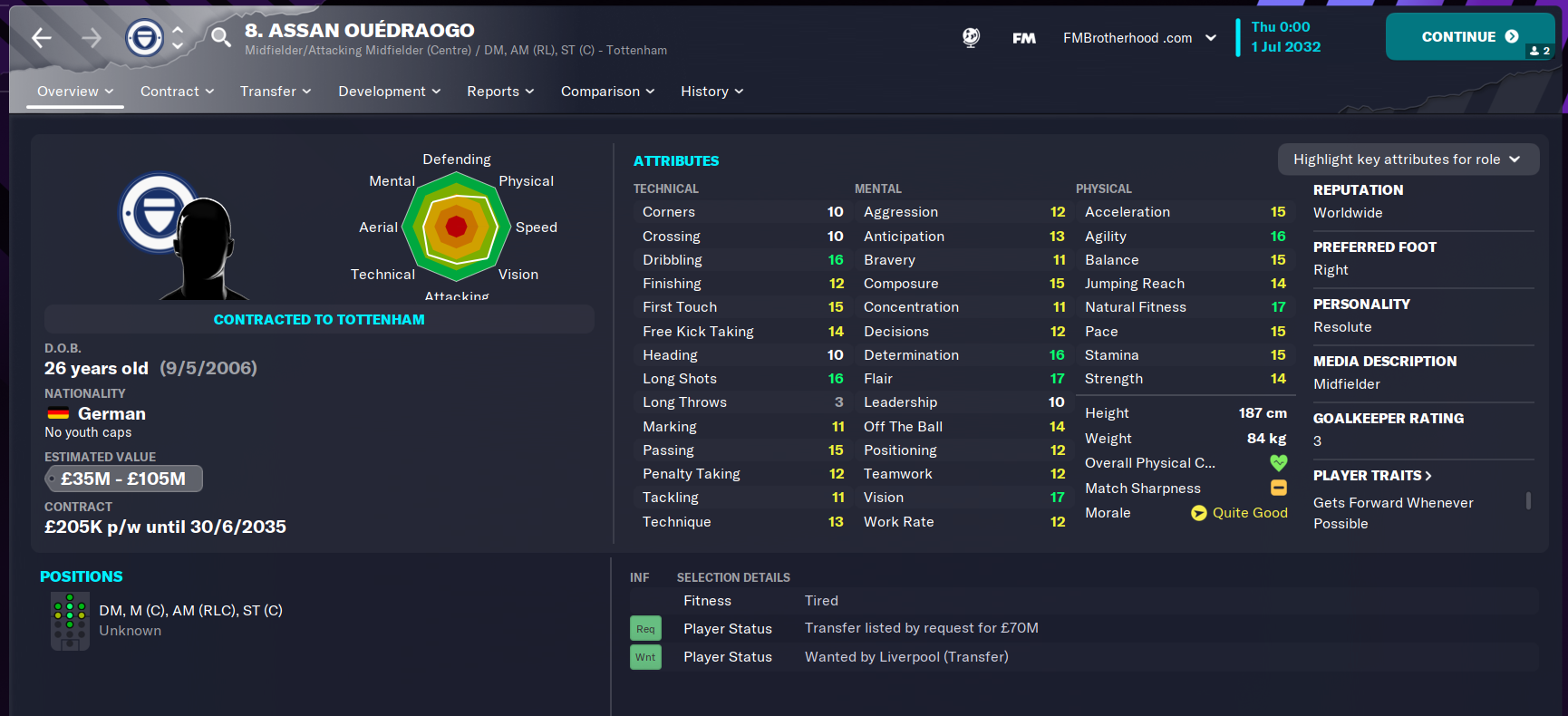 In our FM23 simulation, Schalke sold Assan Ouedraogo to Spurs after a few seasons for £42 million! His physicals are even better, with his lowest rated attributes being his 14 strength and 14 jumping reach. Assan Ouedraogo is also an extremely versatile player. Not only can he play central attacking midfield, he can also competently play on the either wing, up front or even CDM. By the time you get to 2032, Ouedraogo is only 26 years old. He's not even in his prime yet!
An excellent young CAM that would be a great signing on any FM23 save.
6. Valentin Carboni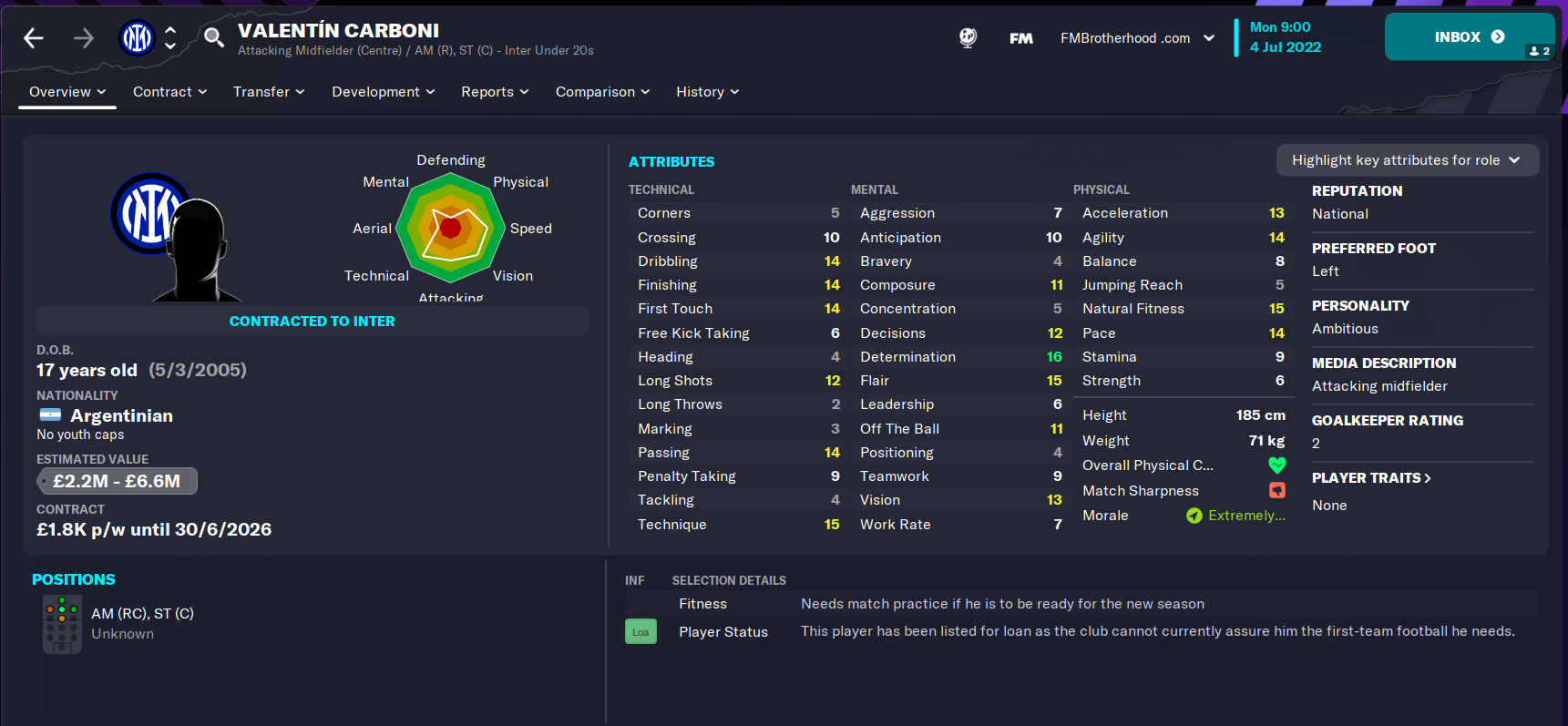 Valentin Carboni does look quite raw at 17 years of age. However, he does possess some great technical attributes, such as 14 dribbling, finishing, first touch, passing, and 15 technique. His work rate must improve if you like using a CAM that gets themselves up and down the pitch.
FM23 have given Valentin Carboni an estimated value of £2.2M to £6.6M, which seems quite cheap for a wonderkid CAM with his ability. However, he's not interested in joining a new club in his first season as he's just signed a new contract with Inter Milan. Probably a smart move from them.
Valentin Carboni in 2032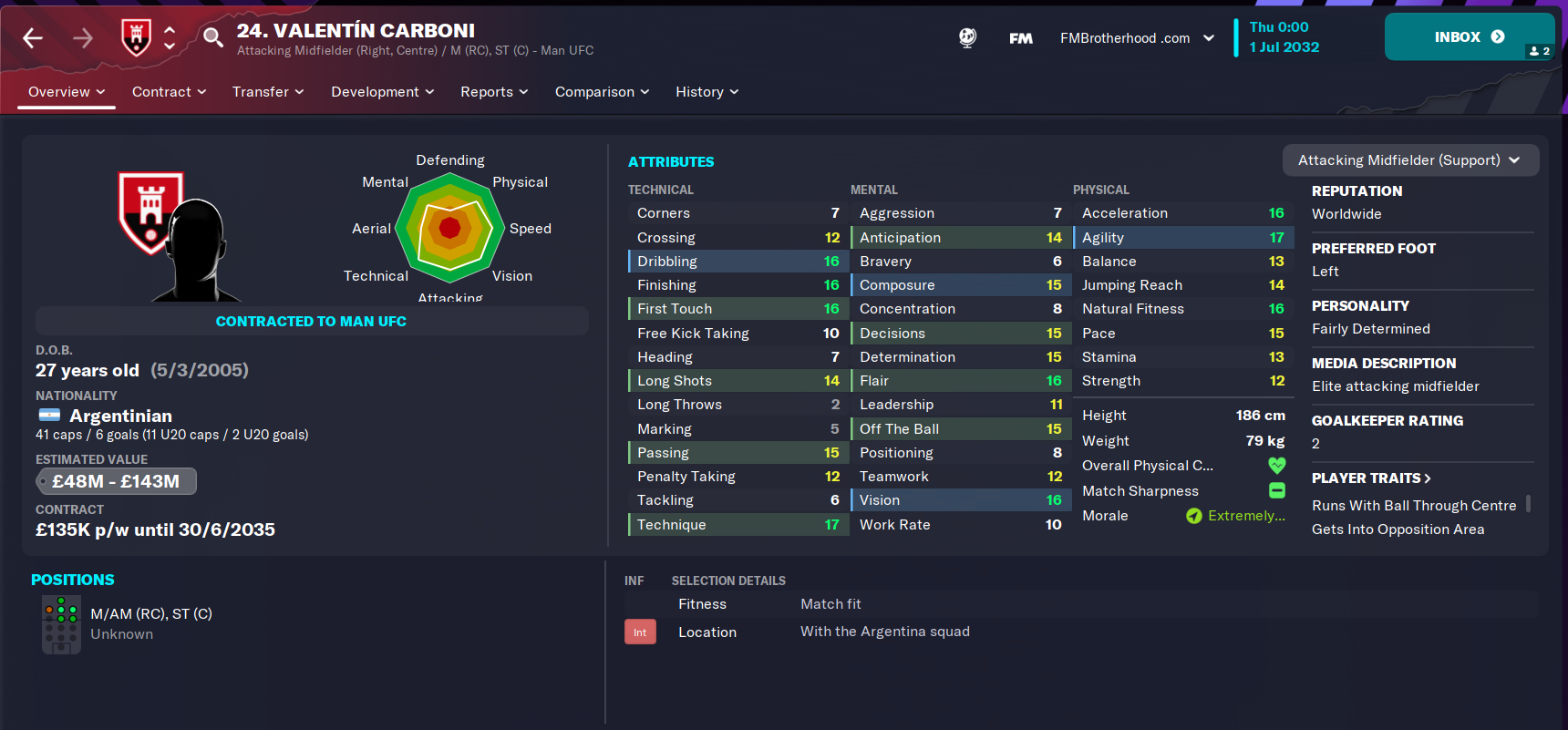 Valentin Carboni in 2032 has some brilliant physical attributes, such as 16 acceleration, 17 agility, and 16 natural fitness. In our simulation, a total of £150 million was spent on Valentin Carboni on transfers. He played for Bayern Leverkusen, Benfica, Bayern Munich, and then ended up at Manchester United. You can see why all these top clubs wanted to sign him.
His work rate could still ideally be a bit better. But this might not be essential to your style of play. As a technical CAM, there aren't many better wonderkids than Valentin Carboni.
5. Giovanni Reyna – The Best FM23 USA Wonderkid?
Giovanni Reyna already has an impressive 4 goals for the USA at just 19 years old. He's seriously struggled with injuries since moving to Borussia Dortmund, which has hindered his development process. However, when he's played, Reyna has looked impressive. This is why he has excellent potential on FM23.
As you can imagine, Dortmund are extremely reluctant to let their wonderkid CAM leave. In the first season of your FM23 save, you'll have to pay £74 million if you want to sign Giovanni Reyna!
Giovanni Reyna in 2032
In our simulation, Reyna stayed at Dortmund until 2029, before moving to Spurs for £60 million! His world class dribbling, first touch, passing, and technique, make Reyna an elite CAM. He's also got 121 international caps for the USA, scoring 27 goals.
Reyna has the player trait "tries killer balls often" which means he's always looking to play attackers through on goal. This means if you pair Giovanni Reyna up with a wonderkid striker, your team will score goals for fun!
4. Florian Wirtz – Best FM23 German Wonderkid?
The next player to make our best wonderkid CAMs in FM23 list Florian Wirtz. He was excellent in FM22, and is just as good, if not better, in FM23. He already has 4 caps for Germany, which is really impressive considering the talent in the Germany national team.
He's already a regular starter for Bayer Leverkusen, getting 17 goal contributions in the Bundesliga during the 21/22 season, which is amazing for a teenager!
At the start of your FM23 save, Wirtz is out with a long-term injury. This means it's difficult to sign him, as he'd fail his medical.
Florian Wirtz in 2032
Florian Wirtz signed for Liverpool for a massive £88 million fee! You can see why Liverpool paid the price though. Wirtz has 6 mental attributes over a 16 rating, but it's his technical attributes that put him higher than anyone else on this wonderkid CAM list so far. He's amazing in every technical attribute needed for a world class CAM.
If you ever get the chance to sign Florian Wirtz in your FM23 save, do not pass up the opportunity! You'd hate to see a player this good sign for one of your rivals.
3. Paul Wanner – 16 Year Old Wonderkid CAM
The second youngest player on our young CAM list is Paul Wanner. He's already well rounded technically, with his standout attributes being 14 first touch, 13 dribbling, and 15 technique. He already has most attributes in place to become a world class CAM, however he must improve some of his mental attributes, such as his decisions, and anticipation.
Like most young wonderkid CAMs, Wanner would prefer to continue his development at Bayern Munich, so you cannot sign him in your first FM23 season.
Paul Wanner in 2032
Paul Wanner has made some incredible development in our FM23 simulation! He has an astounding 43 goals in 76 caps for Austria, and has sealed a move to Manchester United. His mental attributes have certainly improved, including his anticipation from 9 to 17, and decisions from 10 to 18. These weaknesses have now become strengths.
The only reason Wanner doesn't rank higher on our list is because there's somehow even better wonderkid CAMs in FM23 than him! Read on to find out the top 2.
2. Jamal Musiala
Jamal Musiala is definitely the most technically gifted wonderkid CAM on this list. To have 18 dribbling, 16 first touch, and 18 technique at just 19 years of age is incredible! He was eligible to play for the England national team, but decided to play for Germany instead. I'm sure England are gutted to be missing out on this amazing young CAM. Musiala is extremely versatile, which shows his brilliant football intelligence at such a young age.
Musiala will cost you a huge £77 million if you want to sign him in the first season of your Football Manager 2023 save. This would make him one of the most expensive teenagers ever!
Jamal Musiala in 2032 – A Great Goalscoring CAM!
In our simulation, Musiala wanted to stay at Bayern Munich, and has an amazing career. He scored over 15 goals a season in 9 out of 10 seasons, which is impressive for a CAM. Jamal Musiala excels in so many areas in his prime. His composure increased from 13 to 17, and his vision from 15 to 18. Musiala is also a very competent young left winger.
You'd think he'd be good enough to take the number 1 spot on our list of best wonderkid CAMs in FM23, but we've found a player that's even better. You might have already heard of him.
1. Pedri – Best Young CAM in FM23!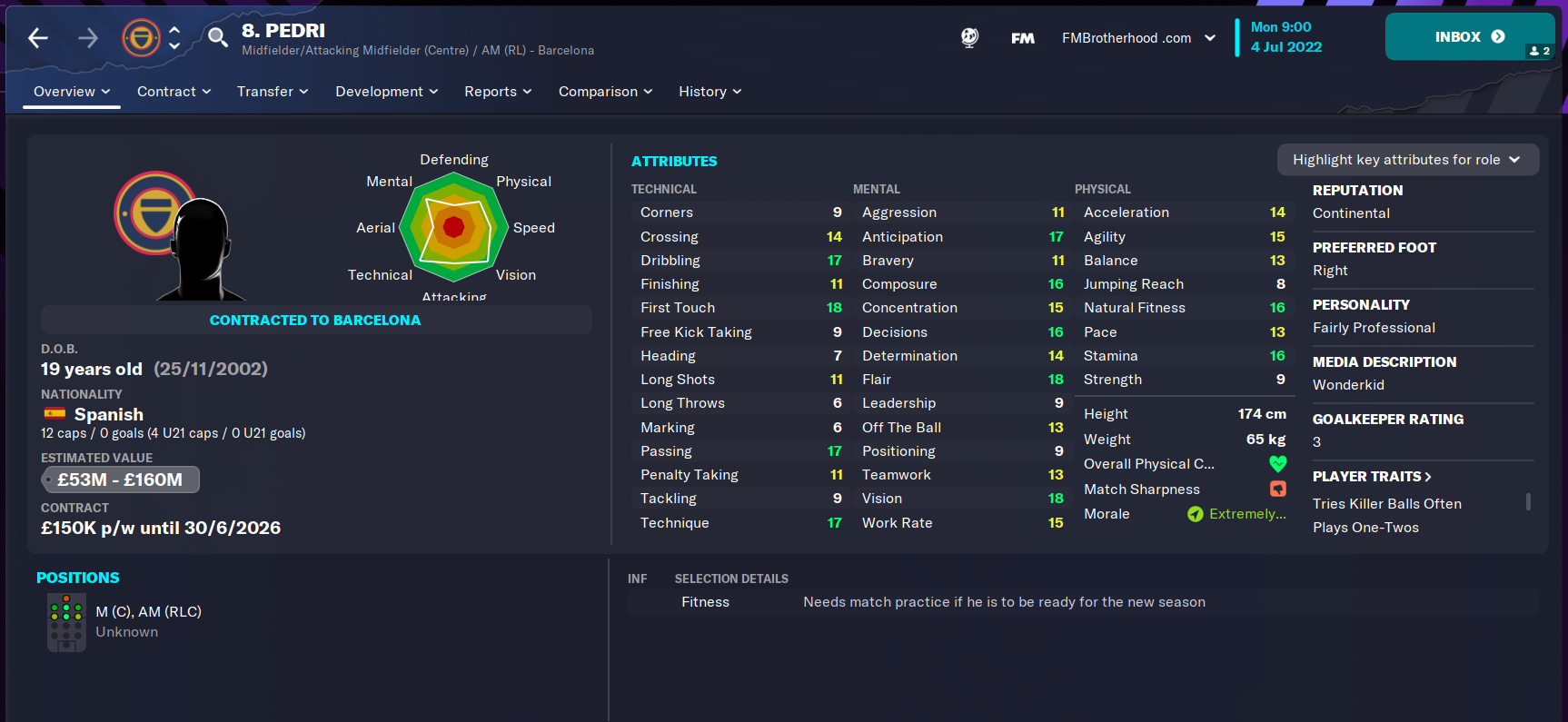 I'm sure it won't be a surprise to many of you, but Pedri has to be number one on our list of best CAM wonderkids in FM23. At 19 his attributes are insane. He has 11 attributes rated over 16, which is extremely rare for a 19 year old. He's already a regular starter for FC Barcelona and his national team, Spain. Most people say he's a typical La Masia academy product, however he actually signed for Barcelona in 2020 from Las Palmas. Barcelona only paid £6 million for Pedri, what a bargain!
There's not many teams this wonderkid CAM is willing to join, but if you're managing a top European club like Man City, you can sign Pedri for £105 million.
Pedri in 2032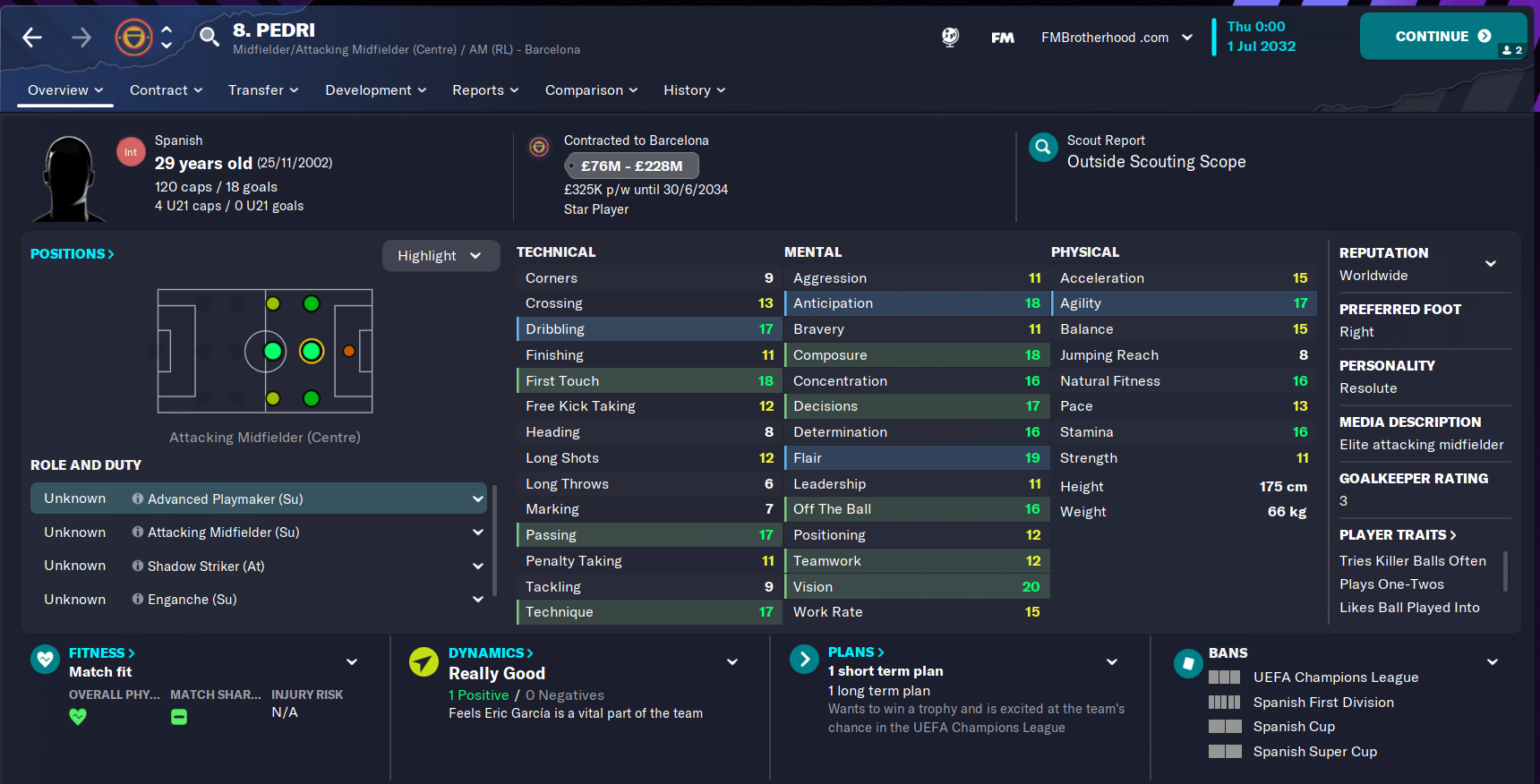 Pedri looks world class in 2032. He has so many outstanding attributes, with his 20 vision being the best. He stayed at Barcelona and become a club icon! Pedri managed to record 20 assists in a La Liga season, which is only 1 behind the record help by Lionel Messi. 8/14 of Pedri's mental attributes are over 16, which shows his excellence in such a wide range of areas. Pedri has everything you would want in a wonderkid CAM, and so much more.
Final Thoughts on Wonderkid CAMs
There's definitely a lot of young CAMs you could sign for your FM23 save. It will be difficult for you to sign some of these attacking midfielders straight away, so add them to your shortlist and keep and eye on their development throughout your save.
If you're looking for more wonderkids, checkout all our FM23 wonderkid articles here.