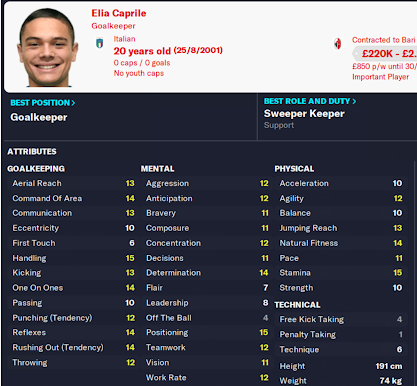 Elia Caprile – FM23 Wonderkid Overview
By callum | December 11, 2022 | 2823 Views
Football Manager 2023 Wonderkid: The Next Buffon?
With FM23 having been out now for almost a month, the lists of wonderkids that are out there are extensive and looking for one hasn't been tested already is tough. But have no fear because I have an Italian goalkeeper that has flown under a few radars and that man is Elia Caprile, could he be the next Buffon? Only a FM23 simulation will tell.
The plan here is we will have a look at Elia Caprile at the start of FM23, have a look at his attributes, then we will sim 15 years (in three 5-year blocks) into the future and see how he has developed and where his career has taken him.
Capile began his career at Italian club Chievo, where he spent two years before joining Leeds United. After being at Leeds for four years, with very limited opportunities, which included a year on loan at lower league Serie C club Pro Patria. Capile moved to Serie B club Bari, which is where he starts in FM23.
If you're looking for some more wonderkids to play alongside Elia Caprile, take a look at the best left back wonderkids in FM23!
Elia Caprile – Wonderkid in 2022
Let's have a look at his starting attributes. At 20 years of age, he is very young for a starting goalkeeper but is decent for a young Serie B keeper. His attributes aren't outstanding, but he's good enough in all the right areas. His 15 handling and 14 reflexes are impressive. The only downside at this point is his preferred role is a sweeper keeper, but his first touch is a bit low at 6 and his passing is only 10, which is ok and will hopefully improve as he gets older. So, let's go 5 years into the future and see how he has progressed.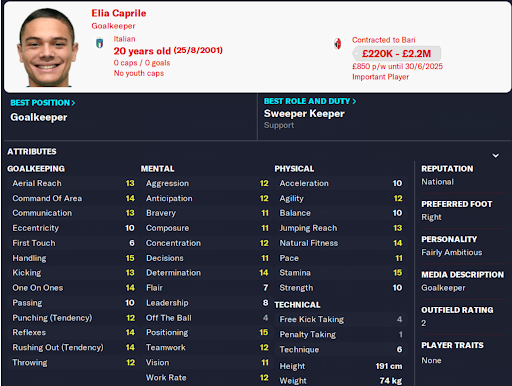 Elia Caprile – FM23 Wonderkid in 2027
Here is Elia Caprile at 25 years old, and he has progressed nicely. Looking at his goalkeeper specific attributes, the aerial reach is the one that really stands out as going up. On the mental side there has been a slight rise across the board. Physically he has had the most improvement with jumping reach as well as a few other increases. Still not much improvement on his first touch and passing, but at 25 he hasn't reached his full potential as a goalkeeper. He had a good few seasons at Bari, but the moves to Man City and Dortmund have stagnated his career, hopefully a move to a club where he is first choice will benefit him. No full Italian caps yet and a couple of U21 caps have been added to his CV.
Let's go ahead another 5 years and see if he has reached that potential.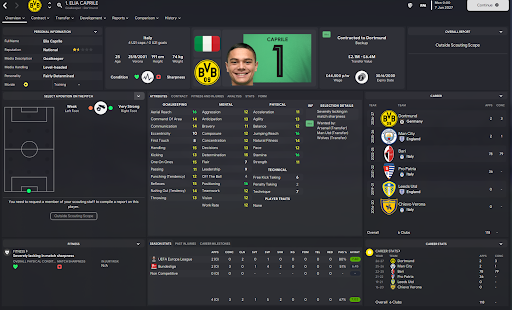 Elia Caprile – FM23 Wonderkid in 2032
After another 5 years and some decent game time, Capriole has improved more as he now hits the peak of his abilities. Aerial reach, one on ones and reflexes are the standout attributes in his goalkeeping attributes, with another small raise across the others. Mentally he is still very strong and the slight increase in his physical attributes makes him a decent goalkeeper and that is proven by his good stint at Marseille and finally at Al-Nassar, with a stop at Sampdoria in between. Unfortunately, he hasn't added to his international career and still sits on 4 under 21 caps. Let's go forward one final time to what will be near the end of his career and see what has happened.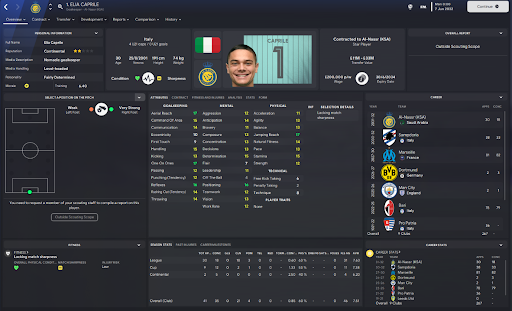 Elia Caprile – Wonderkid Goalkeeper in 2037
At 35 and at the tail end of his career Caprile is still at Al-Nassar and by all counts playing well, conceding less than a goal a game. Attributes wise, he is still a very solid Goalkeeper. With only a slight decline in some attributes, most noticeably in his physicals. But overall, he still would be able to compete at a high level, as proven by interest from Premier League teams Wolves and Crystal Palace.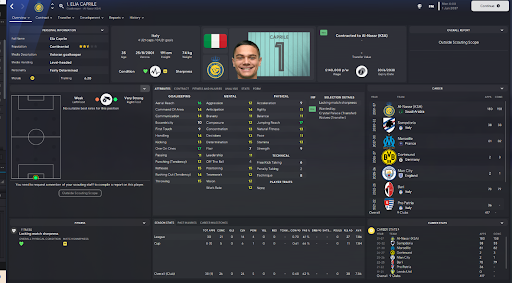 Summary
The next Buffon? Maybe not, but Elia Caprile is an extremely solid goalkeeper, who can definitely do a job at a high level for you. Considering he can be picked after the first season for a small amount, about 2 million pounds, he is certainly worth a shot for a wonderkid goalkeeper. And just remember this is only the AI managing Caprile, so you could get him to an even higher level and maybe, just maybe, you could make him reach the same career highs that Buffon reached.
If you're looking for more Italian wonderkids, 4 feature in our article covering the best wonderkid centre backs in FM23.
If you have enjoyed this dive into the potential career of Elia Caprile and you'd like to see more FM23 content, why not head over to my YouTube Channel FM Woody – YouTube and check out my Oldham to 'ome save, where I'm attempting to get Oldham Athletic back to the Premier League. And if you like wonderkid videos, here's a different spin on one as I remake CM0102 Legend Mark Kerr in FM23 and see how his career pans out.