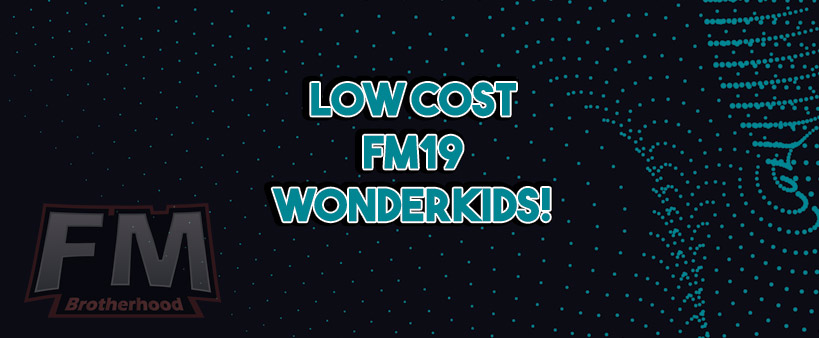 Cheap Wonderkids Football Manager 2019 – FM19
By spaskecar | November 28, 2018 | 3399 Views
We scouted a lot of young players to create cheap wonderkids Football Manager 2019 list and we think we have made it!
You don`t have enough money to buy high-quality players that would make a difference in your team? Or you just don`t want to spend a lot on new signings? Then we have got something for you.
We bring you young and cheap wonderkids that will be superstars if you train them well. Your clubs` bank account won`t be "harmed" and you will get great players if you sign some of them.
As we said in many blogs before, young players are a real treasure in this game. You should force them to play. You should give them minutes whenever you have space for that. They will bring you a lot in return. You will get a valuable player on the field and if you sell him you can get a lot of money. So what are you waiting for, get those wonderkids now!
Cheap Wonderkids Football manager 2019 List
Our low-cost wonderkids FM19 list is made of 5-star potential players. We have developed some of them in the clubs we played with so no worries. They are true FM19 wonderkids.
Let`s start with one DM. This 16 years old DM and our cheap FM19 wonderkid is from Paris-Saint Germain. Claudio Gomes is surely our choice there. He is a physically dominant player with great creativity level, passing and tackling. You can get him for around 600k pounds. You have to admit that for a player that can become the superstar in your team that is a funny price.
The second 5-star potential player we chose is Marco Varnier. This DC is currently in Atalanta FC as he is loaned from A.S. Citadella. He is only 18 years old but he knows a lot. He has heading, he is a strong and good tackler. The only thing about this DC you could get for about 800k pounds is his injury proneness. His injury proneness is at 45%. So if you are lucky, you will get the new superstar. If you are lucky as James Bond`s enemies (they aren`t) you will get a great patient in your hospital.
Pelayo Morilla. Remember that name! 17 years old Spanish wonderkid – shadow striker is player you need! You can get him for 2 million (ok it`s not the cheapest player in the world) but you can get much more for him. You would be able to sell him for about 20, even maybe 30 millions of pounds in the future. Morilla is "light cavalry", he is fast, great dribbler and finisher. The modern type of player and that`s why he is on our cheap wonderkids football manager 2019 list.

Dejan Joveljic – Serbian wonderkid and U21 Champions League Superstar. He is a great finisher, the modern striker with great technique. You should probably use him as Advanced Forward as he knows all the tricks with the ball. Get him now and you won`t regret.

There aren`t too many talented Goalkeepers as Titas Krapikas. This Lithuanian young fellow is amazing between the posts. At the year of 19, his aerial reach is 15 and natural fitness 16. Also, you probably know that goalkeepers are like wine. The older they are, the better they are. So for Titas, there are many years of great career in front of him, at least in Football Manager 2019.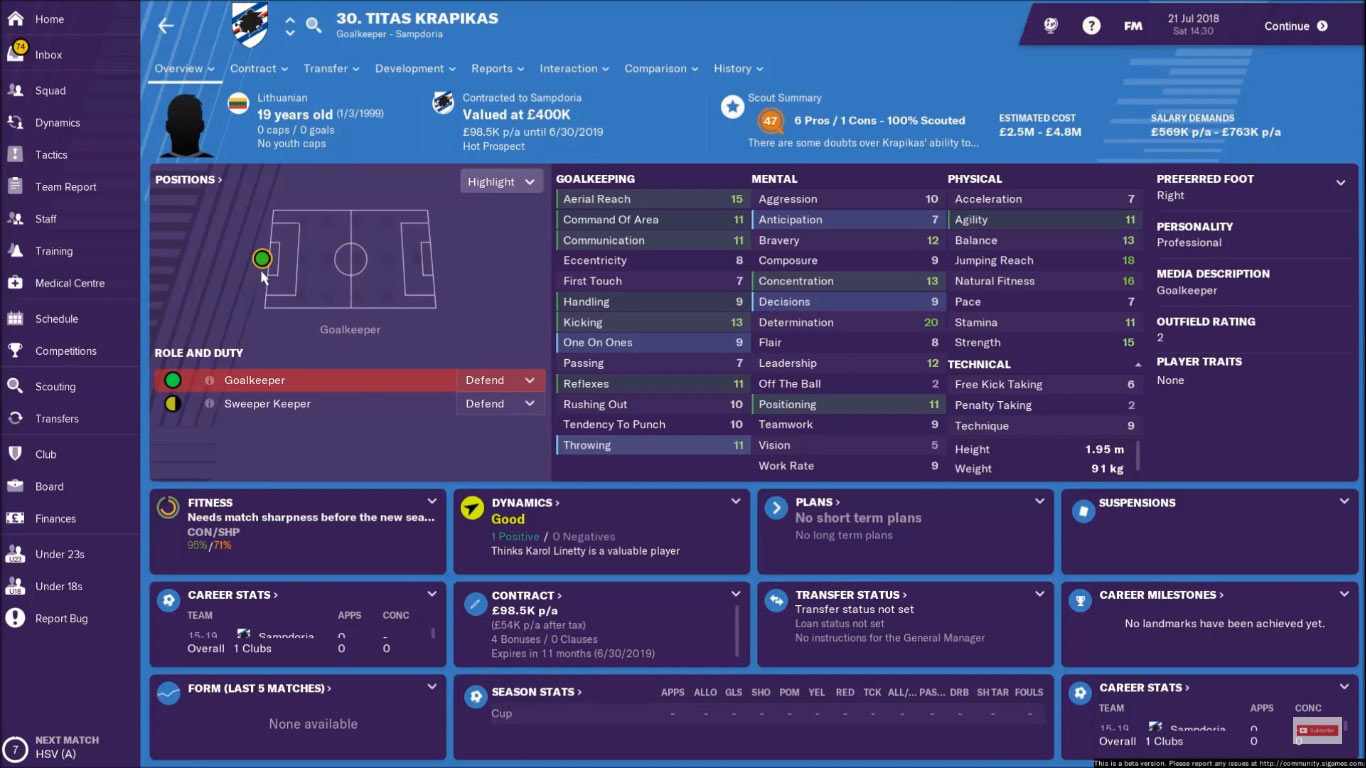 Our FM19 low-cost wonderkids list isn`t over!
We have described you our choice of 5 low-cost FM19 wonderkids. There are 5 more in the video our FM legend, Nik FM prepared to us. Hope you will support him with a like or subscription.
So see you soon, as we prepared more FM19 wonderkids. We will travel to some exotic countries (Portugal maybe) next time. There will be some more cheap wonderkids Football Manager 2019 lists, but maybe more expensive players. Cheers FMBros!
Check out our New FM20 Cheap wonderkids list here!