FM19 Italian Wonderkids Under 1 Million Pounds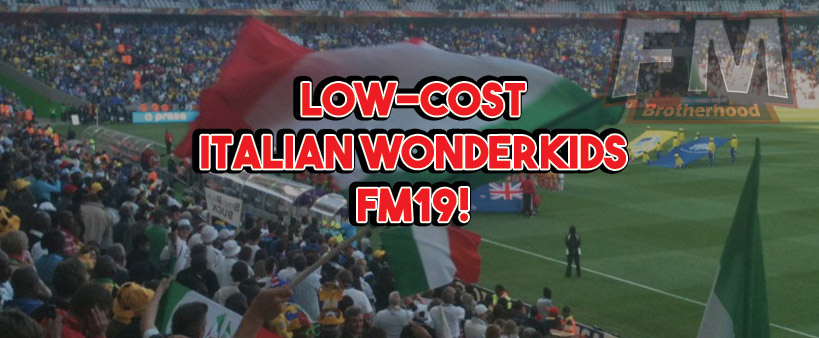 FM Bros are looking for cheap FM19 wonderkids as always. We all like to buy a low-cost player and sell him for 20+ millions of pounds, right? That`s why this time we will travel to Italy to find future superstars. Welcome to our FM19 Italian wonderkids list!
Before we start we just want to say a few words about Italy and Italian football at this moment. There have been a lot of earthquakes in Italian football for the past few years. Maybe the Italian league isn`t as strong as it was in the previous decade, but Italy is full of young talents.
FM19 Italian Wonderkids List
Our job was finding a lot of Italian future football superstars – FM19 wonderkids, and doing it was fun and pleasure. We tried to make a list with wonderkids you can sign even if your budget is low. That`s why we focused on Italian wonderkids under 1 million pounds.
The first on our list is Eddy Salcedo. This 16 yo super talent is capable to play on AML or as an ST in FM19. He is a fast player with a respectable technique for his age. With a
£220k price he is a real treasure. FC Inter would sell him for only 600k of pounds, so you shouldn`t waste your time and think twice about Eddy. In the future, this FM19 wonderkid will become great dribbler with a fair amount of pace in his legs. We recommend you to focus on his passing skills if you choose to sign Salcedo.
Atalanta`s Marco Varnier is a DC you want in your team. He is talented 20 yo player loaned from Cittadella and you can buy him for only £787k. He is already good enough to play in rotation, with his 20 years if you play with a stronger club. If you give him a chance he will grow and become a very good central defender. Marco isn`t a slow runner, he has nice tackling and heading abilities, so in overall, very useful signing.
One of the most important things to do if you want to make an unbeatable team is to choose the right GK. That`s why Manuel Gasparini from Udinese is on this list. Manuel is only 16 yo, but he tends to be an important part of the Italian national team in the future. Gasparini maybe isn`t ready to play in the year 2019, but let him grow, and he will prove you his potential. His price is only £38k and you should try to bring him ASAP to your team.
AML – check, AMR – Emanuel Vignato. You want him, believe our words! Every team needs a guy like Emanuel. He is similar to Eddy Salcedo, but his flair is 17, and he is only 17 years old. That`s why you should pay around 1 million pounds and get him. Vignato is going to be great winger and pain in the as* for the opponents.
Ok, you want right back who can run fast, who can provide quality crosses, is that so? So it`s the time for Samuele Birindelli. Birindelli is even great in marking and tackling, and with a great technique, you will get a full package. He is everything you want on your right wing-back position. True Italian FM19 wonderkid!

Now it is time for a "wild dog". CM who can make pressure on the opponents and connect the lines. Simone Santoro is that guy. He is 18 years old Palermo midfielder with a great pace, passing and potential to become one of the best CMs in Italy. Don`t hesitate to buy him, he is very valuable CM.

More Italian FM19 Wonderkids?
That`s not all folks! We have got some more wonderkids from Italy. The comments about them are in the video below. One big thanks to NikFM who made this video and brought us some more FM19 wonderkids!
See you soon with more interesting FM19 stories, wonderkids lists or team guides.