Football Manager 2019 Wonderkids – Ultimate TopList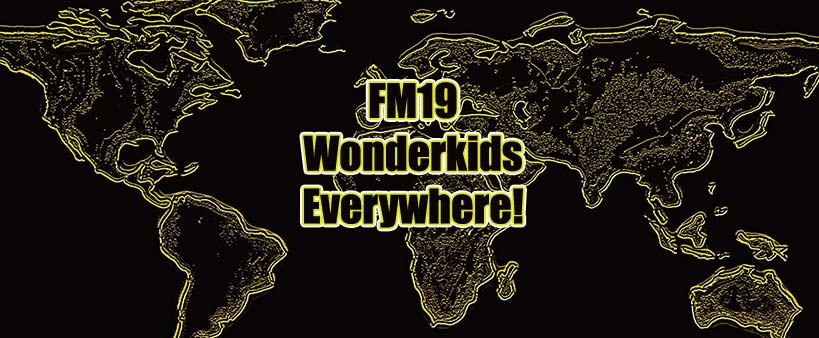 Football Manager 2019 Wonderkids are something we all look after when we start a new FM19 career. Those guys are future superstars, "game-changers", footballers who can make wonders on the pitch. Those wonders they make with the ball are the reason why we call them wonderkids in this game.
If you are looking for FM19 wonderkids, you are in the right place. Here we are going to mention many wonderkids from different groups (based on different factors) and all of them are from Football Manager 2019.
We will try to mix the things up here, and to make an interesting list of players you can sign. So, if you don`t like what you see and think that you know some better players feel free to write it in the comment section area below.
This list is going to be updated, as we do with the best FM19 tactics toplist, and you can expect even more wonderkids soon on this list. So let`s take a look at our Football Manager 2019 Wonderkids toplist right now!
Football Manager 2019 Wonderkids Toplist
Here are the guys on our FM19 wonderkids toplist:
Antonio Marin 
Simone Santoro
Kai Havertz
Morilla Pelayo
Kaique Rocha
Luka Jovic
Antonio Marin – Croatian FM19 wonderkids representative
We were thinking a lot how to start the list, but the reason why we will start it with this player is simple – he is a representative of cheap FM19 wonderkids. Those cheap wonderkids are something we all need, right? Especially when we start a game with a smaller club, a player like this guy is an extraordinary addition to our squad. So we present you – Antonio Marin!

Marin is 17 years old Croatian player, currently in Dinamo. His natural position is AML. We recommend you to use this guy as attacking winger because of his fast legs. He is seriously fast and a great dribbler. At only 17 his dribbling skill is rated 17.
This diamond is fairly unpredictable, in a good way. He has flair 18, and that means that he can win the match with few moves.
This guy is and will become a great technician if you give him the chance. So for "only" 4 million pounds, you can get this amazing football manager 2019 wonderkid and stop worrying about your left wing for ages.
Let`s also mention that his wage in Dinamo Zagreb is currently only 1.100 pounds a week.
Simone Santoro – Italian FM19 Wonderkids representative
Italy is full of wonderkids in FM19, that`s a fact. This time we will switch a course, we won`t look for those players everybody speaks about. We are going to speak about a less noticeable wonderkid – Simone Santoro.
Simone Santoro is on our Football Manager 2019 ultimate toplist because of many things. First, he is a low-cost Italian wonderkid. His current value in Palermo is only 150k, so his transfer won`t financially jeopardize your club.
We called this guy a "wild dog", with a reason. He is a fast, aggressive and very brave player. For this kind of player, you probably assume that he has a problem with concentration and that he makes many red cards? False. Santoro is great there and you can count on him anytime.
With Simone on CM – ball winning midfielder you can make many tactical experiments in FM19. That`s maybe one of the reasons why he is so interesting and on this list.
German FM2019 "beast" – Kai Havertz!
The whole Football Manager community is sharing the same opinion about Kai Havertz – he is the true Football Manager 2019 wonderkid. You just can`t argue with that.
We already analyzed his abilities, but let`s say it one more time. Kai Havertz is a visionary, technician, team player, great passer and a player with great movement. If you let him show you what he`s made off, he will repay you rapidly.
You can make millions over Kai, but also he can get you on top of the league.
Let`s say no more, check out this German Wonderkid skills.

Morilla Pelayo – 16 years old Spanish super talent
Morilla Pelayo is already on a few pages on our website, as the best Spanish wonderkid in FM19. This guy is pretty cheap either. You can get him below 2 millions of pounds. For that money, you can get tremendous Shadow Striker.
He will bombard the opponent nets. At 17 he has 15 finishing, dribbling, pace and acceleration. If you need more from your attacker than you aren`t the best football manager.
Morilla will develop into a world superstar, of course, if you let him play. If you start the game with Gijon, don`t let this youngster!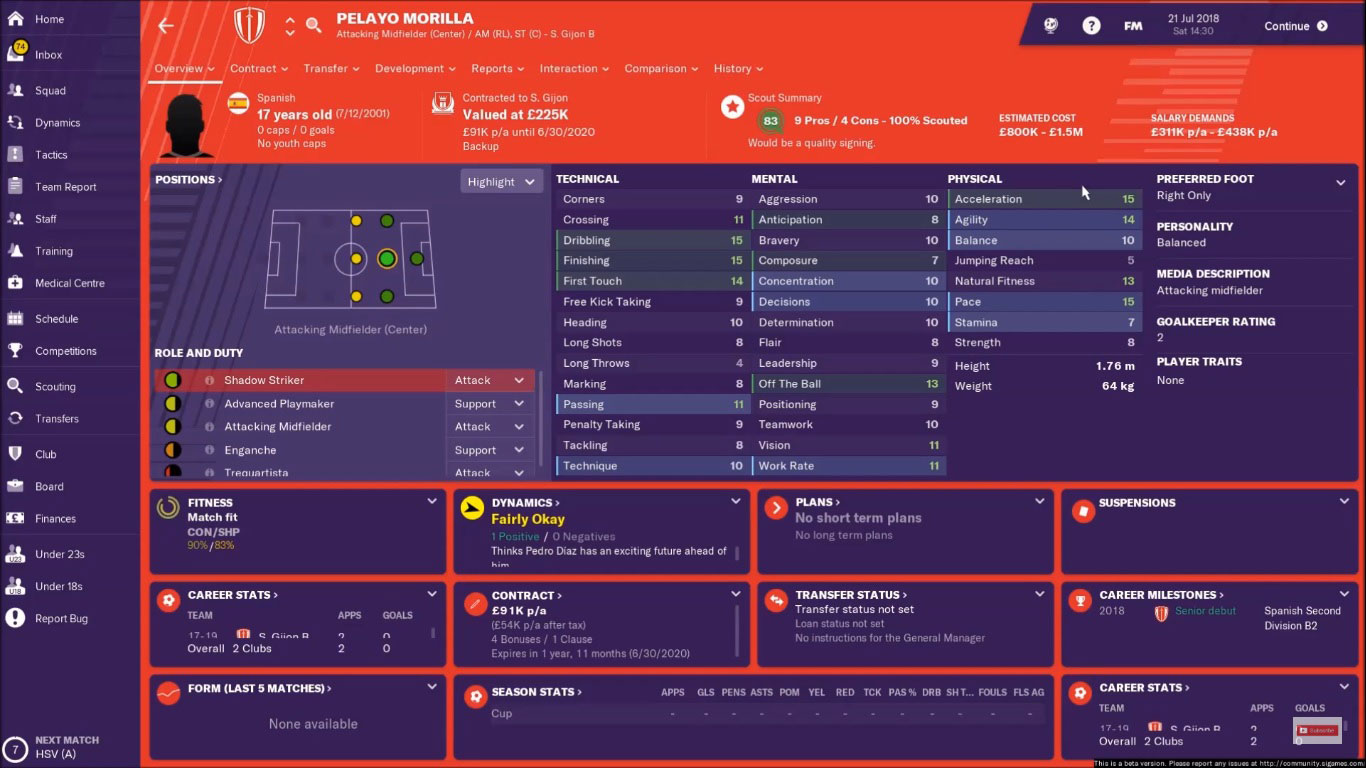 Kaique Rocha – Strengthen your defense with Brazillian wonderkid
Do you need a top-class CB (or DC)? Say no more, it`s time for Kaique Rocha, a Brazillian superstar.
When we were scouting Brazil and their numerous wonderkids, we bunched on this guy. Kaique skills are more than fine for a 17 years old defender. Especially when you take a look at his price, he is a true bargain.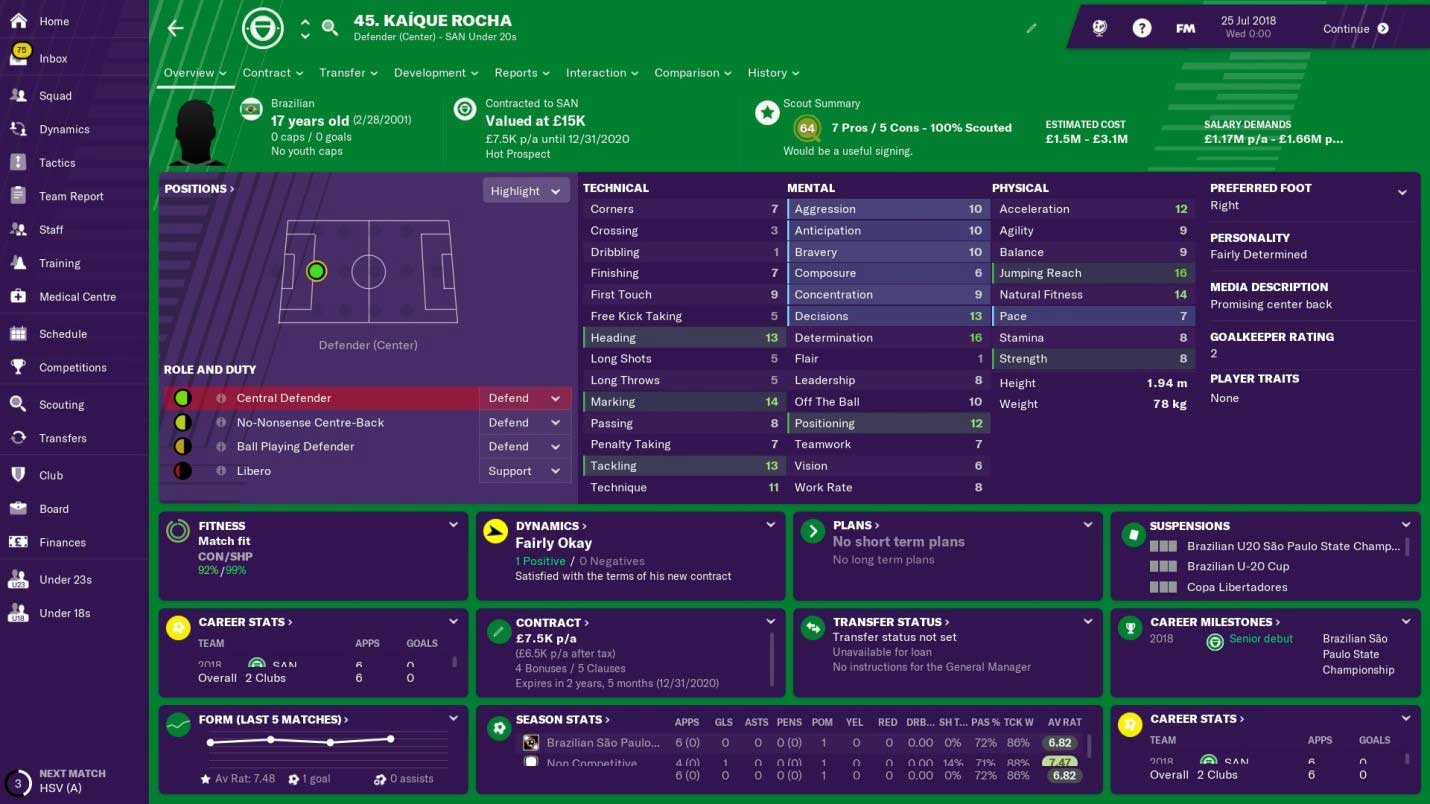 He has what every central defender needs. Great heading, marking, tackling and jumping reach. Maybe he isn`t the fastest CB alive, but let`s take a look at his value again – 15K.
Rocha is there with a reason, as a cheap FM19 Brazilian wonderkid, he is always a great choice!
Luka Jovic – Serbian Falcao
Serbia is maybe a place where you should stop by and buy some players in FM19. There are many talented youngsters here, but among all of them, there is one who made the most in real football. Football director in his previous club spoke about him many times. He compared him to Falcao a few years ago, and many of us were very suspicious that he could become that big. Today, he is on a path to be even greater.
---
You can check out Serbian Football Manager 2019 Wonderkids list here!
---
Luka wasn`t so popular until this year. We all know that he signed recently for Real Madrid, one of the greatest clubs in the world, but in FM19 it`s a story for itself. Luka is pretty cheap for a player of this caliber. In FM2019 you can get him for about 11 million.
This FM19 Jovic is also a great player, as he is in reality. His finishing is 17 at with only 20 years he is one of the best poachers in the game. Eintracht Frankfurt Fm19 team is interesting in many ways, but Jovic is surely the best player here.

Maybe next year his successor with similar last name – Joveljic is going to be on this list as a Serbian representative. Who knows 🙂
Expect some more Football Manager 2019 Wonderkids
Soon we will add some more great players on this list. We will travel to numerous countries in FM19, scout them and bring you more interesting players. If you have your favorite wonderkids, share them with us.
You can also check out our FM Store and our True Wonderkid bodysuit, we do the delivery for the whole world.