German FM19 Wonderkids – New Ronaldo or Messi?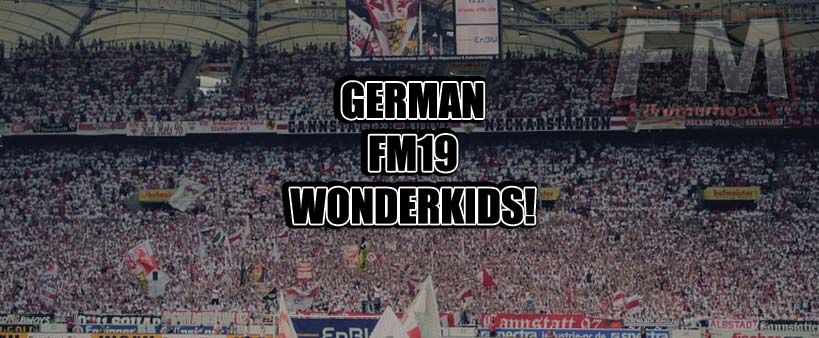 Football Manager 2019 is the first FM that can be played in the German market. Sega has made a deal with Bundesliga and as a result, German players can finally enjoy the best manager game in a world.
For them and for everyone else we bring a list of German Wonderkids in FM19 that have amazing potential and who could even become new Messi or Ronaldo. Those are the youngsters who are at the beginning of your manager campaign not in the first plan in some teams but with good training and first team football they can reach their potential and bring you closer to FM glory.
List of German Wonderkids in Football Manager 2019:
Kai Havertz
Fiete Arp
Arne Maier
Benjamin Henrichs
Felix Passlack
Atakan Akkaynak
Gian-Luca Itter
Salih Ozcan
Lukas Mai
Elias Abouchabaka
Top 10 German FM19 Wonderkids
And now let's see quick information about all of the German FM19 Wonderkids!
Kai Havertz
Kai Havertz is the biggest German talent in FM2019 and with all the right he can be called German NO.1 wonderkid. Havertz is 19-year old attacking midfielder currently playing in Bayer Leverkusen.
Havertz was from an early age planned for becoming a great player. He made a Bayer debut while he was only 16 and till now made almost 100 appearances. He is best used as an advanced playmaker what can be seen in his attributes: vision (17), composure (16), technique (16), passing (14). And remember, he is only 19 years old.

His potential ability is 176 what can bring him surely to TOP 10 best players in FM19. True wonderkid, isn't he?
Fiete Arp
Second on the list is also very well known to football fans, especially in Germany. Fiete Arp, 18 years old striker from HSV, can make an impact in your team immediately.
He is a great striker (finishing- 16, first touch – 15, penalty taking – 14) who brings 20 goals per season. If you plan to buy him, you should do it now because later his price will go to the sky (same as his potential).

Arp is best used as deep-lying forward and with regular first-team football, he can become the best striker in a world.
Arne Maier
Third, on a list is Arne Maier. He can play in any central midfield position but is best used as a deep-lying playmaker. So maybe he is not new Messi or Ronaldo, but he can be new Pirlo of FM19.
Maier has 19 years, but he is very strong and composes for his age. He is born runner and with natural fitness 16, he can run and run and run. Something like Forrest Gump.
Currently, he plays in Hertha, but with potential ability of 165, he is destined for biggest clubs in a world.
Benjamin Henrichs
Benjamin Henrichs is the first defender on our list. Currently playing in Monaco, 21-years old German, can play on both sides but he prefers right foot.
Henrichs is best used as a complete wing back, and his strong sides are: passing (14), first touch (14), stamina (14). He has some great technique and he is a defender, remember it. If you plan to play tactic with short passes and tika-taka, Henrichs is a great addition to your team.

His potential ability is 165 and is already valued at 8.25M.
Felix Passlack
Felix Passlack is currently in Championship, playing for Norwich. He is only 20 years old and is best used as a right wing back. Passlack is really what you need from a wing-back, with natural fitness of 17, he can run up and down for 90 minutes, and with the crossing of 13 he can provide many assists.
Passlack is a great player for our best 4-3-3 low league FM19 tactic as we mentioned that wing backs are crucial to it.
His potential ability is 161 and currently is valued at 3.5M.
Atakan Akkaynak
Akkaynak is 19 years old defensive midfielder who currently plays for Willem II. Akkaynak is one of the cheapest FM19 wonderkids, valued at only 675K.
His strong sides are passing (14), vision (14), balance (13). Akkaynak potential ability is 160 and with regular first-team football, he can become top class deep-lying playmaker. And you can buy him in some average club, you don't need to manage rich clubs to buy him.

Gian-Luca Itter
Gian-Luca Itter is a 19-years old left wing-back, contracted to Wolfsburg. He is great at defending (tackling – 14, pace – 15, stamina – 14), but he can add value to your attack to with long throws (14) and good passing (13).
Itter has a potential ability 156 but he needs a lot of regular football to improve. If you keep faith in him, he will prove he is a true FM19 wonderkid.
Salih Özcan
20-years old German, with Turkish origin that guarantees good technique and passionate style of play. Özcan is a true box-to-box midfielder with some amazing attributes. Passing (15) and technique (14) in attack or balance (16) and off the ball (14) when defending.

You need to watch out for him being booked because his aggression is 15 and as he never gets up, sometimes he can come to the problem with yellow and red cards. But he is only 20 years old, valued at 3.2M and with potential ability 151, you should really put your eye on him.
Lukas Mai
First central defender on a list is Lukas Mai. Mai is only 18 years old and currently plays for Bayern B what makes him a great potential wonderkid signing.
Mai has everything a central defender should have. He is strong (14 strength, 16 jumping), defensively great (14 tackling, 13 marking) and with some amazing mental attributes for such young player.
You can buy Lukas Mai for only 1.5M. Our suggestion is to do it and in a few years, you will have the best defender in FM19.
Elias Abouchabaka
And the last German Wonderkid in FM19 on our list is Elias Abouchabaka. Abouchabaka is 18 years old attacking midfielder from Greuther Furth. Elias can play in a central position or on the left side but is best used as a central advanced playmaker.
He has some good on-ball attributes (passing 13, dribbling 14) and is a great set piece taker (corners 14, free kicks 12).
And Elias is the cheapest FM19 wonderkid on our list. He is priced at only 450K so you won't lose much even if he doesn't reach his full potential.
Check out more on German Wonderkids FM19
We have finished our list with basic information about every German wonderkid in Football Manager 2019. If you want to learn more about them, we suggest you watch NikFM video below.
Read more and add wonderkids to your team
Now when you know some German Wonderkids, we suggest you read some of our other helpful information and combine wonderkids to your team:
Low league 4-3-3 tactic FM19 that just rocks
Look how incredible Atalanta FM19 potential is!?