Ryan Gravenberch FM19 Summary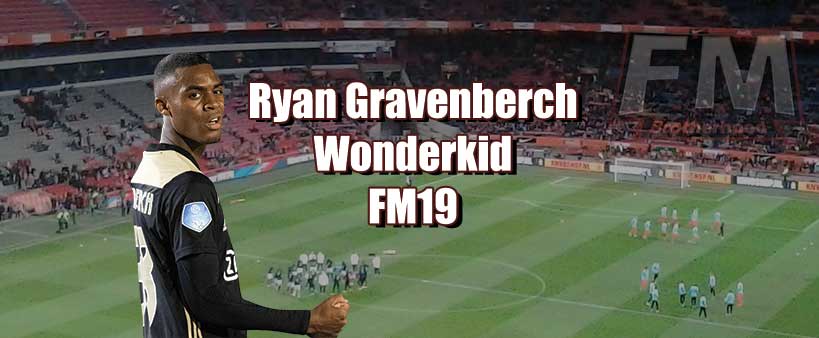 Ryan Gravenberch in FM19 is another wonderkid coming from the Eredivisie league. As you've probably guessed, he is another product of the famous Ajax youth school.
It seems like Ajax's academy is a gift that just keeps on giving and we, FM19 managers, are loving it. Especially when you can get your hands on one of the most promising midfielders in Europe for under $2,000,000.
So, who is Ryan Gravenberch?
Ryan Gravenberch Football History
At the age of only 8 years, the Ajax scouts saw him play at the AVV Zeeburgia Youth and offered him to start training with Ajax Amsterdam Youth, where he rose through all the categories and still plays now.
Ryan Gravenberch is a 17-year-old central midfielder who plays for Ajax. He made headlines when on 23rd of September 2018 he got his senior debut at the age of just 16 years 130 days, breaking the record that stood almost 27 years.
Before him, the youngest ever player to play for Ajax was Clarence Seedorf at 16 years and 242 days, and we know what an amazing career that man-made for himself. We'll only mention 5 Champions League trophies, being the only one who has done it with 3 different teams…
If Ryan Gravenberch can follow his footsteps, he will be a very happy and successful football player.
Because he is so tall, his physicality and technical ability he has been compared to Pogba quite a lot and just like Pogba his dribbling ability makes him an extremely difficult player to play against in the center of the field.
Being only 16, he already plays like an experienced professional and has experience on higher levels and the fact that he is only going to get stronger and technically better as he ages is a scary thought for those who will have to play against him.
Ryan Gravenberch in FM19
In Football Manager 2019, Ryan Gravenberch has his talent reflected from real life. He has the huge potential ability.
At 187cm height, 75kg and having good stats in technique, passing, first touch, dribbling, vision, teamwork, flair, composure and decisions, he makes for a great central midfielder. His best role is Advanced Playmaker.
Even though his versatility (hidden attribute) isn't high, he is natural at a few positions from the start of the game. He can play the AMC, AML and DM positions almost as well as the CM but of course, CM is where he is the best.
We, at the FMBrotherhood, played 10 seasons with this man and in the end, he became a complete beast of a player.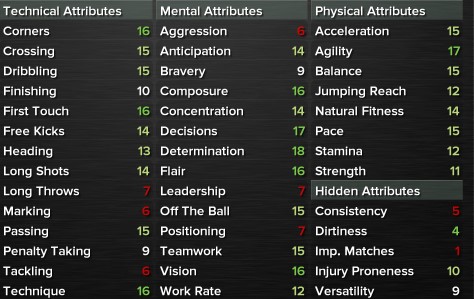 As you can see, for somebody who cost us only $2,000,000 we got a well-rounded, elite midfielder.
He's a very determined player and possesses a fair amount of pace. His ability to do the unexpected is one of the main reasons behind his ability to go past his man.
Yes, he has some weaknesses inconsistency and important matches, but he doesn't have to be your main man in midfield. He isn't a great leader either so he will never become a captain.
But we'll make a forecast for FM20.
We, strongly believe, especially since he was so good in the 2018/2019 season in real life, that Ryan Gravenberch will be a lot better in FM20. Not only will his current ability be higher, but his potential ability will go at least 10-20 points higher than it is in FM19.
He will probably get a boost to his hidden attributes as well and that is why this man is one to watch out for in the future. A star in the making.
Interesting Things about Ryan Gravenberch
As he is most often called the next Pogba, Juventus are first in line to get him, just like they did with Paul when they got him from Manchester United almost for free.
The website goal.com listed him as one of the top teenage players on the planet
He won the Abdelhak Nouri Trophy for the most talented player in the Ajax youth system on June 2018. Previously won by the likes of Rafael van der Vaart, Wesley Sneijder, Christian Eriksen, and De Ligt only serves to highlight the caliber of player that those in the Dutch capital believe he can replicate.
Seedorf used Instagram to congratulate him on breaking his record:
"Congratulations on breaking my record. I wish you a successful career, just like I had. Stay focused and make sure you continue to love the game."
His Instagram profile is https://www.instagram.com/ryanjiro_
Gravenberch's father told the media that there were millions offered for him already but they decided he'll stay a little bit more at Ajax
If Ryan Gravenberch can produce good games on a weekly basis and become a starter at Ajax, he is likely to break De Jong's record for the most expensive sale in Ajax history
If you are still in a need to see Ryan Gravenberch and his real life skills you can check out the video below. Enjoy!