Spanish Wonderkids FM19 Get Them ASAP
Spain, a country where football is a religion. The Spanish team is among the best in the world and comes with big stars and lots of potentials, no matter the tournament. We all know the big names from the present and the past like Iker Casillas, Sergio Ramos, Xavi, Andrés Iniesta, Andoni Zubizarreta, Raúl, David Villa, Fernando Torres but how much do we know about their future stars?
Today we bring you the Spanish Wonderkids in FM19!
Spain has won nine European titles at the U17 level, eight at U19, four at U21 and three at senior level. Their total of 24 titles is twice as many as anyone else, while only Germany have as many senior titles on the continent. There are many reasons for that, from a footballing culture that places emphasis on technique and talent, to expert coaching and a clear structure, to a model that brings players together from the age of 14 and clubs that defer to the federation. A continuity runs throughout the system, an ideology that is shared. It's not just about "tiki-taka" or natural ability. And it is not a fluke.
What is the Spanish secret?
It is opportunity!
The Spain side that won Euro 2012 had racked up 332 youth games between them. When they won Euro 2008, the whole team had been in the youth system except Marcos Senna. You can have all the talent in the world, but if you never get the chance, it means nothing.
There are reasons for that trust: the quality of the players, the work being done in youth systems, and a basic belief in young players coming through. Clubs being brave enough to give opportunities to young players in such a tough and competitive league like La Liga speaks very highly of those in charge and the coaches.
The clubs deserve credit for giving that opportunity to young, talented players.
So, who are these players that are labeled wonderkids and who deserve to be given opportunities in FM19?
Spanish Wonderkids FM19 Shortlist
First here is a short list of the players aged 19 and younger to keep an eye on – our FM19 Spanish wonderkids:
Xavi Sintes
Morilla Pelayo
Abel Ruiz
Álvaro Salmerón
César Gómez
Manu Morlanes
Antonio Zarzana
Luis Forcen
Roberto Lopez
Hugo Guillamón
Iván Martínez
Alex Blesa
…and many many more
Morilla Pelayo – Spanish FM19 Wonderkid No.1
This blog post we are starting with the BEST one – Morilla Pelayo is a 16-year-old AMC who plays for S.Gijon. At the 190cm height and amazing attributes in dribbling, finishing, first touch, technique, decisions, and determination this boy is already a beastly player!
He already has a fair amount of pace on him and in the future, he develops it almost to maximum.
In our test game, we were able to sign him for around $2,000,000 even though he has a minimal fee clause of $3,800,000. The offer also included a 40% of the profit from next sale clause which sadly was not negotiable. It seems like Gijon really needs the money as they are letting a gem slip out of their hands for fairly "cheap" and we can add him to the list of Cheap Wonderkids Football Manager 2019 list.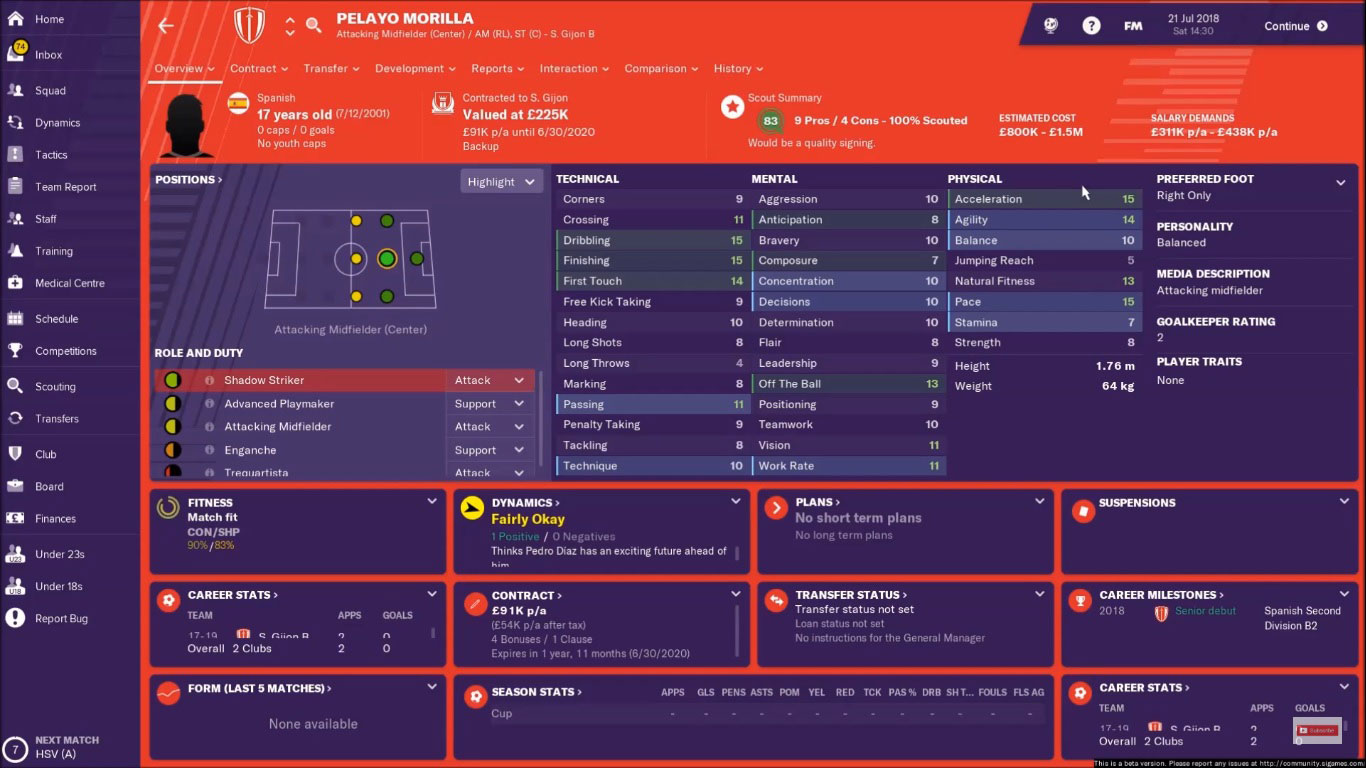 In a few years, given the proper opportunity, you can grow this boy into a man with attributes like Eden Hazard has now at his peak.
Abel Ruiz – Hire that Barcelona wonderkid ASAP!
Abel Ruiz is an 18-year-old striker (wonderkid) playing for Barcelona. Even though he isn't as good on the wing as he is in the central striker position, he is widely considered to be the next Messi (check out this list of German wonderkids like Messi) because of his talent and potential.
Because he is already playing for Barcelona and they know how good he is, they aren't letting him go without meeting the minimum fee release clause which is $70,000,000!
Yes, you read that correctly, they want 70 million for him and if you aren't playing with Barcelona already, you should probably look at other players as there are plenty almost as good as he is or will be.
He is a worthwhile mention in this list as he was just under Morilla Pelayo based on potential ability. Amazing mental and physical attributes with his pace being the best one. He has solid dribbling, finishing and first touch which makes him a great substitute player for Barcelona when they are already in the lead and you need to rest your key players.
This Spanish FM19 wonderkid deserves first team chances and is potentially as good as Kylian Mbappe.
César Gómez – free Spanish FM19 wonderkid you want!
César Gómez is the first and only free agent on this list. If he is only a regen player, he might not be in your game at all, but he was in our and he is a worthwhile mention since he was FREE before anything else.
This 16-year-old is 179cm tall Spanish wonderkid and plays best at the AMC position. When we approached to sign him, he only had his first touch as a good attribute out of all technical ones, but his mental attributes are simply godlike!
Determination, work rate, and teamwork almost maxed at 16 years is something you don't find every day. His physical attributes are solid too and he only lacks jumping reach, but he won't need that as he is going to be the "workhorse" of your team in the future. We simulated through a couple of seasons and this man reminded us of Ivan Rakitić. He is a team player, a "workhorse" with amazing first touch, passing and just an overall smart player.
Manu Morlanes – if you need a wonderkid as DM
Manu Morlanes is a 19-year-old DM currently playing for Villareal B. As he is only on a youth contract in the summer of 2018 you can get him almost for free. You only have to pay some compensations which are fairly cheap for the potentially world class player you are getting.
This man has great natural fitness, anticipation, decisions, marking, passing, first touch and he isn't slow either! This makes him a perfect defensive midfielder!
in a few years, he develops his technical skills greatly with his dribbling being the worst, but he isn't there to dribble, he is there to intercept the ball and give it to the playmaker which he is what he does really well!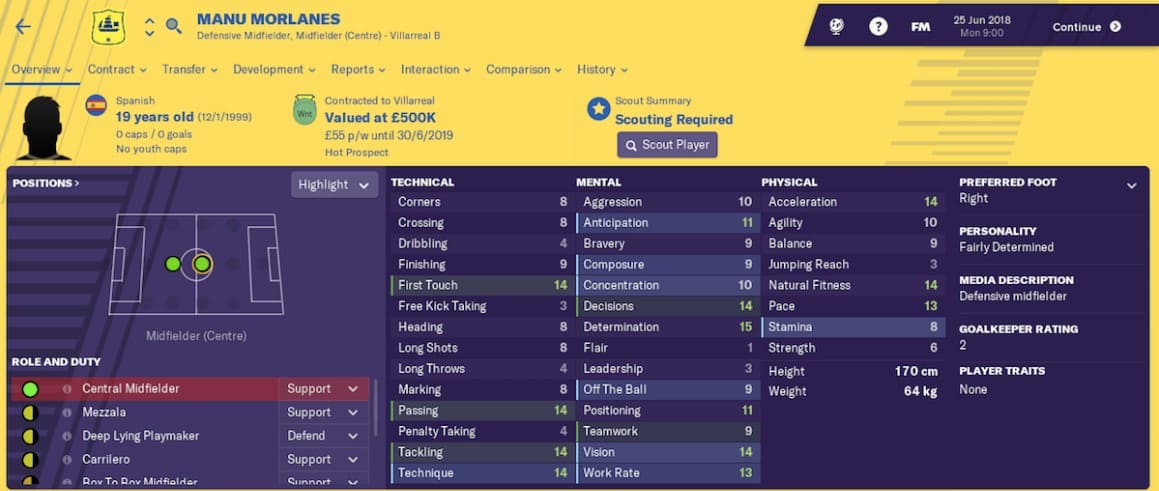 Hugo Guillamón – stopper for every team
Hugo is the only DC on this list. He is an 18-year-old who plays for Valencia B. Even though he has a Minimum fee release clause at $4,800,000 we got him for $2,900,000 and percentage of profit from next sale 40% clause which sadly was non-negotiable.
One thing to consider when buying him is that he is a very loyal player and because we played with Real Madrid in this test game, he didn't want to join us because of the rivalry that exists with his favored Valencia.
At 18 years old, he already possesses good marking, tackling, anticipation, decisions, and positioning which all make him a good central defender. But he can become a lot better! He can become world class with proper guidance.
We believe he has the boundless talent and he can become as good as David Luiz was when he was at his peak. His only weakness is his stamina and if you are playing high-intensity tactics, he might not be the player for you.
How to get the best from a wonderkid?
To get the best out of talented players you must give them the opportunity.
Gines Meléndez, the coach that runs Spain's youth setup tells us the secret to success in Spain:
"For all the talk about technique, talent, and organization — which is all present — there is also something more basic, more primeval and rarely recognized about Spain: competition."
"Playing is not the same as competing," he insists. "One of the things we have worked on very consciously over the years is pushing players forward. If we can get a U15 player into a U17 team, we will. If they play easily in their own category, they don't develop. They don't make the same effort. They have to be forced. You have to be in a league where you need to compete."
And that is something you should also do when you have a wonderkid in your hands! Let him play against the professionals! Against players who are a lot better than him. That will give him vital experience which will cause him to develop faster!
Spain has a huge crop of talented wonderkids in FM19. Many weren't mentioned in this list and our team member Nik has his own list of Spanish wonderkids all under $1,000,000 over at his YouTube channel:
Be sure to check out the list of the cheapest Spanish talent and comment under the video if we have missed someone important!