FM20 Fascinating Austrian League (Bundesliga) Wonderkids
By spaskecar | March 13, 2020 | 3373 Views
In this blog post we will try to help you win a lot of games in your save in the Austrian Bundesliga – Austrian Premier Division.
It seems that the Austrian Premier Division isn`t the strongest league in the world, but it has many talented players. If you find out who they are, you may get an opportunity to win the Champions League with an Austrian club and stir football uniformity for a bit.
That is the moment when our FMBrotherhood can help you do it! We will show you the best CHEAP FM20 Austrian Wonderkids!
Hints:
CA – player`s current ability
PA – player`s potential ability
So, the players that deserve to get on this list of the best cheap Football Manager 2020 Austrian Premier Division wonderkids are:
Yusuf Demir – 163 PA
Sekou Koita – 140 PA
Johannes Handl – 140 PA
Dejan Petrovic – 135 PA
Otar Kiteishvili – 133 PA
+ Bonus Video with  more, even better wonderkids
Related: Cheap FM20 Wonderkids Ultimate List!
Yusuf Demir
Yusuf Demir comes from Austria and with his 16 years, he is something really special.
This FM 20 Austrian wonderkid is a Poacher, currently settled (in Football Manager 2020) in AKA Rapid Vienna.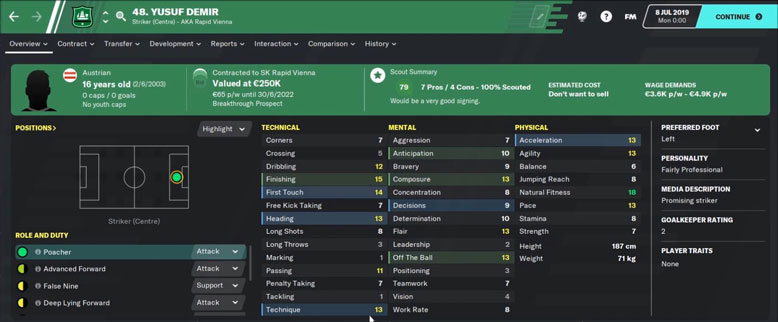 He already has everything you need for a good Poacher – amazing finishing, great off the ball movement, very nice pace, and superb natural fitness.
His current ability is 90, but his potential ability will show you that he is truly a wonderkid – it is 163.
Rapid Vienna doesn`t want to sell him, but if you offer something around 8 million, you will get him.
It is a bargain for such a talented player.
Sekou Koita
Sekou Koita is 19 years old Malian Poacher that also can play as Advanced Forward.
Koita`s current ability is already 116, so from the first day in your team, you will be able to get a lot from this FM20 wonderkid.
He is a very fast, great technician, composed player with very good finishing. Those skills are probably the most important for good Poacher.
With a potential ability 140, he deserves to get on this list.
You can get Sekou for about 3M.
Johannes Handl
Let`s mix this Austrian Bundesliga FM20 wonderkids list with one central defender.
This time we found Johannes Handl, 21 years old FK Austria Vienna wonderkid.
This guy is an incredible jumper. His jumping reach is 17 already, he is very strong (15), but also very brave and aggressive.
Something like Austrian Nemanja Vidic, but only if you fully use his potential.
His current ability is 105, but with 140 potential ability, he can become Austrian top player!
The situation is similar to the other wonderkids on this list, the club doesn`t want to sell him. But, if you offer 4.5M, they will accept the offer.
Dejan Petrovic
Every club needs a playmaker with a vision, great passing, technique, dribbling, pace, and flair.
It seems a lot, but you can expect that if you sign Dejan Petrovic.
Petrovic is currently on loan in SK Rapid Vienna, and he is 21 years old player, just like the one we mentioned above.
He is great as an Advanced Playmaker, but his natural position is also Mezzala.
Slovenian Mezzala/Advanced Playmaker has the current ability of 109, and the potential ability of 135.
TSV Hartberg doesn`t want to sell him, but if you offer them more than 1.7 million they will do it.
Don`t wait for the others to catch him, sign this Austria Bundesliga FM20 wonderkid ASAP!
Otar Kiteishvili
Otar Kiteishvili is Georgian Box To Box Midfielder, contracted to SK Sturm Graz.
This 23 years old wonderkid is a great signing for any club in this league as he will develop into a better player than he is now.
He is fast, great passer and a team player with a great movement and work rate. We can say that this player is some sort of a "crankshaft".
At the moment, in Football Manager 2020, he has 122 of current ability and his potential ability is 133.
10 More Austria Bundesliga FM20 Wonderkids
Our member – NikFM will show you even more Austrian Bundesliga FM20 wonderkids in the video below.
There are players from our blog-post, some of them are tested, and you can see some more info about them.
We hope you enjoyed this blog and video, and that you are going to share some wonderkids you know in the comment area below.