Lorenzo Lucca FM22 – Wonderkid Overview
By callum | October 14, 2022 | 1264 Views
Lorenzo Lucca Football Manager 22 Attributes
Lorenzo Lucca is a wonderkid on FM22 that I'm sure most of you know about. If you haven't, you're missing out on a potential gem, that is really cheap for his ability at the start of your save! That is if you don't use the January transfer window update, as he is now at Ajax on loan with an option to buy. However, if Ajax decide not to go through with the deal, make sure to snap him up. He is contracted to lower league Serie B side Pisa. We're going to look at Lorenzo Lucca's strengths and weaknesses, and his attributes in his prime.
Lorenzo Lucca FM Stats
Strengths
At only 20 years of age, Lucca has 15 finishing and 13 composure. These attributes already make him clinical in front of goal, and there's is still room for him to grow with his potential.
Standing at over 2 metres tall, in addition to 17 heading and 17 jumping reach, Lorenzo Lucca is a monster in the air in FM22.
18 determination means he's always striving to further develop. High determination is important for wonderkids' growth.
Weaknesses
Lorenzo Lucca's passing is poor which means it's difficult for him to link-up with his teammates.
Preferred role is target man which may not suit your style of play.
Lacks pace and dribbling ability which can make him a one-dimensional player.
Although there are some negatives, remember Lorenzo Lucca is only 20 years old. This means with the correct training regime and game time, you can develop his weaknesses. Let's see what he can look like in his prime.
Lorenzo Lucca in 2028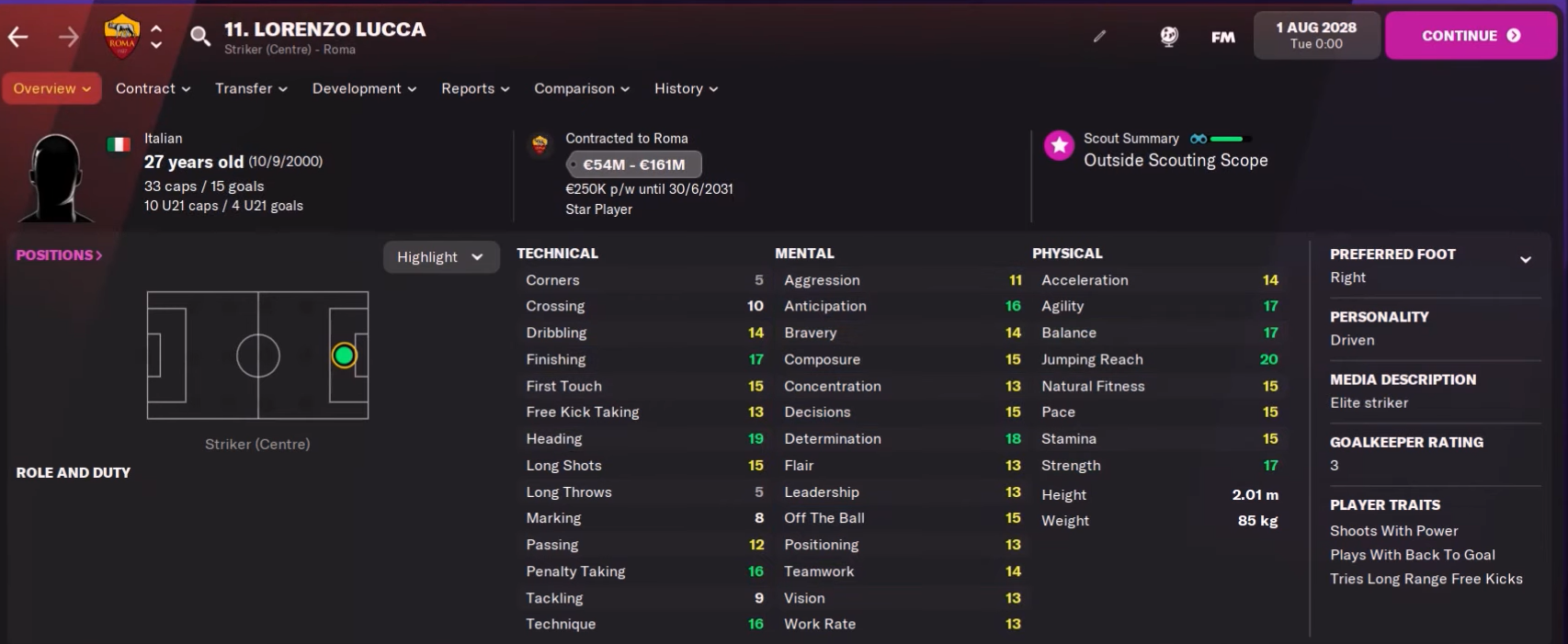 In 2028, you can see Lucca has significantly developed in a wide range of his attributes. His acceleration and pace are now 14 and 15 respectively, which means this is no longer a weak part of his game.
Lucca's jumping reach has reached the maximum of 20, and his heading is almost there at 19. These attributes alongside being over 2 metres tall means Lucca is undoubtably the best striker in the air!
All of his mental attributes except 1 are above 13, which shows the all-round ability Lucca now has. Let's take a look at his goalscoring record.
Lorenzo Lucca Career Stats
In this simulation, Lucca was signed by Roma after the first season and has been there ever since. His goalscoring record has been excellent in Serie A, including 30 goals in 33 games during the 2023/24 season. He's also recently finished the 2027/28 season with 31 goals in 32 matches, with an average rating of 7.60.
Lorenzo Lucca goal to game ratio is excellent in almost every season, which shows his high consistency levels. It is extremely important for your striker to have this if you want to compete for trophies.
You can also see that Roma snapped him up in the 2nd season for €11.5 million, and what a bargain Lucca was!
Final Thoughts
Lorenzo Lucca is clearly one of the best value for money wonderkid strikers in FM22. Once he develops, he becomes one of the best strikers in the world, and is unique to other strikers in the game with his ridiculous height and heading ability. He is definitely a player you're missing out on if you haven't signed him yet.
Make sure to checkout this video from NikFM covering Lorenzo Lucca in FM22
Also make sure to join the FMBrotherhood Facebook group here