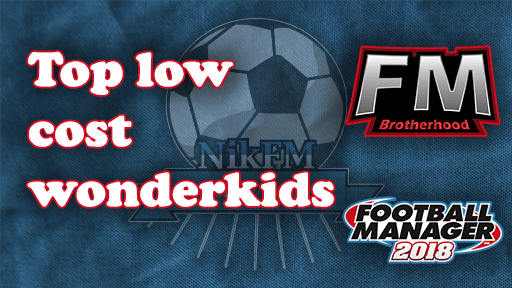 Low Cost (Cheap) Wonderkids in FM18
By spaskecar | March 4, 2018 | 70 Views
You are here because you don`t know who are the low cost wonderkids in FM18, right?
We all want players that we buy for a bowl of peanuts and after a couple of years sell them for 100 million, but those kind of players are not easy to find.
But you are in the right place!
It wasn`t easy to find really low cost wonderkids, players that will grow and become incredible in the future, but it really paid off and we are willing to share the secret with you.
We had to scout almost the whole game to get what we want and as always we did it! In the list below you can see the players we recommend yo every club, youth prospects, hot prospects that will burst into real superstars.
You probably won`t be able to sell them all for full bags of money but it will bring you a fortune.
Low cost wonderkids in FM18 that will make you great!
Really the best bargain wonderkids in FM18 list:
Goncalo Costa – Portuguese DL that plays in Sporting, an awesome prospect.
He is fast, modern type DL that has a very good crossing, great tackling and that can be used in both ways, attack and defense.
If you let him play and grow properly he can be a great addition to your team and a key player.
Bernardo Sousa – AMC again from Sporting. Portugal is a real treasury when we speak about wonderkids, it is full of them.Bernardo Sousa is the classic playmaker, he knows how to dribble, he is creative, great decision-maker with a vision, fairly fast player, with incredible passing.
Those qualities are making him one of the best playmakers in Football Manager 2018. We would suggest him to be your playmaker if you use tactics like Total Domination Tactic in it he would be awesome.
Miguel Baeza- if you played this game and saw him he was probably scoring or made assists against you. This AMRL player from Portugal (we are kidding they aren`t all from Portugal, he is from Spain) is a perfect right winger or left winger and why didn`t you buy him already?
He is seriously fast, with a great technique, first touch, and dribbling. That`s why every club should have him. Miguel also has the incredible vision that goes to 20 if you let him play and grow him properly.
All recommendations for this young fellow.
Davide Merola – now let`s travel to this beautiful country – Italy. Davide is great ST, modern, fast, poacher that will score a huge number of goals for you.
He has fantastic finishing, off the ball movement and composure, so by our opinion he is everything we want our ST to be. You can buy him for the only 180k from Inter.
Callum Hudson-Odoi – maybe you have already heard about this 16yo AM that can play in center or on the wing from Chelsea FC.
This super talent is the fast and flexible player that can play in many positions and in many different roles.
You should be able to buy him for 500k at the start of the game, that is a bit higher value in comparison to previously mentioned players but it is really nothing for a player of such a caliber.
Nik and his 5 low cost (cheap) wonderkids in FM18
That was enough, for now, we are too lazy to type more if you want some more wonderkids you can check out this video where Nik tried to explain each of the five players he chose (they aren`t the same we chose).
Comment our choice of low-cost FM18 wonderkids and check out some more!
You can also check out these lists of low-cost wonderkids in FM18, all by our (FMBrotherhood) choice:
As we said, feel free to comment our Football Manager wonderkids list and tell us, do you use some of these players.
Maybe you would add some of them to this list?
Maybe you don`t like some of these incredible young FM18 players? You think that they don`t deserve to be called wonderkids.
Anyway, feel free to say that to us, we like to see how our FM fans think about this. Cheers!