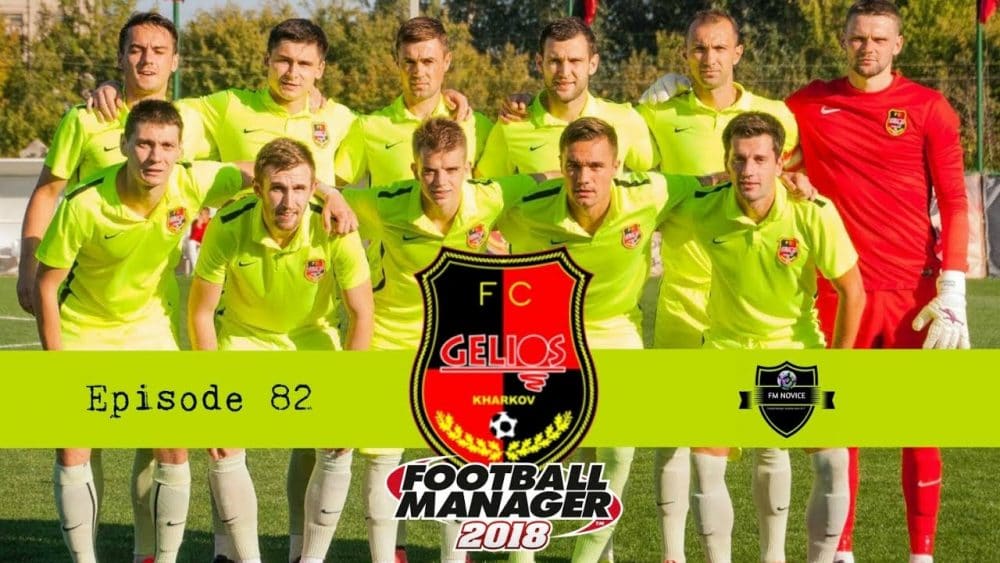 Team of the Decade – Gelios Kharkiv FM18
By fmnovice1 | April 1, 2018 | 2330 Views
I love doing the team of the "length of time, occasion, ANYTHING" – it's fun and often creates a load of debate with myself – yes I am admitting that I talk to myself but when you have the number of friends that I have, you get used to solo conversation.
I'm going for a 4-5-1 formation on this as it's the formation that I have used for the majority of my time at Gelios Kharkiv – for the record, started with a 4-2-3-1, moved to 4-5-1, had a brief dalliance with 4-3-3 and have just started flirting outrageously with  5-2-3 but it's the 4-5-1 that has stayed with me for longest.
Team of the Decade – Gelios Kharkiv FM18!
Goalkeeper:
There's 2 immediately that need to be discussed here – Bogdan Sarnyovski and Eugene Past – both racked up over 100 appearances for the club, Bogdan still remains as no.1 at the moment but I think it's Eugene that gets the nod here. There are a number of reasons for this – he came in during a time where I needed a strong keeper – Denys Sydorenko wasn't quite good enough for the Premier League, and Eugene never wanted too much money – he kept us up and helped us push towards a European spot before being ousted by Diego Sand – but he didn't complain and sat out a couple of season's as number 2 and has since retired to become our U-19 Goalkeeping Coach. It probably won't be long before Sarynovski becomes the keeper of this mythological side but for now, it's the man from years past, Past.
Signed: 25/10/2018 – Free
Sold: Retired to become U19 Goalkeeping Coach – 30/06/2024
Apps: 109
Goals: 0
Right Back:
Around the time that Eugene Past joined, I also brought in a Ukrainian Right Back from Belarus called Vladyslav Gevlych – not pretty (attributes here, not judging his looks because I am no oil painting) – he was solid – started playing as an Inverted Wing Back in the 4231 but became a Full Back in the 451, despite not really being a natural in both roles he performed them well. The harsh realities of Football meant that the team outgrew him – European football meant that I was able to sign Aboubakar Dembele who is a machine on the right-hand side – Vlad never let me down, but ultimately I let him down – those pesky regens are too much for me to resist – and he was sold back to Belarusian Football. The best bit about Gevlych was his inability to find the back of the net – it happened just once.
Signed:  24/01/2019 for 40k from Dnepr Mogilev
Sold: 20/07/2025 for 775k to BATE Borisov
Apps: 174
Goals: 1
If you have missed the start of the story – find out how Team of the decade was created!
Left Back:
If you're lucky on a save you inherit someone that becomes a focal point, and my left back in this side was that man, Vladyslav Kravchenko – one of my favourite players of the save – the attributes were poor and he started the save as a 6ft 3inch Centre Back who could just about stay on the left hand side – necessity meant that he started there and just kept on performing – he must have some incredibly hidden attributes like the ability to perform in big games and consistency because he just kept on performing – far beyond his perceived ability. His height made him dangerous at set pieces, and he took a mean penalty. I didn't want him to leave but he was never interested in talking about staying beyond his playing career so got released – annoyingly he then retired and became a director of football – a rubbish one and I have a good one currently so it's likely that he will not return to the club – he will be missed. Because of his consistency I never really had replacements for him that deserved a mention – Olexandr Migulov did a good job on the left-hand side of midfield, but more about him later, and Valenca was on loan from Brazil for 3 years – predominately as back up to the big Krav..
Signed: Inherited but joined a club in 2015
Sold:  30/06/2025 – Released
Apps: 207
Goals: 15
Centre Backs:
Good Central Defenders always work in pairs – think Ferdinand & Vidic, Adams & Bould, Mkandawire & James – so my Centre Backs that I have chosen played together as a pair as we grew into the Premier League and both are still with the club today. Olexandr Svatok came in on a free transfer during season 2019/20 and formed a good defensive partnership with Igor Duts. Svatok is a dab hand from the penalty spot and unsurprisingly for a central defender is good in both boxes – he's another of the side that doesn't look amazing on paper, or indeed screen, but he does a decent job week in week out. Sadly his time in the side is coming to an end as he is in 30's but I am hoping to keep him involved in the club in some capacity. His partner for a number of years was Bogdan Kozachenko. Bought it as a teenager from the lower leagues, he can Head, Tackle and Mark – the cornerstones of a good centre back – Bogdan is not the most technical of players but he's the Vidic of the partnership now in our Championship winning side of 2027/2028 with Pablo Raymondo – a big unit that wins everything in the air, nothing gets past him – a natural leader as well, although ironically he has never captained the side. Other people to mention – Pablo Raymond had a good 1st season and got the league title along with it but I think it's too early for him to be involved in this discussion, Igor Duts did a decent job but was quite a big burden on my wage bill and is a poor version of Svatok
Signed: 15/10/2019 on a free transfer
Sold: Still here
Apps: 225
Goals: 27
Kozachenko
Signed: 01/07/2022 from Obolon-Brewer on a free
Sold: Still here
Apps: 182
Goals: 17
Left Midfield:
When I moved to 451 I didn't have a natural left winger – I had 2 options, Olexandr Migunlov who was a left back and Igor Kogut who was a natural central midfielder – both of them did a good job – it's a position where the player gets in at the far post a lot and they picked up a fair amount of goals – this is why Migunlov needs to be considered for this role – he also had Determination of 20 which was lovely from a tutoring point of view. But I will give this position to someone who I consider to be a Gelios game changer – Hamed Fofana – signed on a free transfer from ASEC in the Ivory Coast, however, he's a game changer as the wages were above and beyond anything I ever paid before, although that's long since been surpassed. Hamed was the 1st signing I made when I qualified for the Europa League qualifiers and moved the club from a small Ukrainian side to become the 2nd biggest in the country and one of the best 20 in Europe (we are currently 19th..) and was my first foray into the "5 star potential market". He has long since repaid any outlay that I put in for him, and I am waiting for that massive club to come in for him. Denys Yanakov deserves a favorable nod in this position – he's a natural inverted winger and his goals to game ratio is impressive for a midfielder – not as good as Fofana but more than holds his own when in the side.
Signed: 01/12/2023 from ASEC on a free
Sold: Still here
Apps: 130
Goals: 44
Central Midfield Trio:
We've had a lot of central midfielders over time – they've always been the main creative threat (as you would expect) and are generally the guys that get stuck in and pick up a lot of bookings – it must be the fact that we play in yellow that encourage some rash challenges over time but the likes of Igor Kogut and Ekram in the current squad will get suspended every 8 to 10 matches (5 bookings is the limit). I'll start from the beginning – I had a couple of experienced central midfielders, Dmytro Skoblov and Andriy Skarlosh who both deserve to be in the squad as they maintained there impressive form into the premier league, but it was Dmytro Skoblov that scored the vital goal that won us promotion so he will get the 1st position in the midfield three. The 2 guys kept their role in the midfield until the start of the 2019 season where a young buck joined the fold and put them under real pressure – this was the now club icon, Igor Kogut, a player who has been sent off a club record 13 times but since the player instruction "Does not dive into tackles" was mastered he has learnt how to stay on the field for a little bit longer, he's also been my club captain for a number of years – even though there are better options in the club, I'm a bit too scared to drop him from the role and he is very influential in the dressing room. Igor developed a very good partnership with the final member of the midfield in this dream 11 – Karel Eeaassar, a Estonian who became the 1st player to play International football whilst with the club and was the 1st player that I sold for BIG money, a sale that became the turning point in what I've managed to achieve since.
Skoblov
Signed: Inherited but joined the club in 2016
Sold: Released on a free transfer, 30/06/2022
Apps:  146
Goals: 19
Igor Kogut
Signed: 01/07/2019 on a free transfer
Sold: Still here
Apps: 248
Goals: 40
Karel Eeaassar
Signed: 02/08/2020 on a free transfer
Sold: 17/07/2023 to LA Galaxy for £3.4m
Apps: 91
Goals: 5
Read previous amazing football manager story from our FMNovice!
Right Midfield:
Tough one this one – do I go with the old timer, Ivan Kryvosheenko – signed as a 35-year-old winger to give us some experience when we arrived in the Premier League, his goals in the Relegation Play-Off against Chernomoroets kept us up, in what was one of my favorite every episode. Do I go with the "one of our own" players – the one graduate that actually stayed in the team, Mikhail Chernykh – who scored our first 3 goals in the Europa League, in the space of about 15 minutes – another favourite episode, or do I go for Dmitryi Krush – the Chernykh replacement service, signed from BATE in Belarus for 40k and has just been sold for 13.75m – small, speedy and a helpful knack of finding the net – like the left wing position, the right hand side inverted winger often found themselves arriving at the back post. Ultimately it's got to be Mikhail Chernykh as he IS one of our own (although by the time you read this, he may well have moved on..) – he was great because I trained him in several positions, I think he started as a natural AMC, then trained as RW, a brief stint in MC, before settling on the RM position – he is also really quite short (5'5) so watching him score a header is a joy to behold.
Signed:  06/03/2018
Sold: Still here (just!)
Apps: 169
Goals: 26
Striker:
I inherited a striker that served a purpose for the 1st few seasons – that was Sergiy Kravchenko – and he got us promoted with 25 goals in 34 matches – he struggled a little bit in the Premier League but will always be remembered for what he did with us. Playing one striker formations puts a lot of pressure on the guy up top as he will either be scoring the goals or he will be setting up plenty – Sergiy wasn't much of a team player – a good 1st division poacher – I bought Sergiy back as a scout (he's rubbish) to keep the man within the folds.  A slightly better version was Denys Bezbodrenko who came in a few seasons later – he managed 1 in 3 but that is slightly skewered by the 2022/23 season where he scored 15 in 30. Only 2 guys have scored 50 goals for the club, Kravchenko and the current focal point of the attack – Gaston Kevin Rollin, an Uruguayan signed for £205k from National, but you always remember your first – so the striker leading this side is Sergiy Kravchenko.
Signed: Inherited but joined the club in 2014/15
Sold: 20/08/2021 to Zhemchuzhyna Odesa for 70k
Apps: 99
Goals: 51
I find it quite bizarre that the majority of this side is Ukrainian when now I am in a position where now they are the minority in my squad but it probably shows the transition that has happened since I arrived. Who knows what it will look like in another ten.
If you want to get involved in watching the channel, then please click on FMNovice1 Channel
The last episode that went live, EPISODE 99 is a season review of the 10th season – I'm currently on holiday and will return with season number 11 in a couple of weeks time…
Also this week, we have played in the Ukrainian Cup final
Played in the Nou Camp
And may, or may not have won the league title…