Ajax FM19 – Amaze the whole Europe with AJAX!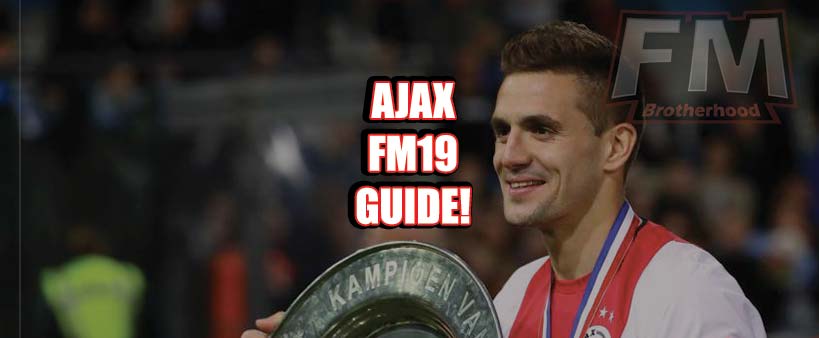 "Incredible, incredible," said De Telegraaf. "The achievement did not come easily but it was deserved one hundred percent."
This was "the reason why Johan Cruyff started the Velvet Revolution in October 2010" continued De Telegraaf.
"Incredible, incredible," said De Telegraaf. "The achievement did not come easily but it was deserved one hundred percent."
This was "the reason why Johan Cruyff started the Velvet Revolution in October 2010" continued De Telegraaf.
Ajax's 2-1 second-leg Champions League quarter-final win at Juventus generated an understandably rapturous reaction back home in the Netherlands.
The whole world was at their feet at that moment because they started the Champions Cup campaign in July. They had 6 matches before the Group Stage, they went unbeaten in the Group Stage, moved onto eliminating Real Madrid and Juventus (check out our Juventus FM19 guide).
But the fairy tale had an end as they were denied the Champions Cup Final by a late 95th minute goal and we all have huge respect for them!
Ajax are at this moment the first in the Eredivisie and with only one game to play they only need a draw in the last game to secure the title and Ajax has won plenty of those.
Before we take a look at Ajax FM19 team let's take a closer look into their history and trophy cabinet.
Ajax`s rich history
Founded in 1900, AFC Ajax is a professional Dutch club currently playing in the Eredivisie.
Ajax plays their home games at Johan Cruyff Arena with a capacity of 54990. In Football Manager 2019 Ajax possesses excellent youth facilities and excellent training facilities.
Their greatest era was in the 1970s when they won the Champions Cup three times, in 1971, 1972 and 1973. They also added one more in 1995 and they finished second two times.
Their long history of decorated success has seen them constantly add silverware to a sizable trophy cabinet.
In numbers it looks like this:
Europe`s Champions Cup – 4 times
European Cup Winners Cup – 1 time
Europe`s Super Cup – 2 times
Euro Cup – 1 time
Intercontinental Cup – 1 time
Eredivisie – 33 times
Dutch Cup – 18 times
Dutch Super Cup – 8 times
Did you add up all the trophies? We'll tell you!
It's 68 trophies won by AJAX!
Success runs through the veins of this club and in FM19 they give you a chance to continue the legacy! Are you up for it?
Ajax FM19 strengths and weaknesses
In FM 19 Ajax is a team with the best strength to weakness ration with 44 listed strengths and only 3 weaknesses.
This basically means the team is almost good in everything, so we don't even have to mention those things. It's just the best club in the country and they are expected to be great.
When it comes to weaknesses, the overall depth of the team isn't great outside of the first team, there is a lack of quality depth in goal too, and the last would be the wage budget as you only have $4,100 per week left to spend.
So, what does this mean for the team and for you and your FM19 Ajax campaign?
Well, we advise getting some players on loan, preferably for 0% wages from clubs who are in the big 5 leagues. It's possible to do that and the best would be to get a goalkeeper to get rid of these weaknesses.
Squad Dynamics Introduction – Ajax Football Manager 2019
It's very important for a team to have clear team leaders and highly influential players. They are great candidates for captaincy and vice-captaincy.
FMBrotherhood's advice is not to give any roles to Huntelaar and to Schone. Yes, they are team leaders, but they are very old, their contracts are running out in 1 year and them leaving the club might cause disturbances in the dressing room if they have the captain armband.
Joel Veltman should be the captain and Daley Blind should be the vice-captain.
Of course, we all know in real life Matthijs de Ligt was named the youngest captain of Ajax in after an injury to club captain Joel Veltman.
Ajax Season Expectations in FM2019
We all know what Ajax has done this season and when you start a new game and see the season expectations in Football Manager 2019, you'll see just how big of an achievement this season was for them.
Not even the game expects Ajax to do so well as they did in real life.
Your Ajax only has to Reach Group Stage in the European Champions Cup.
You have to Win the Eredivisie.
Ajax with you has to Reach Final of the Dutch Cup.
Those are the minimum season expectations which will give you a transfer budget of $17.52M and a wage budget of $603,895 per week but you are already spending $600,049 per week.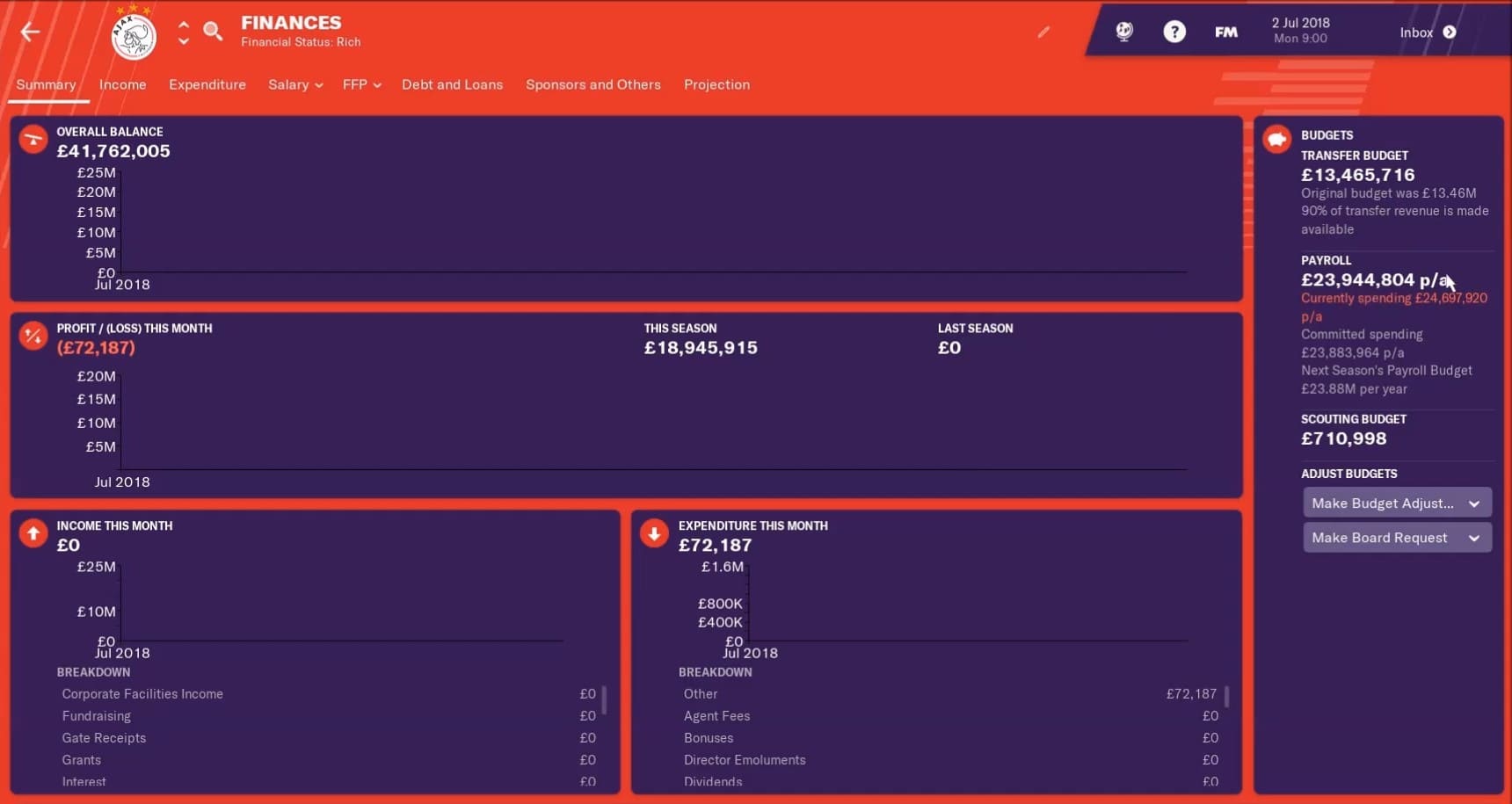 Accepting the maximum season expectations of winning the league, the cup and reaching the quarter-final of the Champions Cup will grant you $20.1M in transfer budget and $647,717 wage budget per week.
If you think you can bring glory to Ajax, then choose the maximum season expectations and prove you are a football manager legend.
First Team Players – Ajax FM19
We, at the FMBrotherhood believe these players make the backbone of the team:
Hakim Zijech
Dusan Tadic
Nicolás Tagliafico
Daley Blind
Matthijs de Ligt
Frenkie de Jong
André Onana
If possible, you should look to extend the contracts of these and keep them happy. Let's get into details on some of them.
Dusan Tadic – Ajax FM19 Leader
Tadic is 29 years old at the start of the 2018/2019 season and he is your best player in the team. He plays best as a Left Attacking Midfielder but can also play as a Right Attacking Midfielder.
We all know what he did against Real Madrid and it was simply godlike. He's a fairly ambitious, professional who is also very determined. Dusan is a good team player and is the ability to spot a pass and create chances underlines the intelligence of his play.
He is only poor in the air as his jumping reach and heading is low, but he won't be in those situations anyway. His good flair, dribbling, and crossing make him a menace for the opposition. Tadic has a contract until 2022 and you should look to keep him in the team.
Daley Blind
Daley is best known in the world as a former Manchester United player. He is 28 years old at the start of the season and in our opinion, his versatility in so many positions is what we believe is the biggest strength of this player.
He is left footed and can play left back, center back and as a defensive midfielder. He's a team player with high work rate, really good positioning, determination, and composure. His natural fitness underpins his athleticism.
The only thing he lacks is pace, but he makes up for it in all other attributes. Just like Tadic, he is on the contract until 2022 and we say it's another must keep!
Matthijs de Ligt – Ajax FM2019 SuperTalent
De Light is your past, present and the future. He's been at the club since he was 10 years old and like mentioned before, he is the youngest ever captain of the club. At the start of the game, he is only 18 years old and he has HUGE potential that shouldn't be wasted!
He has a high work rate, tackling, passing, concentration, determination and heading. All attributes that make a great center back which he already is at only 18 years old and he can become world class!

He's on the contract until 2021 and you should probably look to extend it as soon as possible and for as long as possible because big clubs are going to come knocking on the door to get him.
André Onana
Onana is your 22 year old goalkeeper. He's a fairly professional and temperamental player. He has huge potential and could become a leading FM19 goalkeeper for Ajax. His main strengths is shot stopping and he's a player who enjoys playing big matches!
He is 190cm tall and has great jumping reach and good aerial ability. Sometimes he lacks communication with his defenders and commands the area poorly, but those attributes can be improved as he is only 22 years old.
As he is your best goalkeeper, and he is still young we advise keeping him at least until the end of the contract which is 2021. If he has improved by then keep him, if not look for other options.
Ajax Tactics – FM19 formation
We recommend you to play in a 4-2-3-1 formation with Ajax in FM2019. On that way, you will use all the important players and get the maximum from this team. There is an interesting tiki-taka FM19 tactic we recommend you. That tactic can be used for Ajax.
Conclusion
Ajax is an amazing team, both in real life and in FM19. There isn't much left to say about them as they've said it all themselves, this season in the Champions League, on the pitch.
Erik ten Hag, the real-life manager has made a miracle this season, do you think you can step into his shoes and do the same?
If you think you're up for a challenge and you want to start a season with Ajax in FM19, then we advise you to look at this great YouTube video that our team member Nik has made about Ajax.
This is the link for the video:
FM19 Ajax Team & Tactics Guide – Football Manager 2019
In the video NIK talks about the current players, picks the best formation and also gives advice on some future potential transfers with players who have HUGE potential and are a cheap buy. There's a lot of value to be found in the video so we advise you to look at it and give us a comment what we could have added or done differently.
Good luck and before everything else, have fun with Ajax in FM19!