Barcelona FM19 team and tactics guide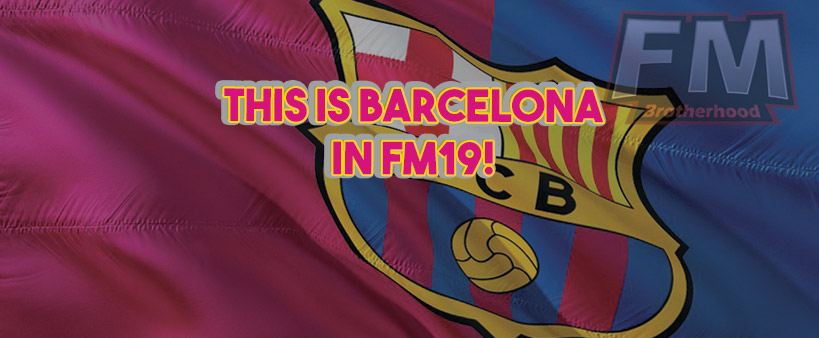 You are thinking of taking 'more than a club' in your hands? Do you plan to become the greatest manager Barca ever had? If so, this is your place to be.
We made the best Barcelona team guide FM 2019 covering all you need to know before taking in charge Catalan proud. Barca squad, team tactics, best players, finance and much more that will help you guide Barcelona to football manager glory.
FM19 Barcelona – board expectations
First of all, let's look where do you start when you take charge of Barcelona in Football Manager 2019. Barcelona is a current La Liga champion and has managed to win Spanish league 3 times in last 4 years. That's why your board is expecting you to win the league again and retain a trophy.
It will be much easier this season as your fierce rivals, Real Madrid has lost their best player and a manager. Cristiano Ronaldo is in Juventus and your title consideration had increased significantly.
But Real has won 4 out of last 5 Champions Leagues and your fans surely can't stand watching Sergio Ramos making fun with them all over again. Barcelona board thinks semi-final is a minimum you need to achieve, but everyone hopes you will be crowned as European Champion.
In Spanish Cup, you need to reach at least finals and Super cup is the only competition board doesn't care much about. But, it's the start of the season, you should want to grab the first trophy and then sail in calm waters.
Big expectations? Sure. But if you can't handle pressure, you are not worthy of taking Barca seat.
Barcelona FM19 – squad, best players and team leaders
OK, now you know what is Barcelona board expecting from you, but it won't matter at all if you can't keep your players happy. You wouldn't be the first nor the last manager to be sacked because of players boycott. The dressing room is the most important and you should really know and meet your players.
Football Manager 2019 – Barcelona squad
Barcelona squad is surely one of the best in whole FM19. It must be when you have Messi in a team. A first look suggests you have nothing to worry about. All lines are very well balanced, with an attack no defense can stop, not even Huesca.
A potential problem could be in a bit older squad. Best players are around 30 years old and that's ok if you plan to play a season or two. But if you plan to get old as Barcelona manager, you need to think about the future and invest in some younger players.
Also, the attack is great, but Barca has only one real striker, Luis Suarez. With him being injured or suspended because of biting other players, you could face with tactic changing and playing with false 9 if you don't transfer in some striker.
Football Manager 2019 – Barcelona best players by current and potential ability
Who is Barcelona best player? Hm, let me think. Oh yes, it's Lionel Messi. You know the guy? Great, then words are not needed. 20s all over the profile, can't get better.

Top 5 players in Barca squad alongside Messi are:
Luis Suarez – age 31, CA 180, PA 188
Philipe Coutinho – age 26, CA 174, PA 179
Gerard Pique – age 31, CA 169, PA 170
Marc-Andre ter Stegen – age 26, CA 168, PA 183
In the first team, Barca has some young players with significant potential ability. The biggest potential in a team is Ousmane Dembele. He is already within top 10 players by current ability, but with only 21 years, he has the potential to be almost as good as Luis Suarez. Just be sure that he shows up at your game instead of playing video games at home.
Beside Dembele, there are more young players who could make an immediate impact and still progress like Arthur (21, CA 152, PA 175) or Malcolm (21, CA 143, PA 178).
FM19 – Barcelona team leaders
Barca squad is full of strong individuals with a strong character. Obviously, the most influential and no.1 leader is Lionel Messi. Beside him, you have Pique and Busquets, La Masia boys as ones that gather other players. But there is the whole list of very influential players in the squad including Rakitić, Alba, and Suarez so when it comes to character, Barcelona squad plenty of it.
Football Manager 2019 – Barcelona youth with great potential
We have already mentioned the best young players in the first team. But what about Barca academy, La Masia? Does it still produce amazing players? Who should you take a closer look to?
In Barca B, you will find Abel Ruiz, an 18-year-old striker with significant potential. Also take a look at Mateu and Miranda or Inaki Pena, 19 years old goalkeeper from U-19 squad. Great potential and possible Ter Stegen's successor.
Barcelona finance and transfer budget
Taking charge of Barcelona means you won't have problems with finances. Barca has an overall balance of more than 131 million and it is one of the richest clubs.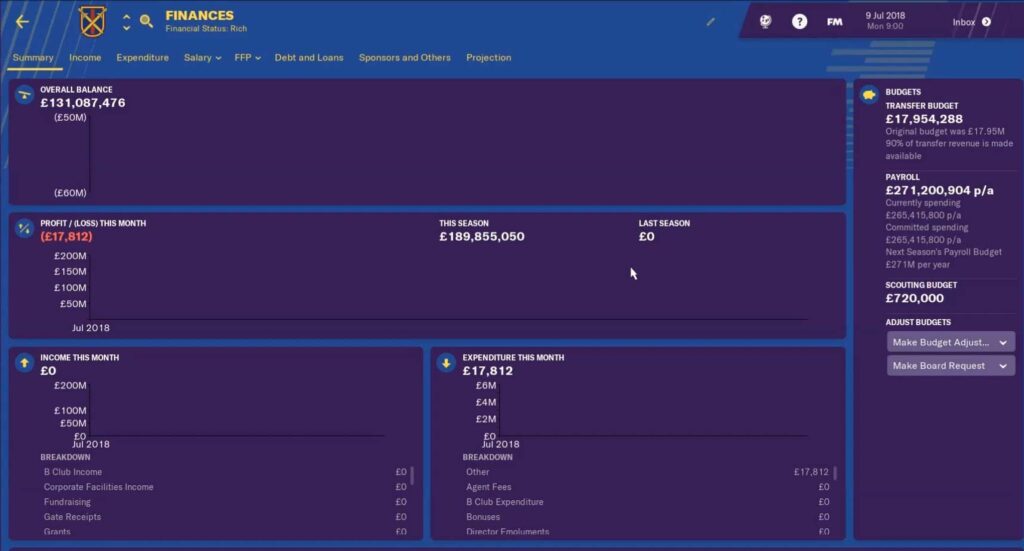 Their wage budget is enormous with 271M, and transfer budget is a bit small, only 18M.
Loan and debts are also here, every month the bank is waiting for 1,7 million. And you know, banks don't like to wait. Make sure you pay them regularly.

FM 2019 – Barcelona potential transfers
As we mentioned earlier, Barca has some problems with strikers. Suarez is great, but he is a bit old and you just can't rely only on one striker throughout the whole season. That's why we look at 5 possible signings who could improve your squad:
Alvaro Morata (Chelsea, value: 52M)
Timo Werner (RB Leipzig, value: 29,5M)
Andrea Bellotti (Torino, value: 29M)
Patrick Shick (Roma, value: 16,75M)
Fiete Arp (HSV, 3,2M)

Barcelona best tactics in FM19
Playing with Barcelona you have the luck to be able to play almost every tactic you want. But, as the best one at FMBrotherhood, we will use Nik FM's 4-1-4-1 DM Wide tactic. Of course, we stick with Barca legacy and tika-taka. Playing possession football with short passes and high defensive line is tactic Barcelona players are most familiar with and the one that should assure success in FM 2019.
Barcelona best eleven in FM 2019: Ter Stegen (SK) – Alba (WB), Pique (BPD), Umtiti (BPD), Semedo (WB) – Busquets (DLP) – Vidal (BBM), Rakitić (AP) – Coutinho (IF), Messi (IF) – Suarez (DLF)
Should you take Barcelona in FM 2019?
In the end, let's see should you take Barcelona in FM 2019 or not. Barcelona is one of the best clubs in Football manager 2019 and becoming their manager means you could have many trophies just around a corner.
But, you must be careful. Barcelona really is more than a club and they won't be satisfied with mediocrity. It means you need to win games, you need to win trophies. But you need to make it their way. Barcelona way. Tika-taka, possession, possession, possession and lots of goals are what everyone will expect from you.
And with all that, you must have one thing in mind. You have a great team, but you have a team that needs fresh blood. You need to bring younger players who will reign in Barcelona for many many years. If you don't do it, after 2 or 3 years, your time in Barcelona will be over. You don't want it, do you?
Join our Football Manager Community at FMBrotherhood!
Our Barcelona team guide for FM 2019 is finished, but you can join our Football Manager Community. Here you will find out more interesting news, helping stuff and everything you need to master Football Manager 2019.
If you are looking for Barcelona FM 20 Team guide you are in the right place, press here!