Celtic FM19 Team Guide – Time To Beat Rangers?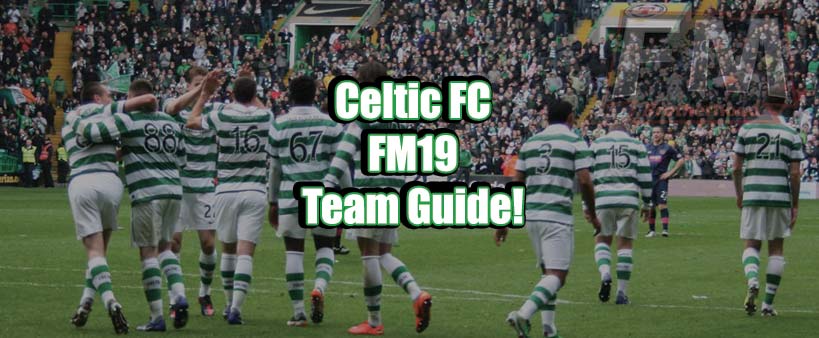 It's April 2018, Celtic FC were one win away from securing their seventh Scottish title in a row and they are facing their arch-rivals Glasgow Rangers!
The defending champions needed to win at Celtic Park to retain their crown, and they thrashed the visitors.
With a 5-0 victory, they won the title in style and manager Brendan Rogers had this to say:
"The performance was really pleasing, under the pressure and given the game. "You have to play football and today we did the basics really well. "We were outstanding and could have had more goals. I'm delighted for the supporters. "The players have done really well and it's important we keep winning. "It's been a brilliant season by the players."
The Celtic from season 2017/2018 finished the league with 82 points, 9 points above the second-placed Aberdeen and 12 points above the earlier trashed Glasgow Rangers. Brendan Rogers did an amazing job with the team scoring 73 goals and allowing only 25.
Do you think you can step into his shoes and do the same? Can you retain the title with Celtic on FM19 and secure their eighth title in a row?
If you are up for the job, then continue reading this Celtic FM19 Team Guide to find out what is expected of you, what players you have and what hardships you have to deal with.
Celtic FC History
Founded in 1888, Celtic is a professional Scottish club currently playing in the Ladbrokes Premiership. The Boys side of 2018 was one for the ages, winning a clean sweep of the Ladbrokes Premiership, Scottish Club and Betfred Club in a remarkable dominant victory. They are the most successful club in Scottish Cup history.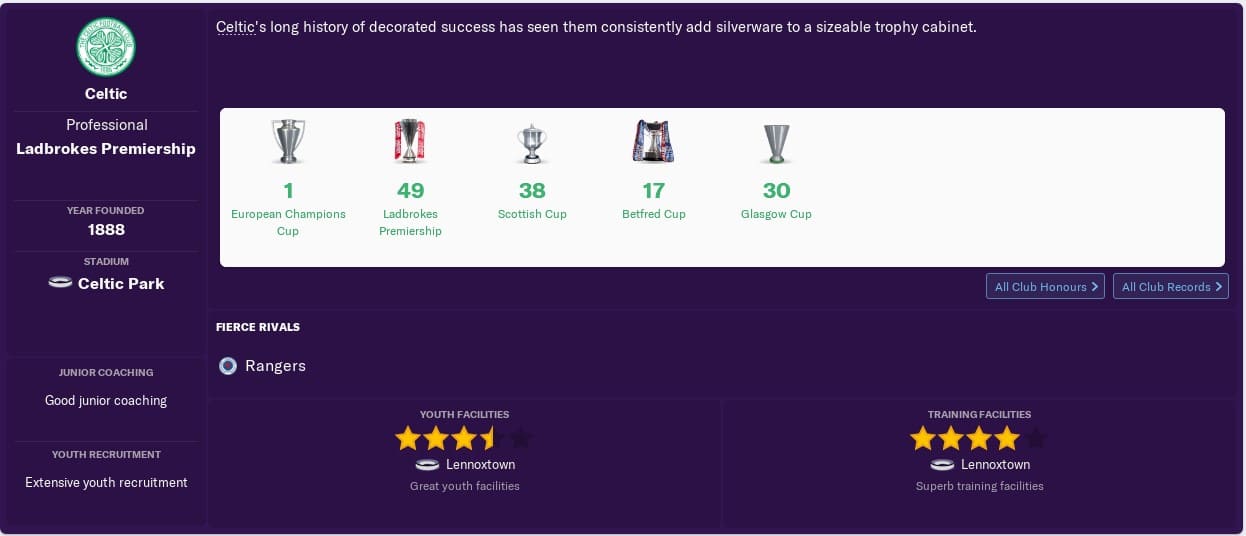 Have you summed up the number of those trophies?
We'll do it for you! That's 135 trophies won!
Success runs through the veins of this club and you are here to make sure that continues on FM19 starting from season 2018/2019.
Celtic FM2019 – Strengths and Weaknesses
Being the best club in the league you can be sure you'll have many strengths, in fact, there are three times more strengths than weaknesses in this club and it is mostly individual stats, good youth prospects, good coaching, and scouting staff but those aren't really too important to us. We want to know what the weaknesses are so we can get rid of them.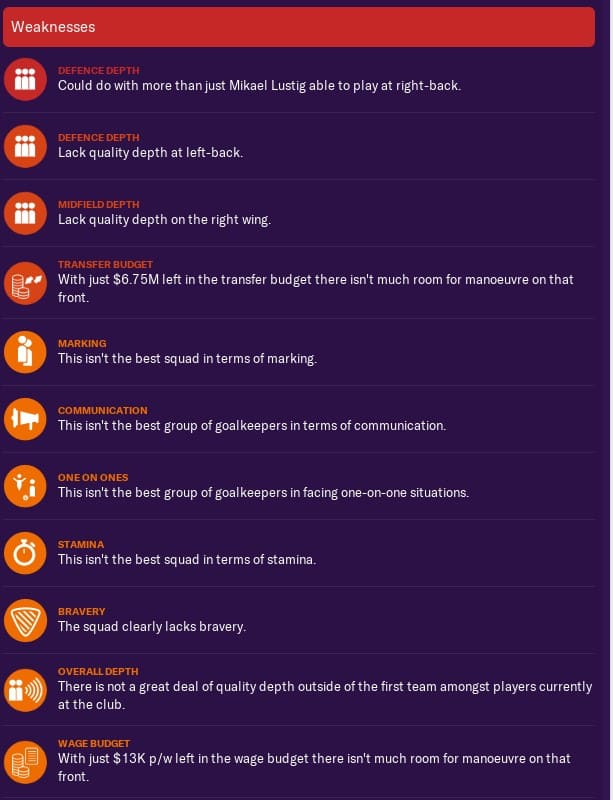 Position wise the team needs a left back, a right back and a right winger for rotation. The transfer budget and wage budget can change a little bit depending on what you choose to pursue in Europe which will be covered in the next part of the guide. The other weaknesses are individual attributes which can be improved through training or signing players with those attributes.
Season Expectations Celtic FM19
Being the best club in the country makes the board give you a minimum expectation of winning the Ladbrokes Premiership, Scottish Cup and Reaching the Group Stage in the European Champions Cup.
The Betfred Cup isn't too important to them.

You start off with a $6.75M transfer budget and $625,523 per week wage budget. Those numbers can increase up to $7.57M transfer budget and $652,948 per week wage budget if you think you can make the Quarter Final of the ECC which is something we wouldn't recommend as we don't think you have the team to do that in the first season.
Squad Dynamics Introduction of Celtic in FM19
As you can see the Celtic team has a clear hierarchy. The team leaders are Scott Brown, Mikael Lustig, and Craig Gordon. All of them are over 30 years old but don't worry you have plenty of replacements for them since you have 7 highly influential players who will become team leaders eventually.

Our advice is to keep an eye on Kieran Tierney who is only 21 years old and is already a highly influential player. His leadership skill is already 16!
Celtic Squad FM19
The Celtic squad is by far the strongest team in the league. Out of 20 best players in the league, 13 play for Celtic. Talk about domination…
Scott Brown – FM19 Celtic Leader!
Scott is your best player in the team, he is also one of your team leaders. He is actually the best player in the league based on current ability. He is a 32-year-old central midfielder and we believe he is almost as good as Ivan Rakitić. He's a devoted, very determined and born leader.
He's an exceptionally good team player and his bravery skill underlines his desire to help his teammates. He's also a consistent performer. His only weakness is his set pieces but he doesn't have to take them. There are plenty of other players in the team who can do that.
Scott is just an amazing player and probably our favorite in the Celtic team just based on his mental attributes. He will DIE for the team!
He'll be a great loss for the team when he retires.

Kieran Tierney FM19 – Celtic`s Pearl
Keiran is your present and your future! Tierney is a 21-year-old left back who can also play right back when needed.
We at the FMBrotherhood dare to say he is world class already. Based on his current ability he's like Sead Kolašinac from Arsenal but he has the potential to be as good as Nacho from Real Madrid.
We mentioned him earlier when talking about team leaders and he has leadership 16 at this young age! He is a born leader and a future captain of the team! His main strengths are his pace and his bravery. He is a team player with a high work rate and with almost maximum determination. Kieran`s marking is his only weakness but he has enough time to improve that!

He has a long term contract until 2023 so you don't have to worry about him!
Tom Rogic – Player For Big Matches!
Tomas Petar Rogic is a 25-year-old Australian AMC with Serbian roots. He is best deployed in the Advanced Playmaker support role. We don't think he's going to improve anymore but he is already good as Arda Turan was in his prime.
He has very good technique when striking the ball, hence his high long shot ability. He also has a good finishing and he enjoys the big matches!
Same as with Kieran, Tom doesn't have good marking skills, but based on the position he is playing, he doesn't need to!
Tom is a very good player but he can only play the AMC position, that's why you need to use a formation that employs an AMC.
Callum McGregor FM19 – New Carrasco?!
Callum is a 25-year-old midfielder who is a very versatile player and can play effectively on a couple of positions. The main positions are MC and AML and AMC. We believe he is almost as good as Serge Gnabry from Bayern and that he has the potential of being as good as Yannick Carrasco.
He's a fairly sporting, loyal and determined professional who is a very intelligent player. One of the reasons he is a good team player is his high work rate. He's also a player with almost maximum adaptability and he can play in any country in the world.  At 178cm he isn't really tall and can't fight for the ball in the air but that isn't his job anyway.
His vision, first touch, passing, and consistency make him one of the best playmakers in the league and he will bring you the assists!
He's on a contract until 2021 and should be extended whenever possible.
Odsonne Edouard – Celtic FM19 Wonderkid
Odsonne Edouard is your best striker and he is only 20 years old. He is a wonderkid! With the proper guidance, he can become a world class player. He's a very skillful player and like many in the team, he also has a high work rate. He's also a fairly consistent performer and loves the big matches. He actually scored 2 goals in the first half of the game mentioned above where Celtic smashed Rangers 5-0.
His acceleration might not be the greatest but he has solid pace, strength, first touch, finishing, balance, and decisions. He's best employed as an Advanced Forward. Edouard is a product of the PSG school and we believe he has a great future ahead of him.
Celtic Football Manager 2019 Conclusion
Celtic FC is a dominant club in the Scottish Premier league and anything less than winning the league is a failed season. It's a team with no debt and huge potential. It might take a couple of seasons but getting to the quarterfinals or the European Champions League might be a good goal to work for. You will need some of your young players to fully develop and you'll need to keep them from being bought by rich clubs who are always on the lookout for good talent.
Do you think you can step into the shoes of Brendan Rogers and win a triple with Celtic FM19?
Do you think you can set the bar even higher by getting far in the European Champions Cup?
If you do, we are here to help you. Our team member NIK made a YouTube Celtic FM19 team guide where he talked about some players that we haven't mentioned in this guide. They are all very young and talented players and he also mentioned 6 potential transfer targets to improve the current Celtic team!
He also showed the best formation for this current Celtic lineup!
Be sure to check out his video at the link below: