Fiorentina FM19 – This is the way to make them great?!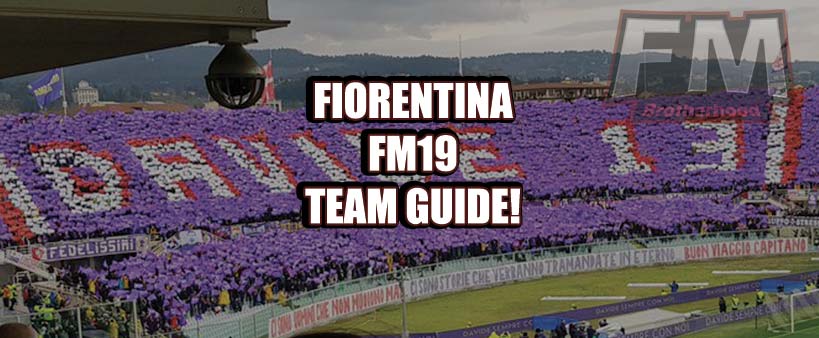 ACF Fiorentina is one of the hottest teams to manage in Football Manager 2019. They have nice attacking potential, few possible wonderkids and an overall squad that can even win Seria A. We will go through best tactics for them in FM19, we will look for some players you should try to sign and with whom you could finally stop the reign of your fierce rivals, Juventus.
If you do that, you will be praised as the greatest Florentine of all time. Greater than Batistuta.
Fiorentina FM19 Board Expectations
Fiorentina or commonly nicknamed Viola had a really tough last 20 years. They've bankrupted at the beginning of 2000s, fall down to a 4th league, but in 2 years (they have skipped 3rd league) they were back in Seria A. And from that time started stabilization of a club.
In FM19, Fiorentina is stable, top-half club in Italy. And that's what your board wants from you, top-half finish. Honestly, with this team, it would be real fiasco not to achieve this goal. In that case, maybe it's time for you to go play Minecraft or Super Mario instead of Football Manager.
Fiorentina isn't playing any European cup, so you can heavily focus on domestic competitions (league + cup). Beside top-half finish in Seria A, your board wants to achieve a minimum of the quarter-final in Italian Cup.
Again, you should be able to deliver it. Great thing is that you will have no pressure and you will have enough time to consolidate team on your wishes (and FMBrotherhood suggestions).
Fiorentina squad, best players and team leaders
Fiorentina FM19 squad is really tempting for any player of FM. But first, you need to solve one problem in your team. You don't have a team leader. And without team leader, all of your ideas will sink like Titanic. Chiesa and Pezzella are players with high influence, but they are not leaders.
So you need to buy one player with a strong personality who will take changing room in charge. We will come to transfer targets later in this team guide.
The average age of Fiorentina team is only 18.82, but there is a massive potential in this team. Most of the older players are on loan like well-known Kevin Mirallas from Everton or Muriel from Sevilla. So you have a chance to develop young players, use their potential, win Seria A and then sell them for some big money. Easy math.
Best player in FM19 Fiorentina team is Federico Chiesa. 20 years old attacking winger already has ability 150, but he can improve to 171 and become one of the best right wingers in FM19.
Beside him, the attack relies on Giovanni Simeone. He is only 22, but 99% he will be your best scorer in a season. Behind their back is Marco Benassi, true box to box midfielder. He is also very young, 23 years old and completes Fiorentina youngsters potential.
5 best Fiorentina players in FM19 by current ability (CA):
Federico Chiesa – 20, winger, passing 15, dribbling 16, 25M, CA 150, PA 171
Giovanni Simeone – 22, poacher, finishing 16, heading 16, 25M, CA 145, PA 158
Marco Bennasi – 23, box to box midfielder, passing 14, tackling 14, CA 143, PA 156
German Pezzella – 27, DC, heading 16, marking 16, 12M, CA 141, PA 146
Jordan Veretout – 25, mezalla, passing 14, technique 14, 11,5M, CA 140, PA 146
As you can see, the best players by current ability are young players who can improve a lot. That's why some of them will find their way to the list of Fiorentina youngsters with the biggest potential and some are real FM19 wonderkids.
5 best Fiorentina players in FM19 by potential ability (PA):
Federico Chiesa – true FM19 wonderkid
Alban Lafont – 19, Goalkeeper, reflexes 16, one on one 14, PA 175
Nikola Milenković – 20, central defender, tackling 15, marking 14, PA 159
Giovanni Simeone – future best striker in FM19
Gerson – 21, on loan from Roma, advanced playmaker, passing 15, technique 16
All of these players are defined as wonderkids, but Federico Chiesa and Alban Lafont have the potential to become best overall players in Football Manager 2019. Just give all of them a chance for first-team football and enjoy in their development.
Fiorentina Football Manager 2019 best tactics
As a Fiorentina manager, all you have to do is find the right position for each of your big talents. In searching for most suitable tactic for Fiorentina, we have found one made by NIK FM. So if you play Fiorentina, the best tactic is 4-3-3 Wide with attacking mentality.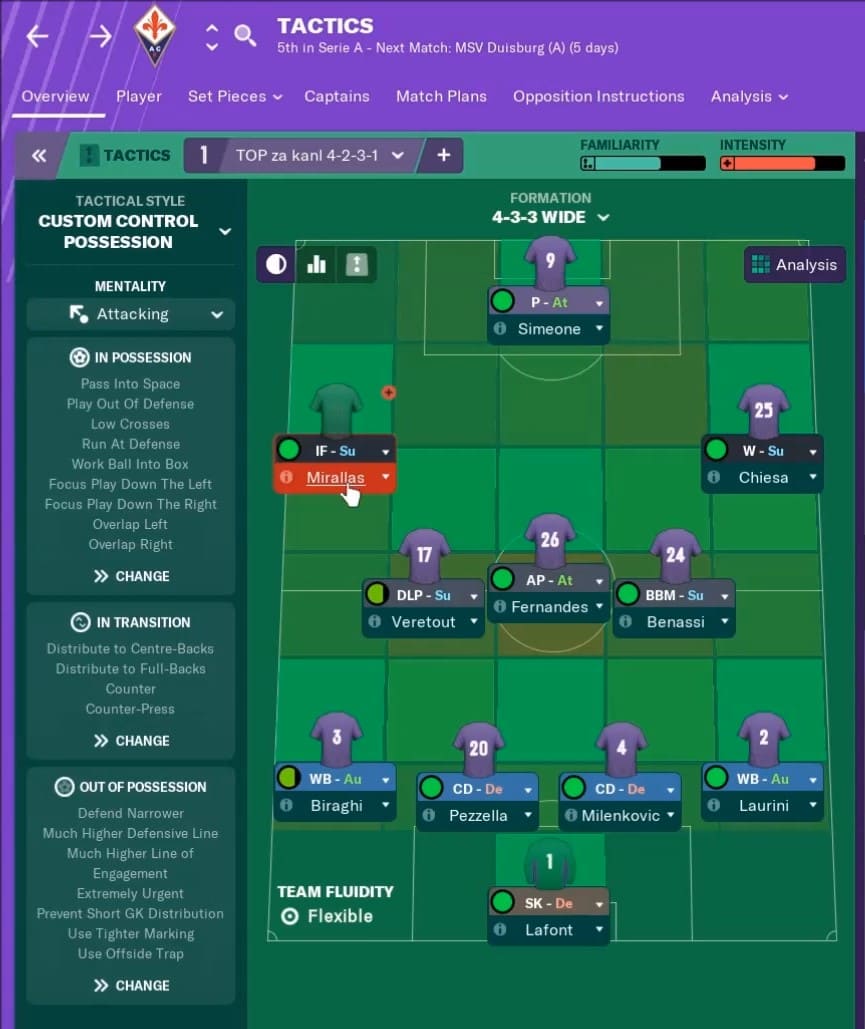 For more tactical suggestions, we recommend watching NIK FM video guide for Fiorentina. It will help you position every player and give you tactical suggestions when out of ball or counter-attacking.
Fiorentina best XI in FM 19: Lafont – Biraghi, Pezzella, Milenković, Laurini – Veretout, Fernandes, Benassi – Meireles, Chiesa – Simeone
FM19 Fiorentina transfer budget and potential signings
In Football Manager 2019 Fiorentina has a transfer budget od 13,5M. It's not much, but it is enough to bring 1 or 2 good signings for your team.
Although you have great attacking strength, you will need to bring one more striker who can play with or rest Simeone. That's why we suggest buying Duvan Zapata from Atalanta. He is 27 years old, in his best years and he can produce big goals whenever you need him. You should be able to sign him for around 13-14M.
Next on our transfer list is Nicolai Jorgensen. Currently playing for Feyenoord, Jorgensen is complete forward. His value is around 10M so basically, it's up to you to decide between him and Zapata.

If you are searching for more wonderkids, we have 2 of them on our mind. Exequiel Palacios, 19 years old advanced playmaker from River Plate. You could sign him for 6-7M, so still, you will have half of your transfer budget. And the other one is Gianluca Gaetano. Attacking midfielder from Napoli is only 18 years old but he has some fantastic potential and he is valued at only 180K.
Not enough wonderkids for you?
Take a look at our other FM19 wonderkids articles:
And folks this is it. We have come to the end of one more team guide on FMBrotherhood. We hope you enjoyed our Fiorentina FM 19 team guide and tactics.
Join FMBrotherhood – Football Manager 2019 Community!
If you liked this team guide, we encourage you to join our FMBrotherhood – Football Manager 2019 Community. You can exchange ideas with other passionate FM19 managers, find some helpful Football Manager tips and tricks, or just enjoy in communication about the best game ever. It is all up to you. You can also find some other team guides like: