Is it possible that Lazio FM19 team is that strong?
If you don't know what S.S. Lazio looks like in Football Manager 2019 you are missing out! Lazio plays their home games at the Olimpico stadium which has a capacity of 68530 and they possess superb training facilities and excellent youth facilities. The club is known as Biancocelesti (A player or supporter of any sporting club wearing a white and sky-blue shirt) and has a rivalry with AS Roma.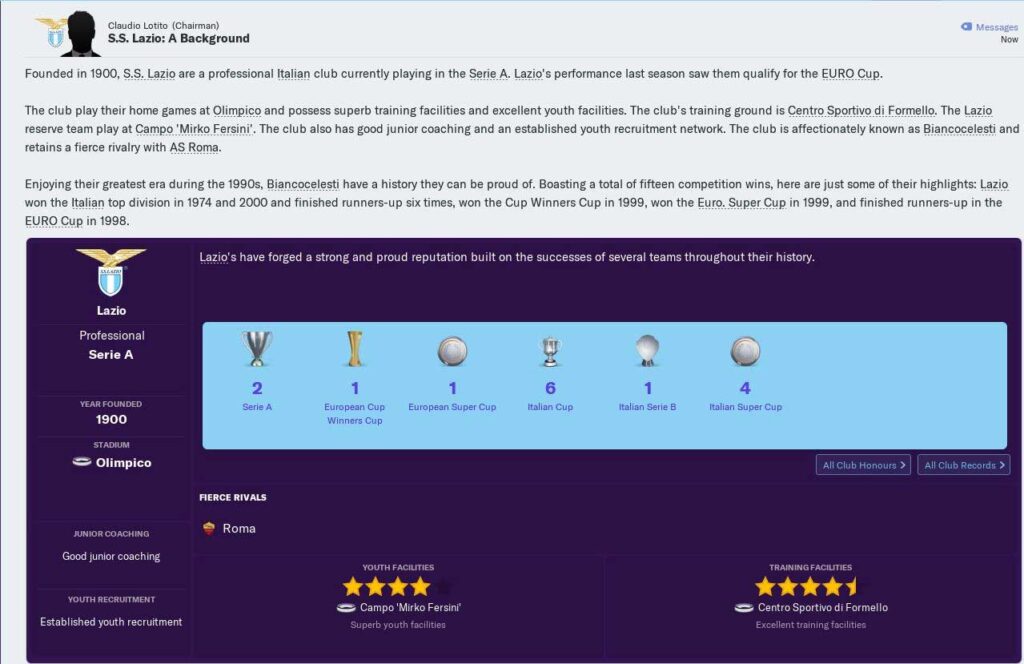 Starting a new career as a Lazio manager in FM19 is a nice challenge on it's own since the club has a transfer budget of 16M pounds and 1,4M wage budget per week.
This is an amazing club to start off since it requires you to develop players using the club's youth system and to play attacking football. In FM19 we love it when we get those requirements as team managers. That is exactly how we at the FMBrotherhood like to play the Football Manager 2019.
The FM19 Lazio starting team
Let's start with the senior squad hierarchy. Here's a picture:
The atmosphere is very good, they support the manager a lot and they are a bunch of influential players. All of this makes Lazio an amazing team to manage in FM19 since the players have been playing a long time together and know each other really well.
Below is a picture of the Strengths and Weaknesses of the FM19 Lazio team.
As you can see the main problem is the overall squad depth, finances, and the goalkeepers. Other than that the team is a mentally really strong squad with good teamwork, work rate, bravery, and aggression. The anticipation and finishing of the team are also good so you should be scoring goals.
The real-life Lazio team plays a 3-5-2 formation, so we'll be starting with that one too in this Lazio FM19 team guide.
Thomas Strakosha
With his current rating of 3 stars, he is a solid goalkeeper. Being only 23 years old he can improve a lot in FM19. His main strength is his shot stopping and he absolutely LOVES BIG MATCHES!
He has a high stat in Eccentricity which means he can have a very unpredictable style of goalkeeping at times.
If you're playing for the long term with Lazio, you should keep and develop him. If you want results straight away, you might want to buy a better goalkeeper but also remember that you may not really have the budget to do so.
Francesco Acerbi
Francesco is your 30 year old Central Defender. And he is the best CB in your team. He is a loyal, ambitious professional whose ability excels in the air. He is a very intelligent defender in FM19 because of his high Anticipation.
He is also a fairly consistent performer. His main weakness is his acceleration. He is very slow off the mark and his lack of agility underpins his lethargy. A must keep in our opinion.

Lucas Leiva
He is your best Defensive Midfielder. At 31 years old, he won't be improving anymore, and you should be looking for a replacement in the near future. But if this is your first season, he is a must keep player.
He's a professional individual who anticipates situations really well. He has plenty of international experience and his bravery and work rate make him an amazing team player. He may be slow, but his positioning makes up for it and he can still be called a leading DM in the Seria A.
Milan Badelj
This Croat is your 29 year old Deep Lying Playmaker. He's a very technical player and his passing ability underlines that. He's a very temperamental player and that can sometimes get him unnecessary yellow cards but overall, he is a good team player.
We, here at the FMBrotherhood would never consider selling him if he had a bit better long shots. With his ability to play multiple positions he is going to have chances to strike the ball, but he will fail to score due to his low stats. At this age, he can still be sold for a very good price which can be used for younger players who fit our style of football better.
Sergej Milinković-Savić
This man is your bread and butter. At the age of only 23 years, he is your preset and the future. Sergej is your BEST Central Midfielder in Lazio. And he CAN become even better!
He has the potential to become a World Class Central Midfielder in FM19. He is very professional, naturally, fit, he relishes big matches and because of his height, he is very good in the air.
He absolutely loves to get into opposition areas, he gets forward whenever possible and he shoots with power! If you want to try things out, you can try to change his position into a Target Striker.
His only weakness is set-pieces but you have plenty of options in Lazio for those. You will be getting offers for this player constantly but try not to sell him under 130M. Best would be of course to keep him as he's going to become a world class player.
Ciro Immobile
Immobile is your main striker. He's best used as a Fast Striker, however, he is equally adept at playing as a Target Striker. At the age of 28, we don't think he's going to improve much more in the future, but his current ability is more than enough.
He's a fairly loyal, determined professional and he's a good team player. His main strength is his off the ball ability and that makes him a constant thorn in the side for defenders.
He's also a fairly consistent performer. When it comes to set pieces, he is your best penalty taker and should be set like that. But keep this man away from free kicks, you have many better options. In FM19 this man is best used when he runs into channels, tries to beat the offside trap and when he knocks the ball past opponents.
He has a long contract with Lazio so if any team comes knocking on the door for him, don't let him go without 100M.
---
Top formation for Lazio in FM19
Like we said earlier, Lazio uses 3-5-2 in real life and that is their best formation. But we are including some equally good formations for their current lineup as you might prefer a different style of football:
3-5-2 Classic
4-3-1-2
4-1-2-1-2
3-4-3
4-4-2 Classic
Board Expectations for Lazio in the first Season
In the Serie A, the board expects you to Qualify for the EURO Cup which means finishing 5th to get into the Group Stage immediately or finishing 6th and going through additional qualifications. To stay on the safe side, you should be aiming for the 5th position and with your current team and a few more additions that is absolutely possible.
In the EURO Cup, where you are playing in your first season, the board expects you to reach the Quarter Final.
In the Italian Cup the board expects you to reach the Quarter Final.
All of these expectations are fine and completely possible to achieve, with your main rivals being Milan, Fiorentina, and Roma. You can of course raise the expectations and say you'll reach the Semi Final of the EURO Cup, reach Qualifications for Champions Cup and reach the Semi Final of the Italian Cup to make yourself a challenge. That will also give you 22M transfer budget instead of the current 16M and almost 1.7M weekly wage budget instead of the 1.4M you have now.
FMB Lazio Football Manager 2019 Conclusion
S.S. Lazio is an amazing team in Italy that can within a few years become a title contender with the proper guidance of an experienced manager. Are you the right person for the job? Think you can prove yourself with Lazio? We hope this short football manager guide has helped you and motivated you to start a Lazio FM Career.
If you're up for the challenge, come and watch the short YouTube video we've made where we'll share a few hidden transfer gems who are perfect for Lazio and comment how your Lazio career is going, we want to hear your achievements with the Biancocelesti.