Look how incredible Atalanta FM19 potential is!?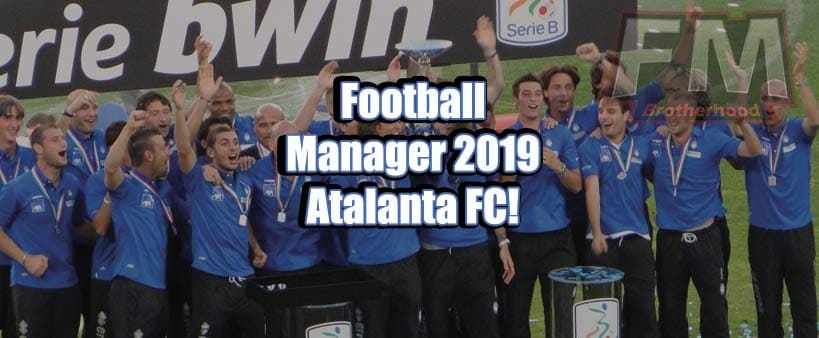 If you plan to manage a team in Seria A, Football Manager 2019 gives you a few options. Obviously, Juventus is a logical choice, but if you are looking for something else, you should check out Atalanta. Atalanta has enormous potential and it is one of the most interesting teams in FM19.
Atalanta FM19 – team guide
Atalanta FC is a stable Seria A club from Bergamo. Although, they have won only one Italian cup, back in 1963, they are very well known for their youth program. And that's where you can come on stage. Managing a team with so much potential means you could make problems to some much bigger and much wealthier clubs like Juventus, Napoli or Milan.
So let's see everything you need to know about Atalanta in FM 2019.
Football Manager 2019 – Atalanta facilities and board expectations
Working with youngsters is Atalanta's trademark and it's normal that they have some really good facilities. The highlight is youth recruitment with a maximum 20 points. Junior coaching is also great so if you take Atalanta in FM19, just leave youth as it is. Even though you think you know everything, don't mess it up.
Playing with some non TOP club like Atalanta means you have normal board expectations. In Seria A they want you to finish in a league top half. It shouldn't be a problem at all with a team you have. In Italian Cup is expected to reach quarter-final and in Europea League second knockout phase. All in all, easy objectives.
Football Manager 2019 – Atalanta team (squad)
It is time to check out what makes Atalanta squad so special and good. First of all it is a mix of brutally talented youngsters like Varnieri or Musa Barrow and experienced guys with strong leadership like Alejandro Gomez or Massielo.
Unfortunately, best Atalanta players are loaned out and will move permanently to their clubs at the end of the season. Franck Kessie, box to box midfielder is on loan at Milan, and Bryan Cristante will join Roma at the end of the season. If your previous manager wasn't negotiating like Del Boy and Rodney you would have a real dream team in your hands. But even without them, you still have a strong squad with enormous potential.

Players you should definitely build your team around: Alejandro Papu Gomez, Musa Barrow, and Iličić.

Atalanta`s potential wonderkids
We talk and talk about potential in Atalanta, but who are your possible wonderkids in a team?
Definitely, no.1 is Marco Varnieri, a 20-year old defender on loan from Citadella. Guess what, he will be joining Atalanta permanently, finally one player who is coming to you. And finally one boy not on loan, and it is Musa Barrow.

His potential is amazing, and although he is only 19, you should put him in the first eleven. Don't be scared, he needs first team football to reach that amazing potential.

Football Manager 2019 – Atalanta tactic setup
Having much potential won't mean anything if you can't find some unbeatable tactics to go with. The best Atalanta FM19 tactic we have found is made by Nik FM. He plays 5-2-1-2 focusing on counter attacks with fluid positioning and cautious mentality.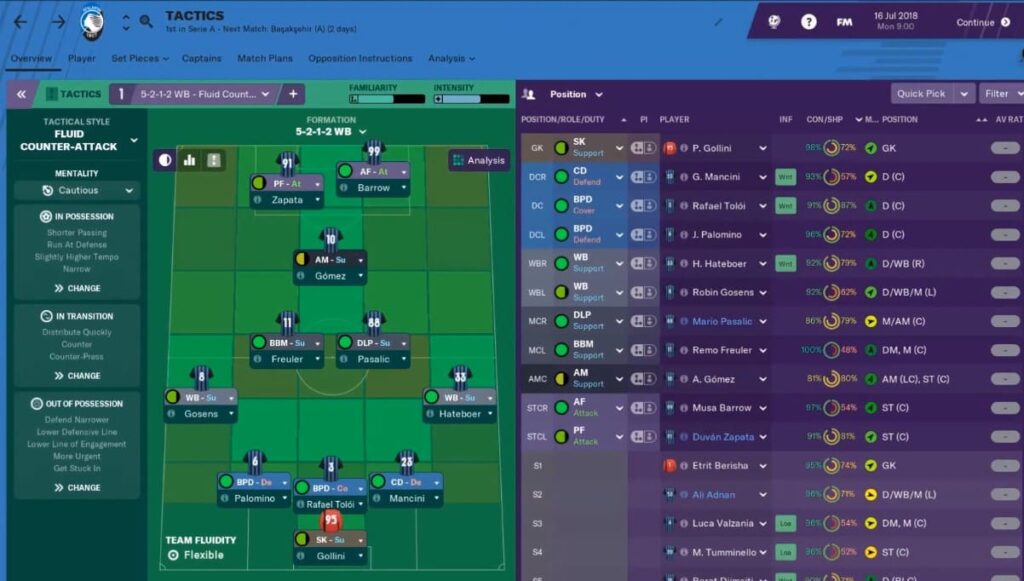 In this formation, Atalanta best XI are: Gollini – Mancini (DCR), Toloi (DC), Palomino (DCL) – Hateboer (WBR), Gosens (WBL) – Pasalic (MCR), Freuler (MCL) – Gomez (AM) – Barrow (STCR), Zapata (STCL)
Transfer budget and possible transfers
Atalanta has 10M in their transfer budget what should be enough to strengthen your team. Their wage budget is really good, it's more than 31M, having almost 1 million empty to spend.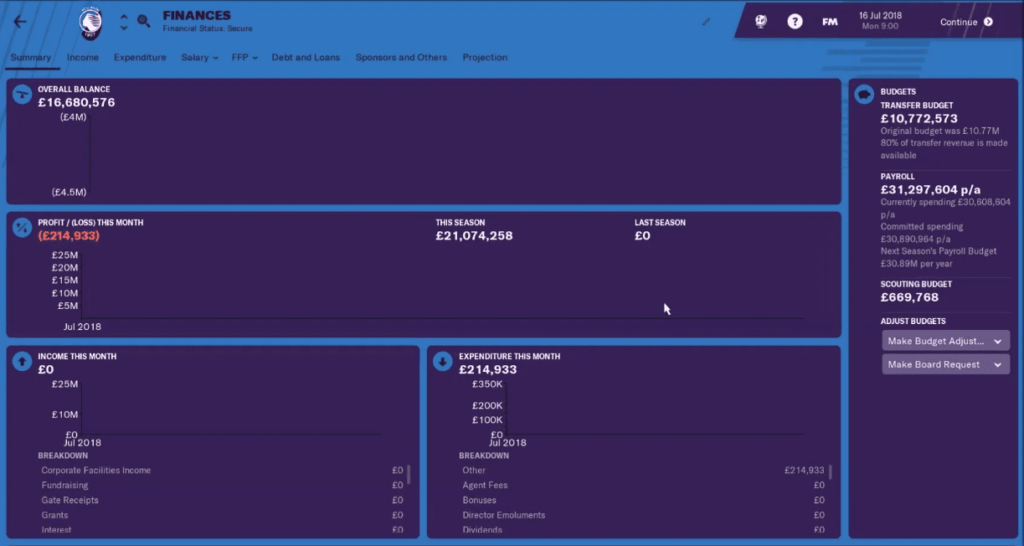 With that in mind and based on best Atalanta tactic we have introduced you, there are some potential signings to improve Atalanta team on left wing back:
Marcel Halstenberg: 26 years old, 9.75M, RB Leipzig
Douglas Santos: 24 years old, 8.5M, HSV
And as a quick and easy 1-season solution you can try to sign Tremoulinas who is a free agent (the ones we love the most). He is 32 years old so he can play at least one good season more.
Managing Atalanta in FM19 – pros and cons
In the end, brief conclusion. Playing with Atalanta has some big advantages:
Moderate board expectation
Highest possible youth recruitment
Great squad with lots of potential
But, at the same time, the biggest advantages are the biggest cons of taking Atalanta in FM19:
Hard to keep potentials in your team
Rich clubs will probably take your players (like Kassie or Cristante)
Hard to bring some big transfer names
Join our Football Manager Community at FMBrotherhood!
Our Atalanta team guide FM 2019 is finished, but you can join our Football Manager Community. Here you will find out more interesting news, best FM tactics and everything you need to master Football Manager 2019.