Olympiacos FM19 Team Guide – Waking up the Giant!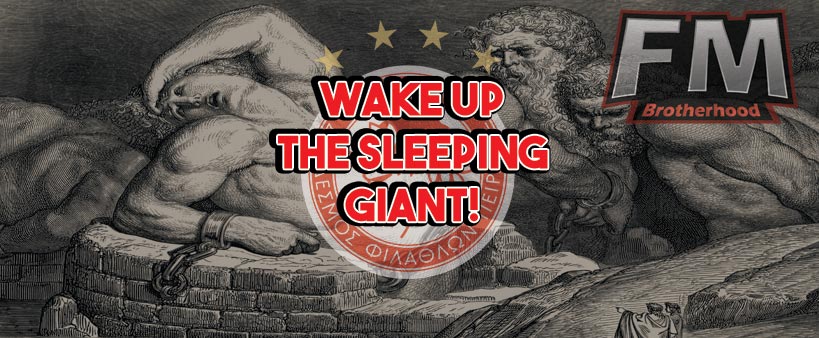 It is the moment to check out Greek giant, the most successful football club in Greek history – Olympiacos S.F.P. Football Club. We gave our best to scout them and give you our opinion about Olympiacos FM19 club.
"The Red and Whites" from Piraeus are amazingly popular in Greece. They have a rich history and passionate fans who would "die for Oly". The writing of their history started in the year 1925. That is the year when Olympiacos was founded. Until the year 2018, they were countless times in the top 16 clubs in Europe. Also, Olympiacos have won many Greek League titles, Cups and Supercups.
We speak about Oly so we have to mention their biggest rival – PAOK. They are some kind of eternal enemies and their derbies are something that every football fan should watch live on the stadium. Maybe in some of the next team guides we will speak more about PAOK.
Olympiacos FM19 – Team Guide
Let`s not get away too much from our main subject – Olympiacos FM19 team.
Recently, Oly is not in that good shape as they were before. There are many problems that shaken Greece and it can be felt in this club too.
The last season for Olympiacos was terrible. The results weren`t there and many factors influence on that. Regardless, Olympiacos board expectations, according to Football Manager 2019 are to win the league and to get to the group stage of EuroCup. So it would be challenging for you to take the wheel and manage Oly.
Olympiacos Football Manager 2019 Finances
As we said there are many problems in Piraeus this year. One of them is certainly finances. The transfer budget of 1 million euros isn`t that ideal. So you will have to stick to your squad and maybe free agents. Payroll is alright, so you can buy some free agents that can help you.
There is something in Olympiacos that is great about the finances. They have no debts and loans. So you can be cool about it.
Olympiacos FM19 Squad
It was interesting to scout Olympiacos in Football Manager 2019. Greek giant is a bit older. We see problems there so it just needs to get rejuvenated.
As team leaders in Olympiacos FM19 team, there are Vasilis Torosidis, Yaya Toure and Fortounis. With all the respect the first two are just too old. After this season, we suggest you find some young great players.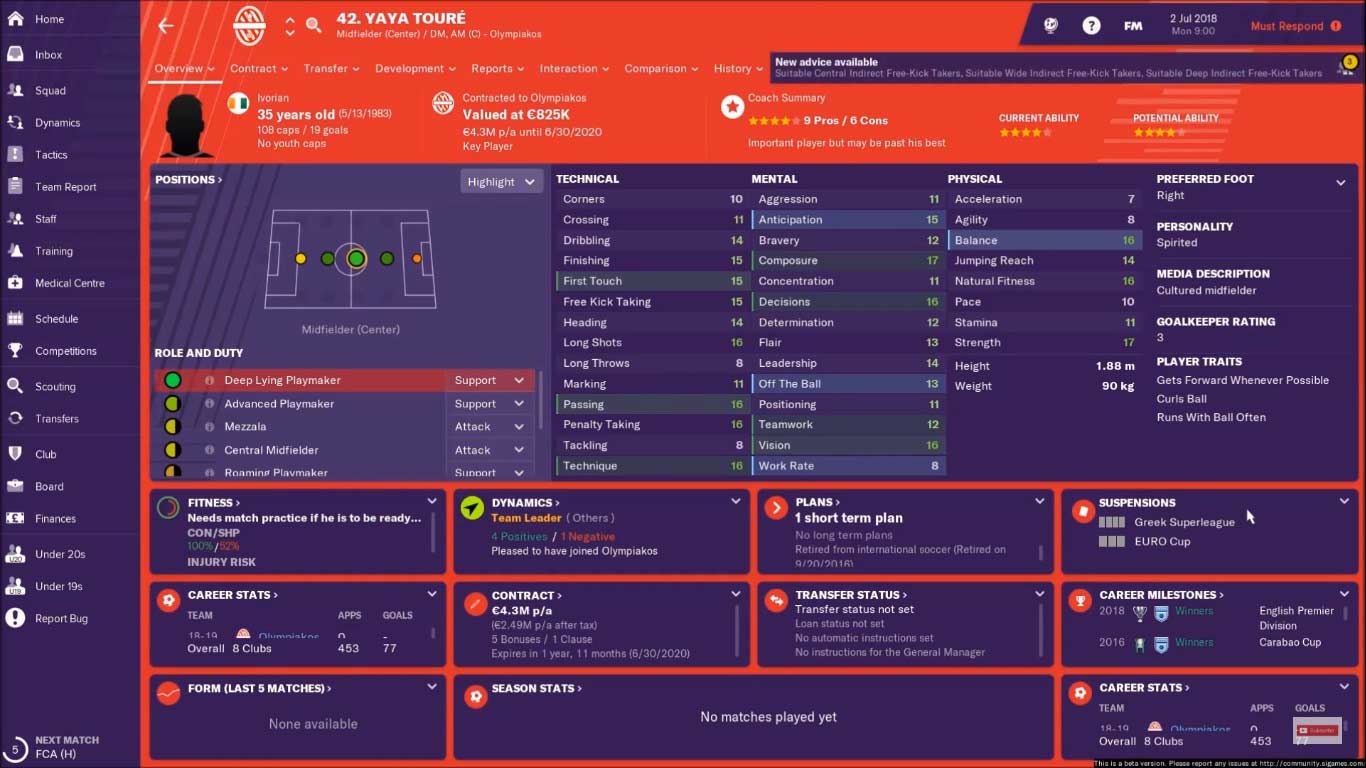 Fortounis is a player that you should try to keep and build a team around him. He is a great technician with many qualities. Also, he can play in many positions in the midfield.
One of the players in Olympiacos that we just love is Daniel Podence. 22 years old winger is a fascinating prospect. With him and Mady Camara, you will have a young and quality axle to build the strong squad.
Addition to them could be Thanasis Androutsos. Thanasis is the midfielder with great passing and first touch so you should keep an eye on him.
Our first team from the players that Oly has right now in FM19 would be like this: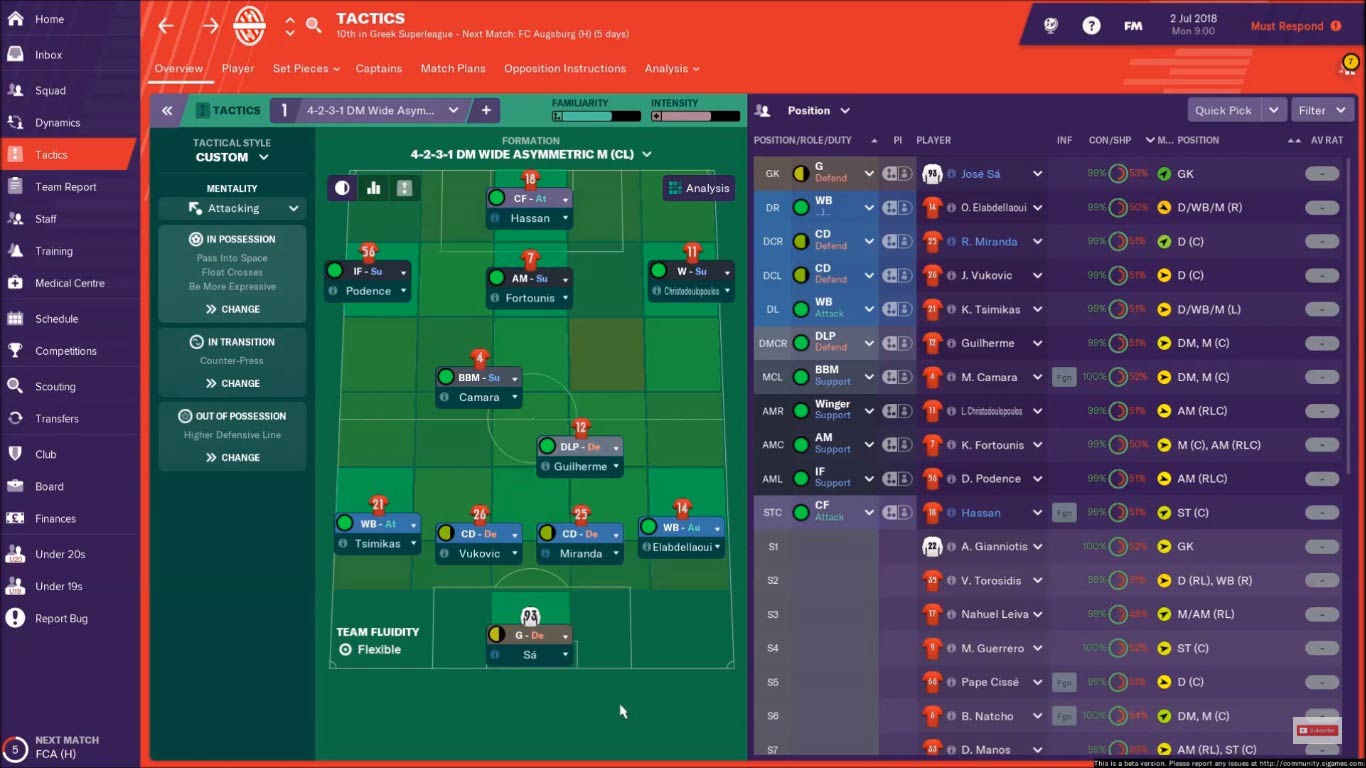 For this team, you can use NikFM`s new asymmetric tactic.
The biggest problem in today's` Olympiacos is defense. You probably should buy one great CB and LB to get the things right. Tsmikas is a good player (LB), but he is the only one on that side with such a quality.
Here we won`t speak too much about the players that we recommend you to buy. But, if you are interested about what we think you can check out the latest NikFM video. He has some players for Oly FM19 team. We choose that together so we agree with his choice.
Stay with our Football Manager Community, there will be some more FM Tactics, Team Guides, Experiments etc!