Olympique Marseille FM19 Team Guide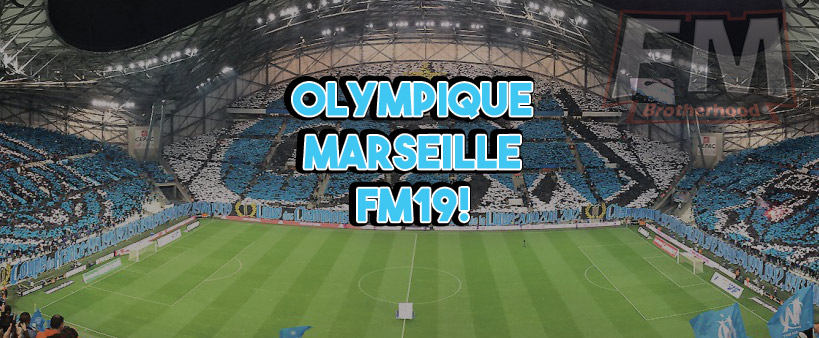 We are back again with our FM team guides. As usual, we are interested in giving you the information you need to achieve success with your team. This time, we are going to talk about Olympique Marseille in FM19. If you wish to manage Marseille, this guide is for you.
Last time we visited England and Aston Villa FM19 squad. This time we will go to France, and we hope you will love it.
Olympique Marseille is historically one the greatest clubs in France. They remain the only club to ever grasped the UEFA Champions League title in France. Not even PSG have matched this record yet. That`s what makes the Phocaeans, as nicknamed, special.
However, this club was created on 31 August 1899. The team currently plays their home games in a 67,394-capacity stadium named Stade Vélodrome.
Since creation, this team has won 8 Ligue 1 titles, 10 French Cups, 3 Coupe de la Ligue trophies, and 1 Champion League trophy.
Olympique Marseille – Team Guide
Olympique Marseille are no longer that giant of France we once witness in the past years. However, there have been some improvements in these recent years. Their involvement in the 2017/2018 Europa League final was a big step up. But unfortunately, they lost the title to Atletico Madrid. Irrespective of that, they performed really well in the match.
The Phocaeans are available in Ligue 1 in FM19 and still included in the 2018/2019 Europa league competition. They will be hoping to lift this campaign's Euro Cup.
So, we created this FM19 team guide to help you know the team's finances, dynamics, and squad. We will also mention the best tactic you should employ for this team. And we hope this will help you achieve great things with Marseille – they are really interesting.
Olympique Marseille Football Manager 2019 Finances
Their financial status is secure. They have good amount of money in the bank. The board realised a transfer budget of £22.44M. We think this is enough to buy a few great players to strengthen the team further. In other words, the wage budget is approximately £66M p/a. A great wage budget that can attract fantastic players. As seen in most clubs in top divisions, the scouting budget is £720,000.
In the past, we reviewed the financial status of Rangers FM19 and Aston Villa, and it turned out that both have something in common – they don't have any debts and loans. Well, the same situation is found in Marseille finance. The Phocaeans do not owe any debts.
For the expectations required of you, the board will at least want you to take the team to Champions League qualifications. We think that is acceptable. If you play your games well, you should be able to win the league, including the Euro Cup.
Though, the board expects you to reach the second knockout round of the 2018/2019 Euro Cup completion. In addition, the board want you to reach the semi-finals of French Cup and Coupe de la Ligue.
Olympique Marseille FM19 Squad
Actually, Olympique Marseille have one of the best squads in France. It is very possible to lift all the completion trophies the team is involved. But it is going to require great management. Therefore, to help you out here, we are going to review this club's squad. We are also going to share the players you should sign.
In Marseille squad, there are three leaders present. One of them is Florian Thauvin, who is a 25-year old Inside Forward. Then, the second leader is Dimitri Payet (a dangerous attacking midfielder who's 31 years old). Finally, Adil Rami (a 32-year old powerful central defender) makes up the list of the team leaders.
Players with high current and potential abilities in the squad include Thauvin, Kevin Strootman (best central and box-to-box midfielder in the team), and Dimitri Payet (he's the key player you should use properly).
Apart from the great players mentioned above, Marseille has some great young talents too. Young players like Nemanja Radonjic (22 years), Boubacar Kamara (18 years), and Duje Caleta-Car (21 years) are the best ones you should nurture well. They are ready for first-team football.
For recommendations on players to sign, we recommend wingbacks like Jetro Williams (valued £8M, wingback), Wendell (wingback, costs around £16M to £22M), and Philipp Max (wingback, costs £9M to £14M). Then for strikers, we recommend Sandro (a fast Advanced Forward at Everton, costs around 80M), and James Wilson (also a fast Advanced Forward who costs £2M).
With some tactics created here on FMBrotherhood, we find NikFM`s 4-3-3 tactic as the most suitable tactic for Olympique Marseille.
For some more info you can check out what NikFM prepared to us. Enjoy his Olympique Marseille FM19 Team guide!
You are welcome to our Football Manager Community!
We hope you enjoyed our view on Olympique Marseille FM19 team.
Join our fantastic and helping Football Manager Community. We update this site with great contents every time, so make sure you grab them by joining us. More FM Tactics, Team Guides, and Experiments will be coming your way.