Ibrahimovic and AC Milan FM 20 are LIKE WHAT?
By spaskecar | February 8, 2020 | 5610 Views
Today we talk about Milan FM 20 team guide. In real life, Milan is a club with a massive history but has been struggling in recent years.
In Football Manager 2020, Milan isn't doing great either. It's full of players that don't have high current or potential abilities, and the finances aren't great either.
Let's talk about everything in a more detailed manner.
Starting A Carrer as AC Milan in FM 20
When starting a new career as the manager of AC Milan, you replace the previous manager Stefano Pioli. You get a three-year contract that is worth $48k per week.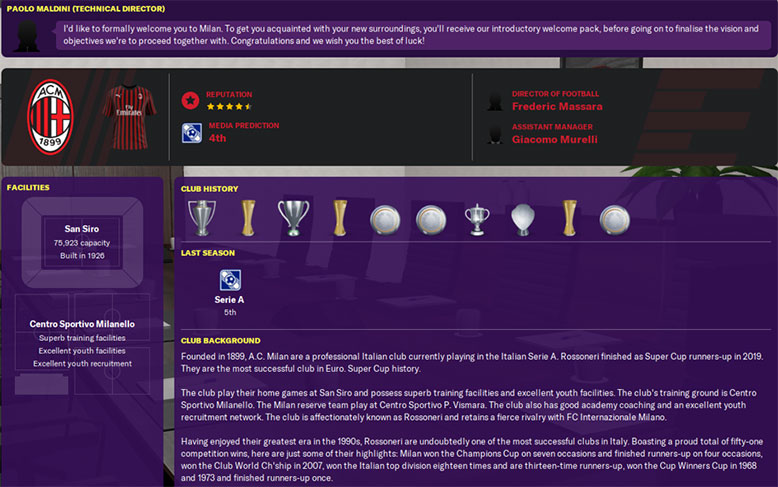 Milan enjoyed their greatest era in the 1990s, and they are one of the two biggest clubs in Italy, together with Juventus. Milan has won seven Champions Cup trophies and has won the Italian top Division 18 times. Along with other trophies, they've won a total of 51 competitions.
They play their home games at the San Siro that has a 75,923 capacity and boasts with:
Superb training facilities
Excellent youth facilities
Excellent youth recruitment
It's important to mention club legend Paolo Maldini who is working as your Technical Director, Frederic Massara as your Director of Football and Giacomo Murelli as your Assistant Manager.
The media predicts AC Milan to finish fourth in the 2019/2020 season, and you are here to prove them wrong.
AC Milan Best 11 FM2020 – Team Report
These are the best 11 players you have at your disposal when starting a career with AC Milan on FM 20. It's a nice mix of young and experienced players, but if you want to challenge the title, eventually, you'll need many better players in most positions.
Please note that we haven't included January transfers as they didn't happen in the game yet.
AC Milan FM20 Club Vision and Competition Objectives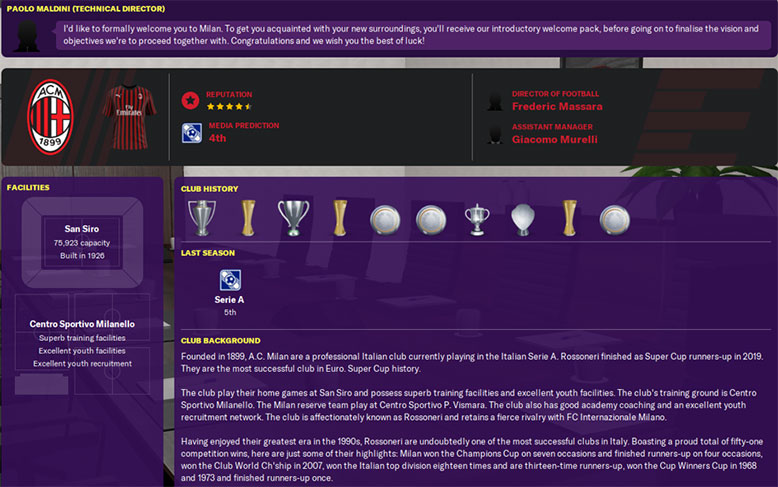 Unlike ten years ago, AC Milan in FM 20 has a good club culture. They don't want you to sign players over the age of 30, and they expect you to sign those of age 23 and younger.
That's a good strategy because about ten years ago, AC Milan was signing all those players who were about to retire. The average player age was 29 or 30. It didn't bring any results, so it seems AC Milan is going with a different strategy now.
Your job as a new AC Milan manager in FM20 is to qualify for the EURO Cup in the first season. In the second season, the objective is to qualify for the Champions Cup, and in your third season, you need to challenge for the Serie A title.
All of these are reasonable objectives and are possible to do in Football Manager 2020 even before the deadline.
AC Milan FM20 Squad – Most Important Players
The AC Milan squad in FM20 isn't that great, but there is lots of potential for growth. And there is a massive boost to them because Zlatan Ibrahimović is back.
Let's take a look at the most important players of the AC Milan squad.
Gianluigi Donnarumma
Current Ability 155
Potential Ability 174
Position Goalkeeper
Age 20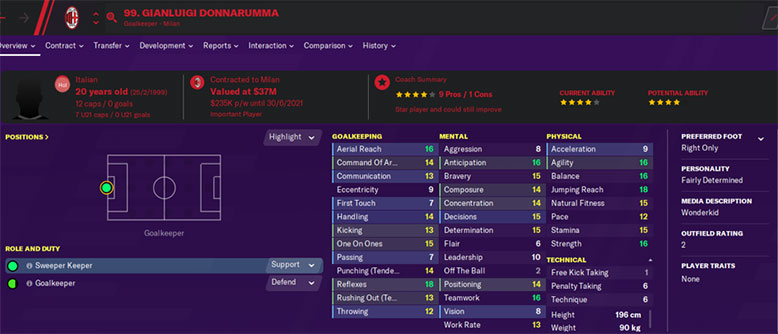 Donnarumma is one of the best young goalkeepers in the world, and AC Milan is covered in that position for the next 15 years if they can keep him in the team.
Fairly determined player
Can improve a lot
Is a current international player
Good at shot-stopping
He fits very well in the core group of the squad
Alessio Romagnoli
Current Ability 154
Potential Ability 168
Position Central Defender
Age 24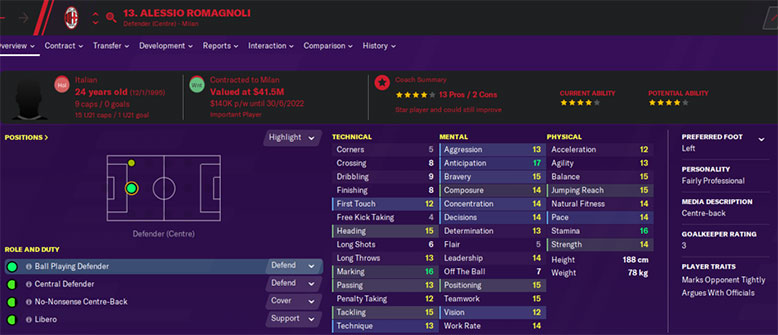 The best central defender at AC Milan and has a good potential ability to become a leading CD in Europe.
Leading CD for most Serie A teams
Relishes big matches
Constant performer
Really good in the air
Anticipates situations well
Handles himself in a professional manner
Is a current international
Krzysztof Piatek
Current Ability 152
Potential Ability 163
Position Striker
Age 24
Although Piatek has departed AC Milan in real life, you can still use him in FM20 until we get the transfer window update.
A very driven personality
Great finishing ability
Leading player for most Serie A teams
Relishes big matches
Consistent performer
Off the ball movement makes him an intelligent player
Suso
Current Ability 152
Potential Ability 161
Position Attacking Midfielder Right
Age 25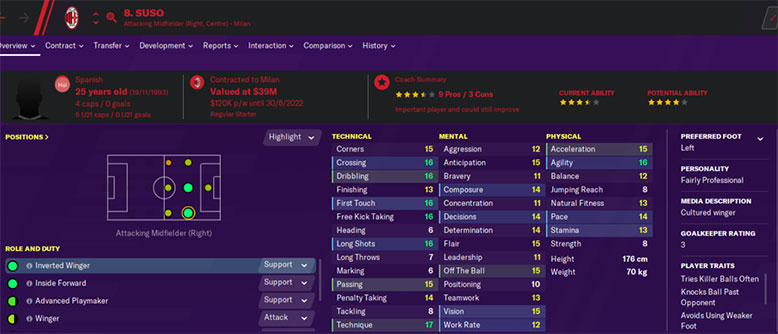 Suso is another player that has left AC Milan but only on loan. He's a quality player in Football Manager 2020.
Amazing technique
Is a natural in a couple of positions
Can still improve
Handles himself in a professional way
Enjoys big matches
Considered a creative player
Franck Kessié
Current Ability 149
Potential Ability 169
Position Central Midfielder
Age 22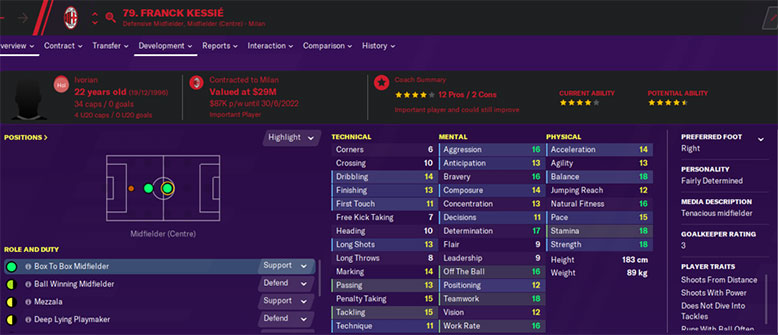 Kessie is a box to box midfielder who is a must keep on FM2020.
Potential to be a Serie A star midfielder in the future
High work rate
Is a current international with plenty of experience
His bravery makes him a great team player
Is natural in DM as well
Fairly determined player
Enjoys big matches
Fairly consistent performer
Considered a physical player
Lucas Paquetá
Current Ability 144
Potential Ability 165
Position Central Attacking Midfielder
Age 21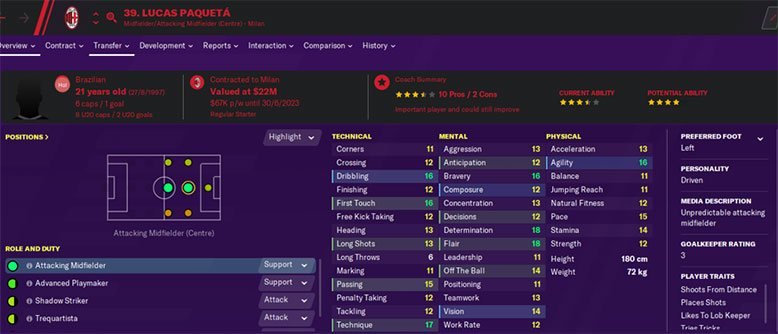 Lucas Paquetá is the future for AC Milan in the AMC position.
A very driven player in pursuit of his goals
His dribbling and ability to do the unexpected is one of the main reasons behind his ability to go past a defender
Under 22 player who is eligible to play in all matches
A versatile player who is natural in a couple of positions
Can improve a lot
Considered a technical player
Zlatan Ibrahimović
Current Ability 143
Potential Ability 185
Position Striker
Age 37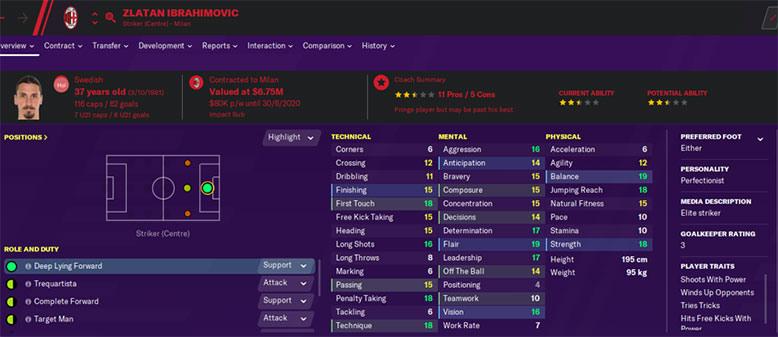 We had to manually transfer Ibrahimović to AC Milan because we simply love this legend.
A global superstar
Is a perfectionist who constantly strives for improvement
His dribbling and ability to do the unexpected is one of the main reasons behind his ability to go past a defender
Consistent performer
Really good in the air
Has plenty of international experience
Enjoys big matches
Is adept at using either foot
Considered a creative player
AC Milan Finances
AC Milan isn't the powerhouse it used to be anymore. In fact, in the first season 2019/2020, you will only have a $26M transfer budget, and you will be spending above the wage budget already. After some adjustments, you are left with about $20M budget and a $120k per week to spend on salaries.
We at FMBrotherhood suggest trying to save money in the first season as you can't really find players with great ability for only $20M.
There are wonderkids that you can buy for cheap, and you should check out our wonderkids section.
Another thing you can do is get players on loan; one of the best ones you can get at the start of the game is Juan Cuadrado, who is on loan list.
The third thing is to focus on your own youth players. AC Milan has some nice players who can become leading Serie A players in the future.
AC Milan Wonderkids and Good Youth Players
AC Milan is struggling with finances, so one of the things you can do is focus on your youth.
These are the best players in your U20 and U18 that you MUST keep:
Daniel Maldini – 17 years old – 158 potential ability
Alessandro Plizzari – 19 years old – 157 potential ability
Michele Lo Curto – 17 years old – 145 potential ability
Conclusion on AC Milan in FM 20
AC Milan is a challenge. The bad finances and overall neglect of the team by the owners and bad transfers in the past have led this giant to fall.
Can you help make AC Milan rule the world again? Can you add a Champions Cup to those seven trophies they already have in their cabinet?
Yes, you can, and we are here to help you.
Our team member NIK has made this YouTube video on AC Milan:
There you can see his thoughts on AC Milan, tactics, and many transfer suggestions.
If you like the video, leave it a like and subscribe to his channel. It means a lot!