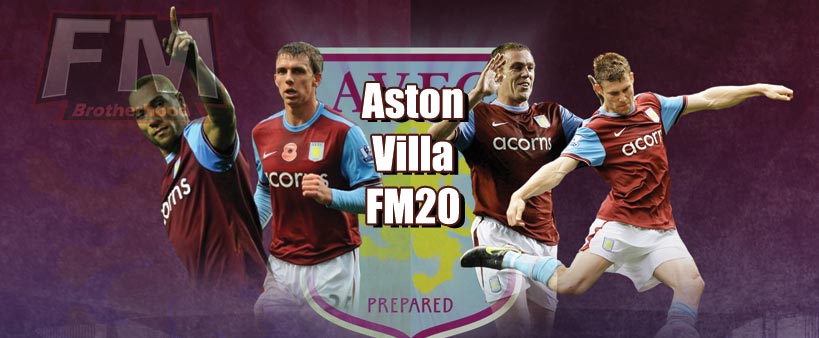 Aston Villa FM20 – It is a Football Manager 2020 Challenge
By spaskecar | November 27, 2019 | 4948 Views
About three months ago, at the start of the Premier League, we wrote about the Top Clubs to play in Football Manager 2020, and Aston Villa was one of them. We were very curious how well the real-life Aston Villa manager Dean Smith is going to do in the Premier League. Villa is the 2nd biggest spender in the 2019/2020 summer transfer window, with £144.5m spent on 12 players.
At the time of writing this guide, Aston Villa has 14 points in 13 games and is sitting on the 15th position in the Premier League. If the goal is not to get relegated, then the manager Dean Smith is doing an adequate job.
What about you? Are you ready to take Aston Villa in FM20 season 2019/2020? Do you think you can do better than how Aston Villa is doing in real life?
You are considering taking on the job; otherwise, you wouldn't be reading this guide. We at FMBrotherhood are here to introduce you to the Aston Villa FM20 team. We'll give you a good understanding of the team, the history, the players, tactics, finances, and potential players you can buy.
Introduction to Aston Villa FM20
Starting as a new Aston Villa football manager, you will replace the earlier mentioned Dean Smith. You get a nice two-year contract with a  $37,000 per week salary.
Aston Villa is a team with a huge history, they've won the old English Premier Division 6 times, and most importantly, they've won the European Champions Cup once. Not many teams in the world have done that.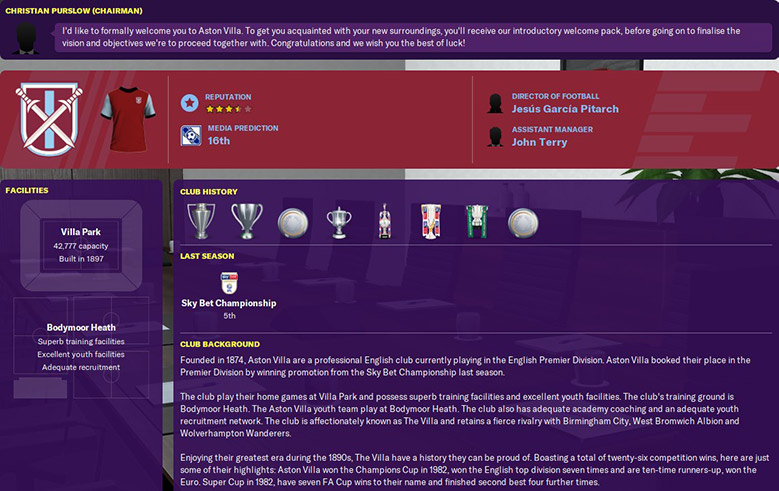 When it comes to facilities, Aston Villa plays on the Villa Park that was built in 1897 and has a capacity of 42,777, which is quite a respectable number. It's worth to note that in Football Manager 2020 Aston Villa has:
Superb training facilities
Excellent youth facilities
Adequate recruitment
The media predicts you will finish 16th, which is okay. That means they think you have what it takes not to get relegated. Another significant thing to note is that your assistant manager is the legend himself, John Terry.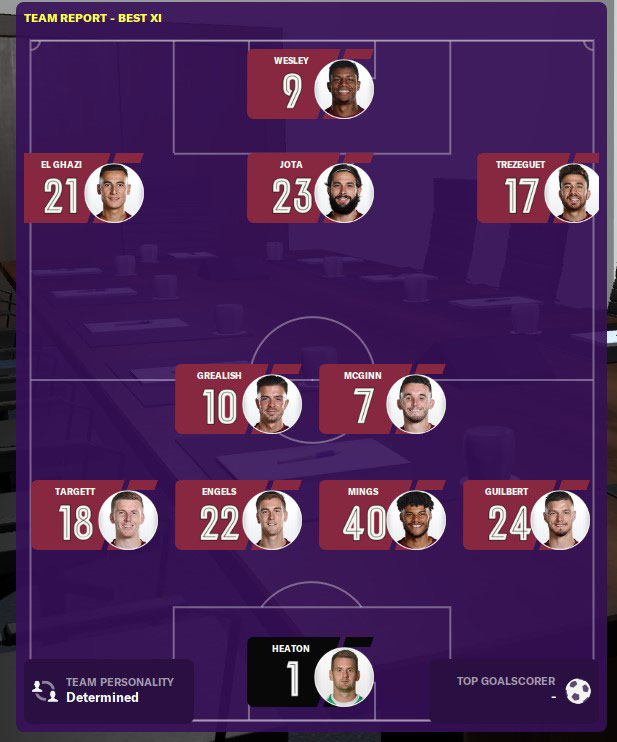 This are your best 11 players when you start a new FM 20 game with Aston Villa. There is plenty of room for improvement, but there are some great names there as well:
Board Expectations for Aston Villa in FM 20
The five-year plan is one of the new features in FM20, and you get it with every team you start managing. It's no different with Aston Villa. We'll only focus on the first two years because that's how long your current contract is.
The board expects you not to buy any players older than 28, and that is reasonable, nobody wants to have a team full of older men who can't handle the pace of the Premier League.
They want you to play attacking and entertaining football. Now that is a problem because you've just got promoted and your team isn't that strong. If you play too much-attacking football, you might end up being weak in the defense and conceding many goals on counter-attacks.
You'll have to be very careful with that one. And the last one is to sign players under the age of 23 for the first team. This is something you should be able to do, but it isn't of the highest importance.
When it comes to competitions:
You have to avoid relegation in the Premier League
Reach the 5th round of the FA Cup
Reach the 4th round of the Carabao Cup
In the second season, you have to become an established Premier League team that won't be caught in a relegation battle.
Squad Dynamics of Aston Villa in FM2020
The Aston Villa in Football Manager 2020 has a good compact team where the roles and social groups are known.
James Chester, Ahmed Elmohamady, and Jack Grealish are your team leaders, and they will be your captains. Only Jack is under the age of 30, and he is your present and the future. Try to keep him happy as he is one of your most important players.
After Chester and Elmohamady retire or leave your team, you will have replacements for them in the names of Conor Hourihane and Tyrone Mings, who will become team leaders.
The Aston Villa squad is a team that has many leaders. When you check the Captains tab under your Tactics screen, you will see that you have ten good players that can be captains because they have great Leadership and Teamwork attributes. We'll talk more about those players in the next section.
Aston Villa FM20 Players
We are going to talk about the most critical players in the FM 20 Aston Villa lineup that you shouldn't sell and try to keep them happy. They are the backbone of a team with a lot of potential.
Jack Grealish FM20 Stats
We've mentioned Jack Grealish when talking about team leaders. He's a 23-year-old AML who is very versatile and can play a couple of positions. Besides the AML, where he is the best, he can also play AMC, ML, and MC. He's also accomplished in AMR and MR, but we suggest not to use him there.
He's a player that can improve a lot, and he can become a world-class player. Jack is a fairly loyal and ambitious player who has excellent dribbling, flair, technique, and vision. He also has good composure and finishing, which means he will get you both goals and assists.
He's a fan favorite and your future captain. Grealish is a must keep player. Don't forget the's a product of the Aston Villa Academy and he's spent his whole life in Aston Villa. He will become one of the greatest players Aston Villa has ever had.
Tyrone Mings FM20 Stats
Tyrone Mings is your 26-year-old CD and the second-best player in your team based on ability. He's a well-known name in the English world who has made a name for himself at Ipswich. Ipswich bought him for $15.75k and then sold him for $11M just three years later to Bournemouth. Bournemouth sold him to Aston Villa for $25.5M after he spent a season here on loan.

He's very ambitious, very determined, and a brave player who knows what he wants. His main strength is that he is outstanding in the air. He is 196cm tall and has excellent heading and jumping reach. He'll rarely lose an air duel against anyone. This will also help him score some goals.
Another great thing about him is that he can play the DL position as well. For someone who is 196cm tall, he isn't slow. He has a nice pace and acceleration. The only thing that can get him into trouble is his first touch. He doesn't handle the ball well when receiving it. Mings is also a player who won't improve much in the future. Tyrone is at his peak now, but considering he's only 26, he won't lose any attributes either.
Overall he's an amazing player that you should try to keep in the team as long as possible.
Trezeguet in Football Manager 2020
Trezeguet is a 24-year-old AML that Aston Villa has just bought for $11.25M from Kasımpaşa A.Ş.  He's an Egyptian international that the Aston Villa fans considered being one of the best signings in the 2019/2020 summer window.
He's one of the best players you have at your disposal, and since he plays the AML positions the same as Jack Grealish, you need to decide who to rotate on another position. The good thing about Trezeguet is that he's still young and can improve. At the moment, what we can say about him is that he possesses great pace, acceleration, and dribbling. He knows how to beat a defender. He's also a player who enjoys playing the big matches, and that's where he shines. When it comes to potential ability, we think he can be as good as Ivan Rakitić, although it's not the same position.
Because he can play a couple of positions, you can play him on the AMR and keep Jack Grealish on the left. That's probably the best thing to do.
Other Players
There are quite a couple of other players you should keep in your team, especially the younger ones, but we don't want to spend the whole day talking about them. Remember, you also have a few players on loan.
Out of all of them, James Bree is the most exciting one with great potential ability. He's your right-back for the future. You should let him stay at Luton for the season because you have better players on his position in your team.
Transfer Suggestions for Aston Villa FM20
Like we mentioned earlier, before the start of the season, Aston Villa has already bought 12 new players. That means there is almost no money to buy any new players. You'll have to look for cheap players or free agents.
With a transfer budget of $12M, you can't buy quality players. What we suggest is to adjust money towards your Wage Budget and to look for cheap options that you can sign with a good salary. We'll also mention some good loan players for FM20 Aston Villa. Another thing is that you should look to sell some players that probably won't get any playing time this season.
Player to Buy – Liam Moore
Liam Moore is a fantastic DC that you can buy from Reading for $14.5M with about $10M in cash and rest in installments. He's 26 years old, and he won't improve much in the future, but we bought him because of his current ability. If you buy him, he will be your 2nd best DC.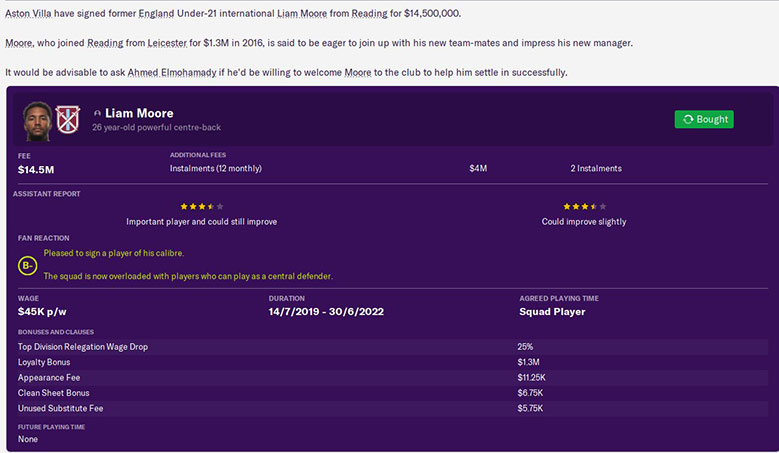 Even though this might not be a position that needs strengthening because you have plenty of options, we decided to go for it. This will give you enough space to sell one or two DC's.
Player to Buy – Free Transfer – Vashon Neufville
Vashon Neufville is a 20-year-old free agent that you can buy at the start of the game. He has enormous potential and can become a good Premier League DL. We bought him because of his determination and pace. In a few years with proper guidance, he can become a first-team player. One of the best things about him is that he is a player who shines in important matches. And because of his high natural fitness and stamina, he won't tire or get injured easily.

As you can see, we got him for $1.5k per week on a three-year contract. A steal!
Player to Buy – Levi Colwill
Levi is a 16-year-old wonderkid that you can buy from Chelsea. We only paid $1,1M for him and signed him on a youth contract worth $150 per week. We bought him because we cheated a bit. We know some of his hidden attributes, and that was the main reason to buy him. This kid has 20 consistency and has huge potential to grow pace, acceleration, and stamina. All of those attributes make for a great full back. Although the attributes look horrible at the moment, remember that he is only 16! You can make him a world-class player with proper guidance.

We can see based on his attributes that he will probably have poor marking even when he reaches his potential ability. Still, if you play the advised five-person defender formation, your CD's will cover for him, and you won't have any problems.
Player to Get on Loan – Nir Bitton
Nir Bitton is a 27-year-old CM that you can get on loan for half a season from Celtic. He's a player who has spent the last six years as a Celtic player, and he's an affordable option as a back-up CM playmaker.
With his 195cm height, he is dominating the central midfield, and you will get plenty of assists from him. His physical abilities aren't that great, but he makes up for it in technical and mental abilities.
At the moment, we believe he is as good as Nabil Bentaleb. And this is his peak, and he won't improve in the future. It's also worth noting that he can play the DM position as well.
You have to pay Celtic $100k per month to get this player, and that isn't a lot for the value he brings to the team.
Player to Get on Loan – Manuel Lanzini
Lanzini is a 26-year-old AMC who is versatile enough to play on AML and CM as well. He's a fantastic player that you can get on loan from West Ham. Just look at that dribbling, first touch, technique and passing, he's the perfect attacking midfielder, and you get him almost for free.

My DoF managed to get him on loan for $0 monthly fees, and all I have to do is pay 40% of his wages, which equals to $51k per week. We also agreed on a $27M future fee if he proves himself in this season, which isn't a lot for a player of his caliber.
Player to Sell – Neil Taylor
Neil Taylor is a 30-year-old left-back who is only your third-best option for that position. He won't be playing a lot as you have plenty of options in that position.
I managed to sell him for $5.75M to København, which isn't a lot of money, but most importantly, there is one less unhappy player in your squad and $40k per week less on the wage budget.
Player to Sell – A DC of Your Choice
After buying Liam Moore, you have too many DC's. Depending on the tactic you employ, it will be hard to keep them all happy. The problem is Aston Villa bought a few CD's before your arrival, and Moore is better than all of them.
It might be hard to sell a player who just joined your team. That's why we suggest employing a five defenders formation with 3 CB's and two wing-backs. That might help you give everyone the playing time they crave for.
Aston Villa FM 20 Guide – Conclusion
Aston Villa in FM20 is a challenge! It's not easy to make all these new signings jell together and play good football, but it's possible. With the right tactics and good signings, you can get a mid-table finish with Aston Villa without a problem.
But what tactics to use?
Well, just like always, our team member NIK has made an FM20 Aston Villa Team & Tactics Guide that you can see here:
He talks about the best players, best formation, and he will give you suggestions for signings that weren't mentioned in this article. This means for you as an FM player, there are even more excellent options to make the Aston Villa team better.