Best Football Manager 2020 – FM20 Tactics – DOWNLOADABLE!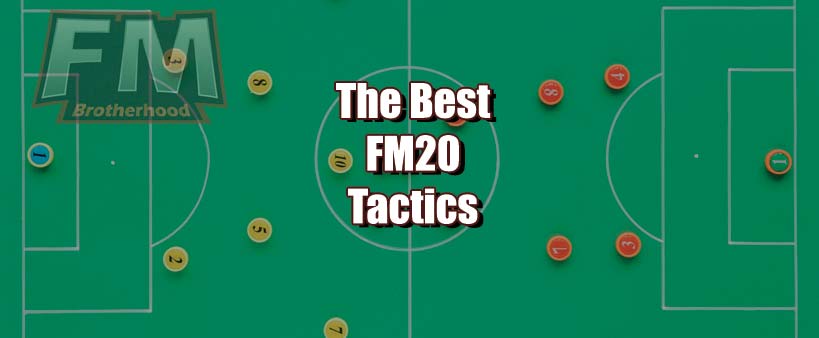 Football Manager 2020 is surely the best game so far. The Beta is out so while waiting for the full version we tested it and we found out all the new FM20 features. After hours of playing, we concluded that the user experience is absolutely great. But let`s speak more about the FM20 tactics.
We tried to build our own great tactics that can be used by many clubs but within that process, we found some other FM20 tactics, so we tested them. Like we do every year, we will try to find only the best FM tactics that you can download directly from our website and put to shame your opponents.
As always this list will be updated regularly, so you can bookmark this page and come back soon for some more. You can also join our FMBrotherhood Facebook group here! There you can ask questions, post tactics, and everything related to FM20.
So far, the best tactics in FM20 are:
Great Beta Football Manager 2020 Tactic – 4123 Sirjur
We have tested some really good Football Manager 2020 tactics (Beta Version) and found one that works really fantastic at the moment. The name of the first great FM 20 tactic is 4123 Sirjur. We can say that this tactic is for sure one of the best until now.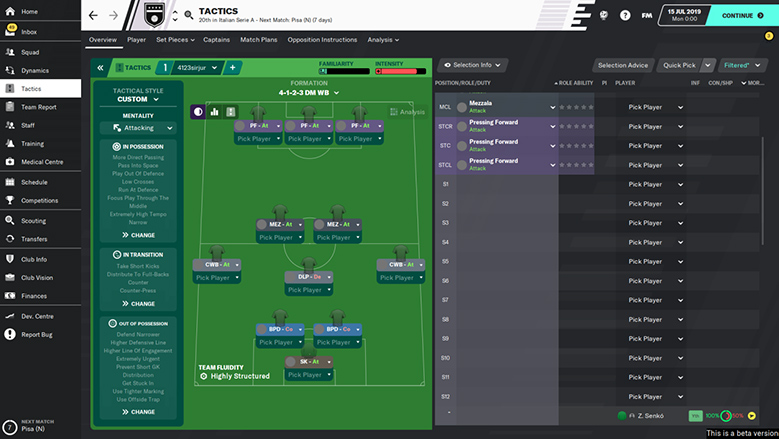 We do not recommend this FM20 tactic for underdogs but with the top teams, this tactic makes wonders. Your three pressing forwards will make big pressure on the opponent when they have possession. At the same time, they will act as advanced forwards when your team has the ball.
So it would be really nice to have 3 fast strikers with a lot of stamina.
In the middle, your team will play with two CM-s. Those two CM-s are two Mezzalas, so some passing, stamina and vision are required for these players.
DLP is someone who is going to start most of your actions so find the most creative player for this position.
Complete Wing-Backs are the most important part of this tactic. If you have weak players for these two positions than you can't expect too much from this tactic.
It would be very nice to have two creative central defenders with nice passing as they are involved in starting your actions. This Football Manager 2020 tactic achieved the best results on our tests and we can safely say that this is so far the best Beta Football Manager 2020 tactic.
Knap's Sympathy 4-2-2-2 – FM Version patch 20.1.4.
When we hear the name "Knap", then we are sure that some amazing Football Manager tactic is there.
Knap is simply the best FM tactician in the world and his tactics are brilliant. So, this is probably the best Football Manager 2020 tactic `till this moment. This FM20 tactic is recommended for strong and weak teams too.
Testing results show that the only problem is when you play against opponents with extremely fast strikers. Then your team will suffer a bit. But don`t worry, they have to be really, really fast, and that isn`t something you will see every day (in every match).
The tactic is in formation 4-2-2-2 and it would be nice to have one striker with great speed (pace and acceleration) and nice finishing for the position of AF. The other striker PF should have some nice mental attributes, strength, and passing.
Inverted Wingers are very important players for this tactic. They will cut inside leaving space for attacking CWB-s, and in many situations, they will be present in opponent's box.
In the middle, we have two Segundo Volantes. So, for these positions the most important is to have players with great stamina, passing tackling and work rate.
If you use this FM tactic then you really need fast central defenders as this is another tactic with a very high defensive line.
It would be really great to have defenders with good passing skills as they are involved in creating actions as Ball Playing Defenders do.
Anyway, this tactic is still not unbeatable, but after all the testing we can say that is one of the best.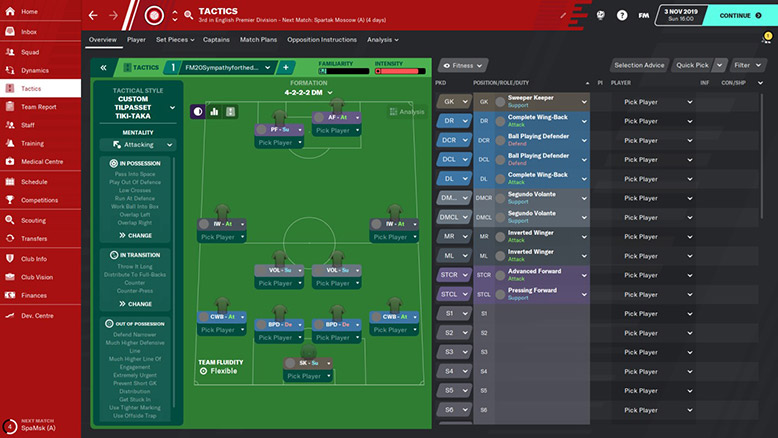 Wulf Knap`s 4231 Tactic FM 20.1.4.
OOoooOO Knap is on fire! That`s something all of us can sing every time Knap makes an FM tactic like this.
This tactical magician made another great FM 20 tactic, but this time in formation 4-2-3-1.
We tested it with many clubs with different club visions, and in different leagues and we can say that it deserves to be on this list.
This tactic is different from the others.
You will have 4 players in defense with uncommon duties. 2 WBs with attack duties, and 2 CBs as Ball Playing Defenders. The first two will run forward often to make low crosses that will cause many problems to your opponent. The BPDs will pass into space, sometimes long balls so your forwards will always be active even if the tempo is set to slightly lower.
This is why you can expect "total soccer".
All the players from the defense will contribute the attackers, but also you will see your midfielders help your defense by making pressure on the opponent`s attackers.
With this attacking tactic, you will score a lot of goals. It is very important to have good Inverted Forwards, but also your PF should be a goal-getter. You will see a lot of goals after your PF and your Wingers attack their defenders and steal the ball from them.
Those two IFs will cut inside and make space for your Wingbacks, your AM is with attacking duty, and he is always going be there to try the through passes or to shoot and score a goal.
DLP and BBM are with a support duty, so they will also contribute you to play real "total soccer" here. DLP should be a creative player (with a vision) and a good passing, and your BBM should be a player with a good pace and tackling, as he is going to cut down the opponents and to cover the empty area behind.
Our tip for this FM20 tactic – try to get fast players! With fast players, you will see a lot of counters that will result in a goal, and a beautiful, modern football.
Try this Knap`s tactic, and tell us how it works! We assure you it is a great FM tactic!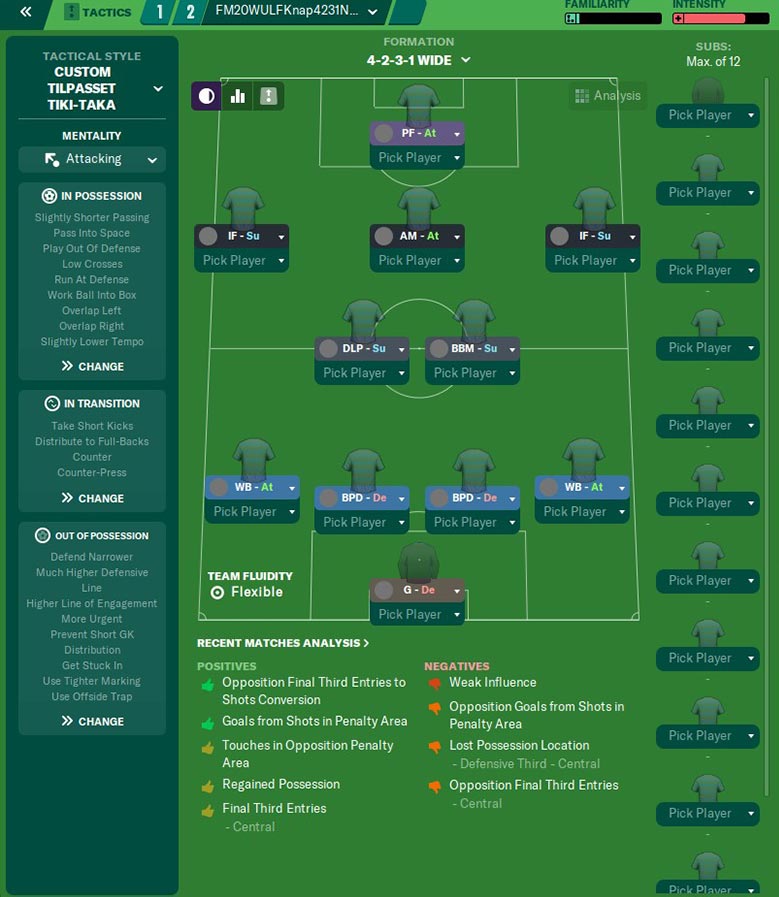 Danwolf`s 442 Shaolin Hot-Wings – 20.2.3
So far we didn`t have any tactic by Danwolf on FMBrotherhood, but this one deserved to be on this list. It is surely one of the most amazing FM20 tactics and when we tested it on FM 20.2.3 we won a lot of matches.
442 Shaolin Hot-Wings tactic is suitable for clubs whose main goal is to win the title. With this tactic you will play modern, fast-flowing attacking football.
The only players that won`t contribute the attack are going to be your CDs and Goalkeeper (Sweeper Keeper). So, yes, you will play total soccer like with the previous Knap`s tactic.
By those two CD`s you will have two Wingbacks with attacking duty, so they will be very helpful in those quick transitions from defense to attack, that you will see a lot.
This tactic is a bit different from classic 4-4-2 tactics because midfield doesn`t have 2 CMs. You will have 2 Segundo Volantes instead, both with a Support duty.
Wingers are also with attack duty. They will go forward and endanger the opponent`s defense and in the middle, there are two PFs with a Support duty to score goals or pass them into space so they could score.
We saw a many situations where wingers scored goals, but sometimes those two Volantes were shooting from the distance with great success.
If we would have to name this tactic with only one word it would be – fireworks.
If you choose to use this Football Manager 2020 tactic, the title will be yours.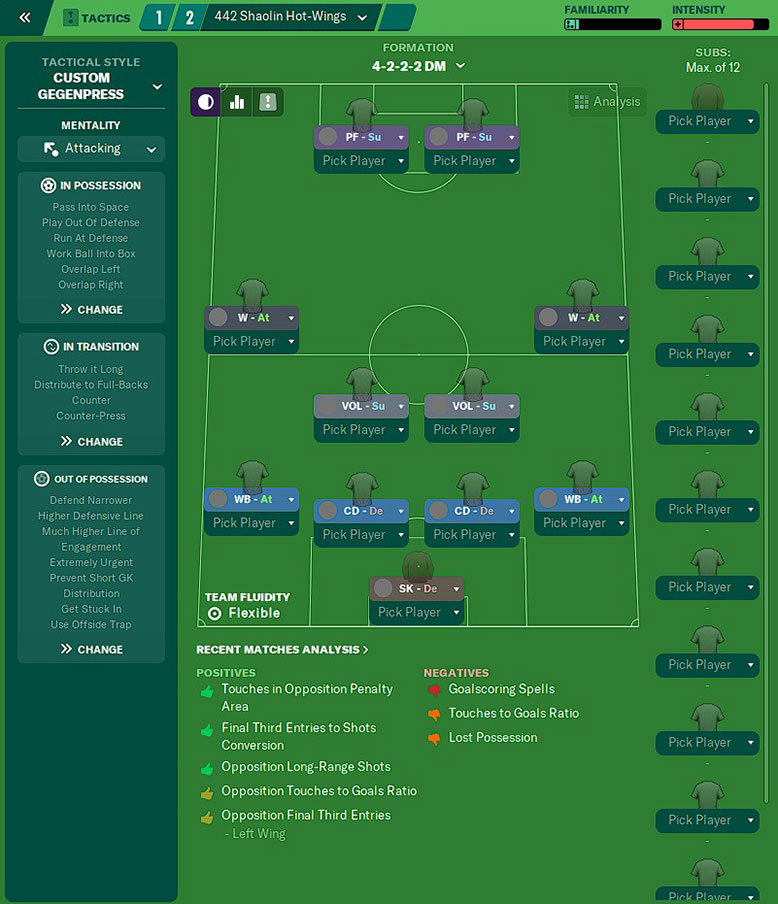 Download FM20 Tactics Here
There is no reason to go elsewhere to download these FM20 tactics. You can do it here: