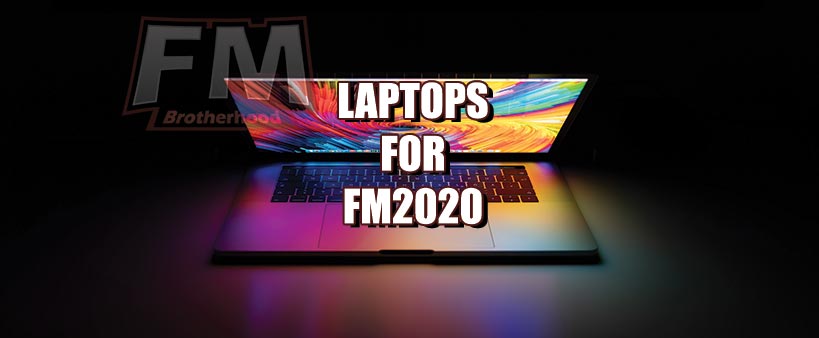 Best laptops for Football Manager 2020 – Keep calm and play FM20!
By spaskecar | December 6, 2019 | 8073 Views
Football Manager 2020 has been out since November the 19th and most people have reviewed the game as positive. Out of a total of 4106 reviews, a whopping 86% said they liked the game.
If you're considering buying the game but you aren't sure if your laptop can run Football Manager 2020 then you've come to the right place. We'll tell you about the minimum system requirements and our top 5 laptops to play Football Manager 2020.
We are a bunch of Football Manager fanatics ourselves and we always aspire to have good hardware for new game releases.
We all know Football Manager was never a demanding game. The system requirements were never really high and you could play it on pretty much any laptop up to 7 years old.
FM20 minimum system requirements
Minimum system requirements for Football Manager 2020:
OS: Windows 7 (SP1), 8/8.1, 10 (Update 1803/April 2018 or later) – 64-bit
Processor: Intel Pentium 4 (64-bit), Intel Core 2 or AMD Athlon 64 – 2.2 GHz +
Memory: 2 GB RAM
Graphics: Intel GMA X4500, NVIDIA GeForce 9600M GT or AMD/ATI Mobility Radeon HD 3650 – 256MB VRAM
DirectX: Version 11
Storage: 7 GB available space
Requires a 64-bit processor and operating system
Windows
Mac OS
However, the better the laptop you have, the smoother and better your match experience will be. That is especially the case with a 3D match engine. You'll also be able to load more leagues, have access to more players and wonderkids.
The most important things to understand about laptop hardware is the graphics card, the amount of RAM and the processor.
If you want to enjoy 3D matches than a good graphics card is needed, the better it is, the smoother your experience will be.
When it comes to the processor, we advise anything above an Intel Core i5 Processor of a newer generation. With such a processor, you should be set for a couple of years.
FM2020 doesn't use a lot of RAM but if you plan to multitask, for example, do web browsing, listening to music or something else while a game is going on then you need a minimum of 8GB RAM.
If you have 10 Chrome windows open while you're playing FM20 then we advise not going bellow 16GB of RAM.
The whole set up depends on how you use your laptop and if you do anything else besides playing FM20 on it.
Based on what we know, we've made a list of best laptops for Football Manager 2020:
Acer Aspire E 15 E5-576G-5762
Asus Vivobook S15 S512FL-PB52
Lenovo Ideapad L340 81LK00HDUS
MSI GL63 8RCS-060
Omen by HP 15-dc1020nr
Keep in mind that some of these laptops are overkill with hardware and you will be able to play any game that exists right now. And you will probably be set for the next 5 generations of Football Manager.
Let's talk about them in detail.
Acer Aspire E 15 E5-576G-5762
Equipped with the 8th Generation Intel Core i5-8250U Processor (Up to 3.4GHz) you won't have any trouble running Football Manager 2020 on this laptop.
It comes with 8GB Dual Channel Memory and a 256GB SSD hard drive. The graphics card is NVIDIA GeForce MX150 with 2 GB of dedicated GDDR5 VRAM. The boot will be super fast and the 3D match engine for FM20 will run smoothly.
The Acer Aspire E 15 E5-576G-5762 is a really nice looking 15.6-inch laptop. The display is a widescreen LED-lit IPS Display. The maximum display resolution is 1920 x 1080 pixels.
For this price, you won't find a better laptop.
Check out Acer laptops on Amazon here.
Asus Vivobook S15 S512FL-PB52
Asus Vivobook S15 S512FL-PB52 is another laptop with the 8th generation Intel Core i5-8265u processor (6M Cache, up to 3.9 GHz). The graphics are Nvidia GeForce MX250 graphics. With 8GB DDR4 RAM and 256GB PCIe NVMe SSD hard drive you won't have any problems running FM20 or any comparable game.
The most beautiful thing about this laptop is the 15.6 inch Full HD 4 Way NanoEdge bezel display with a stunning 87% screen-to-body ratio. The classic silver-metal gives you a sleek and sophisticated look.
If you're doing heavy gaming, the battery on this laptop will last for about an hour. But since we are talking about Football Manager 2020 here and you know you are going to play hours and hours without even realizing it, it's better to just keep it plugged in.
Check out Asus laptops on Amazon here.
Lenovo Ideapad L340 81LK00HDUS
We are raising the stakes with this laptop. Lenovo Ideapad L340 81LK00HDUS comes with the 9th generation i5-9300H processor and a whopping 512 GB NVMe SSD hard drive. There is space to add another SSD if you want to but there is probably no need.
With the NVIDIA GeForce GTX 1650 and 8GB DDR4 RAM you will experience FM20 like never before. The 15.6-inch screen delivers a stunning full HD IPS display with 1920 x 1080 resolution.
If you decide to use this laptop for work, you can choose the option to "turn off" the NVIDIA GeForce GTX 1650 and the battery will last for about 5 hours. With the graphics card turned on and gaming at maximum settings, you can get about 2 hours out of the battery.
Check out Lenovo gaming laptops on Amazon here.
MSI GL63 8RCS-060
No list would ever be complete without an MSI laptop. The MSI GL63 8RCS-060 is equipped with the 8th generation Intel Core i5-8300H (up to 4.0 GHz) and 256 GB NVMe SSD.
You will enjoy playing games on the 15.6″ Full HD IPS-Level display with max resolution 1920×1080.
There are many available ports on this laptop, including 3x USB 3 ports, 1x USB C port, 1x HDMI port, 1x mini display port, 1x headphone jack, 1x microphone port, 1x SSD port, LAN, WLAN and Bluetooth 5.0.
The battery life is about 2 hours of continuously using the laptop.
Check out MSI gaming laptops on Amazon here.
Omen by HP 15-dc1020nr
The best and most expensive laptop on this list is the Omen by HP 15-dc1020nr.
It comes with the 9th generation Intel core i7-9750h processor, 6-Core, up to 4.5GHz for superior gaming performance.
The graphics card – NVIDIA GeForce GTX 1660 Ti (6 GB GDDR5 dedicated) is part of the award-winning NVIDIA Turing™ architecture. It's up to 1.4 times more power-efficient than previous versions. You will enjoy gaming like never before.
There is 8 GB DDR4-2666 SDRAM (upgradable with 2 accessible memory slots) and a 256 GB NVMe M.2 Solid State Drive in this monster of a laptop. Not only will you be able to play Football Manager 2020 with ease, but you will also play all the latest games on full detail without sacrificing performance.
The display is a 15.6-inch diagonal FHD IPS Anti-Glare micro-edge WLED-backlit with maximum resolution 1920 x 1080.
Check out HP laptops on Amazon here.
Do you use a laptop for Football Manager 2020?
If you are using a laptop to play FM20 and you are very happy with it, recommend it to our FM players, and to us! We hope this article helped you chose the best laptop for FM20!