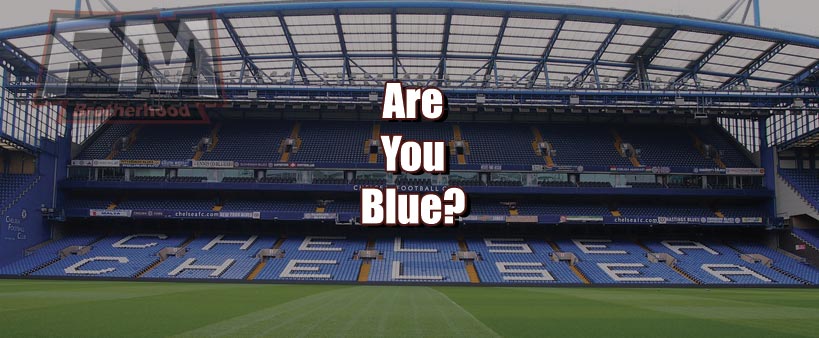 Are you eager to make great things with Chelsea in FM20?
By spaskecar | December 4, 2019 | 3781 Views
Chelsea FM20 Introduction
Chelsea is a fantastic club to manage in England in FM20, especially if you want to make things hard for yourself. Chelsea is a challenge in FM20!
That is because Chelsea is under a transfer ban in 2019/2020, and you can't buy any players for your team.
After finishing 3rd in the season 2018/2019 and selling Hazard to Real Madrid, most people expected Chelsea to fail this seasons. Everyone thought that Eden Hazard was carrying this team on his back, and since no-one could replace him, they would fall off hard. At the time of writing this article, Chelsea is sitting comfortably at the 3rd position with club legend Frank Lampard managing them.
Lampard is proving everyone wrong, and he's doing a great job. Now the question is, can you, as a Football Manager 2020 player, do the same or maybe do an even better job than Lampard?
If you want to know more about Chelsea in FM 20, keep on reading as we'll go through all the essential things like most important players, finances, tactics, and future superstars.
Taking Over Chelsea in FM 20
After becoming a new Chelsea manager, you sign a two-year contract worth $160k per week.
Chelsea is a team that was founded in 1905, but its most significant success came in recent years. They've won the Premier League 6 times, the Europa League 2 times, and they even have 1 Champions League trophy.
Chelsea facilities in FM20:
State of the art training facilities
State of the art youth facilities
Excellent youth recruitment
Your stadium Stamford Bridge has a capacity of 41,631, and your technical director is club legend, Petr Cech.
It's crucial to know your best eleven players since you won't be buying any new players.
Chelsea Club Vision in Football Manager 2020
The most important thing is to play attacking and possession football. They are of the highest importance. Everything else is favored and preferred, but it won't cost you your job if you fail to do it.
The first season is the most important one. In the Premier League, they want you to qualify for the Champions League. That means a top 4 finish or eventually winning the Europa League if you don't qualify for the group stages of the Champions League.
In the FA Cup, they want you to reach the final.
In the current Champions League season, they expect you to reach the Quarter Final.
The board also says that the Carabao Cup and European Super Cup aren't important, but if you win those, your players will have higher morale for the rest of the games.
Chelsea FM 20 Formation
Starting a new game with Chelsea in FM20, your assistant manager will tell you that three styles of football suit Chelsea. Those are Tiki-Taka, Vertical Tiki-Taka, and Fluid Counter-Attack.
We'll choose Tiki-Taka because it suits the 4-2-3-1 formation that is best for our players.
Since the Tiki-Taka style is played with a positive mentality, you should create two more formations that your players should train.
The second should be the Fluid Counter-Attack because it is played with a cautious mentality with a 4-1-4-1 DM Wide formation.
The third formation should be one that is played with a balanced mentality. That is the Control Possession style. This is where you can use the 4-1-4-1 DM wide formation as well.
Now you have your players getting comfortable playing on three different mentalities that you can use depending on who you are playing against or if you need to defend or score a goal.
All of these formations are premade formations on FM20, and you get all the instructions with a click of a button.
If you want some fantastic FM 20 tactics you can get them here!
Chelsea Players/Contracts in FM20
Now we come to the most important part of this guide, the contracts of current players. Since you are under a transfer ban until the winter transfer window, you'll have to make sure the current lineup of players is happy and healthy. Also, it's very important to keep an eye on expiring contracts.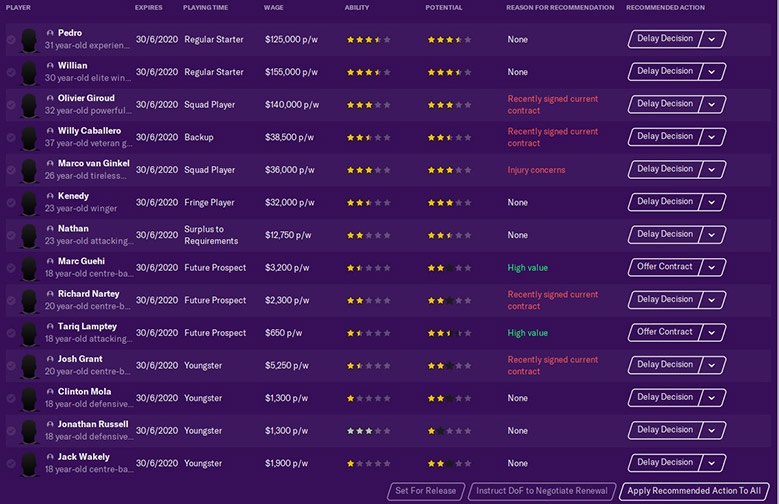 Expiring Contracts Chelsea FM20
There are 14 senior contracts expiring at the end of the current season.
These are our suggestions:
– Pedro is already 31 years old, but he is still one of the best players you have on the team. And with no Hazard, he will probably play every game this season. You should look to extend his contract, so other teams don't try to get him for free in January.
At the start of the game he doesn't want to extend, his maximum is the year 2020, the same as his current contract. So you could end up just giving him more money, so don't offer him until he decides he wants to extend.
–  Willian is the same as Pedro, he wants an improved contract but doesn't want to extend past 2020, so don't offer him anything at the start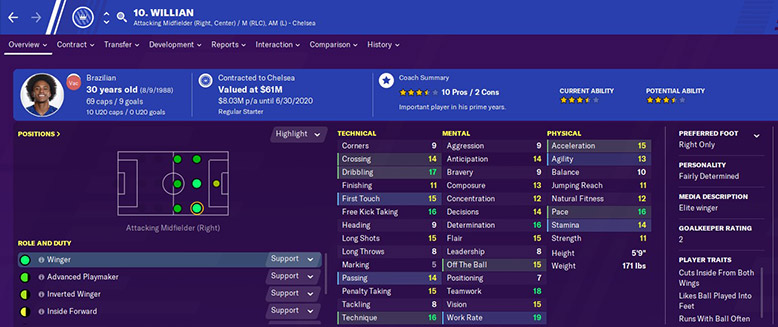 – Olivier Giroud, Caballero, Nartey and Grant recently signed current contracts and won't talk to you
– Van Ginkel is a good CM, and you should sign a new contract with him even though he has some injury problems. He'll ask for a four-year contract, and when you try to lower it to 2 years, he will make it non-negotiable. His salary and bonuses can be negotiated so you should look to save some money there.
– Kenedy is a player who has spent almost the whole career on loans. After being signed for Chelsea in 2015/16, he only made 15 appearances, and the rest were unsuccessful spells on loan at Watford and two seasons in Newcastle. He is now sent on loan to Getafe until the end of his contract. He is a player you shouldn't give a new contract, and you should try to sell him or let his contract expire. The good thing is that Getafe is paying all of his wages and is paying you $300,000 per month for his services
– Nathan – not enough potential ability and should be sold or set for release. He is another player who is on loan, and the club ATM has an optional future fee of $7.2M. Let's hope they buy him. The loan is until the 31st December of 2019.
– Marc Guehi – not enough potential ability even though the assistant manager says otherwise. You should sell him as the best he can ever be is like Phil Jagielka, and that isn't a DC of a team who is looking to win the Premier League or the Champions League in the future
– Tarik Lamptey, Clinton Mola, Jonathan Russel, Jack Wakely – sell or set for release
When it comes to players who aren't seniors, the five youth contracts that are expiring at the end of the year should all be set for release. But don't make the decision yet. Let them play out their contracts.
Contract Extensions for These Players
Jamie Cumming
Jamie Cumming is your 3rd choice goalkeeper. He's only 19 years old, and he doesn't have the potential to ever become a 1st choice goalkeeper, but you should give him a contract extension to boost his morale. If you remember Kiko Casilla from Real Madrid, well, Jamie has a potential ability to become like him. Kiko Casilla signed for Leeds 2 years ago as a free agent.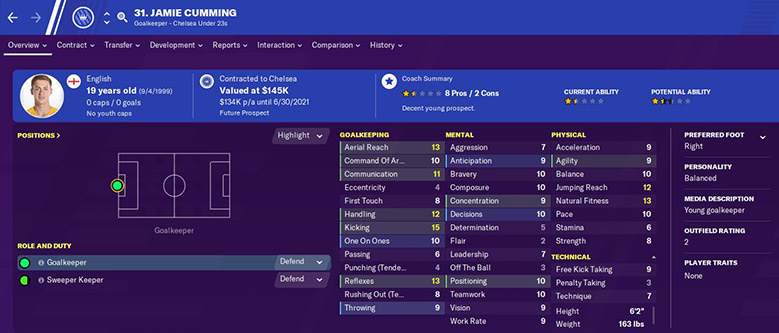 Levi Colwil
Levi Colwil is a 16-year-old wonderkid, and the first time we mentioned him was in our Aston Villa guide, where we talked about what players you should buy as Aston Villa. With proper guidance, he will become a very good player, and he is a player who you absolutely must give a new contract before someone steals him from you. His potential ability is 140!
Faustino Anjorin
Faustino Anjorin is a 17-year-old AMC wonderkid. At 17 years, this boy has 19 determination, and he's also very ambitious. Most AMC's don't have a lot of pace, but he does, and it will develop a lot more. He also has excellent finishing for the position he's playing in. And he has good long shots. You can expect a lot of goals from this man when he reaches his full potential. He is a must keep player.
Fikayo Tomori
Fikayo Tomori is your 21-year-old DC, and he is only a 4th option in your team. The reason we are signing his extension is his world-class potential. He has the potential to become as good as Raphael Varane, and that is reason enough to give him a new contract as soon as you can. You should also expose him to first-team football whenever you can.
Joe Haigh
Joe Haigh is a 16-year-old AML who is a very determined and ambitious player. He has really good potential to become as good as Renato Sanches. He's not tall, so anything that has to do with jumping or heading, he isn't good at it. But he has excellent pace and longshots, and that's good for an AML who can also play AMC and AMR.
Reece James
Reece James is a 19-year-old right-back who has the potential to become a world-class player. In real life, he has been a gem for Lampard, and he can be a gem for you if you give him a chance.
Return Davide Zappacosta from Loan
Davide Zappacosta is already on loan at Roma when you become a Chelsea manager. Because you need every man, you can get, bringing Zappacosta back is a smart thing to do.
Quick FM20 Chelsea Tips
A good thing to do when playing Chelsea in FM20 is to give out HIGH Collective Bonuses to players and staff. This will make them more motivated, and Chelsea can afford it.
Keep Azpilicueta as captain and Jorginho as vice-captain.
Keep an eye on loaned players, some of them can be recalled if you need them.
Chelsea has many wonderkids, don't let other teams steal them from you, keep extending their contracts.
Our Chelsea Football Manager 2020 Conclusion
Our final verdict is that Chelsea has an amazing crop of young players who are capable of doing great things. The transfer ban is just a small hurdle on your way to the top, and it won't be a big deal because you have plenty of players on all positions.
We intentionally didn't wanna talk a lot about the current senior players of Chelsea because our team member NIK made a great video called FM20 Chelsea Team & Tactics Guide – Football Manager 2020. In that video, he talks in-depth about all the best Chelsea players and his thoughts on the best formation to be used. His thoughts are different from ours, so maybe you will like his version more.
You will also see his recommendation about the new Chelsea FM20 signings.
You can see the video here:
Just like always, if you liked our guide and tips, show us some love by supporting us and sharing this guide with your friends who play the game. Leaving a like and comment on our YouTube videos helps as well.