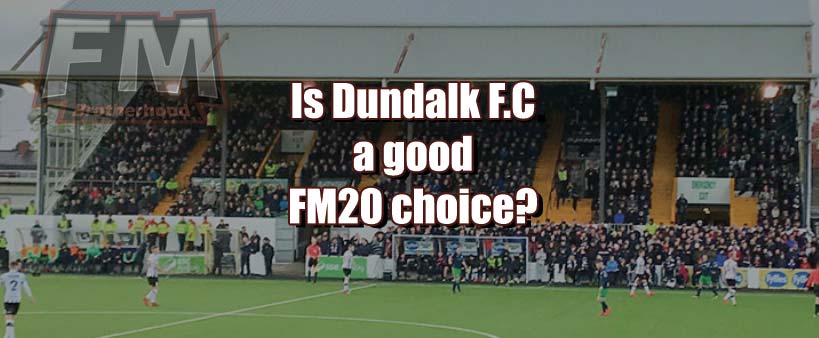 Dundalk FC in FM20 – A great challenge for smart Football Managers
By spaskecar | February 8, 2020 | 1391 Views
Dundalk FC is one of the most interesting clubs to manage in Football Manager 2020, and playing in the Irish Premier Division can be real fun. This club, that was the first outside of Dublin to win the league maybe isn`t the wealthiest club in the world, but it has "a thing".
Here we will try to bring you closer to Dundalk FC in FM20, and you will see why you should give them a chance in Football Manager.
Introduction – Dundalk FC in FM20
Dundalk FC is a professional football club with a small stadium capacity of 4500 named Oriel Park. If you are good enough you can make this club grow and improve these facilities and build a bigger stadium.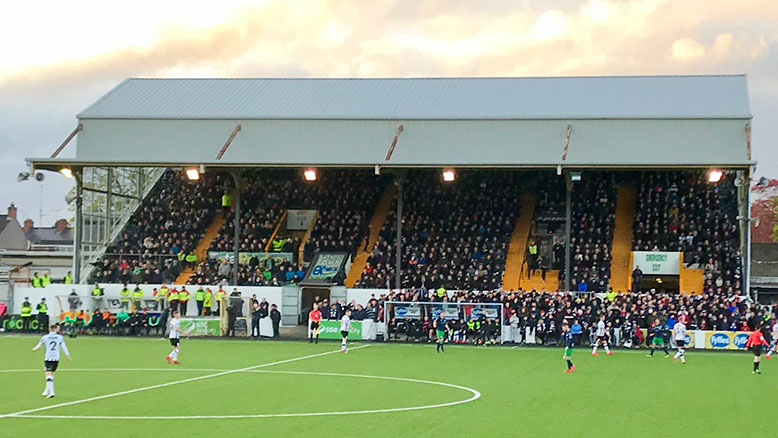 Club has fantastic youth recruitment and very good junior coaching. Training and Youth Facilities are only 5/20 and that is really low.
Dundalk Club Finances in Football Manager 2020
The transfer budget is about 70k euros and that is not bad for a club who is playing in the Irish Premier Division. The wage budget is 23k/e so with this money you should try to sign some free agents that want to play in the Irish Premier Division.
One great thing about this club is that it doesn't have any debt and loans.
Dundalk Club Vision in Football Manager 2020
The most important things for our board are to win the Premier Division, to work within the wage budget and to reach the second qualifying round of Champions League.

All these things are required and they must be your priority. In the next couple of years, you should continue by winning the Premier Division.
Dundalk FC – Team Dynamics in FM20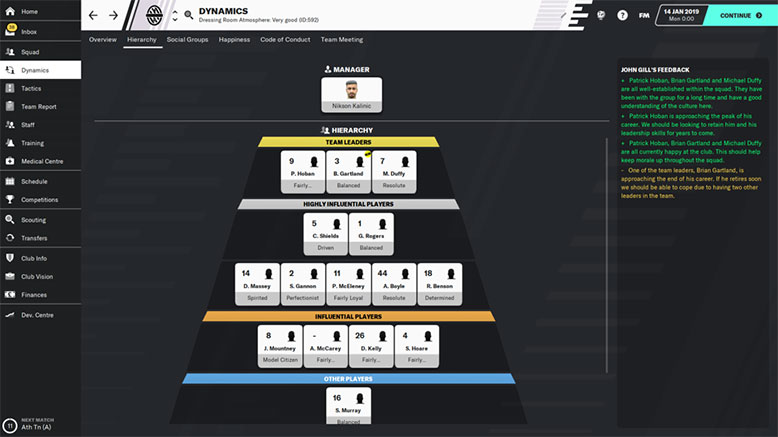 FM20 Dundalk FC has three team leaders, Patrick Hoban who is 27 years old striker and probably one of the best players in this team. The second team leader is Brian Gartland, and the third is inverted winger Michael Duffy.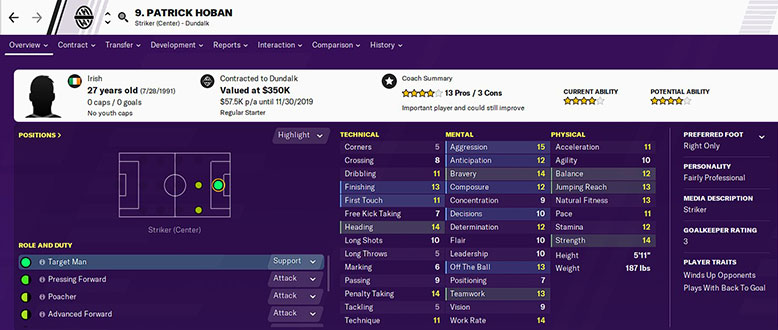 Dundalk has many players with high influence and for that should be enough for keeping morale up throughout the squad. We will mention the most important of them.
FM20 Dundalk FC Best Players
Michael Duffy
The best player in FC Dundalk is one of the team leaders, Michael Duffy who is 24 years old inverted winger with a current ability of 115.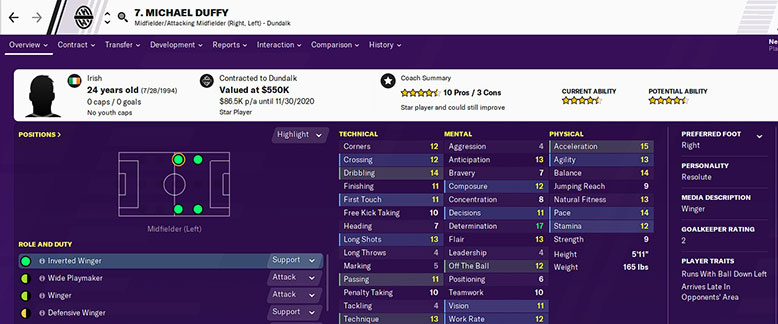 Duffy`s best role is Target Man. He is a very good jumper, his heading is also more than good for this league and he surely knows how to score a goal.
This solid technician has very good movement, and it is one of the pillars in Dundalk FC.
Patrick McEleney
The next is Patrick McEleney who is 26 years old AMC with a current ability 104.

This player can be very useful as a playmaker, and as he is 26 years old he can play even better in the next few years.
Cameron Dummigan
A player with the highest potential is Cameron Dummigan, 22 years old wing-back and his potential ability is 128.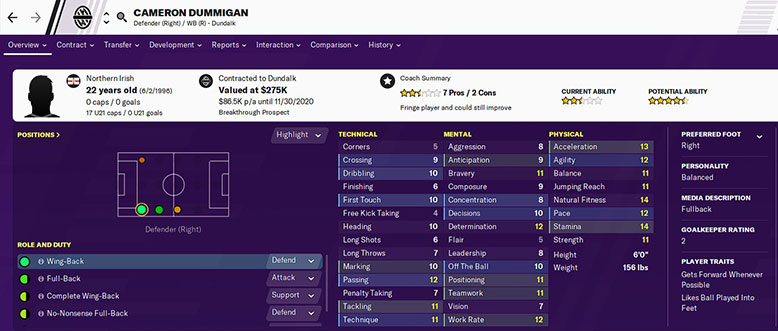 Cameron can also play as DR with Attacking duty. His physical skills are very good when you start the game, but also he is going to improve a lot in the next few years if you guide him correctly.
He is attacking DR but his tackling positioning and marking skills aren`t bad at all.
Dummigan is a good passer and a team-player, which is very important for clubs like Dundalk.
Anyway, we can say that Dundalk has a nice team for the Irish Premier Division, but really low quality for European competitions. Some cheap Football Manager 2020 wonderkids would really improve the current situation.
Dundalk Best Formation & Tactic
We think that the best formation for Dundalk would be 4-2-3-1 with Duffy as Inside forward on the left side and Kelly as a winger on the right side, Patrick Hoban should be your main outlet in the position of striker.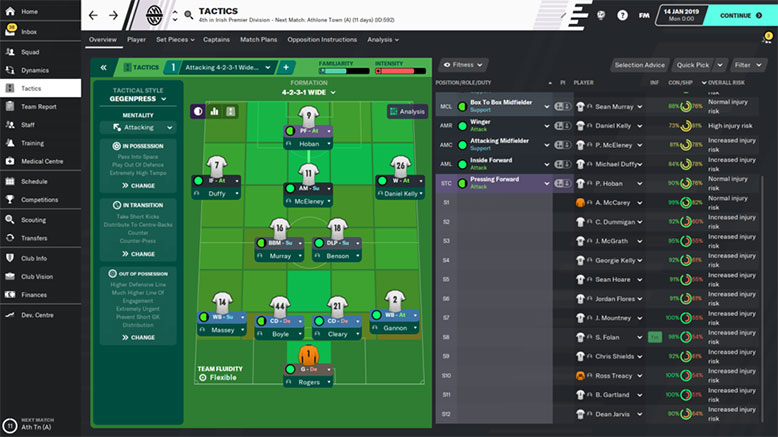 In the Irish Premier Division, FC Dundalk can play some high pressing and attacking football, while in Europe we don't recommend the same thing.
Andy Boyle and Daniel Cleary are not that fast and this could make big problems if you decide to play with a high defensive line in European Competitions.
---
Related: FM20 Irish Wonderkids Toplist!
---
Conclusion – Dundalk FC FM 20
We hope we covered all the important things you need to know before you take a football manager`s seat in this club. There are many interesting players, there are many competitive tasks you need to accomplish when you take charge of FC Dundalk in FM20. For those who like challenges, this is surely a great club.
If you choose Dundalk FC you will have to be a smart, patient and a great strategist. If you do the right things you can make wonders, even with an Irish club like Dundalk.
Cheers!