FM 20 Barcelona Team and Tactics Guide – Football Manager 2020
By spaskecar | December 15, 2019 | 4667 Views
Introduction to Barcelona in FM 20
If you decide to start a career with Barcelona in FM 20 you will get a two-year contract worth $160k per week.
What can be said about Barcelona that everyone already doesn't know? In FM20 Barcelona is one of the strongest teams in the game. Let's take a quick look into their history.
Barcelona is playing its games at Camp Nou which has a capacity of 99,354.
When it comes to facilities in the game, Barcelona has:
Superb training facilities
State of the art youth facilities
Exceptional youth recruitment
Barcelona has enjoyed its greatest era in the current decade. It is mostly because of Lionel Messi and the famous Tiki-Taka.
Barcelona has won 91 trophies in total, most importantly 24 La Liga titles and 5 Champions League titles.
FM20 Barcelona Best Eleven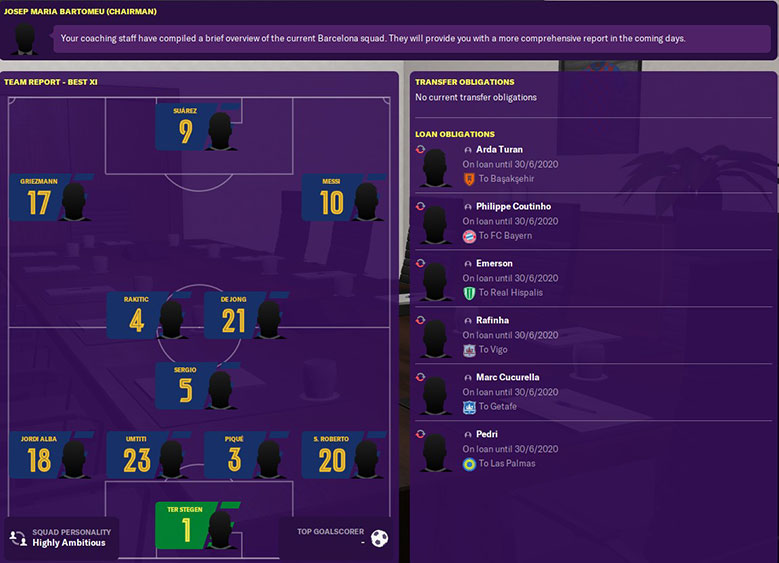 In Football Manager 2020 and in real life Barcelona is using the 4-1-4-1 DM wide formation. The tactic employs a DM and full back that often go into attack.
FM 20 Barcelona Club Vision and Five-Year Plan
When it comes to club vision, the board expects you to continue playing the way Barcelona is already playing. It is a high possession, attacking football. They expect you to sign high-reputation players and to develop players from the academy.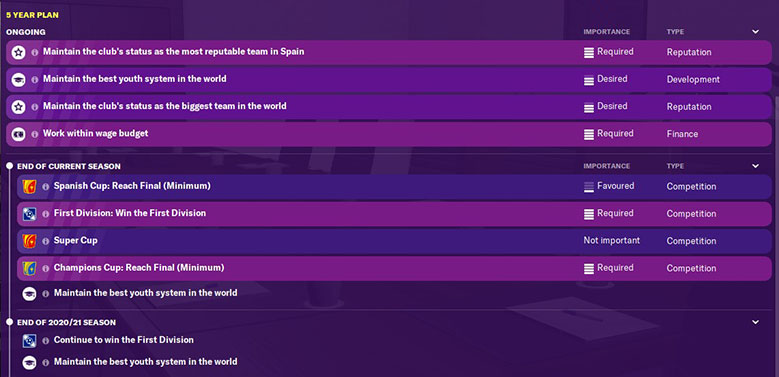 The ongoing requirements are quite high, you must stay the most reputable team in Spain, have the best youth system in the world, stay the biggest club in the world and work within the wage budget. All of these are required and desired, which means you will get judged on them a lot.
The media predicts Barcelona as the favorites to win the La Liga. That isn`t so unexpected.
In the first year of your contract the board expects you to:
Reach the Final in the Spanish Cup
Win the La Liga
The Super Cup isn't important
Reach the Final in the Champions Cup
These are all high requirements, but they are possible to be achieved with a team like Barcelona.
FM20 Barcelona Tactics
You probably shouldn't make any drastic changes to the usual Barcelona Tiki-Taka style. The short passing, extreme pressing and waiting for space to open when opponents lose focus is the way Barcelona plays in real life.
We recommend using the preset 4-1-4-1 DM Wide Tiki-Taka formation.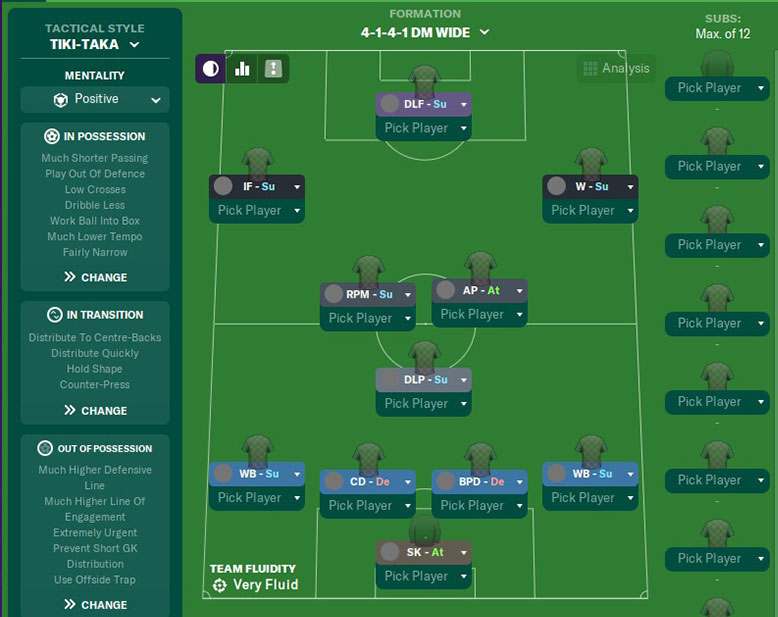 If you want to use more of the attacking talent that Barcelona possesses you can also use the 4-2-2-2 wide formation. Our team member with a big head – NIK made a great formation, but we'll talk about that later.
FM 20 Barcelona Player Contracts and Loans
Talking about players like Lionel Messi and Luis Suarez isn't interesting to anyone. We know what their capabilities are, and everyone knows what players they have at their disposal.
What we will talk about in this guide are the contracts you should offer to existing players, your youth talent and what you can do with your limited $11M transfer budget.
Expiring Contracts in Barcelona
Arda Turan – He's 32-year-old and at loan at Başakşehir. He isn't good enough to play for Barcelona anymore and you should let his contract run out.
Carles Pérez – He's a 21-year-old AMR is a player you should keep at Barcelona. He's a talented player with high potential ability and should be given a chance.
The rest of the players that have contracts expiring in 2020 aren't good enough to play for Barcelona. You should just delay a decision or try to sell them for a little bit of money.
There are also quite a lot of expiring staff contracts in Barcelona FM20. You should do them manually to avoid any yearly clauses.
Some players are on loan. But you don't really need any of these players and the Coutinho loan can not be terminated so you should just let them stay at those clubs.
Players to Sell
You need cash as you only have an $11M budget, sell young players who will never play for Barcelona.
Jaume Jardí – He's a 17-year-old AMR who doesn't have the potential to ever play for Barcelona. We managed to sell him for $300k with a 40% percentage of profit from the next sale clause.
Ferrán Sarsanedas – He's a 22-year-old DM who isn't good enough to be registered in the team that plays the league. He becomes unhappy because of that and you should sell him in Football Manager 2020.
Carles Pérez – We mentioned him earlier as one of the expiring contracts in Barcelona FM20 Squad. You can get $1-2M for him and a nice future fee clause. He isn't good enough for Barcelona.
FM20 Barcelona Talents
Àlex Collado is a 20-year-old wonderkid. He's an AMR who can become a world-class player. Because he is already 20 years old, you should give him some first-team games in cups and less important games where you rest your players. We extended his contract to 2022 and put a $71M release clause on him. He had a release clause even before this, but it wasn't as high as it is now.
Moussa Wagué is a 20-year-old right-back with world-class potential. He is ready for first-team football but not in Barcelona. You should loan him out so that he can develop. Many teams will want to get him on loan but the best thing is to make sure he plays every game. So chose the team that offers the highest proposed playing time.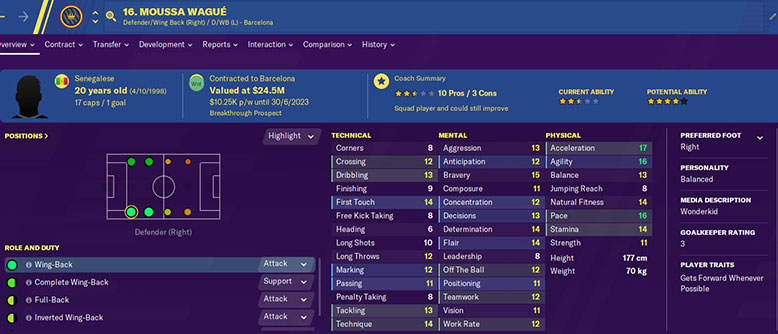 Carles Aleñá is a 21-year-old CM and is another player that can become a world-class player if he gets the playing time. When Rakitić leaves the team, you should give this man a chance. In the meantime look to loan him out. 
Ilaix Moriba is only 16 years old and has one of the highest potential abilities in the whole game. He's a player you need to keep happy and loan him out when he is 17 or 18 if he isn't good enough for the first team.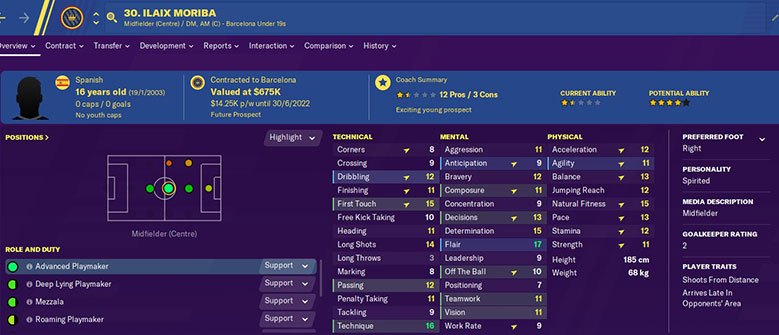 Ansu Fati in FM20
Ansu Fati is the kid you read about every day in real life. He keeps breaking records at the age of 16 and in real life now 17. Even though he has a lower potential ability than Ilaix, he's still your second-best talent. He plays the AML position where you don't have too much competition in the academy.
The way this kid is playing in real life, we can see him winning the Ballon d'Or in the future.
Check out Ansu Fati`s attributes in Football Manager 2020:
FM20 Barcelona Transfers
Because of expensive transfers in the summer of 2019 like Frenkie De Jong and Antoine Griezmann, and Neto, you are only left with an $11M transfer budget.
With $11M you can't really buy good players, but you can find talented players for your academy who can become leading La Liga players or maybe even world-class players.
Carlos Álvarez is a talented 15-year-old AMR who has a release clause of only $575K. He doesn't have world-class potential, but he can become a leading La Liga AMR in the future. He's going to be a great rotation option in the future. My director of football put a $51M release clause on his first contract.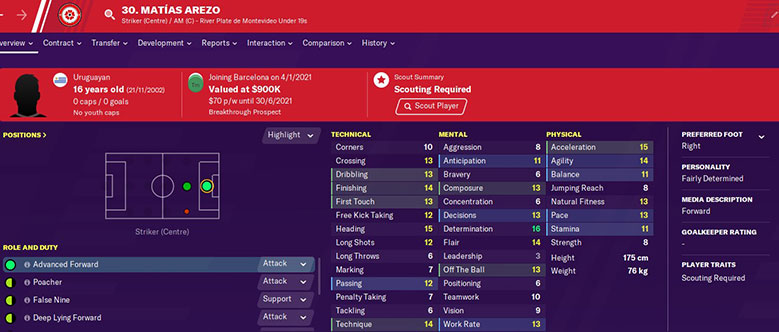 Matías Arezo is another player you can buy at the start of the game. He's a player for the future. Because of the low transfer budget available, we had to find a player who is talented and cheap. We found Arezo in River Plate Under 19s and he can be bought only for compensation.
He accepted our 2-year contract (he joins in 2021) and we only paid 1.4M to River Plate. There are some additional clauses depending on his performances.
Our suggestion is to save the rest of your money so you can adjust the budget towards wages and give better contracts to players who need them. At the end of the first season, you will get a much larger transfer budget.
Conclusion on FM 20 Barcelona
Barcelona is a team with a future in a reality, but also in Football Manager 2020. So many talented players in the B and youth team can't be ignored. They should be given the chance to prove their worth.
Now you might be asking yourself where is the formation with an explanation we promised you at the start of the guide? Well, it's here on this YouTube video:
Our team member NIK made a great YouTube video on Barcelona where he covered all the things that weren't covered in this team guide. That means the first team, another formation and possible future transfers for the second season when you get a larger transfer budget.
He knows things only about the tactics, but you can show him some love and leave a like and comment on that video. 🙂