FM20 Free Agents – The Best of Them!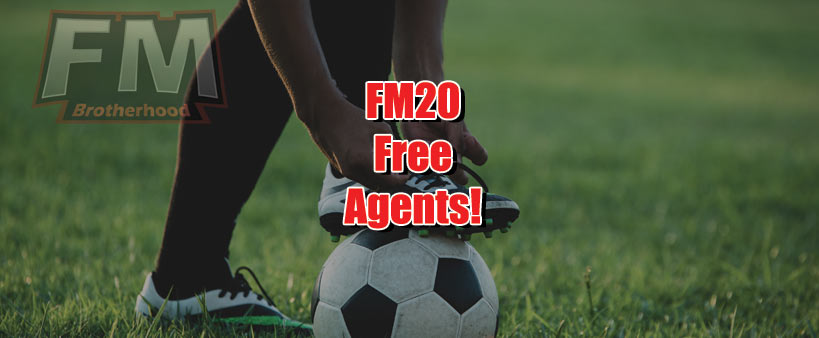 Are you looking for the best FM20 Free Agents? You've come to the right place FMBro; we have the best free players on Football Manager in today's blog.
FM20 beta version is out and those of you who preordered had a chance to play it. Some of you are waiting for 19th November to buy the game when it comes out of beta, so you don't experience any bugs. That's ok too. But for us, at FMBrotherhood, we didn't care. We went straight in and played the game from day 1 of the beta.
Just like every year, we tried to find out who the best free agents were so we could buy them from day 1 before they sign for some other team.
There are plenty of great free agents in Football Manager 2020 to choose from. It doesn't matter if you are a low league manager, or if you are managing the top 5 teams in the game. There are good free agents for everyone. If you are managing a top 5 team in the whole game who is a Champions League contender, you might want to see these free agents as good rotation choices for less important games.
These are the best FM20 Free Agents based on current ability:
Fábio Coentrão C.A. 135
Emiliano Viviano C.A. 135
Keisuke Honda C.A. 134
Ivan Strinić A. 134
Juan Forlín A. 134
Nicolai Müller A. 132
Lucas Silva A. 132
Michael Krohn-Dehli A. 130
Valon Behrami C.A. 129
Jefferson A. 125
Wilfried Bony A. 123
Alan Hutton A. 120
Ignazio Abate A. 120
Guillermo Burdisso C.A. 119
Giuseppe Rossi C.A. 114
(Please note that you might not be able to find some (not all) of these players if you don't have their nation added in playable leagues, for example, Jefferson is Brazilian, so you will need the Brazilian league set as playable to find him)
Let's talk about these FM20 Free Agents in detail
Fábio Coentrão
Fábio Coentrão is a well-known name among football fans across the world. Having played for Rio Ave, Benfica, Real Madrid, Monaco, and Sporting he created a good career for himself which still hasn't ended because he is only 31 years old.
His best position is the Complete-Wing Back Support role. He's a very versatile player and he can play the Inverted Winger – Attack role as well.
Fabio is the best FM20 Free agent based on current ability (135) and his stats show it.
He's very skillful with great dribbling, technique, first touch and crossing. Also, he is a thorn in the eyes for defenders because of his great off the ball skill. He also enjoys big matches and that's when we need a player the most.
The only downside to him is his injury proneness, he's very susceptible to injuries and is often sidelined because of that.
With a bit of luck in the injury department, this is a perfect buy for most Europa League teams.
Emiliano Viviano – Italian Free Agent
The second highest-rated player on our list of free agents is Emiliano Viviano. He's a 33-year-old goalkeeper who spent his whole career in Italy with only one random loan to Arsenal (England) in the 2013/14 season where he didn't make a single appearance.
This players main strength is his shot-stopping and he's a player for the important matches. Because of his age, his physical stats are going down quickly and he will probably retire soon.
If you're in need of a decent 2nd or 3rd goalkeeper he is your man.
Current ability = 135.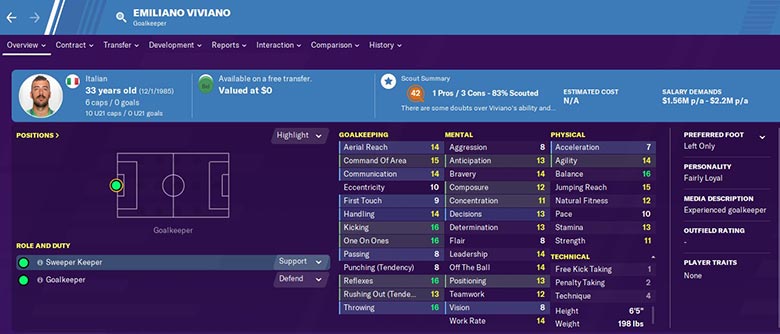 Keisuke Honda in Football Manager 2020
Most people remember Keisuke Honda as the player who played for Japan, CSKA Moscow, and Milan. Being a 33-year-old free agent, one could say that he still has great physical attributes.
He's also a very skilled player who is great at set-pieces. His composure aids his skillful approach to the game. Keisuke`s also a very determined team player which is sometimes the difference between a win or lose.
His mental traits are really high as well. Japanese people are known for their professionality and Keisuke Honda isn't different. Honda is also very adaptable to living in another country.
I'm sure many "FM managers" will find good use in Honda when they get him for free.
Ivan Strinic
Ivan Strinic is a 31-year-old left-back who can play left wing-back and left midfielder positions as well.
He's a determined professional who has all of his stats at about the average level.
There is nothing particularly good about him, the best is his marking and crossing. And he has good stamina, but because his natural fitness isn't that great, he won't be able to last 90 minutes.
For a left-back, he's quite tall as well and he might be able to help defend corners. He's a solid rotation left-back when your main one gets tired.
Juan Forlín
Juan Forlín is a 31-year-old DC who can play the DM position equally good. He's a player who at his peak played for Espanol in Spain.
Forlín is still a really good player because of his ambition, determination, and bravery. When it comes to technical attributes, a really good heading, tackling and marking show why his current ability is 134.
He is also a very consistent performer. The only downside is his natural fitness as he gets tired fast.
This is a must sign a free FM20 agent if you need someone to cover for your main defenders.
Nicolai Müller – Free MR For You!
Nicolai Müller is a 31-year-old right midfielder who can also play the ring winger role equally well. He's very versatile so he can play on the left midfield and left-wing decently.
He's a player who spent his whole life in Germany with Mainz 05 and HSV being his two best clubs that he played for. If you sign Nicolai you will find out that he is a very determined and temperamental player.
Nicolai is very fast, his pace is great and his acceleration underpins his overall speed. He's not that great in the air, but usually right midfielders/wingers never are. He has a huge work rate and off the ball which means he will constantly make himself available for passes.
He's a very good player for someone who is without a contract. We can clearly see why he has 132 potential ability, one of the highest on this list.
Lucas Silva Borges – Brazilian 🙂
Lucas Silva Borges is my favorite player on this list and that is because of his age. At only 26 years old Real Madrid canceled his contract. He only played 8 games for Real Madrid and played the last 5 seasons as a loaned player. He's a DM who can play the CM position equally as well.
Silva is a good team player with a good work rate and he's always a threat to the opposition because of his really good longshots. What he lacks in physical strength he makes up for in marking and positioning.
There are no real weaknesses for someone who can be used as a rotation player apart from the fact that he won't develop anymore. We can say that he is at his maximum. But at only 26 years old, getting him for free and making getting him back into form, you'll be able to make a nice profit off of him.
Be aware that he's a Brazilian and sometimes there are problems with their work permits when they're coming to Europe.
Michael Krohn-Dehli  C.A. 130
Michael Krohn-Dehli is the oldest player FM20 free agent on this list. With 36 years old, this famous Dane doesn't want to retire and believes he still has some games left to play. And, we believe he has every right to think so. He's a very versatile player who with time adapted to his age and changed positions. When he was younger he played on the wing and behind the striker and how he's moved back to the central midfield position. Of course, he hasn't forgotten how to play those positions and you can use him on each of those for your advantage.
He's a very intelligent player and his passing underpins his technical prowess. With good vision, corners, technique, teamwork and work rate he is a dream central midfielder. Sadly he's very old and his physical stats have dropped significantly and will continue to see a sharp decline.
If you need a rotation CM he's your guy but doesn't give him more than a 1-year contract because he might lose a lot of his stats this year.
Jefferson – The Best DL FM20 Free Agent
Jefferson is one of the best FM20 free agents and he is a 31-year-old left-back. His best role and duty are Complete Wing-Back Support. As soon as you sign him, his perceived value is $10M and that might be a good trade because you can sell him for a nice profit.
When it comes to his stats, with 31 years, his physical stats are now rapidly going down and most of them are around 13. His strongest area of the game is set pieces. For a free agent, he has solid penalty taking, free-kick taking, corners, crossing, and long throws. His technique and passing are his best attributes. Because of all of these, he is considered a creative player.
One of the best things we liked about him is that he is versatile in a couple of positions. Apart from DL, he can play the WBL and ML positions.
When it comes to weaknesses, Jefferson is fairly poor in the air with heading and jumping reach quite low. But that is expected from a left-back, who isn't very tall either.
At the current level, he is a good player for most Sky Bet Championship sides, but we believe that he can play in Cup games for a Premier Division team when the main left-back needs some rest.
Ignazio Abate – Top DR Football Manager 2020 Free Agent
Ignazio Abate is the next free agent on our FM2020 list. He is 32 years old and he is a right-back. His best role and duty are Full-Back – Support. When you sign him, his value is a little bit less than $4M and again maybe you can earn a few bucks by selling him the first chance you get.
Even though he is a year older than Jefferson, his physical stats are a bit better. But unlike Jefferson, Abate has very bad technical stats. When it comes to mental stats, he is a very good player. He is a resolute character and he does what needs to be done. His bravery and work rate make him a good team player. His highest attribute is his teamwork and that's why we love him FMBrotherhood. This man will die for the team. He has a solid leadership attribute and can be given captaincy if your captain is resting or not playing.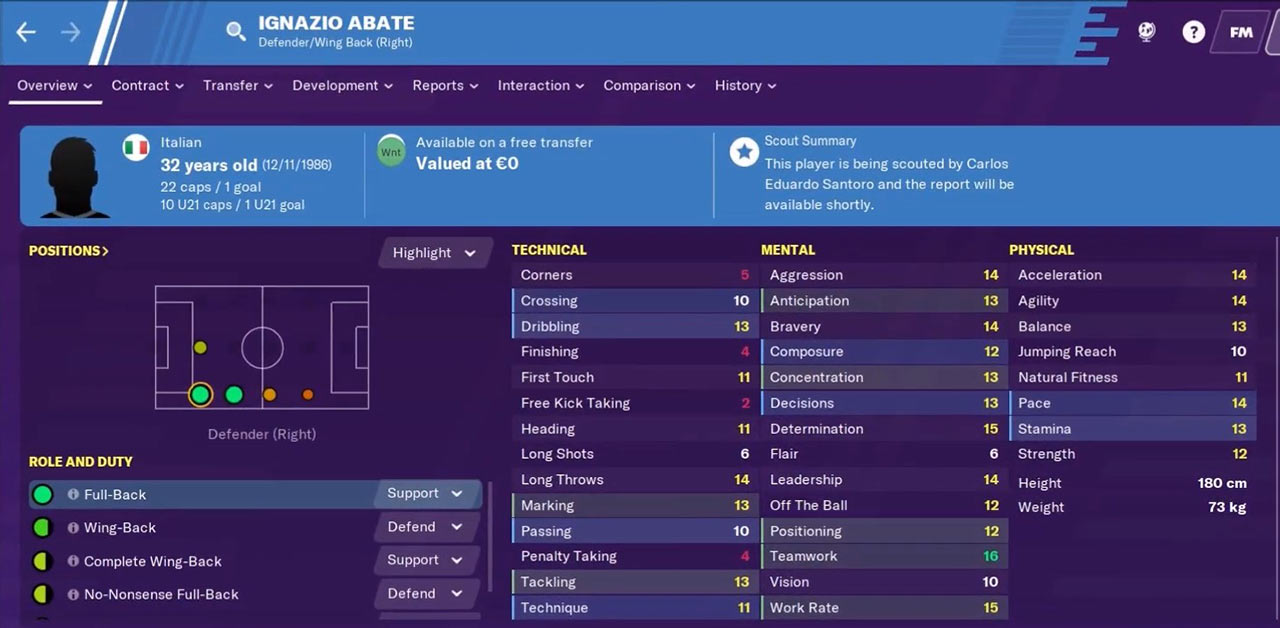 In total, objectively looking at all of his skills, he is just a decent player for Sky Bet Championship sides. Just like Jefferson, if you are managing a really strong team, we advise to use him in Cup games and low priority games where you can rest your main right back.
Guillermo Burdisso – The Best DC You Can Sign For Free
Guillermo Burdisso is one of the "younger" in this list with "only" 30 years of age. His best role and duty are Central Defender – Defend. As soon as you sign him his value is $11M and a really good profit can be made if you sell him as soon as you can.
At 30 years, his physical stats are really good for a free agent. The only thing that he is lacking is acceleration and agility, but he never had those anyway. With high strength, balance, jumping reach and 187cm of height, this man will win most of the duels. When it comes to technical and mental attributes, he has what a good CD needs – amazing heading, marking, tackling, aggression, composure, positioning, and bravery.
He is a very professional player and you won't have any problems with his behavior.
When it comes to the weak points, he isn't a very technical player and he shouldn't be a ball-playing defender. He can also only play in one position, but since he is really good at it, you don't need him anywhere else.
Burdisso is with his current ability a decent player for most Sky Bet Championship sides. Depending on who you are managing, maybe he will be your star player or maybe he will just play Cup and unimportant games. It's up to you to decide if you want to give a chance to Guillermo Burdisso
Wilfried Bony – the best Striker – FM20 Free Agent
Wilfried Bony is the first FM20 striker you can get for free and we talk about on this list on free agents. We all remember what a beast Bony was in his prime when he played for Swansea and then Manchester City bought him for $38M only to be a bench player. This man deserves a club and maybe you are the one to give it to him. He is still "only" 30 years old and there is still firepower in his legs.
When you sign him, he is worth $5.25M and just like with all the FM20 free agents on this list, it's a chance to earn some money. If you want to keep him, then you should know that his best role and duty are Deep Lying Forward – Support. This means he is a player who likes playing with his back to goal. And that is also one of his traits. Combined with a good fast striker, that can be a lethal partnership. He was never a fast player and his pace and acceleration show it, but he is really strong. And that's his game, using his strength to his advantage. He is a natural-born scorer. He has high finishing, composure, and anticipation. For a striker, he is a pretty smart player who isn't selfish. He has a high vision, teamwork, decisions, and leadership.
He is a good player for most Sky Bet Championship sides and it's all up to you if you can make this phoenix rise from ashes once again and bring him back to the glory days that he had in Swansea.
Conclusion
You may ask now: "Wait, why are you going to conclusion, you still haven't talked about many players on the list above?"
That's true, there are so many good FM20 free agents that we haven't talked about. But we want to make it easier for you. Why force you to read, when you can listen and watch us.
IF you still play FM19 – Free Agents are here!
Our team member NIK made an amazing video about FM20 free agents where he talks about the players we mentioned and a few more that we didn't even shortlist.
You can find his video here:
And, just like always, leave him a like and subscribe and show this article to a friend who might be interested in Football Manager 2020. You can also check out our Facebook FMB group!