FM20 Leicester Team Guide – From Best Tactics To Great Signings
By spaskecar | May 26, 2020 | 5987 Views
Leicester is one of the most exciting clubs to manage in FM20. The ideal combination of young talents and already proven players make Leicester a possible dark horse of the Premier League.
All you need to do is find the best tactic, buy 1 or 2 good signings and you can repeat Leicester fairytale. And to help you out with it, we prepared this amazing Football Manager 2020 Leicester team guide that covers everything – from best tactics to possible signings.
Leicester in FM20 – club vision and board expectations
The first season as a Leicester manager will be pretty easy for you regarding board expectations. Once a champion, these days have much smaller demands. From a club vision, there are only 2 main targets you need to achieve:
Play attacking and entertaining football
Develop and promote youth players for first-team football
No worries, in the next chapters we will cover both topics, great Leicester FM20 tactic that will fulfill the club's vision and we will present the best young players you can promote to first-team.
On the result expectations, it is something you must achieve with the team you have. Board wants you to finish in the top half for the first season. In the next seasons, you will have to qualify for Europa League (be in top 7 for it) and promote Leicester as the first club after the big 6.
If you ask us, Leicester in FM20 deserves much more and surely can compete for a spot in the Champions League.
FM20 Leicester – best tactic and formation
As we said, board and fans want you to play attacking football. But, it is likely that in many matches you will need to focus on counter-attacks. With the players you have, counter-attack will be deadly for any other team, believe us.
NikFM, our dear colleague, made a fantastic Leicester FM20 tactic that suits this team perfectly. It's a 4-2-3-1 formation and for a detailed tactical style check out his video!
We will just say that the first eleven for sure can compete for a Premier League title. And based on a NikFM's tactic, we suggest this eleven to start your Leicester campaign:
Schmeichel – Chilwell, Soyuncu, Evans, Pereira – Ndidi, Tielemans – Gray, Maddison, Barnes – Vardy.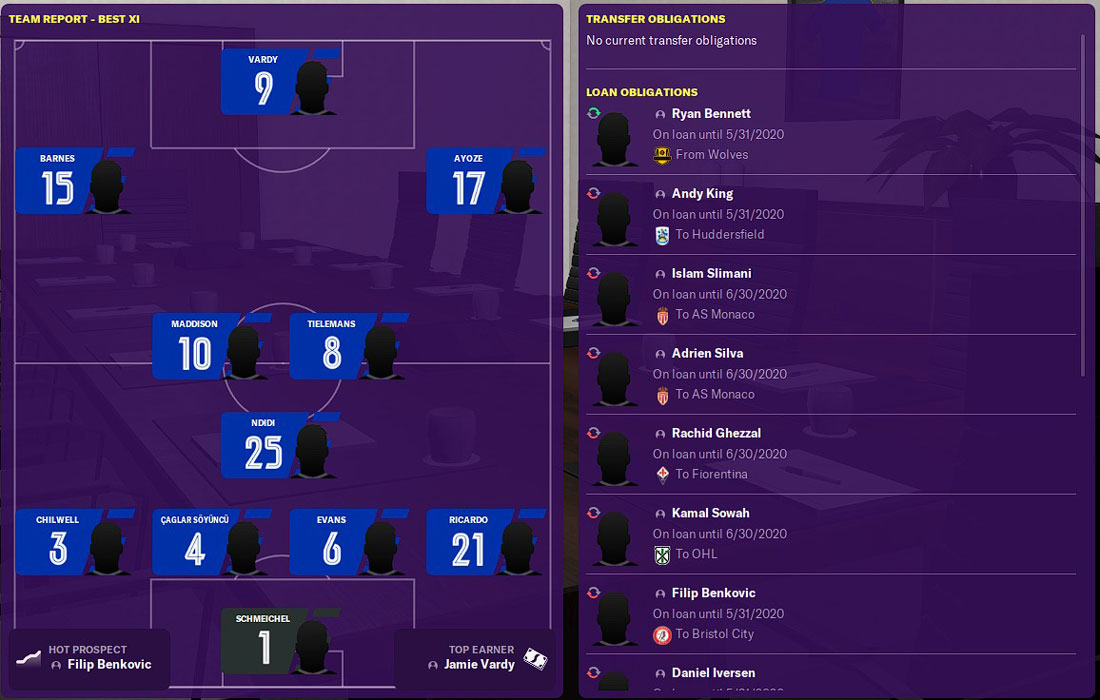 More about best Leicester players wait for you in the next chapter, but now we will give insights into the squad's strengths based on positions.
On the first is very clear that Leicester has a very young team with many players 22-23 years old. That makes them pretty exciting to play with.
The goalie is Schmeichel, and we don't need to speak much about his qualities. In the defense, there is probably the second-best pair of wing-backs after Liverpool.
Chilwell and Pereira both offer the incredible attacking potential to your team.
Central positions in the midfield are probably best covered. 3 wonderkids in the midfield: Tielemans, Ndidi, Maddison can play against any team in the world. Attacking wingers are probably the thinnest part of a team and there you should look for improvement (you will find possible signings later, don't worry).
And alone striker, no other than amazing pressing forward Jamie Vardy. And with him we will start our detailed look at Leicester's best players.
Leicester in FM20 – best players
Let's see what are the best players Leicester has in the team in Football Manager 2020. The best player by far is, with no surprise, Jamie Vardy. Leicester's true icon with 32 years is still one of the best strikers in a game.

Vardy's attributes in FM20: finishing 18, acceleration 17, penalty taking 17. He is at the peak and for sure will contribute to your team with 20 goals in the season.
Just behind Vardy, there is James Maddison. Amazing playmaker, probably one of the best young attacking midfielders in the world. Maddison is 22 years old and his biggest advantages are:
Passing 16
Dribbling 16
Corners 17
Maddison's great technique and passing abilities are something you really need to use in FM20. He will be your number 1 chance maker and will fit perfectly with Vardy. Also, he is a big threat from corner kicks, so we suggest train set pieces a lot. Easy goals coming. And he can improve more, to PA 160.

Another wonderkid with even bigger potential ability than Madison is Youri Tielemans. Belgian deep-lying playmaker is also 22 years old and has PA 170. He will be in focus to build up attacks from behind and starting every counter-attack. His vision is rated 17 and you can rely on it.
Are there any wonderkids in Leicester FM20?
We have seen the best Leicester players, but surely you are interested is there any wonderkid in Leicester FM20 squad. That's why we present you, 3 players, to closely watch:
Wilfred Ndidi
James Justin
Filip Benkovic
Wilfred Ndidi – box to box midfielder with amazing potential
22-years old Nigerian, Wilfred Ndidi is a fantastic box to box midfielder and he will be one of your key players. As Madison and Tielemans prefer attacking roles, you will need Ndidi to get their back. Ndidi in FM20 is what Kante was for that champion team Leicester had just a few years ago.

Although very young, Ndidi is already priced at 41M what is nice proof of his value. Ndidi in FM20 has a potential ability of 163, but with good training we believe he can achieve even more.
His main attributes:
Tackling 19
Anticipation 18
Stamina 17
James Justin – a defender who can play on both sides
James Justin is another fantastic young player in Leicester squad who can improve a lot and reach his PA 152. He is 21 years old and you should for sure use him in squad rotation. Of course, on the right there is Pereira and on the left Chilwell, but when you decide to rest them, give Justin an opportunity.
And as there is a possibility you will sell one of the mentioned defenders, Justin will be their replacement. You won't be sorry.
Filip Benkovic – on loan at Bristol, but keep an eye on him
Benkovic starts his FM20 campaign on loan at Bristol City, we strongly suggest keeping an eye on him. Give him this season to learn something about English football and then throw him in the fire.

Croatian central defender is only 21 years old, but his PA is 162 what would make him a top central defender in Football Manager 2020. On the other side, his current ability is just 129 and he has a lot of problems with injuries.
But look at these attributes:
Heading 18
Tackling 15
Marking 15
Pretty good for 21 years old, isn't it?
Leicester youth team FM2020
Although the board wants you to promote youth players, Leicester Academy is not popular and well-known for its amazing work.
That's why in the youth team there aren't players you could use to improve a team. Unfortunately, they can't even be used in rotation and that is something you will need to sort out somehow.
If your own Academy can't produce a quality player, you need to buy youngsters. It's not that easy as it seems as many really talented players are already in the top clubs with prices going above €50M.
But, as good Samaritans, we just love to help. And that's why we have prepared a list of Irish FM20 wonderkids!
Some of them are already proven Premier League quality, but some of them can still be bought for a reasonable amount of money. And that is your chance! For sure, they won't feel homesick!
FM20 Leicester – transfer targets and possible signings
Ok, we have seen Leicester squad in this season FM and for sure you would like to sign some players to improve the squad.
Leicester has a transfer budget of around €35M what makes him close to the TOP 10 clubs with the biggest transfer budget in FM20. You will for sure have the budget to sign some great players.
Based on player profiles, it would be great to add some quality winger or another central defender to the Leicester squad.
NikFM in his video as a number 1 signing talks about Justin Kluivert. True FM20 wonderkid from Roma is priced at 17M so probably he will fit in your budget. For more about Kluivert and other possible signings NikFM has prepared for you, take a look at his amazing Leicester FM20 video guide.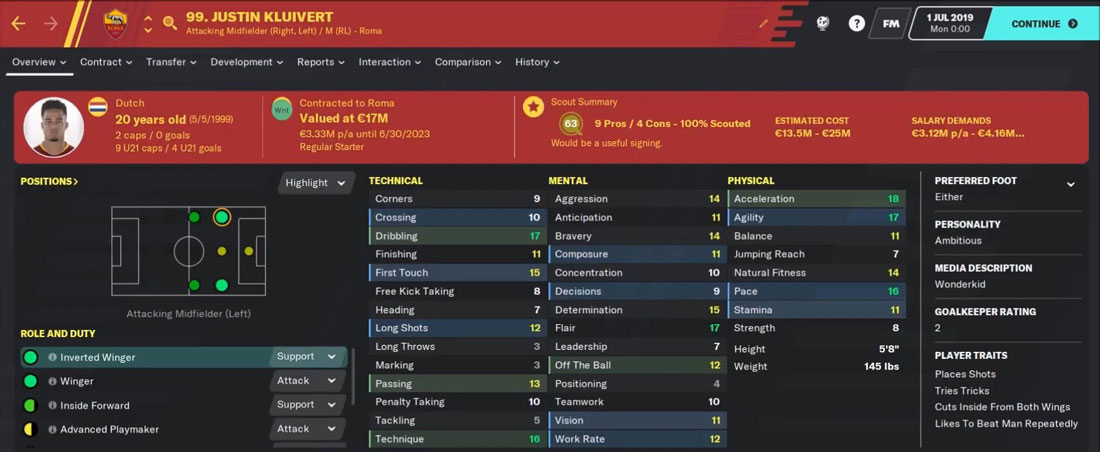 As we can see, Leicester is full of talent and your transfer policy should keep going in that direction. Try to buy young wonderkids which can give you quality immediately, but can improve even further.
That's why we suggest that you take a look at our list of FM20 brutally cheep wonderkids. Listen carefully, I shall say this only once.
Two of them have a potential ability of 180. Yes, you read it right. Brutally cheep and 180 PA. It's the chance you just can't miss.
Manage Leicesters in Football Manager 2020 – pros and cons
If you still can't decide should you manage Leicester or not, we have prepared the pros and cons of playing with them in FM20. You know, something like when you have 2 girls and can't decide which one to choose (both of course).
Why should you manage Leicester in Football Manager 2020
Leicester has a young and talented squad, probably in TOP 5 when it comes to talent in FM20. Likes of Maddison, Tielemans, Ndidi, and Chilwell in the same team is something many clubs can only dream about. You will have a chance to even improve them and repeat a Leicester's fairytale, one of the craziest and most romantic football stories ever.
The great thing is that you won't have pressure from the board. Their low expectations will allow you enough time to implement your tactics.
And the last + for taking Leicester is Vardy Party! Vardy is in his 33rd and he has maybe a season or two of high-level football remained. It's the last chance to work with him and he is probably one of the most adored players by working-class so for sure we are not going to miss that. It's just – No Vardy, no party!
Why you shouldn`t play with Leicester in FM20
Ok, we had a lot of pros and probably already decided that Leicester should be your next team in FM20. But, there are some cons, either.
Although having an amazing team, the Leicester squad is not really deep. When players pick up injuries or get tired, you will have big problems to put in a team to remain the same quality.
Lack of European football is another part we miss. Premier League is probably the most interesting league to compete in, but we all love the idea of winning the Champions League or Europe League. Unfortunately, it's something you won't be able to achieve in your first season.
Leicester FM20 team guide – conclusion
We have covered everything in this big Leicester FM20 team guide and hope it will help you repeat Leicester's champion season.
Catch up with us on FMBrotherhood Community or leave a comment and share your thoughts. How good is Leicester team in Football Manager 2020? Are you going to play with them? Which player would you sign in? Who would you buy to some other team?
Cheers!