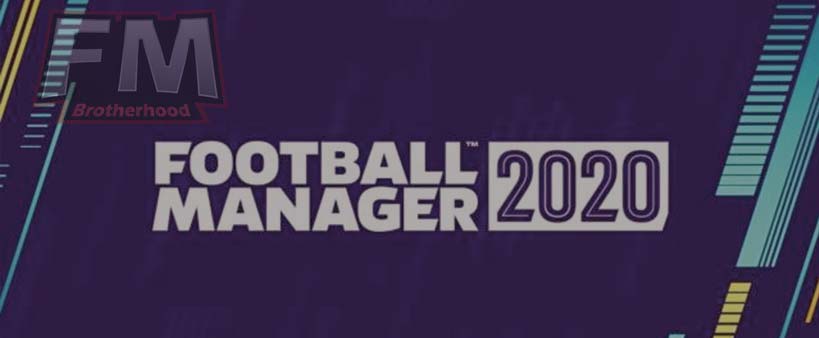 FM20 New Features and Everything We Know About It
By spaskecar | September 23, 2019 | 57 Views
Football Manager 2020 has been announced and in today's blog, we are bringing you all the information we have so far on the game, the release date, and the new features.
Release Date of Football Manager 2020
The exact release date of FM20 is still unknown but we know that it is going to be November since that is what they said in the announce trailer for FM20. Our best guess is that it is going to be November the 8th since the previous versions of FM were released on a Friday. It could also be the 1st of November and we would love it to be so because we could start playing a week earlier but the probability is higher on November the 8th.
Football Manager 2020 New Features
Just like every year, we are getting promises of new features for FM and how existing ones got polished and they usually deliver.
New Features in FM20 that are announced are:
Development Centre
Backroom Staff 
Club Vision
Playing Time Pathway
And More…
Development Centre in FM2020
The first new thing we got to know about this year is the all-new Development Centre.
This is how they introduced it:
One of the most engaging aspects of Football Manager is developing talent and unearthing wonderkids who you can turn into world-beaters in a few seasons' time. In FM20 we're making it easier for you to plan long-term and keep track of the progress of your youth teams with the all-new Development Centre.
The youth, reserve and development squads from FM19 are removed and the Development Centre is put in their place.
In the Overview section of the Development Centre, you will see the state of your youth team and the most noteworthy talents. The backroom staff will say what they think about the players and who should be given a first team chance.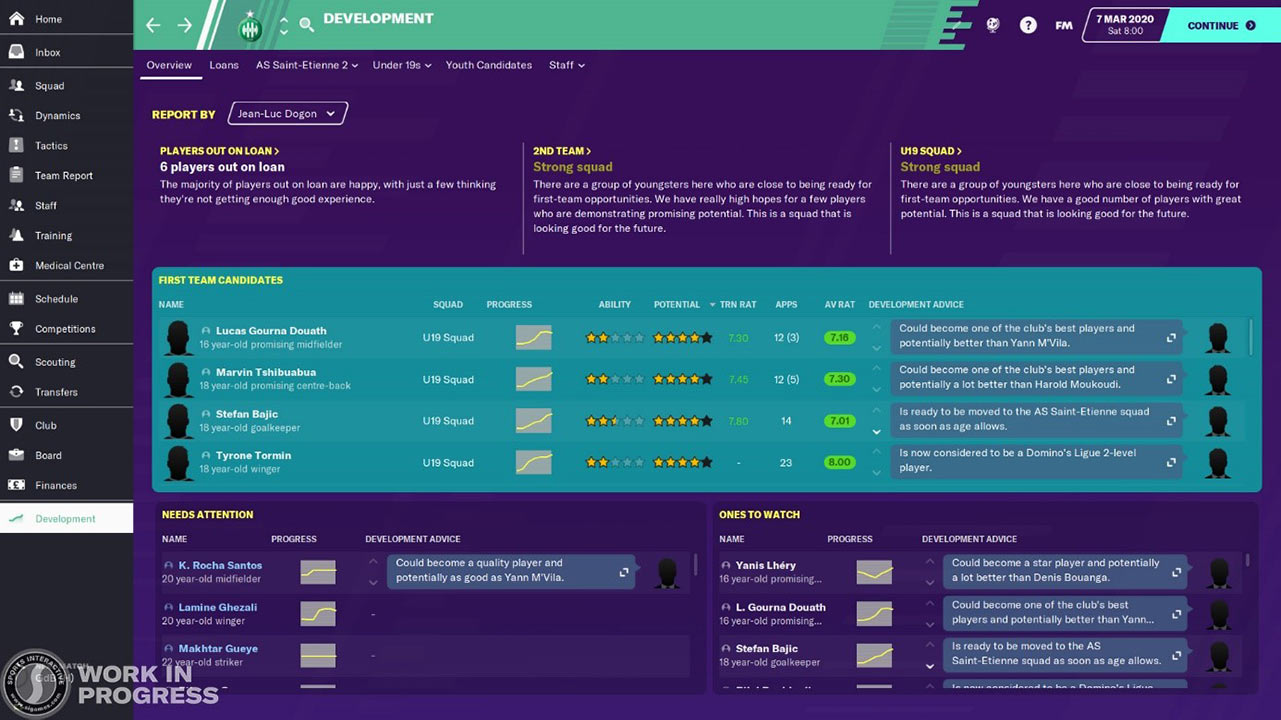 Across the top of the screen, you see an assessment of the strength of your youth teams. This not only allows you to gauge if your current youth crop is performing as expected but as the season's pass, you'll also notice how your long-term youth policy – investment into youth coaching, recruitment and facilities – impacts your youth squads.
It's not just the players that are currently at your club that you can track in the Development Centre, it's now easier to track players in and out on loan too with access to their performances and ratings in this hub.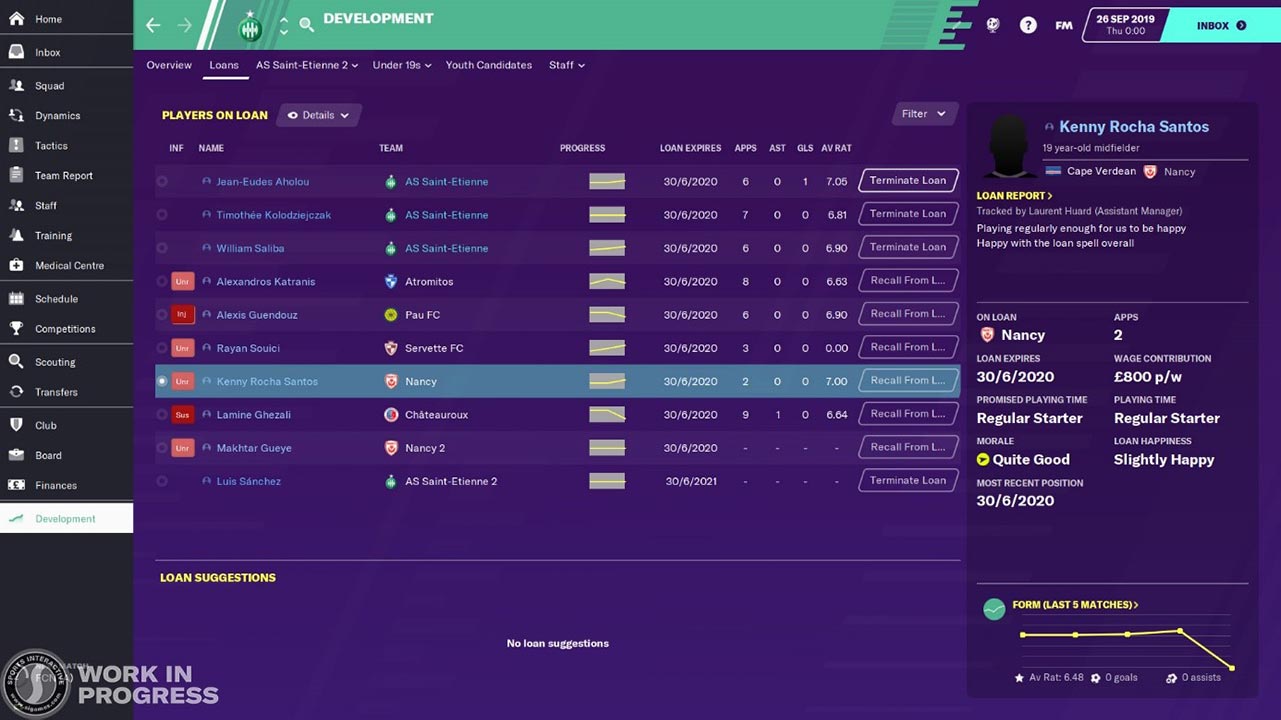 The Development Centre will also offer a preview of your yearly youth intake. For so long it's been a date in the diary for all managers to look forward to, but now you'll get information before the new crop of talent arrives so you can gauge the level of talent and plan accordingly.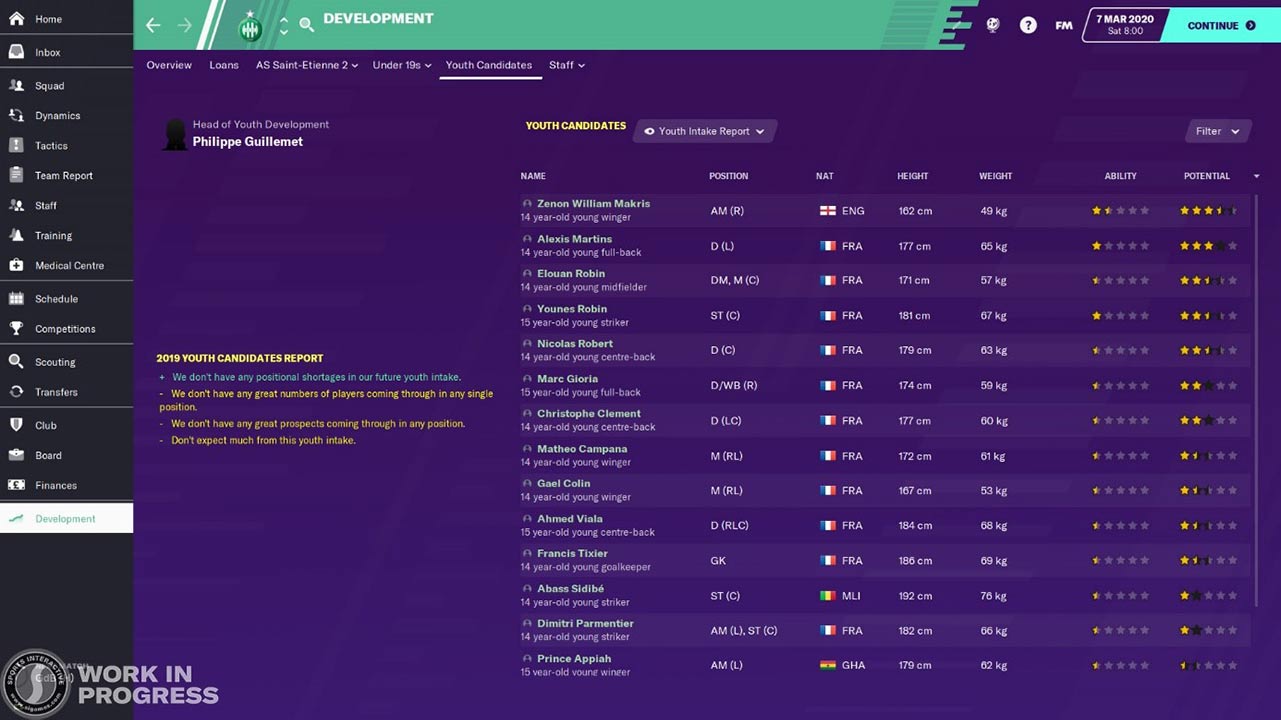 When your youth intake does arrive, you can view individual reports on each of the players and quickly see each player's current and potential ability ratings so that you can identify future stars from the moment they arrive at your club.
Although the Development Centre is relevant to all young players and players out on loan, it really comes into its own when dealing with high potential players.
By having them highlighted to you from the moment they arrive and being able to track their progress through their time in your youth squads and during any loan spells, you have more information available to you than ever before to help you get the most out of their potential. This information all depends of course on whether your coaching staff has got it right, which is why they're more important than ever this year.
New Backroom Staff in FM20
Football Manager keeps improving and is trying to copy things from real life into the game. One of those things is suggested team selection for the next game.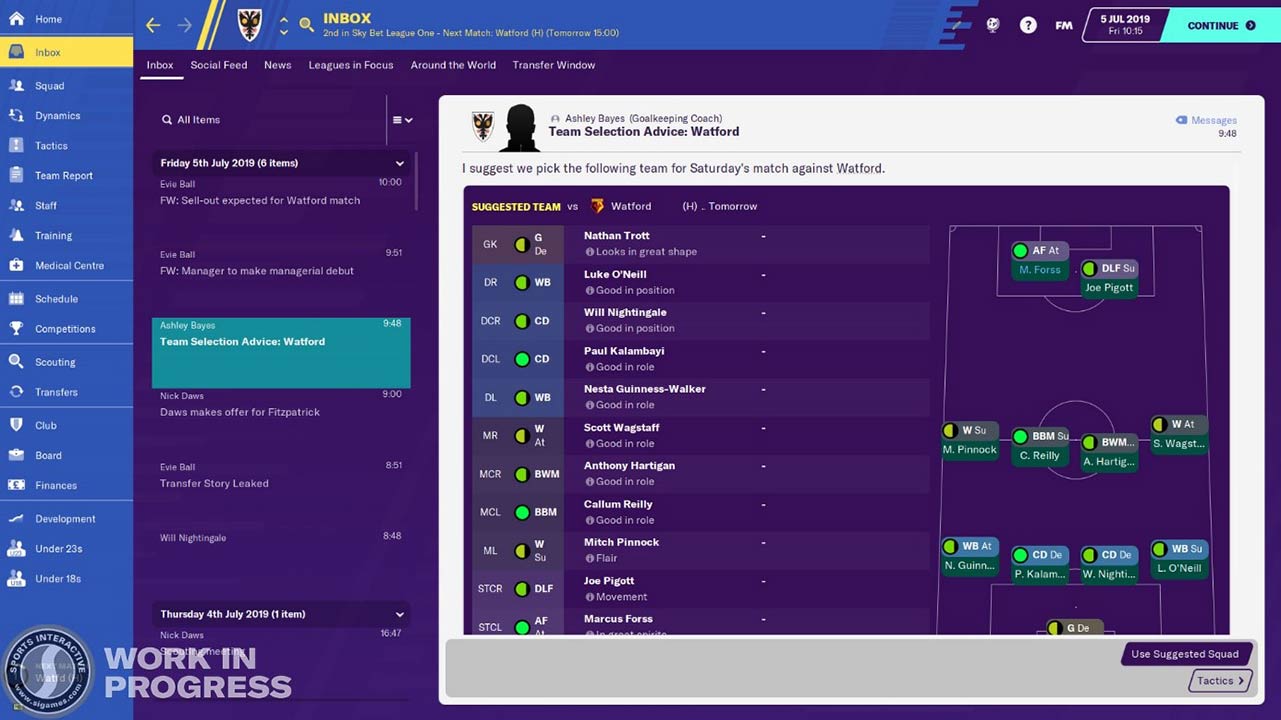 As part of your pre-match news flow, you'll receive an inbox message informing you of your backroom team's advice on who you should pick in your matchday squad. This advice takes into account a range of information from a form, role suitability, player ability and relevant information on all the players in your proposed starting eleven.
Team selection advice is also available to you at any time on the tactics screen.
It's not just improved team selection advice that is new to FM20, we've also tweaked advice across the game. One such example is how we've improved the ability to select any square on the tactics pitch, bringing up more detailed analysis on what factors are influencing your strength in that area of the pitch.
This year sees a number of new staff roles added. Introducing the Technical Director, a role with the ability to offer backroom advice from the very top judging staff ability and staff potential. They are a highly senior member of staff, focusing on other senior members of the team to suggest coaching courses and report on staff progression, further proof of the long-term development that Football Manager 2020 allows you to oversee.
Not only can you focus on bringing the best out of players but staff too, creating sustainability at the club with staff who grow with you.
They've introduced the Head of Player Development to FM20 too. This role is prominent in modern football, especially at elite clubs with significant numbers of loan players plying their trade at clubs across the globe for the new season. A Head of Player Development recommends the players they think would benefit from a loan spell and where he believes they should go while providing loan reports to the manager to easily track those players' progress.
Club Vision in FM20
Board Expectations are getting a facelift and you are no longer being judged only by the current season. It's your job to strengthen the club's identity and meet the milestones set out by the board as part of their long-term planning. Now you can even see the 5-year plan they've set up for the club.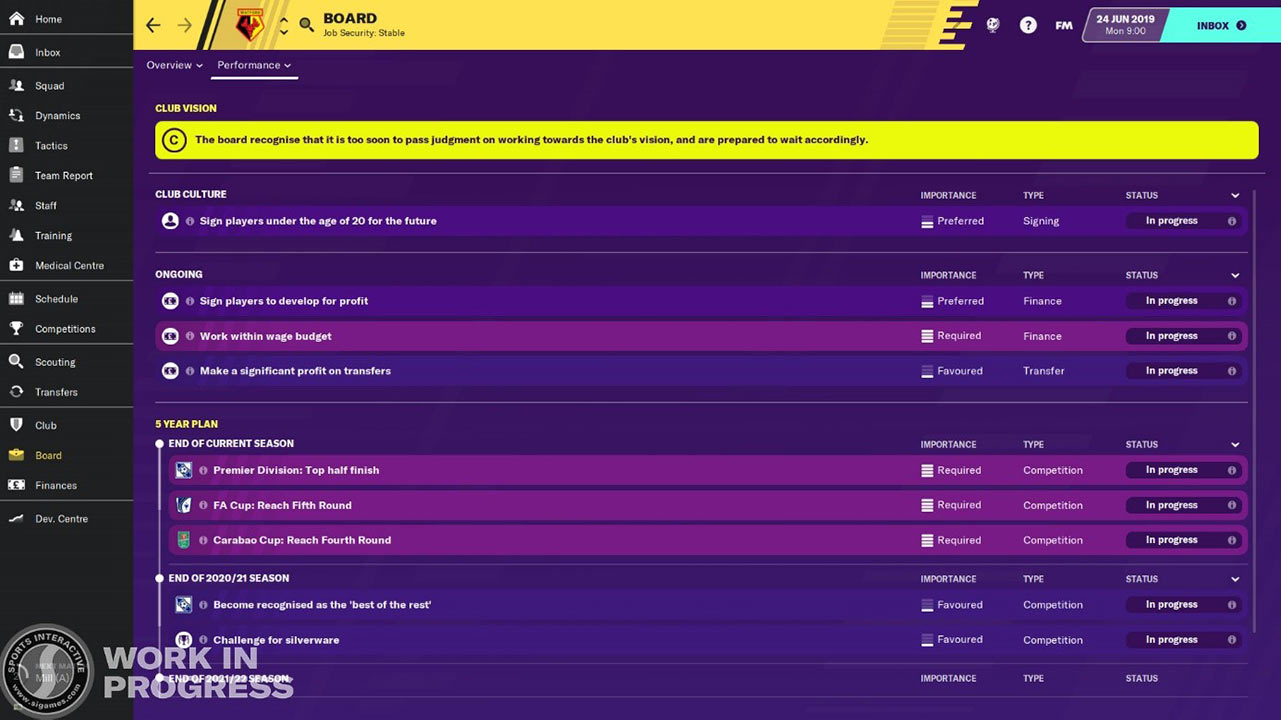 Club Vision is split into three strands that form your club's vision – club culture, ongoing objectives, and your club's five-year plan.
Ongoing objectives are tasks that you will be expected to stick to during your tenure as manager. These objectives are ingrained into the identity of the club so, for example, if your club has a long-standing tradition of bringing players through the youth system then it will be up to you, as a manager, to maintain that.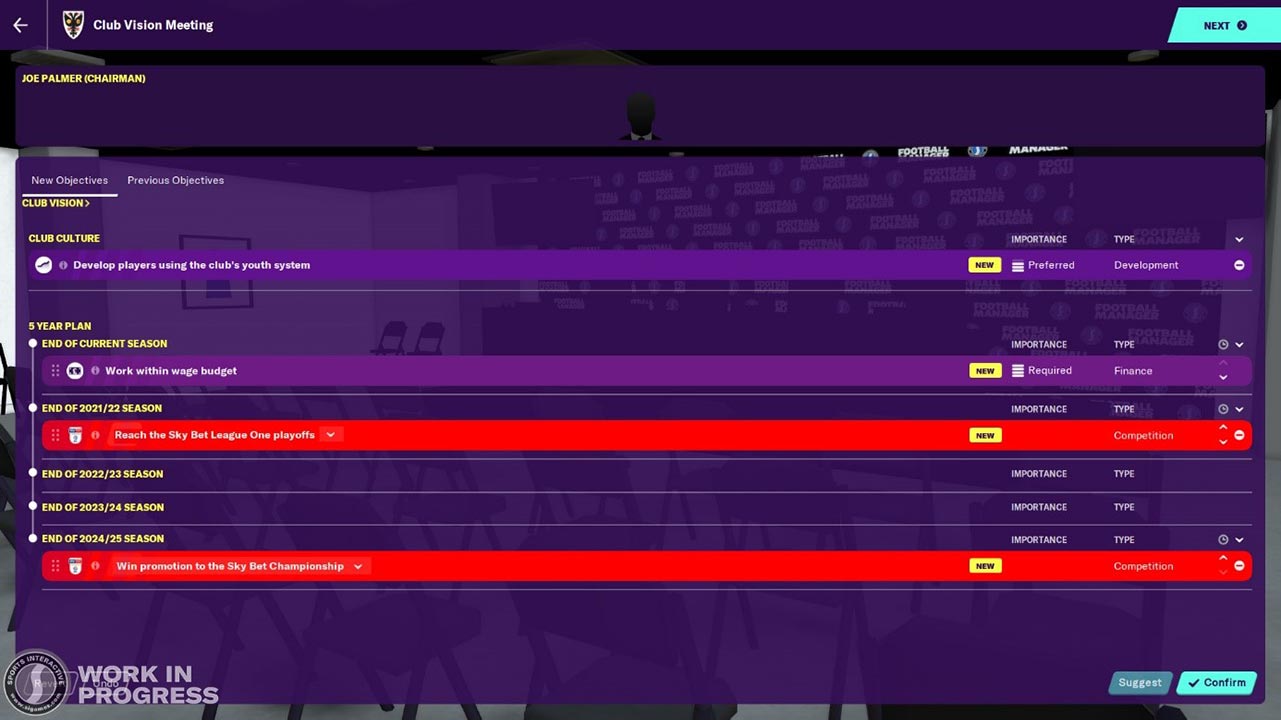 Your club's visions are dynamic and will change as you progress through the game. Achieving a period of sustained success and hitting your objectives early may lead to the board setting more ambitious targets over the following seasons.
You'll also be given new objectives when you join a new club that is contextualized to that club's culture and position within the footballing world. This helps to keep long-term saves feeling fresh and ensures you will be challenged wherever you decide to move next.
What you become known for as a manager can also have a bearing on your appeal to club boards across FM20. For instance, if you've honed a particularly attacking style of football at a club, you'll be known for this around the world which could make you more appealing to a board that has that playing style included as part of their club vision. This could even lead to you being picked ahead of the other candidates, even if you have less experience or are managing at a lower level than your competitors for the role.
Club Vision has been added to the board confidence module as well, which itself has been revamped to become 'Performance' for FM20. Visions form part of a report card that is both in the monthly performance update that is delivered to your inbox and on the Performance overview, which is visible at any time on the Board sidebar section.
Each area of Performance is now graded from A+ to F (these grades are also localized for each territory) giving you a clear idea of how you're performing in each area and which areas you need to focus on improving. You'll be given an overall grade with your notable recent highlights and criticisms laid out.
Playing Time Pathway in FM20
Playing Time Pathway is another new feature in FM20 which gives you more ability to plan for the long term and set individual pathways for all players. More so than ever we see young players come in with a clear route to becoming a Star Player or senior players immediately established as Important or Star Players from the moment they walk through the door.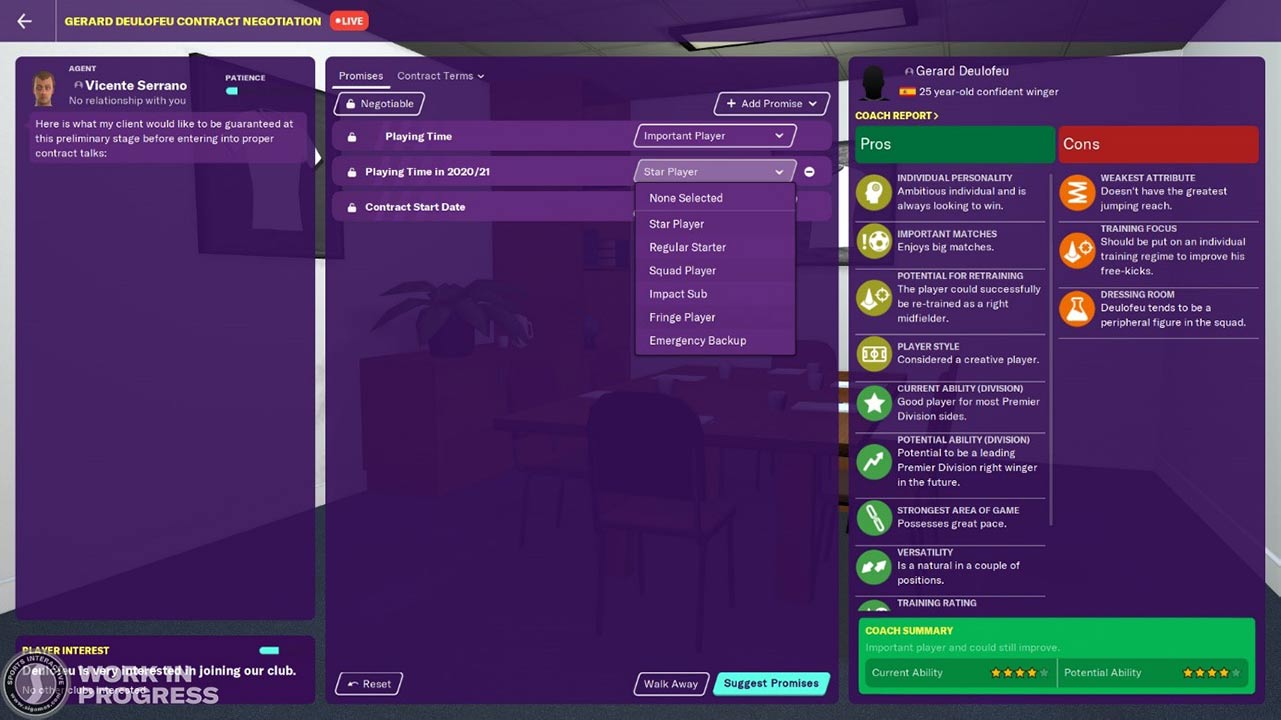 In FM20, when negotiating a player's contract, you can fine tune their pathway through changes to their contract. You can alter their Playing Time with twelve descriptive statuses which indicate how much game-time you're offering per season across their contract.
This way the players will know what exactly is expected from them and when they will be getting first team football.
Goalkeepers have their own tailored Playing Times too and serve as a great example of how this feature comes to life. A young goalkeeper can go from Emergency Backup to Cup Goalkeeper to First Choice across the length of their contract, all the while planning how the other goalkeepers fit around this youngster's progression.
The Playing Time Pathway will also impact players you send out on loan. You and the potential loan club will be able to negotiate in more detail just how they plan to use your youngster with a defined level of Playing Time. This will help you decide which destination would be the most suitable when weighing up multiple options.
The new Playing Time Pathway gives you more control over your team structure and gives you an easy way of keeping on top of your long-term squad planning while also giving you more ways to keep on top of your overall squad happiness.
Our Conclusion – it`s not all about new features in FM20
These aren't the only new features that will be added to FM20. They've written in their blog post that they will be adding more match features ahead of the release of the public beta so we should keep an eye for those.
There will be a graphics update to the game but we can't really write about that one before we see the game in the beta or in November.
So that's it for now if we've missed some features please write them down in the comments and we'll make sure to update this article or we'll just make a part two in the next month.
New 16 confirmed FM20 features are here!
All the images from the article are taken from the official Football Manager 2020 Website.