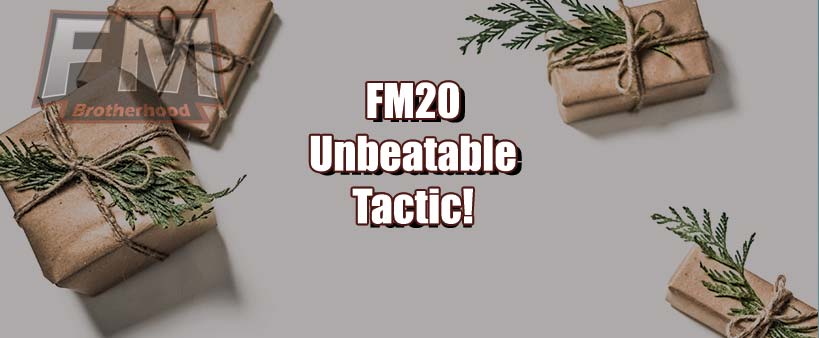 FM20 Unbeatable Tactic – It is here?!
By spaskecar | December 31, 2019 | 24281 Views
Our New Year`s gift for you FMBros is the new "unbeatable FM20 tactic" we found, tested and now we are going to speak about. So, before we share it with you, let`s answer the most important question: 'Does unbeatable FM 20 tactic truly exist?'.
You are going to be disappointed, but the answer is NO. The unbeatable tactic or so-called cheat tactic in Football Manager 2020 isn`t a thing. The game is very complex this year and has a lot of new features and upgraded algorithm. That`s why you won`t be able to win all the matches by loading the perfect tactic while sitting in your armchair and clicking – Continue.
One of the most important things in this game is management. Probably that is why the name of this game/simulation is Football Manager (hehe). So, your team must be happy with you, the atmosphere inside the backroom must be great, and you should choose players and staff carefully.
We had many "unbeatable" tactics, but there were situations where our team leaders or high-influence players were unhappy (e.g. wanted to move to a bigger club) and from that moment we lost a lot of matches. So, keep your players happy and your tactic will provide you much better results.
So what are we talking about all the time if this cheat tactic doesn`t exist?
We have got something that may be called an unbeatable tactic, that will make you win dozens of matches, more than you would be able to win with almost any other tactic. This tactic is made by Knap, you probably heard about. We spoke about this tactical genius for too many times, and this time he created almost a perfect tactic.
Unbeatable FM20 Tactic – Sicilian 442 by Knap
This tactic is in a formation 442, in the same shape as Shaolin Hotwings 442 tactic. The player roles are also similar to this tactic, but the results after testing this Knaps tactic are more than amazing.
Your team will play attacking football, your strikers will score an incredible amount of goals, and you will win, win, and win almost everything.
The most important players for this tactic are two PFs, Wingers, and Wingbacks. The opponent's goal will be under the siege, as almost the whole team will participate in the attacks.
Both PFs are with the Att duty, but one of them will take fewer risks and will be more focused on scoring goals. The other one will have a greater radius of motion and he will be the one who will rather pass than shoot.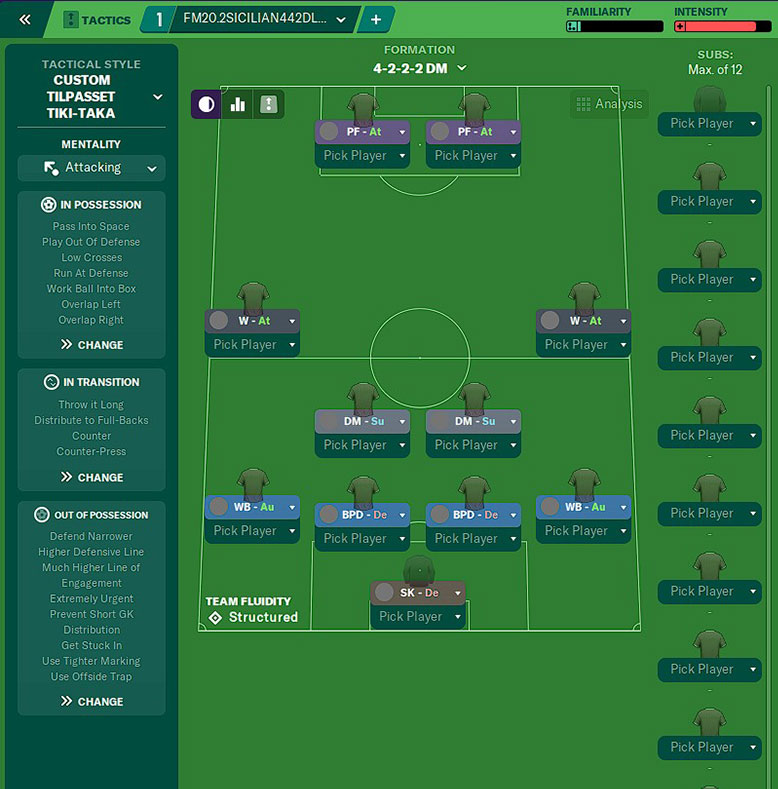 The wingers also have interesting individual instructions as they will pass short passes, shoot less often and close down the opponents with the ball.
Wingbacks will also be very aggressive in the defense, and in the attack, they will play simple, short passes and avoid shooting from the distance.
This tactic has also 2 DMs with a Support duty, without any individual instructions. Behind them, there are two Ball Playing Defenders with "Pass it Shorter" instructions.
So what can you expect from this unbeatable FM20 tactic on the pitch?
You can expect attacking football as we said before, fluid movement all over the pitch, quick transitions, many short passes, and a lot of goals. Something like Barcelona Tiki-Taka from the golden era.
According to FM-base, this tactic is 20/20, and if you want to try it yourself, DOWNLOAD Sicilian 442 Knap`s tactic here!
Share your greatest FM 20 tactic with us!
If you wanna see how this tactic look on the pitch/ in the game, take a look on our video provided by NikFM
You can feel free to share your own Football Manager 2020 tactic with us, just send it over our contact form, or post it in the comment. Cheers!