Ultimate Lazio FM20 team guide – tactics, best players, cheap signings
By spaskecar | May 4, 2020 | 4854 Views
Serie A is one of the most interesting leagues to play in FM20. And if you are not a fan of taking the strongest teams like Juventus or Inter Milano, we present you Lazio – a romantic team who can win the title if it is guided right. And we know how to guide Lazio to the top in Football Manager 2020.
Lazio FM20 – quick introduction
Let's start with a brief introduction to S.S. Lazio. This Roman emperor is founded in 1900, which means this year they celebrate the 120th birthday. And is there a better way to celebrate other than taking a Serie A trophy after 20 years? Trust us, you'll be adored more than Cesar if you do it.
Lazio plays their home games at Stadio Olimpico which can take up to 70,000 supporters. And with being the 6th most supported club in Italy you can expect a lot of fans on every game which means more money from selling tickets.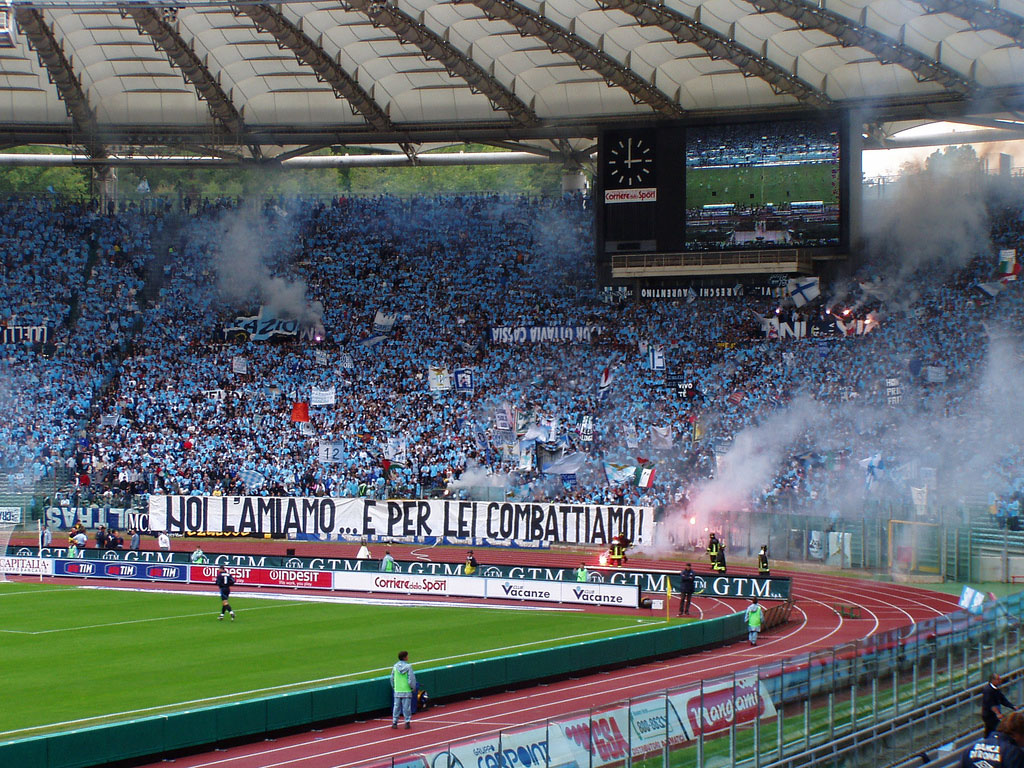 Stadio Olimpico is shared with A.S. Roma and as you can imagine Roma is their biggest rival. Getting a win in Derby della Capitale sometimes means more even than becoming a champion. The rivalry is just too big, so when you start to manage Lazio in FM20, consider these games as crucial for your connection with fans.
At the moment, Lazio is managed by Simone Inzaghi.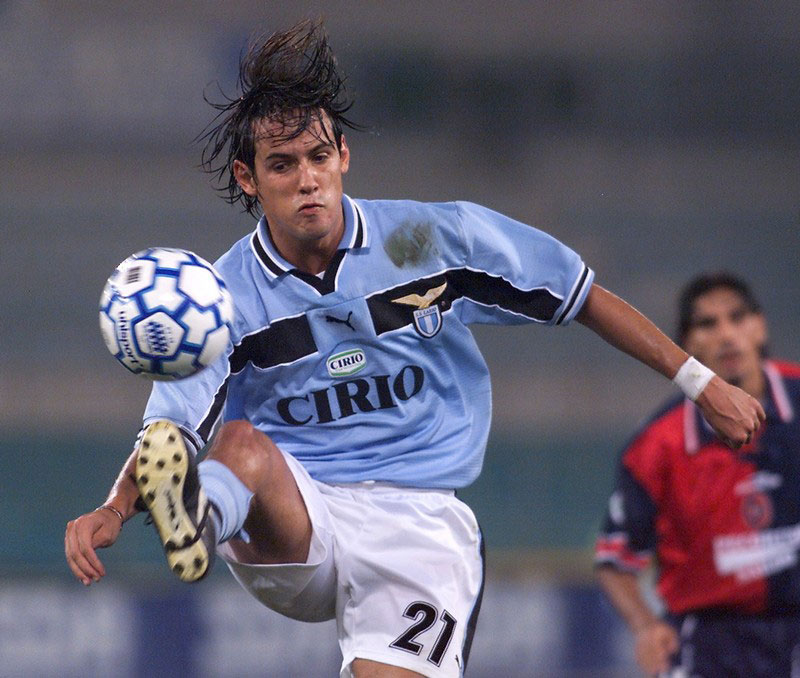 He introduced a 3-5-2 high scoring tactic that brought Lazio a lot of neutral fans who really love attacking football. Keep that in mind when you start your Lazio journey. Later in this guide, you will find a great FM20 Lazio tactic that will bring both goals and points.
Lazio squad in FM20
After a quick introduction to Lazio, now we go to real business. Let's see what is Lazio made of in this year's Football Manager. Their squad has the potential to be very good and to challenge Juventus and Inter Milano if it is guided right.
At the first look, you'll notice Lazio team is a bit older, but the good news are, their best players are at the peak. The other thing to notice is a fully international squad with only a few Italian players.
We already mentioned Lazio loves to score goals and play attacking football and it is connected with their team strengths. On the first look, you will see most of the star players play in front (even the midfield ones). On the other side, Lazio lacks defensive quality what can be a bit of a problem and a thing to think about in the pre-season period.
5 best Lazio players FM20
In Football manager 2020 Lazio TOP 5 players are:
Sergej Milinković-Savić
Ciro Immobile
Luis Alberto
Joaquin Correa
Francesco Acerbi
Around these players, you can build your tactics and we will explore more about them in the next section.
Sergej Milinković-Savić
Milinković-Savić is the best Lazio player in FM20. He has the current ability of 165, but the great thing is he can improve more to the potential ability of 173.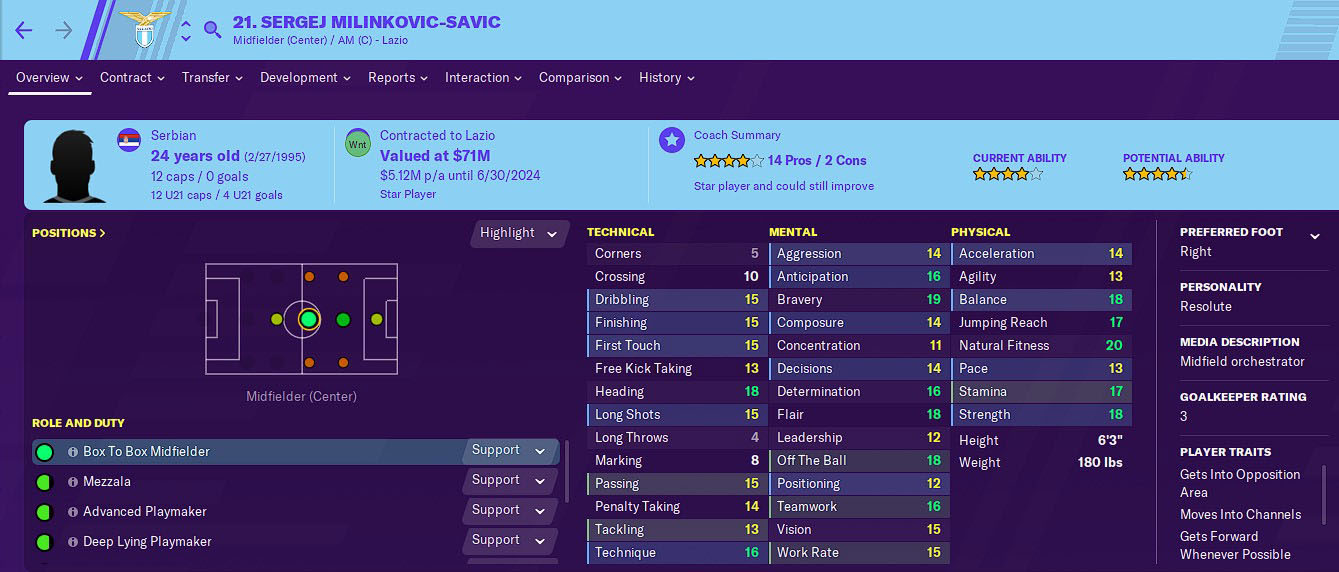 Sergej is one of the best midfielders in Football Manager and it is best used as a box to box midfielder. We already spoke a lot about this guy, in our previous posts.
He can assist, score goals, and overall has great attributes in every category.
Ciro Immobile
A true icon of modern football. A great scorer who guarantees you 20+ goals in the season. Finishing 19, Off the ball 19, Work Rate 18 are just some of his amazing marks. And he has a penalty taking 19 which means you really don't need to think who is going to be your penalty taker. Ciro should be your first and really your only choice.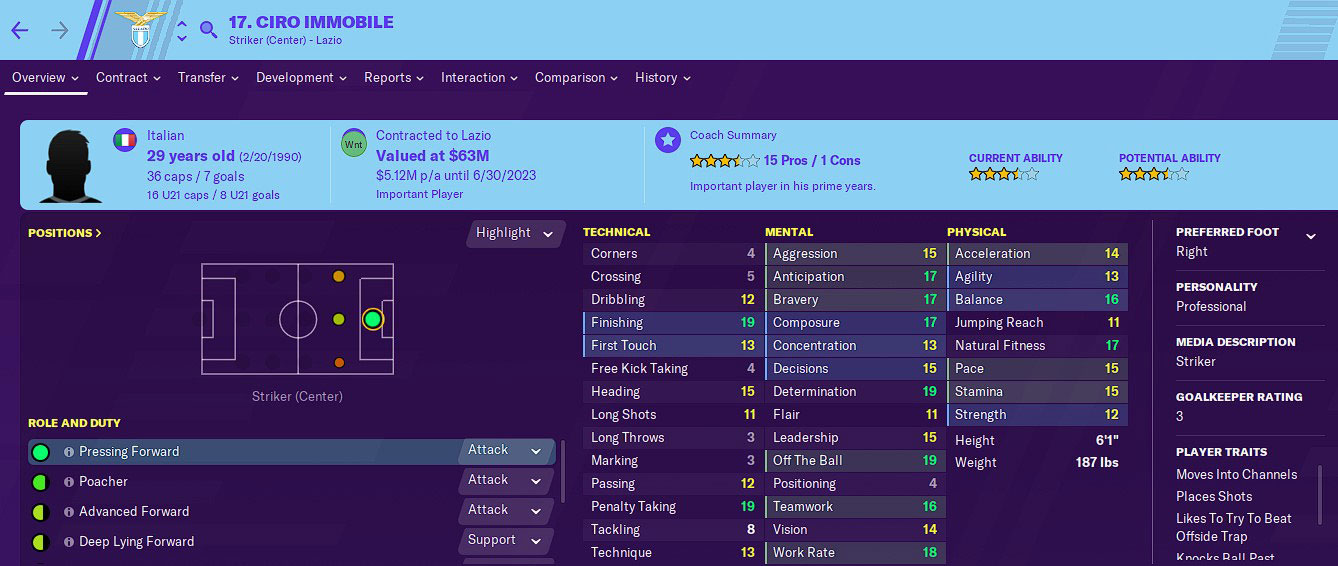 Immobile is best used as a pressing forward and in that position, he can contribute the most and even overfulfil his 163 potential ability.
Luis Alberto
Luis Alberto is a 26 years old Spanish attacking midfielder who has 156 CA and 159 PA. He is best used as an Advanced Playmaker due to his great technical and mental abilities. Luis Alberto has 18 passing, 17 technique, 19 vision, 16 dribbling what makes him a really exciting player to look (even if you don't decide to play with Lazio).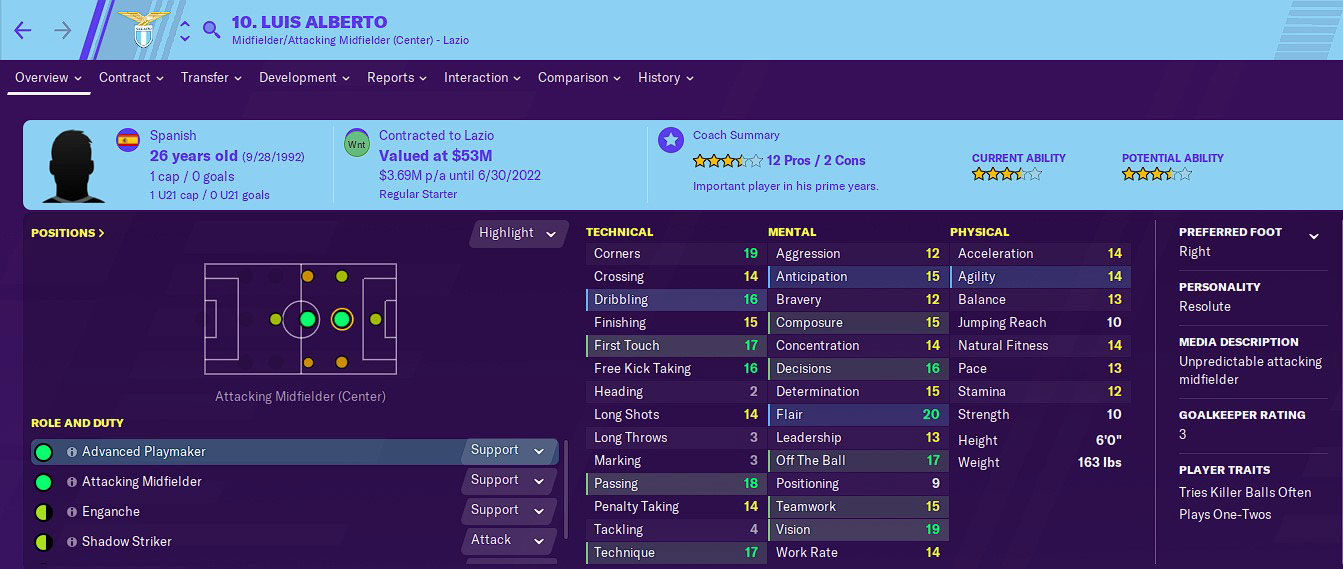 He should also be your first corner taker. With a 19 corner taking, Luis Alberto will be creator of many goals from corner – the easiest way to score goals in modern football.
Joaquin Correa
Another great attacking asset in Lazio squad is Joaquin Correa, only 24 years old Argentian who plays as AML. He is a pretty interesting player to watch, especially because of his great dribbling attributes what makes him hard to stop in 1 on 1 situations.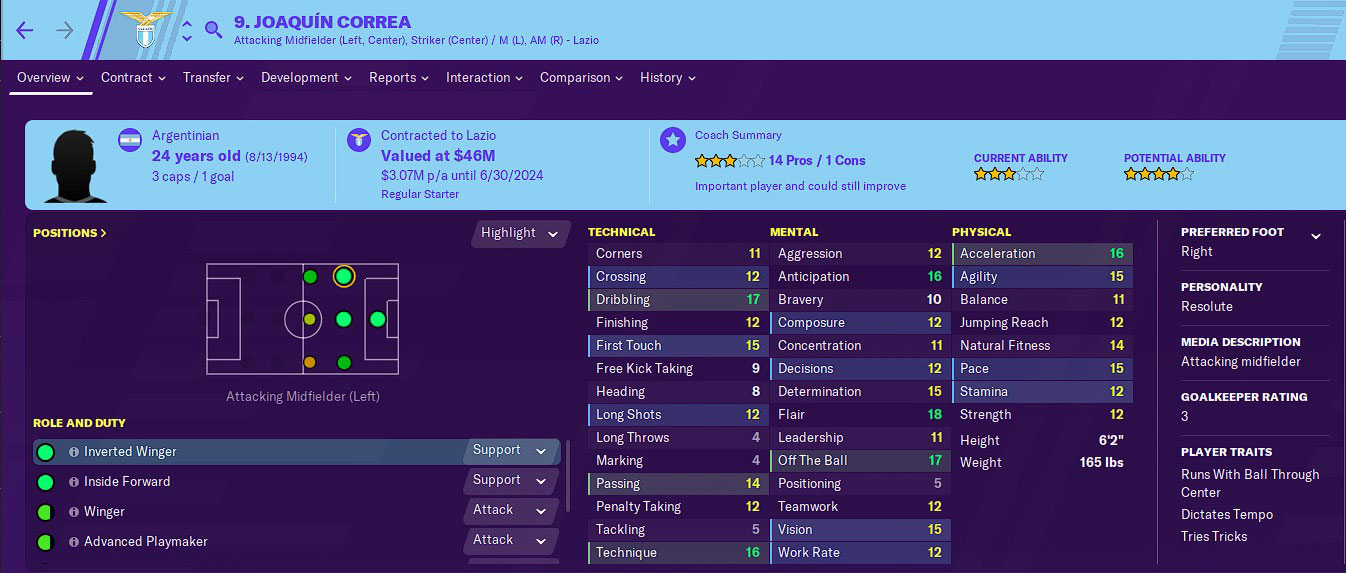 The other great thing about Correa is his ability to play in more positions. He can play on a left-wing or as a second striker. His finishing could be better (only 12), but he will have a great connection with Immobile and these two will be a threat for any opposition defense.
Francesco Acerbi
The last player on our TOP 5 list is Francesco Acerbi, 31 years old central defender. Although he has the current ability of 157, he is not truly suited for our Lazio tactic. Acerbi has some great marking attributes, but his big problem is slowness. And he is slow. Put him on a 10 meter run with Pippo Inzaghi and even Pippo would leave him 5 meters behind.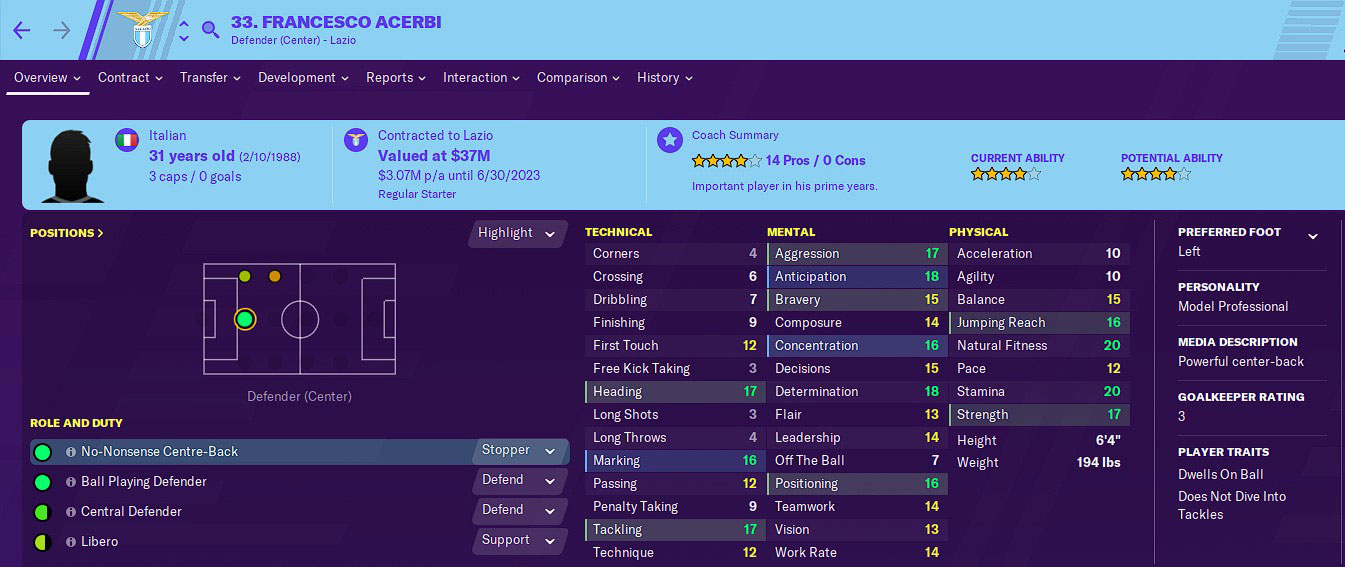 That's why we recommend selling him to gain extra money and not to risk one of the star players to start a rebellion. There will be a lot of buyers and after you can invest in some hot prospects.
FM20 best Lazio tactic and formation
Now we will represent you the best Lazio tactic for FM20 and it is one made by NIK FM. It is a tactic that provided only 2 defeats in 30 games, but more importantly, it brought some amazing wins like 3:0 vs Juventus, 2:0 away at Inter or 1:0 against Roma. It is something you really want, isn't it?
NIK FM is using his modified 4-1-4-1 DM Wide tactic with attacking mentality and very fluid fluidity. While defending we use a higher defensive line what is one of the main reasons why we need fast center backs (and why Acerbi don't fit in our squad). It is a pretty intense tactic and you need players who can answer to its demands.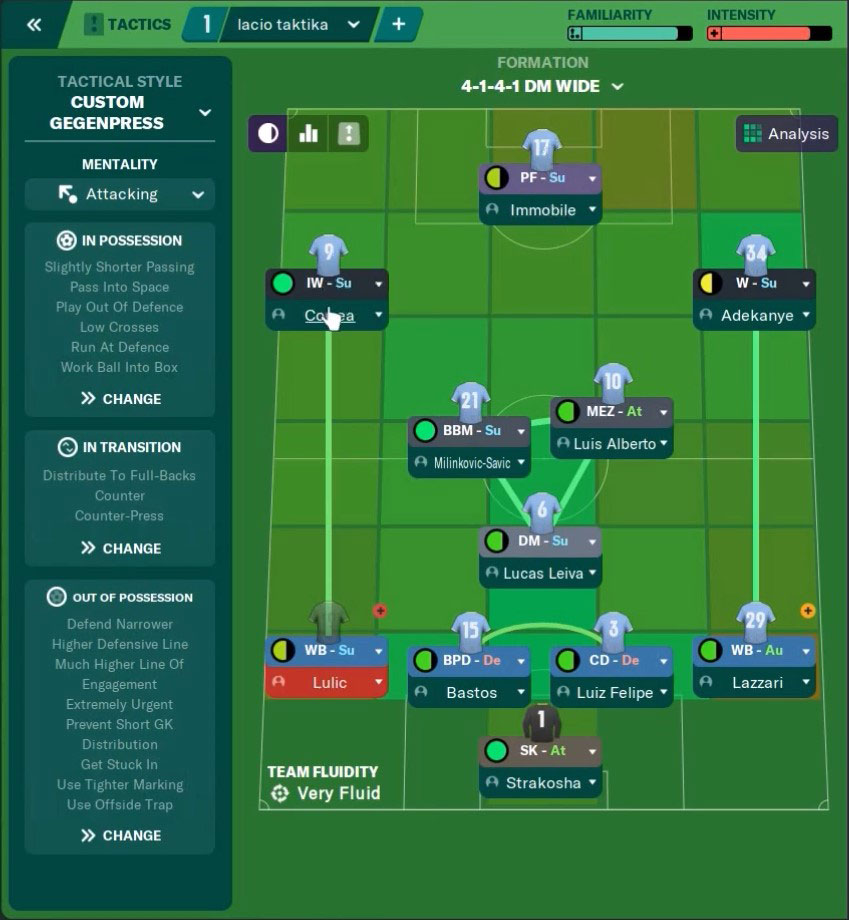 Maybe it is hard to describe every part of a tactic with words, but that's why we have one amazing gift for you.
Here you can download this tactic and recreate it with your Lazio save. How it looks on the pitch, check it below:
If you do it, feel free to share with us was it successful or you maybe did even more changes to improve it.
At this part we will just show you Lazio best eleven in FM20 and on the link you will find everything else:
Strakosha – Lulić, Bastos, Luiz Filipe, Lazzari – Lucas Leiva – Milinković Savić, Lucas Alberto – Correa, Adekanye – Immobile.
Lazio wonderkid in FM20 – Nicolo Armini
While Lazio's first team is full of attacking potential, we are looking in their academy to find is there some high potential players or even wonderkids. And guess what, we have one shiny prospect – Nicolo Armini.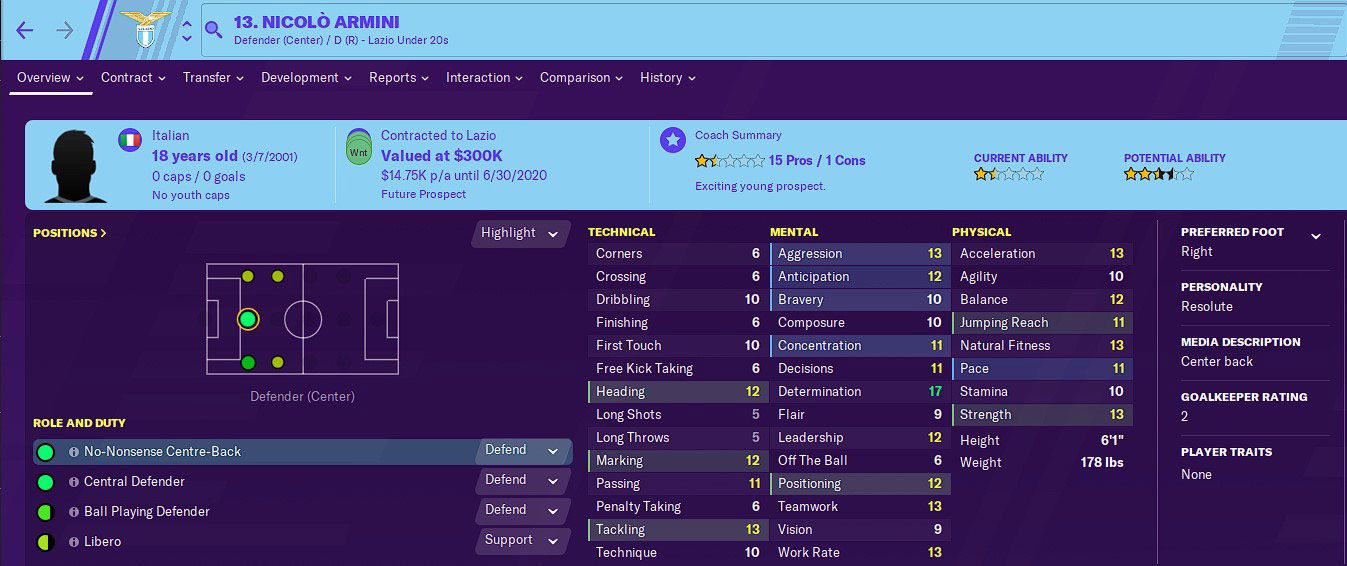 Nicolo Armini is only 18 years old but already has some great defensive attributes. With proper training and evolving in first-team games, Armini will become an amazing no-nonsense central defender. His CA is only 99 at the beginning of a game, but he has PA 151. You should make everything to keep him in Lazio and present him to a first-team football.
We did a bit of homework and explore to see how did Armini develop in some future gameplays. And listen to this! We have found him having 26 years and becoming a star player in Man City. And one more small detail: Man City have paid more than 100 million euros for him to Lazio! I repeat: it was more than 100 million transfer after 3 years in Lazio FM20 team.
Beside Armini, there are 2 more players to take a look at it:
Andre Anderson – potential to become best FM20 midfielder
Andre Anderson is 19 years old Brazilian midfielder who from the start can be found in FM20 Lazio's first team. His CA is 120 (pretty good for young player), but his PA at the moment is 153, but it can improve much more.
Having 19 years and attributes like: dribbling 14, passing 14, off the ball 15, natural fitness 15, makes it obvious Anderson have to develop to a star player in a few years (we have seen a save where he is a regular in Brazil first team, just saying). If you play with Lazio you are lucky to have him. If not, you could buy him for around 5M what is a pretty sure investment.
The other player mentioned was a Raul Moro, but he is only 16 years old with a 150 potential ability. This means he won't be able to make an immediate impact but watch closely how he develops and possibly you will have another great young player.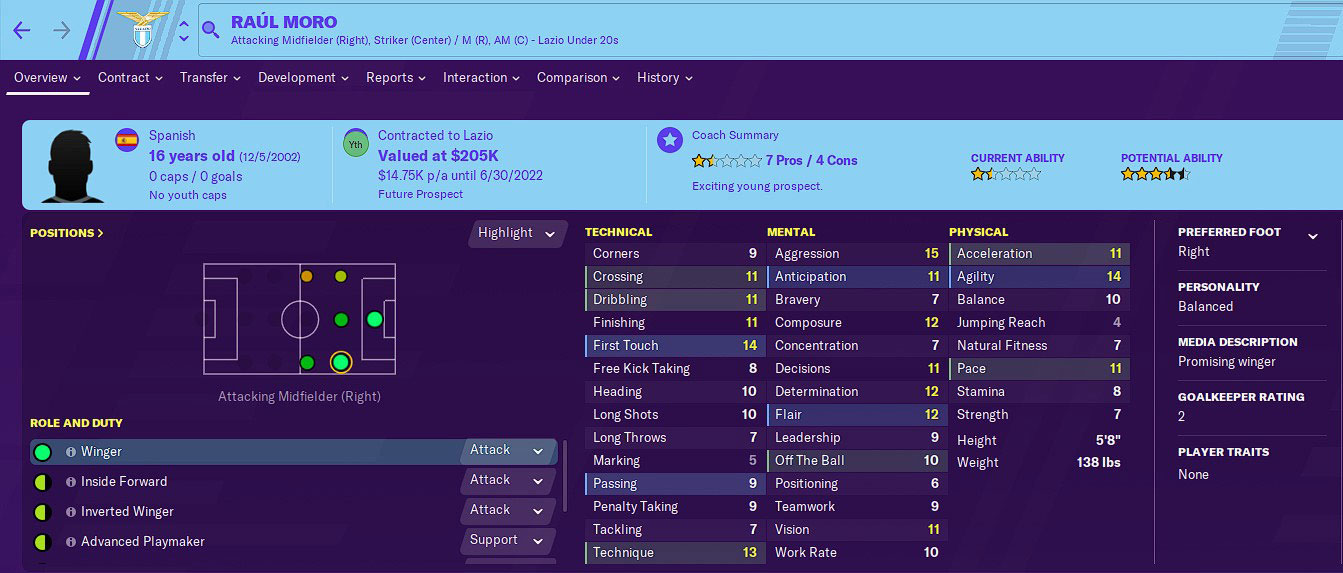 Lazio FM20 – potential signings
We have seen a lot about the Lazio FM20 team and you will agree with us that this team needs a bit of an improvement. Lazio is not one of the richest clubs, transfer budget is only 17M what means you need to think twice before buying players. And to make it clear, you won't be able to buy FM20 superstars.
There are 2 positions we would like to improve more. One is in the defensive line and the second is AMR. With that in mind, let me introduce you to 5 fantastic players you can buy and improve more your Lazio FM 2020 squad:
Yari Verschaeren (18Y, MC/AMRLC, Anderlecht)
Nordi Mukiele (21Y, DRC, RB Leipzig)
Denys Popov (20Y, DC, Dynamo Kyiv)
Matias Arezo (16Y, AM/ST, River Plate de Montevideo)
Josha Vagnoman (18Y, DRL/WBRL, HSV)
If we think about our defensive line Nordi Mukiele is the best asset and can be considered as a transfer target No. 1. He can make an immediate impact but has a lot to offer and to develop more. His asking price is just around 17M what means he is still in Lazio's transfer budget.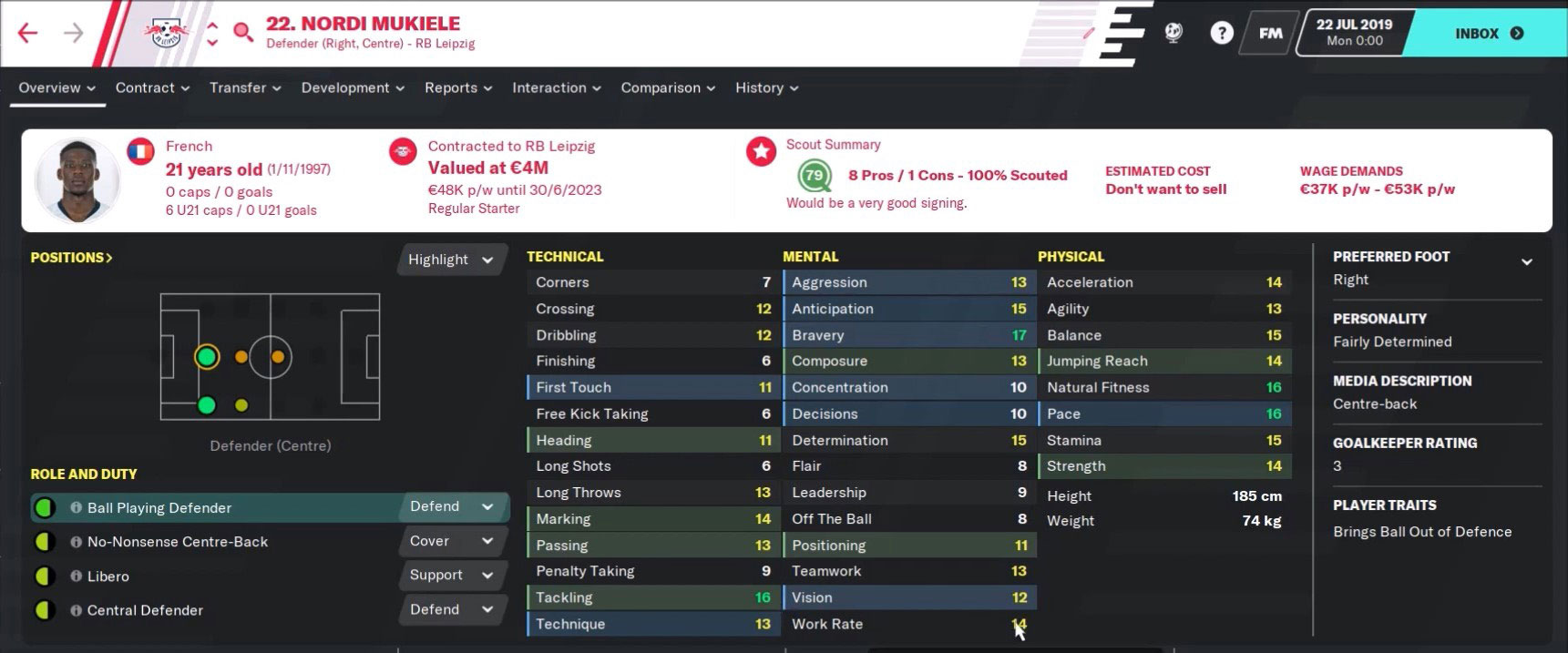 Speaking about defensive improvements we have 2 more players: Vagnoman from HSV and Popov from Dynamo Kyiv. Vagnoman will be a great player for our mentioned tactic. He is a pretty offensive defender and great thing is, he can play on both sides. And he is really cheap (3-5M). Maybe he is not unbelievable player, but he can be a great rotation player at the beginning, and later become a regular first-team player.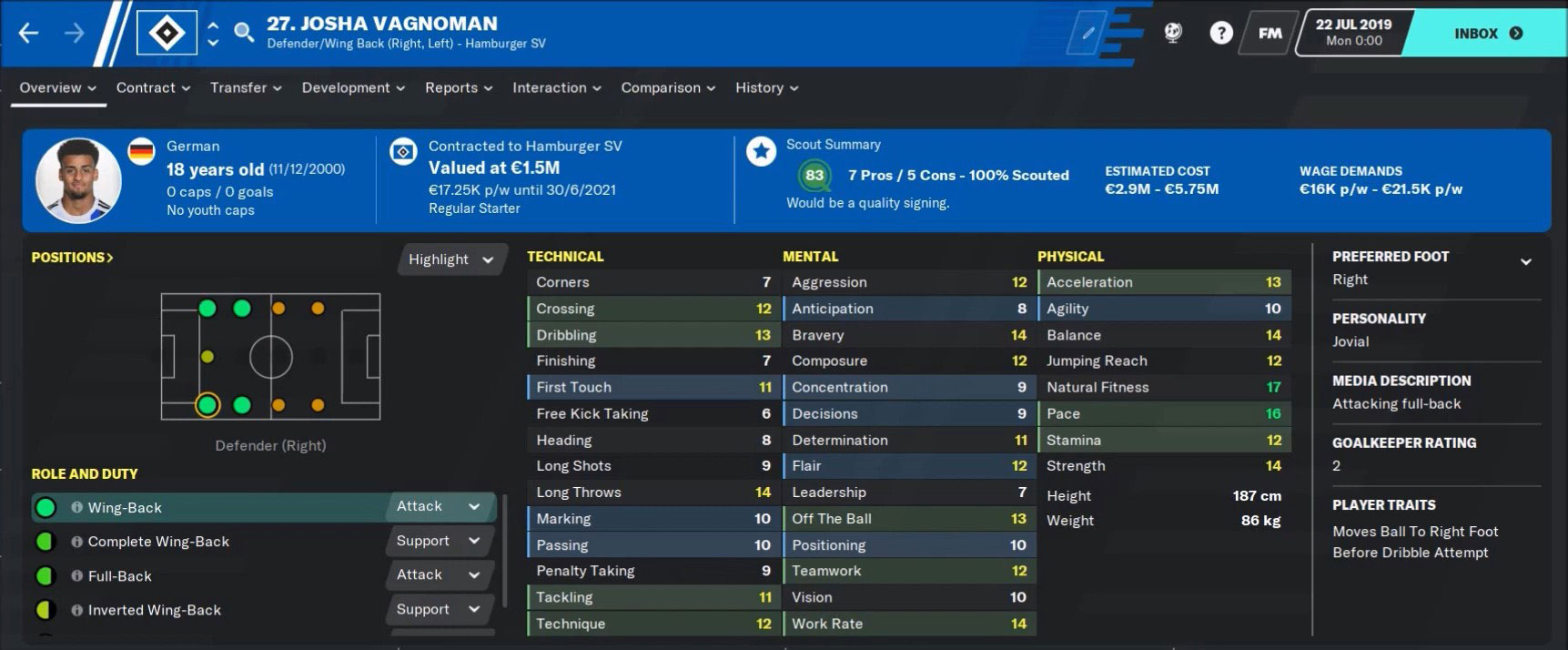 Popov on the other side, although having only 20 years, has some great attributes and could be considered as a first-team player. Dynamo will sell him for around 15M.
And now we have attacking players to sign. First of them is Yari Vershaeren, true wonderkid and one of the most exciting FM20 young players. His CA is 118, but his potential ability is 178, better than any other Lazio player that would make him top class FM20 player. Anderlecht is willing to sell him for around 20M. Yes, we know it is a big amount of money, but it is an amazing future investment. If you can, buy him. Any club you play with.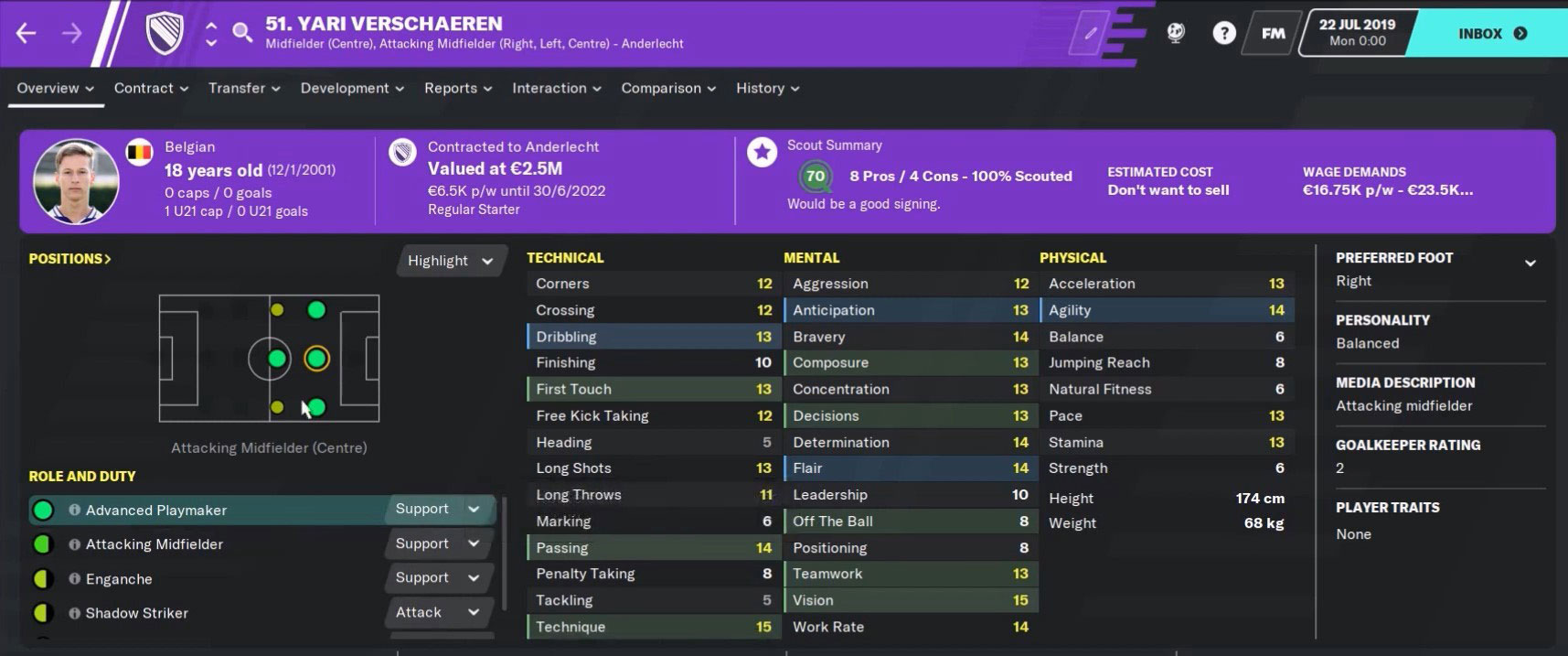 Another wonderkid on the list is Matias Arezo. He is only 16 years old what means you will need to pay only compensation to River Plate around 1.2M. Arezo is a striker who will surely be one of the best FM20 strikers in the future and legitimate successor of Ciro Immobile.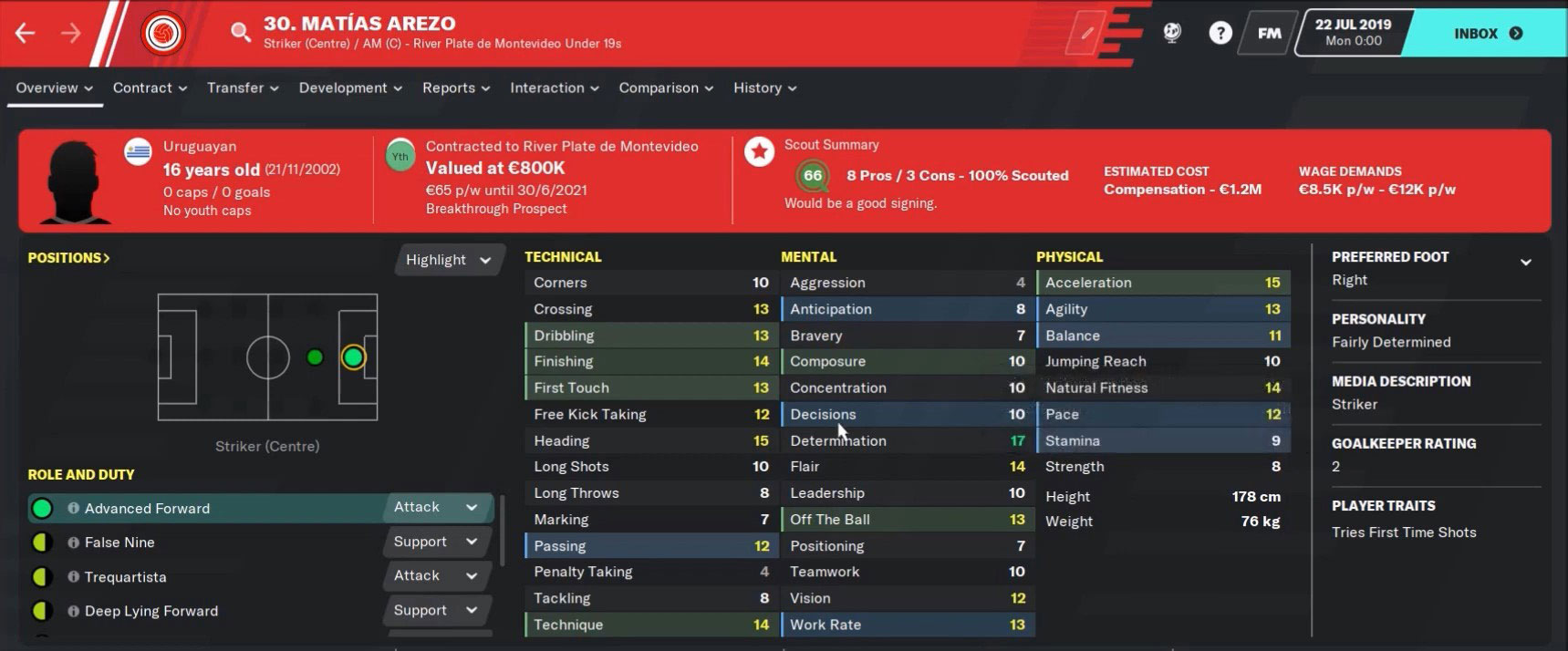 Managing Lazio in FM20 Conclusion – pros and cons
In the end, let's see what are some pros and cons of managing Lazio in Football Manager 2020.
Pros: great attacking potential, best players in best playing years, no pressure to win a title
Cons: small transfer budget, lack of defensive quality
That's it! You are ready to take Lazio and lead them to the FM20 glory! Do you have any suggestions on FM20 Lazio? Post it in the comment, we will appreciate it!
Related: Lazio FM19 Team guide