Liverpool Football Manager 2020 Ultimate Guide – FM20
By spaskecar | November 24, 2019 | 115 Views
So you want to play Liverpool in FM20? But you aren't entirely sure what the team is like in the game, and you don't want to waste time trying it out. Well, we at FMBrotherhood are going to get you up to speed with an FM20 Liverpool team guide.
Are you better than Klopp for Liverpool in Football Manager 2020? Can you finally make dreams come true for Liverpool fans and win the Premier League?
We believe you can. Just follow our advice in this FM20 Liverpool team guide, and you won't have a problem winning the Premier League.
Introduction to Liverpool in FM20
Starting off the season 2019/2020, you sign a two-year contract worth $160k per week. The chairman Thomas Werner greets you and gives you a short introduction on the team. The club has a fantastic history. Most importantly, Liverpool has won the old English Premier Division 18 times and the European Champions Cup 6 times!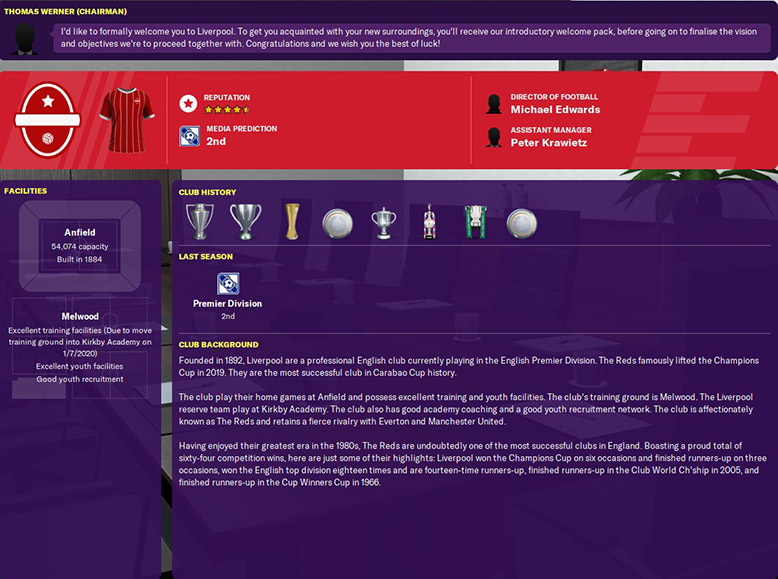 Are you feeling the pressure already? Probably not, you know what you're getting yourself into. The fans are craving that you win the Premier League. Last season Liverpool finished 2nd, and the media predicts you will finish 2nd this season as well with Manchester City being the favorite to win the league again. Well, your job is to make the media look like fools and prove everyone wrong. Liverpool is capable of winning the Premier League, and you will do that.
Your stadium Anfield has a capacity of 54,074, and it was built in 1884. When it comes to facilities in FM20, Liverpool has:
Excellent training facilities
Excellent youth facilities
Good youth recruitment
And let's not forget about your assistant manager Peter Krawietz with whom you will probably be working for the next couple of years if you don't decide to change the entire staff at your disposal.
The next screen you will see is your FM20 Liverpool Team Report – Best 11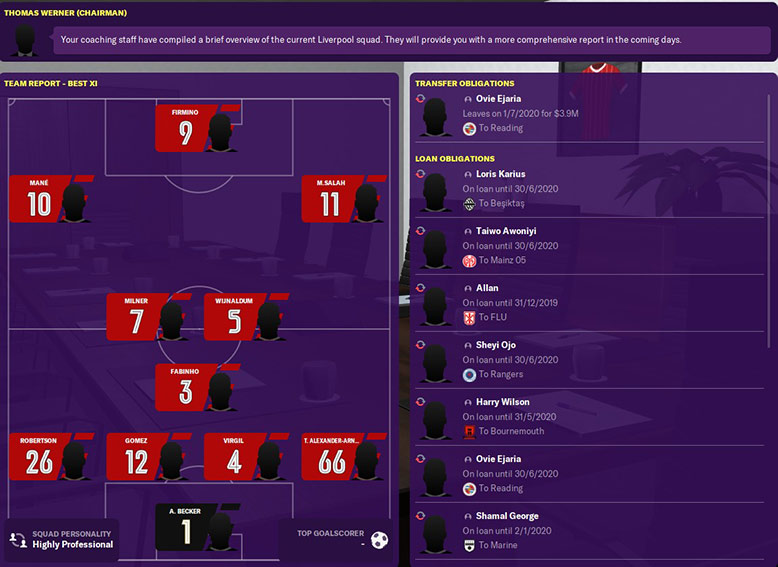 Of course, everyone knows what the best Liverpool 11 are. Klopp was known not to rotate a lot, and we believe that was his only mistake during his management. He didn't have many quality options apart from the first 11, and he was competing on all possible fronts, meaning every possible competition. That is hard to do, players get tired, and if you don't have quality options on your bench, you will lose some games that you would have probably won if your leading players weren't tired.
The last screen you see before you can start managing Liverpool in FM20 is the Club Vision screen. Your chairman will tell you what is expected from you concerning the development of players, the playing style, signing of players. He will also show you the five-year plan that was made. It will include stadium expansions, commercial revenue, reputation, and other things concerning finances.
All of that isn't as important. The only important thing is your first and second season because you've signed a two-year contract. If you aren't good at the first two seasons, you won't see the other three seasons.
So let's see what is expected from you as a Liverpool manager in the first two seasons:
Being the Champions League winner, you play the Club World Ch' ship, and the board expects you to win it. That's reasonable and should be an easy feat.
In the Premier League, the board understands that there are still some weaknesses in the team and that Challenging for the title is the reasonable thing to expect
In the FA Cup, the board expects you to Reach the Final and it would be perfect for the fans if you'd win it because Liverpool hasn't won the FA Cup since 2006.
The Community Shield isn't important to the board, but it should be important to you, and it's also a significant boost to morale before the Premier League starts, so you should look to win it!
The Carabao Cup and the European Super Cup are same as the Community Shield, they are not important, but you should look to win both of them to keep the morale of your players high at the start of the Premier League
Here is the essential part. For the second, 2020/2021 season, you need to win the Premier League. Failure to do so might cost you your job, and managing to win it in the first season might get you a more lucrative contract and extension. That's why you should aim to win the league in the first season!
Playing Liverpool in FM20
Now comes the best part; after the introduction, you get to play with Liverpool in FM20.
Starting Lineup and Formation
Liverpool has an outstanding team, and with these players, you can play any kind of football that you want. But we would recommend formation 4-1-2-3, and some high pressing football with short passing.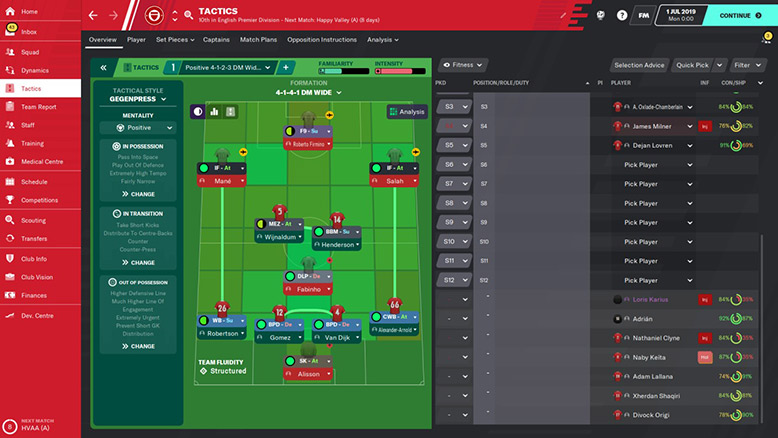 In attack as F9, we would use Roberto Firmino who is someone who can create many things in your attack. So his duty would be to score the goals, and at the same time, he would be involved in creating actions.
Mohamed Salah is probably one of the best players in the world, and his natural position is on the right side as IF, so he should play there.
The left side is reserved for another magnificent player, and that is Mane.
Wijnaldum and Henderson are two players that should hold 2 positions in the middle, and behind them is Fabinho as DLP.
Liverpool has two amazing wing backs, Robertson and Alexander-Arnold so they must be involved in attacking. In the positions of central defenders, we think that Gomez and Van Dijk are the best options, but you should not forget about Matip who is also a classy defender.
Liverpool Team Report – Strengths and Weaknesses
Liverpool has many strengths, and most of them are great mental attributes that the whole team possesses. What can be said about the current Champions League winners except that they have a fantastic squad that is great in teamwork, work rate, aggression, determination, and player partnerships? There are many more strengths, but they aren't worth mentioning. You, as a new Liverpool manager, are hired to get rid of the weaknesses and finally get the Premier League title.
So let's see the weaknesses: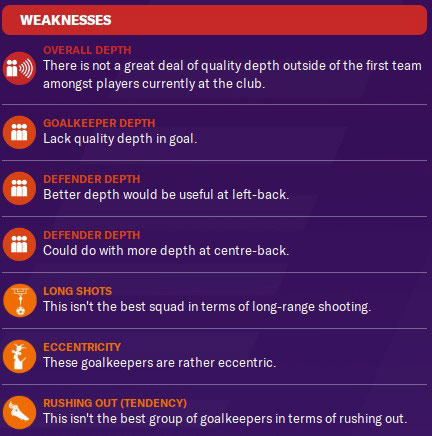 It was expected that a team of the caliber of Liverpool doesn't have many weaknesses, and most of them are related to the depth of the squad, which we mentioned earlier, and we will discuss it later.
Liverpool FM20 Team Dynamics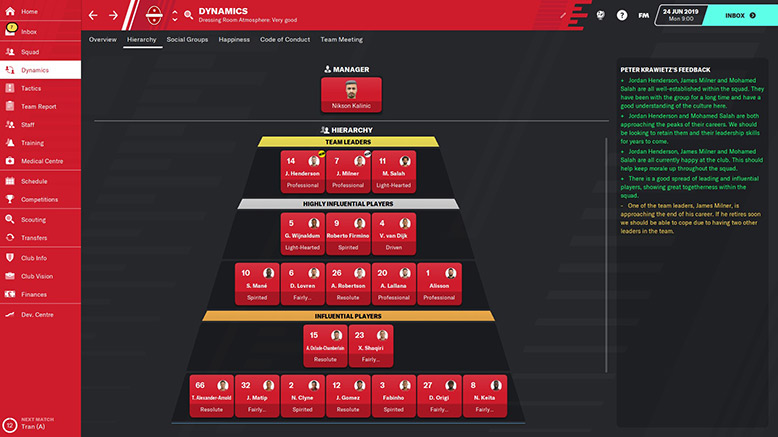 Liverpool's success has to do with having a clear team hierarchy. It's known who the team leaders are and who the players are that will replace them in the future when they retire or leave the team.
Mentioned Liverpool`s team leaders are Jordan Henderson, James Milner and Mohamed Salah who is also the best player of this team. There are many players with high influence and for now, there are no worries about team leaders here.
It's an outstanding squad that has only two players that don't fit into any social group. Those two players are the 2nd and 3rd goalkeeper, and it won't hurt anyone if they leave the team. We'll talk about goalkeepers a bit later.
Liverpool Finances and Transfers
After winning the Champions League, you'd expect that Liverpool will have a lot of money, and they do.
With $131M and about $3.9M p/w on wages, you can improve your squad depth in any way you want. There is a small debt, and Liverpool must pay $750k per month, but that is a joke for this European Champion. The overall bank balance is $260 million.
We from FMBrotherhood think that it's crucial to sign players that fit into the current lineup not only based on their skills but also their personality. You need determined, hard-working players with a lot of stamina and natural fitness to be able to play in the "Liverpool way."
These are the positions we suggest you should try to strengthen: DL, ST, GK, AMR, MC. Keep in mind, Liverpool already has excellent players in all of the positions, and all of the players you buy can even be only rotation options. You don't need to spend the whole transfer budget. But if you do, be smart with it.
Suggestion for Defender Left Position (DL)  – Luke Daley – 17 years old – Huddersfield U18
Luke Daley is our top pick when it comes to buying a DL for Liverpool, who will be a rotation option. He is a player with huge potential, and with proper guidance, he will become a world-class player.
We chose Luke Daley because of his mental and physical skills. He will be a great addition to the Liverpool lineup. His determination is already 20 at 17 years, which is the maximum possible. He won't drop his head down when going down one goal. He will be determined to turn the result around. His natural fitness and stamina are not bad, and they will improve a lot in the future, which is needed to play a gegenpressing tactic. When he reaches his full potential, he will be like Gareth Bale when he played the left-back position. The only weakness might be his pace, but that will improve with age as well.
Luke Daley is a wonderkid, and you won't regret buying him as a rotation option who will maybe even bypass Andrew Robertson and his abilities in a few years.
Suggestion for Attacking Midfielder Right (AMR)  – Federico Bernardeschi- 25 years old – Zebre (Juventus)
We all know how good Mohamed Salah is, but we don't want to force him to play every single game. His backup was Xherdan Shaqiri, who isn't that great based on ability. What we suggest is buying Federico Bernardeschi. Federico is a lot better than Shaqiri, and he is two years younger than him.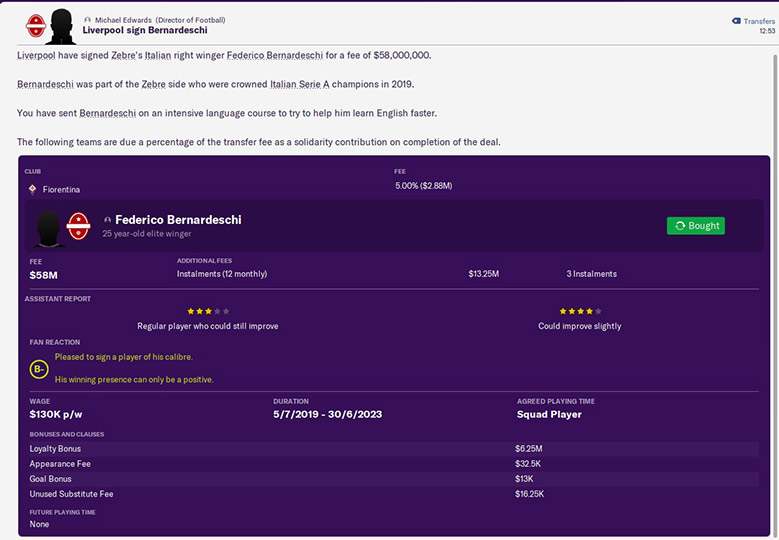 It is very important not to promise him higher playing time than the "Squad Player." As you can see, our DoF bought him for $58M, which is a big part of our transfer budget, but it's worth it. The main goal is to improve the Liverpool lineup, and Bernadeschi is an improvement. When you buy him, you can sell Shaqiri as he won't get any games in that season unless both of these players are injured, which should never happen.
Another thing you can do is let Shaqiri go on loan as we did.
Milan offered to pay full wages and to pay $42M in the future, which would be great if they bought him. That would mean we got Bernadeschi for only $16M.
Bernadeschi has all the attributes we are looking for in a Liverpool player, determined, high stamina, and high natural fitness and work rate. He is a very technical player who will be an excellent rotation option when you decide to rest Salah.
Suggestion for Midfielder Centre (MC)  – Sergej Milinkovic-Savic- 24 years old – Lazio
By now, the whole world knows about Sergej Milinkovic-Savic, and half of the world is trying to buy him. Or at least the ones who have the money to do so. But Lazio isn't giving him that easily. We've made an FM19 team guide on Lazio where you can see our detailed thoughts on Sergej, but today we will only focus on how he can improve the Liverpool squad.
First of all, you need to know that you will splash your whole budget if you buy him and the previous suggestion Bernadeschi.
Our DoF managed to buy him for $106M with $85 being cash, and the rest are installments over three years.
"SMS" is a player for the big matches and he made an instant impact on his debut.

Sergej is bought to play in the first lineup. He is better than any of the CM's you have in Liverpool, and he is younger than all of them. Let's see who can play the CM position in Liverpool:
Wijnaldum is 28, Milner is 33, Henderson is 29, and Oxlade-Chamberlain is 25, and the way they were mentioned that's how their ability is to play that position. Wijnaldum is the best, and OX is the worst. Since you will probably be playing with a 2 CM's formation, you will need two starters and two backups. That means one player is surplus.
We suggest selling Oxlade because he probably won't get too many games this season, and he is the worst of them based on ability. Also, the other three players are at the top of the hierarchy in the team, which might cause other players to become unhappy if you sell their leaders.
Same as with Shaqiri, you might not get any transfer offers for Oxlade, but you might get a loan offer, which you should accept.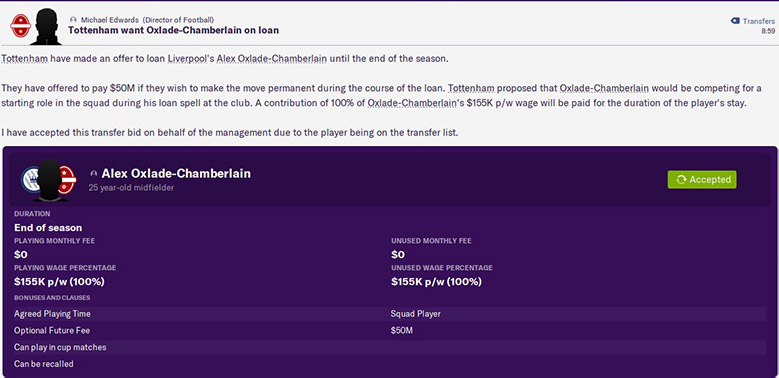 Tottenham offered to pay 100% of his wages and a $50M future fee, which is excellent for a player who is only a 5th option in your team for that position, and he won't improve in the future.
The Rest Of Our Liverpool FM20 Transfer Suggestions
If you want to see more of our FM20 suggestions, you should check out the YouTube video FM20 Liverpool Team & Tactics Guide – Football Manager 2020 our team member NIK has made.
In his video, he talks about the best formation, best current players, young talents, and, most importantly, transfer suggestions that haven't been mentioned above, except Sergej Milinkovic Savic.
Just like always, if you liked this guide, share it with your friends and give us a like and a comment. It means a lot, and it's motivation for us to continue writing for the Football Manager community.