Manchester United FC Football Manager 2020 (FM20) – For Glory!
By spaskecar | November 15, 2019 | 4380 Views
We talked about Manchester United FC last year, about MUFC FM19 squad, potential transfers, and tactics. In this, new Football Manager 2020, MUFC is, we can say, a completely different team. There are many new names in United, a lot of opportunities for you in FM20 and we will try to mention everything important in the next few paragraphs.
Let`s begin with the MUFC Football Manager 2020 finances.
Manchester United FM20 Finances
We can say that Manchester United FM20 transfer budget is really fascinating. MUFC has 116 million euros in their bank, and it should be enough to get some great players and to become even stronger.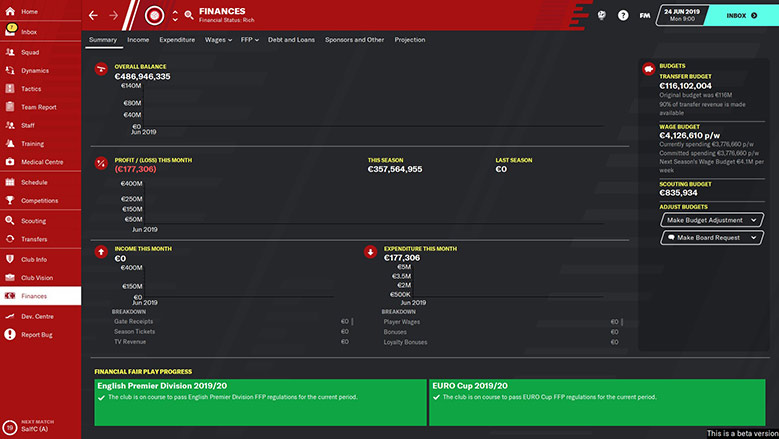 The wage budget is 4.1 million per week and it's quite good. There is a transfer debt around 65 million and this is why you need to pay around 6m per month. Anyway, Manchester United looks really rich in Football Manager 2020 and if you choose to manage them you will feel almost like Scrooge McDuck.
MUFC Football Manager 2020 Club Vision
The most important goals for Manchester United`s board are developing players from youth school. According to the board, you should be making some new first-team stars from your youngsters.
The second thing required by the board is increasing commercial revenue. That means that you need to sign some famous players, like Pogba and earn some money in merchandising. It is also very important to take care of the wage budget and to qualify for Champions League at the end of the current season.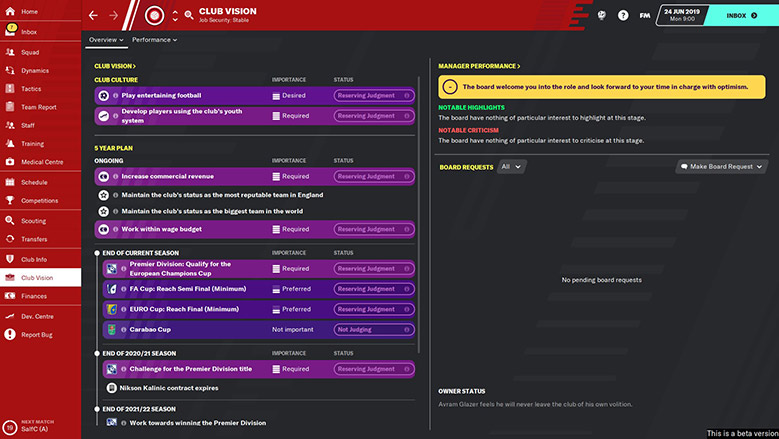 A five-year plan is to fight for Premier League title, and that sounds fair, Manchester United should always fight for the title.
United`s Team Dynamics in FM20
Manchester United has three team leaders, fantastic goalkeeper De Gea, Paul Pogba and Ashley Young.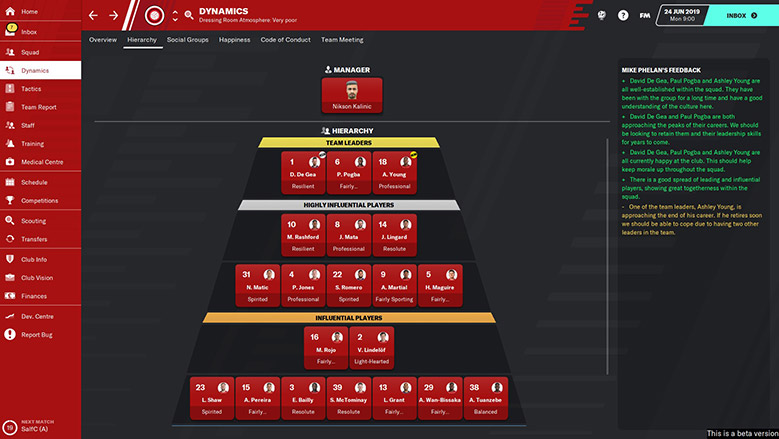 There are many players with really high influence and that is another great thing. Ashley Young is approaching the end of his career, but that should not be a problem. So, for now, Manchester United squad in Football Manager 2020 has many leading players, and that is really important for a successful season.
FM20 MUFC – Starting Line-Up and Formation
Maybe real-life Manchester United doesn't look so strong as a team, but in FM20 Manchester United is a fantastic team with many amazing players.
With this squad and with these players you can play any style of football you want. In our opinion, the best formation for Manchester United in FM20 is 4-2-3-1 wide where we want to use Paul Pogba as attacking midfielder.
Pogba has some fantastic attributes for AM and we think that the best position for him is when he is a bit closer to the opponent goal. He can turn the game around easily (flair 18), his technique is 19 and it is almost impossible to find a player like Pogba. With his great long shoot skills, you can expect to see some amazing goals by Paul Pogba.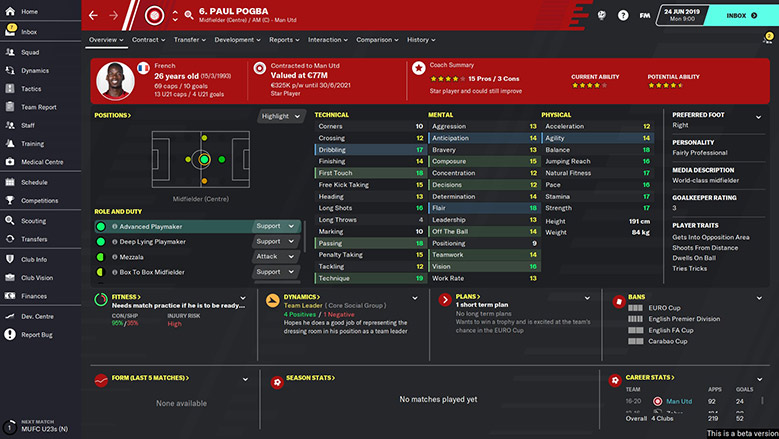 Here you can check the best formation and starting eleven by our choice: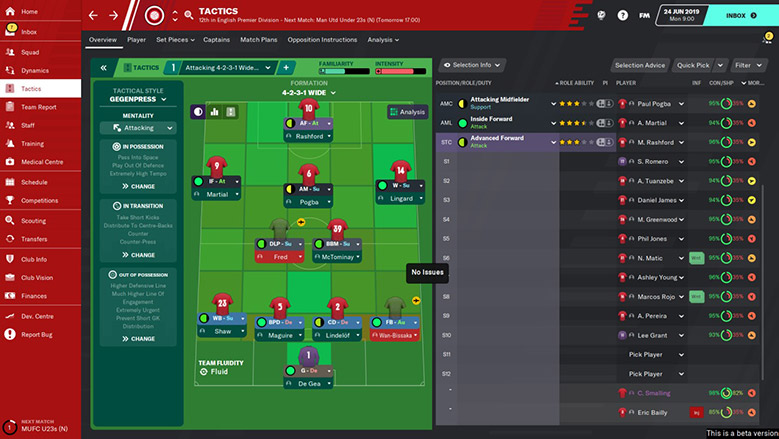 Key Manchester United FM20 Players
Paul Pogba is without any doubt the best player in Manchester United (according to FM). Simply he doesn't have any weaknesses. The first time you open his profile you will see that he is a world-class midfielder. You can use him as we suggested, as AM or he can play more defensively as DLP or as Mezzala.
Manchester United has one of the world`s most expensive BPDs in the squad and that is Harry Maguire. He is awesome in the air and his tackling is also great. With Harry, you will get a strong defender that every team needs.
Also, there are some other quality players like Anthony Martial, Marcus Rashford and Victor Lindelof.
MUFC FM2020 Potential Stars
There is one outstanding striker wonderkid, and his name is Mason Greenwood. This 17 years old FM20 wonderkid is someone on who you should build the future of Manchester United. Greenwood has already fantastic attributes like classy finishing, speed, and flair. It is very important to give him some minutes in the first team and to develop him the right way.
When we take a look at Greenwood, we are sure that the new world-class striker is born.
James Garner, Ethan Laird, Angel Gomes are also guys that you need to pay attention to as they have some incredible potential.
Man United FC FM20 – Players To Buy
Sergej Milinkovic Savic is not playing so great in real life, but in Football Manager 2020 he is a real beast. This is why we think that with this transfer Manchester United would have the strongest midfield in the world. His value is around 62 million and you can use him with many roles and duties.
Sergej is brave, he isn`t that fast, but he is a very strong player with a great heading. It is a very important fact that he isn`t selfish, so "SMS" is adequate for many formations and many teams.
We also strongly recommend English winger Jadon Sancho, who is playing for Borussia Dortmund. He is very fast with great dribbling and technique. Some other names that can be a great addition to the club are Leon Goretzka, Lucas Paqueta, and Ryan Fraser.
You can also check out NikFM`s video about MUFC in FM20 for further information:
Conclusion
If you are MUFC fan, or even if you aren`t, you should give this club a chance in FM20. This club can get back on its` path to glory and in Football Manager it is highly possible to do so.
If you spend your budget on real signings you will be able to conquer England, Europe and the whole world with Manchester United! If you disagree there is a comment area below, so use it.