Rich And Amazing PSG FM20 – Paris Saint-Germain Team Guide!
By spaskecar | April 3, 2020 | 7482 Views
Today we bring you our PSG FM20 Guide.
Paris Saint-Germain Football Club or PSG is a French professional football club. When you choose PSG as your choice in a new career, you will sign a two-year contract worth $78k per week.
Although it is one of the youngest clubs in the world, since it was founded in 1970, thanks to amazing investments and takeovers, the club is one of the richest in the world.
Related: The richest FM20 clubs!
They are holding the world record transfer fee in football for Neymar whom they paid $260M.
Qatar Sports Investments has been PSG's owner since 2011, but PSG has a lot of success in football even before that takeover.
In their whole history, they've won a total of 40 trophies. Out of those 40, 22 were won after the Qatar group took over. To say that money didn't play a major part in their success would be a lie, but that's what modern football has become. Teams with money attract the best coaches and players.
PSG FM20 Best Eleven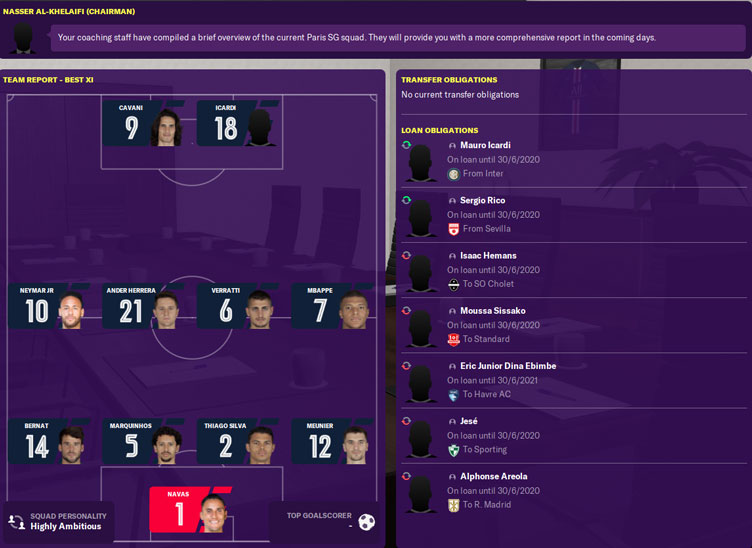 PSG has a fantastic team in real life, which means in Football Manager 2020 as well.
A mix of experienced players like Thiago Silva, Cavani, and the best wonderkid in the world, Mbappe, is something every football manager in the world wants to have.
In the past few years, PSG's transfer policy has been quite successful as they managed to bring in some outstanding players on loan, or experienced free agents who can play a significant part.
Although PSG is dominating the French league, their biggest wish is to win the Champions League.
That's why they brought you, their next manager, to win them that trophy finally.
PSG Club Vision and Five Year Plan
PSG has been playing a very attacking formation for the past few years. The most commonly used 4-3-3 employs all the attacking power they have in the team.
That's the reason the board wants you to continue to do the same thing.
Play attacking football and sign high-reputation players is the club culture. Basically, continue doing what has been done since 2011.
When it comes to the five-year plan, we'll just cover the first two years because that is how long your first contract lasts.
In the first season, the board wants you to win the Ligue 1 Conforama, and to reach the Semi-Final of the Champions Cup. Additionally, they want you to work on becoming the most reputable team in Europe and the world.
In the second season, they want you to continue winning the league, but it's unknown what they want from you in other competitions. From my experience, they'll want you to reach the final of the Champions Cup or maybe even win it, depending on how much you improve your team.
Most Important PSG Players in FM20
Neymar in FM20
Age 27
Position AML
Current Ability 186
Potential Ability 190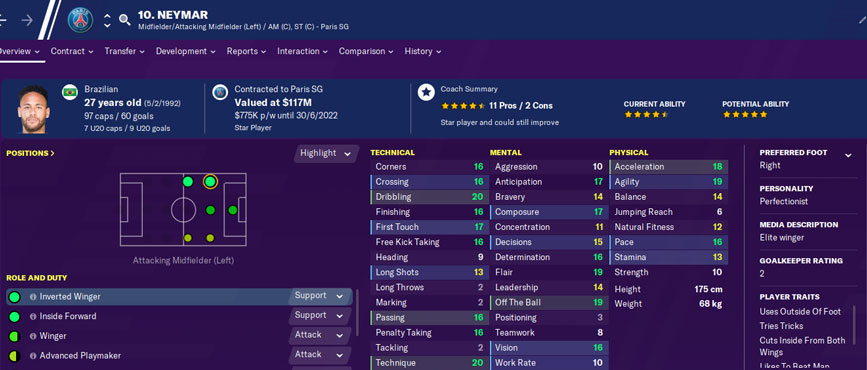 Neymar, the current holder of the biggest transfer in the world, is PSG's best player.
World-class player
A perfectionist who constantly strives to improve himself
Ability to dribble makes him a difficult opponent to come up against
Relishes big matches
Consistent performer
Good balance and ability on the ball make him a skillful player
A versatile player who can play a couple of positions
Has plenty of international experience
Kylian Mbappe – Best FM20 Wonderkid
Age 20
Position ST
Current Ability 181
Potential Ability 196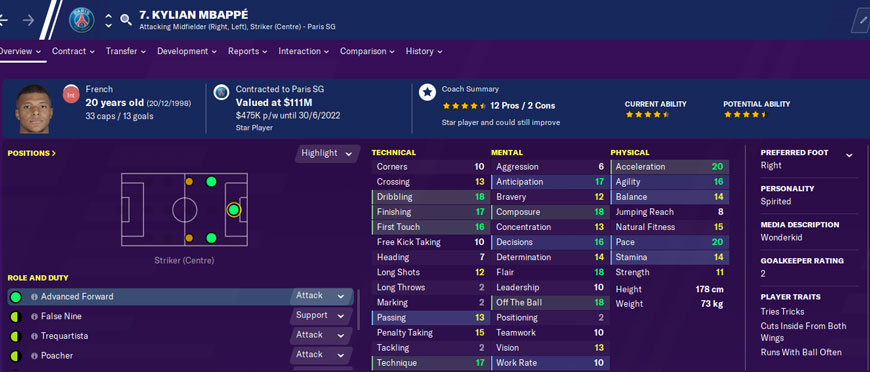 Best wonderkid in the game, who eventually becomes the best player in FM20.
Has explosive pace
Acceleration underpins his overall speed
A versatile player who is natural in a couple of positions
A current international with plenty of experience
Spirited individual
Consistent performer
Considered a creative player
Angel di Maria
Age 31
Position AMR
Current Ability 163
Potential Ability 174
Di Maria is an elite winger who isn't getting any younger. He will be 33 when his contract expires. It might be a good idea to offload him and give a chance to some other players when that time comes.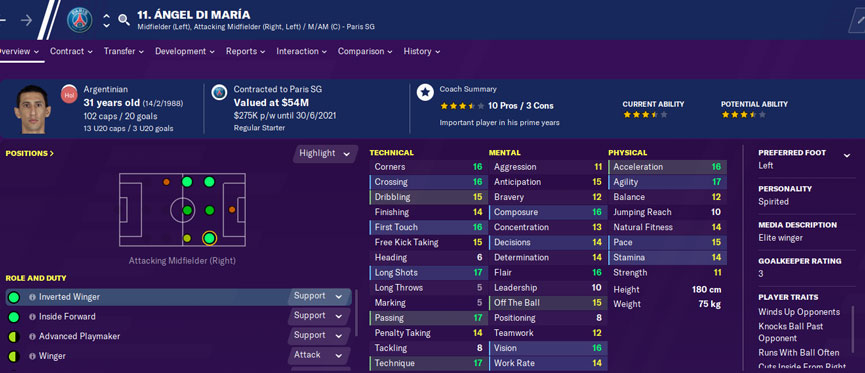 A versatile player who can play a couple of positions
Spirited individual
Relishes big matches
Very good technique, especially when striking the ball
His long shots make him a constant danger to the opposition
Fairly consistent performer
Has plenty of international experience
Considered a technical player
Mauro Icardi
Age 26
Position ST
Current Ability 161
Potential Ability 174
Mauro Icardi is on loan from Inter. At 26 years old, he is in his prime and won't improve much in the future. Depending on how well he does for you in this season, you can buy him for an optional future fee of $77,58M from Inter.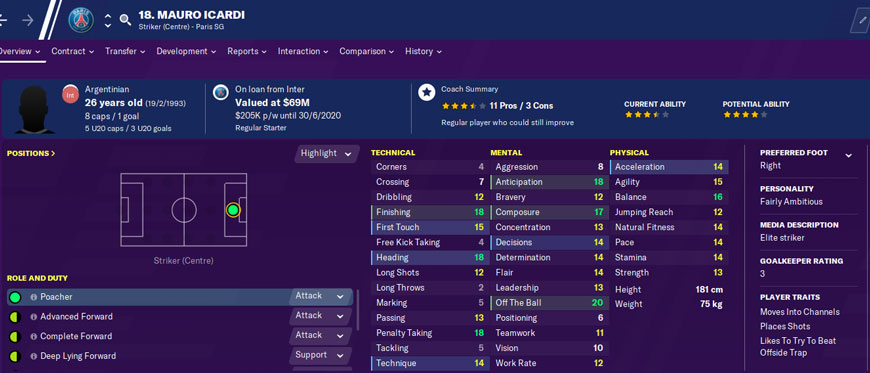 Extremely interested in joining on a permanent deal
Movement off the ball makes him a constant thorn in the side for defenders
Signing him would comply with the team philosophy of signing high-reputation players
Intelligent player
Shows a fairly ambitious nature
Is a current international
Considered a smart player
Marco Verratti
Age 26
Position MC
Current Ability 161
Potential Ability 164
At the age of only 26, some people are already calling him a PSG legend. After coming into the team as a 19-year-old from Pescara, he has been irreplaceable in the central midfield position.
His passing ability underlines his technical prowess
A current international with plenty of experience
Good balance and ability on the ball make him a skillful player
Shows a fairly ambitious nature
Enjoys big matches
Fairly consistent performer
Considered a technical player
Marquinhos
Age 25
Position DC
Current Ability 161
Potential Ability 170
At the age of 25, Marquinhos is your best DC, together with Thiago Silva, with the same current ability. Thiago Silva is old, and he won't be there for long, that's why you have to keep Marquinhos. Luckily, you already have a contract until 2024 with him when you arrive.
High teamwork
Displays resolute characteristics
Relishes big matches
Consistent performer
A highly reliable player who doesn't often let opponents get past him
Has plenty of international experience
Can improve in the future
Considered a smart player
Players To Keep An Eye On For The Future Of PSG
Presnel Kimpembe – Age 23 – DC – Potential ability 161
Adil Aouchiche – Age 16 – MC – Potential ability 169
Thimothée Pembélé – Age 16 – DC – Potential ability 165
Other players are worse than 161 potential ability and aren't worthwhile mentioning for the ambitions that PSG has.
Keep in mind; you want players who can win the Champions League a couple of times in a few seasons.
PSG FM20 Formation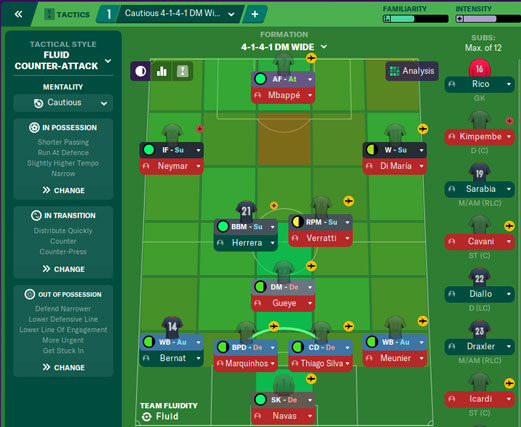 PSG plays a 4-3-3 formation in real life that quickly transforms into a 2-3-5 when attacking.
Because of the players at your disposal, you want to copy that into an FM20 formation.
Related: Best Tactics In FM 2020!
PSG has speedy players, but also outstanding technical players who can keep the ball forever in possession.  That's why it's an excellent tactic to either play counter-attacking football or Tiki-Taka to dominate possession.
In either case, play the 4-3-3. I'll choose the Fluid Counter-Attack tactical style.
This formation is a premade 4-1-4-1 that focuses on counter-attacking.
Because your board wants you to play an attacking style of football, having a cautious mentality doesn't really suit that. That's why we'll show our second formation :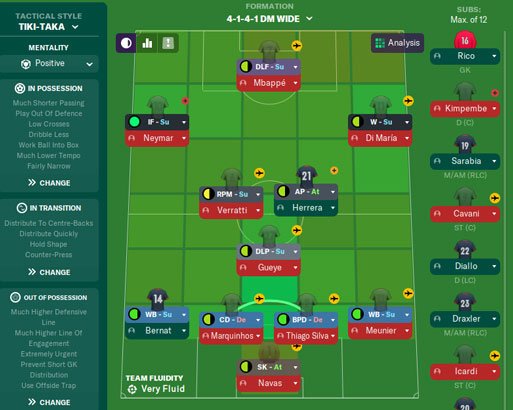 This formation is also a 4-1-4-1 formation with a DM, but everything is different. You can try out the formation in premade Tiki-Taka formations.
If you want to see a different formation, you can check out the formation our team member NIK has created.
In fact, he created a whole YouTube video on the PSG tactics that you can see here:
He has also created a list of 7 potential players that you can buy for PSG, who will improve your squad.
Although PSG has bought four players in the summer of 2019, you have $94 million at your disposal, and that is enough to buy a few quality players.
Be sure to check out NIK's video and leave a like and a comment. It means a lot!