Sergio "Kun" Agüero in Football Manager 2020 (FM20) – 4.3/5
By spaskecar | November 24, 2019 | 44 Views
Sergio "Kun" Agüeroas the whole football world knows is Manchester City icon and a football superstar. But, what about Football Manager 2020 and his stats?
Is Sergio Agüero really that good in FM20?
We are about to find out!
Sergio Agüero in FM20 – Overview
Let`s start with Agüero`s stats in FM20 and all the important facts we see there.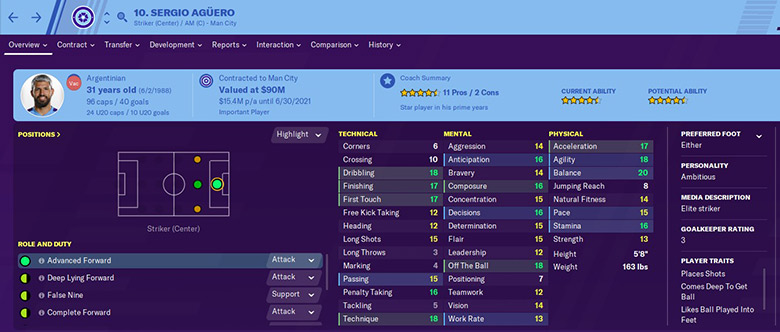 Agüero`s strengths
This smallish Argentinian is a giant as a footballer. In Football Manager 2020 his attributes incredible!
His dribbling is 18/20 and in combination with his pace 15/20, acceleration 17/20 and his technique 18/20 you can imagine his possibilities when he has a ball in his feet.
His first touch is also 17/20, off the ball movement 18/20. That means you can see him hitting the opponent's box like a bullet receiving the ball in full swing.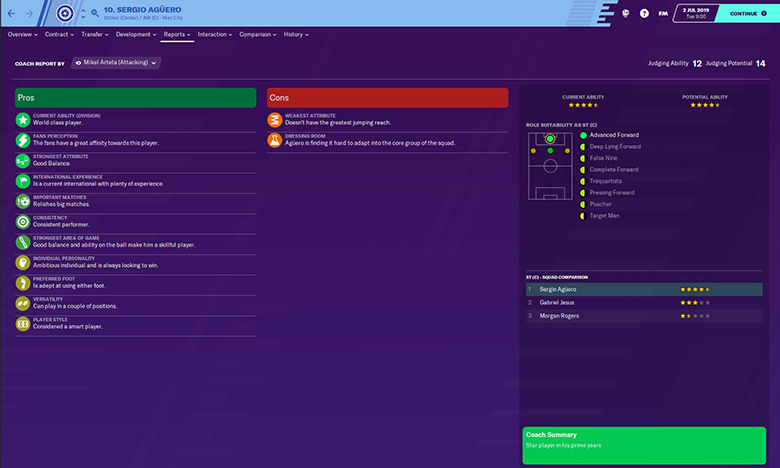 So we know that he is a great dribbler, and his movement is awesome, what about his passing?
For a striker, his passing ability is important if you want to use him for more complicated tasks. Agüero`s passing in FM20 is 15/20 and with decisions 16/20 you will see him pass the ball behind the defense phenomenally good.
We couldn`t expect less in Football Manager 2020 from "Kun" when finishing is the subject. His finishing is 17/20 and with composure 16/20 he is very confident in front of the opponent`s goal.
Agüero`s weaknesses – if he has some?
Sergio`s only bad attributes are long throws, marking, tackling, positioning and jumping reach. That`s why you shouldn`t force him to run at the opponent defenders. Also, you should make an FM20 tactic where he will get the ball into his feet.
Preferred position and role
The preferred role for Sergio Agüero in FM20 is striker – advanced forward. There he will do his best, and bring you dozens of goals.
In the individual instructions, you should avoid "more crosses" for his role as his crossing isn`t that good (10/20).
You can also set him to shoot from distance as he is great there (15/20) and with his flair 15/20 he can turn any game.
So what is Sergio Agüero's biggest weakness in FM20?
It is the fact that he isn`t that young, and that`s what we think is his biggest weakness in FM20. His attributes will soon go down, but that`s what`s expected.
So it`s up to you to get the most from him. Put him on AF, let him move into channels, get forward as much as he can and he will reward you with many, many goals.
Our overall impression about Sergio Agüero in FM20 – amazing, experienced player with only one weakness – his age. 4.3/5 stars from FMBrotherhood!
Here we like to grow young players and make them as good as Sergio Agüero if we can. There are some of them who can reach his potential in our
strikers wonderkids FM20 list.
Feel Free to Comment Sergio Agüero in FM20 and our overview
If you don`t like what you just read here, you can express your opinion in the comment section below. We would be glad to give you a reply!