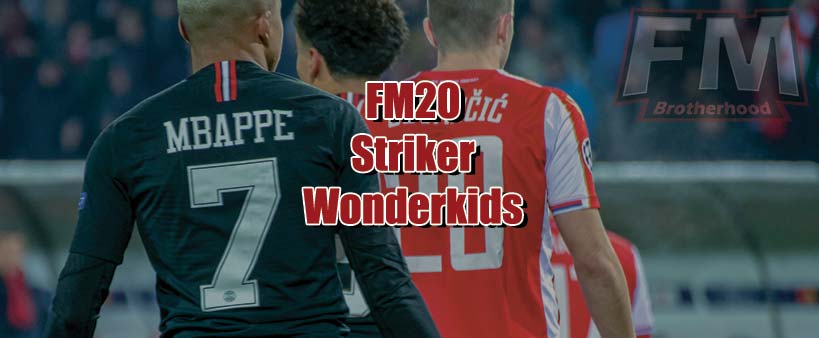 Top Wonderkid Strikers in FM20 You Have to Buy!
By spaskecar | November 11, 2019 | 8008 Views
As we all know wonderkids are young players with huge potential ability. Most often they are players under 19 years and sometimes up to 21 years if they are late bloomers. FM20 has many wonderkid strikers and most of them are super expensive.
Today we bring you a list of top wonderkid strikers in FM20 you just have to buy if you have the finances available. Don't worry though, there will be some cheap FM20 wonderkid bargains in this list as well. Please note that the players in this list are versatile enough to play on other positions as well, so you might be able to use them on AML, AMC, or AMR as well.
Top Wonderkids Strikers in FM20 by Potential Ability
Here is the shortlist of top Football Manager 2020 wonderkid strikers:
Kylian Mbappé (20 years old, P.A. 196)
Vinícius José Paixão de Oliveira Júnior (18 years old, P.A. 187)
Moise Kean (19 years old, P.A. 179)
Pietro Pellegri (18 years old, P.A. 178)
Lautaro Martínez (21 years old, P.A. 175)
Myron Boadu (18 years old, P.A. 174)
Rodrygo Silva de Goes (18 years old P.A. 171)
Luka Jović (20 years old, P.A. 170)
Marcus Rashford (21 years old, P.A. 170)
Ansu Fati (16 years old, P.A. 169)
Rafael Leão (20 years old, P.A. 169)
Troy Parrott (17 years old, P.A. 169)
Fiete Arp (19 years old, P.A. 167)
Let's talk about these FM20 wonderkid strikers in detail.
Kylian Mbappé – FM20 wonderkid you won`t be able to buy easily!
Kylian Mbappé is truly one of world football's global superstars. At the age of only 20, there is no other wonderkid that is more known the world.
He is the highest-rated player on this list based on current ability as well. Mbappe is the most ambitious wonderkid you will find.
With maximum stats in pace and acceleration, he's truly an explosive player. What makes him even better is that he is a consistent performer.
His main stats can get even better and he will only lack some heading ability. But he doesn't need to do that, he can beat players one on one or even run past them.
There is no better wonderkid in the world at this moment and that is why you won't be able to get him cheaply.
In our test game, he signs another contract as soon as the game starts. That makes him super expensive. PSG declined our bid of $190M and when we offered $275M our own board blocked the offer.
If you are lucky and he doesn't sign a new contract as soon as the game starts you can get this wonderkid striker for $200M.
Vinícius Júnior – True FM20 wonderkid striker
Vinícius Júnior is an 18-year-old wonderkid striker. He has the second-highest potential ability off of all wonderkids on this list just behind Mbappé. Although his best position is Inverted Winger – Support role, he is an accomplished striker as well.
In our test game, our director of football bought him from Real Madrid for $96M with a salary of $110k per week. Yes, that is a lot of money, but since he is only 19 years old you have a player for the next 10 years and you will probably be able to sell him for even more after 10 years.

He's a very ambitious and determined player. What makes him great is his pace, acceleration, flair, and dribbling. He will easily beat a player with his dribbling skills and move on to score a goal. At this age, his finishing and composure might not be great, but they can drastically improve and that makes him an FM20 wonderkid striker.
Moise Kean – Finishing is his weapon
Moise Kean is a 19-year-old wonderkid striker in Football Manager 2020. He's a very ambitious player who can be very dirty at times and get unnecessary yellow cards, but that is partly because he is temperamental as well.
Even though Everton will accept a $30M offer for him, he won't go into contract negotiations because he just joined in the 2019/2020 season.
He has a really good pace and acceleration, but what makes him an FM20 wonderkid striker is his finishing ability. At his peak, he has the maximum 20 in finishing, and has great composure, anticipation, and technique as well.

He plays best in the Advanced Forward – Attack role. You can try getting him in the second season, but since he is crucial for Everton, he will probably play a lot, develop and then they won't ask for $30M, but quite a lot more.
Pietro Pellegri – Well-rounded striker
Pietro Pellegri is an 18-year-old striker and again, a true wonderkid.
At this age, looking at his attributes you'd say he is nothing special. Everything is average. But if you give him a chance in the first team after a few seasons this kid grows up into a world-class striker.
Because he has all attributes about average, all attributes raise as well. He becomes a well-rounded striker that can score any way he wants.
He reminds us of Luis Suarez and his potential isn't far away. At 188cm height, good jumping reach and heading, he is a force to be reckoned with in the air. Although he is so tall, he becomes very fast as well and his finishing and composure improve a lot! AS Monaco will accept about $60M for his services.
Rodrygo Silva de Goes
Rodrygo is an 18-year-old attacking midfielder who can play the striker position equally well. He's a fairly professional and temperamental player who is very adaptable, which means he can play in any country in the world.
Rodrygo plays for Real Madrid who accepts an offer of just $7.75M for him but since just joined the club he doesn't want to go into contract negotiations.
He's a very skillful player, and his agility underpins his athleticism. He can improve drastically, especially in the main attributes that he needs: pace, acceleration, finishing, composure, dribbling, flair, and agility.
Unfortunately, that $7.75M is only going to be a dream in the second season when you might be able to buy him from Real Madrid, but they will surely ask for a lot more money.
Luka Jović in FM20
We spoke about Luka Jović and his attributes in FM19, but this time Luka is in Real Madrid, and it is much harder to get him.
Luka Jović is as you probably know, a 21-year-old wonderkid striker.
At the moment he is almost as good as Mauro Icardi but he can improve drastically. He has a fairly balanced personality and he is a player who possesses a lot of pace.
What makes him great is his finishing ability. If given the chance he will score. And, more importantly, he will do it in important matches. That's where he thrives.
He is a natural-born striker. Even at such a young age he has great off the ball, composure and anticipation. All of those combined with his pace makes him a fearsome striker.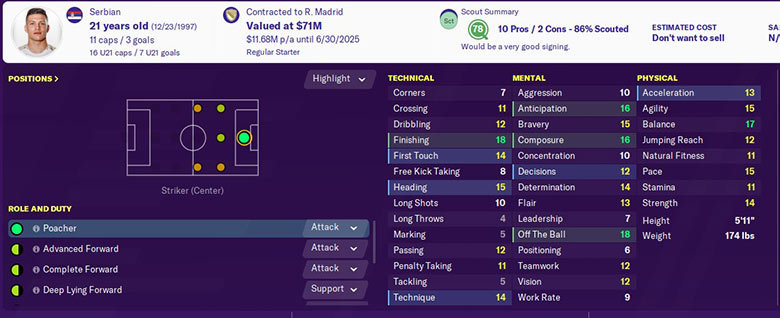 Real Madrid will accept a bid of $60M for him, but he won't be in the mood to negotiate a contract since he just joined the club and he wants to prove himself.
Marcus Rashford – Great but expensive wonderkid
Marcus Rashford is a 21-year-old striker and a great prospect in Football Manager 2020. He plays best on the AML Inverted Winger position with the Support role, but he is a natural striker as well.
That is why he is on this list. Rashford is a true professional, and he's a very ambitious and determined player.
When it comes to his stats, he's a really explosive player. His acceleration underpins his overall speed. He handles pressure very well and plays really well in important matches.
He can improve a lot, mainly his finishing, composure and he can become even quicker. He's a player who gets rarely injured and is a great player to have for the future.
The only downside is that Manchester United is asking about $187M for him and 30% of the profit from the next sale clause.

What about the rest of the FM20 wonderkid strikers?
The rest are players bellow 170 potential ability and we decided we won't go too much into detail about them. They are definitely worthwhile checking out, although most of them have just joined their current clubs and probably won't go into contract negotiation with you even if you agree to a transfer fee with their club.
They are worth scouting regularly and making talking in media about them, to unsettle them and make it easier to buy them.
And what about the cheap bargains you are promised to talk about in the introduction?
Well, we have that list, and soon you will be able to find it on this website. Patience is a key to success, even in FM20 🙂
Join FMBrotherhood and our Private Facebook Group here!